How Night made its journey from metal to folk music
In the past 14 years, the band has gone through many changes, in terms of their music and members, all the while creating its own niche in the Nepali music scene.

The band's members were avid listeners of metal music, and had thus formed the band out of passion in 2006. But over the years, there was a shift and an evolution in their artistic expressions. Photo Courtesy: Bishwo Harsha Bajracharya
bookmark
Published at : December 27, 2020
Updated at : December 27, 2020 20:54
Kathmandu
The allure of the paluwa is like no other. A leaf instrument, the paluwa is like nature's flute—captivating listeners with its rhythmic beats. The fretless tungna reverberates a rustic melody that echoes the spirit of celebration whereas the nyakhin baja revitalises the mind of the listener.
Fourteen years ago, no one could have ever imagined seeing Night play such folk instruments. The band was a hardcore metal band, belting out loud, intense, and powerful sounding music whenever they were performed. Today their music has changed completely.
"When we started, we were a metal band, driven by the philosophy and ethos of metal music. We never planned to be different or produce music for shock value. Rather, we wanted to compose meaningful music—the kind we liked or listened to," says Jason Kunwar, vocalist and founding member of the band.
Kunwar along with Ranav Adhikari and Niraj Shakya, who were avid listeners of metal music, had formed the band in 2006 and named it Night, as the word embodied the essence of the style of music they composed, says Kunwar.
But over the years, there was a shift and an evolution in their artistic expressions. The world of folk instruments appealed to them, and from a hardcore metal band, they swiftly became interested in reviving and producing melodies that were deeply rooted in the Nepali soil.
"It wasn't planned. Everything happened organically. When we started exploring different music instruments, the folk ones stood out for us, because of their sensitivity," says Kunwar.
But learning or even thinking of incorporating folk music wasn't easy for the band. Making a full-time career in music has always been risky for musicians in Nepal, and to make it in folk music has been proven to be tougher, say band members.
There weren't enough teachers or guides available, as most folk musicians belonged to so-called "lower" castes and they were slowly leaving the profession because of the stigma and discrimination attached to their work. There was also a lack of institutions as well that could formally make them understand the nuances of the instruments.
But Night was determined in fulfilling their mission. The drive and madness in doing what they aspired to do—create music from folk instruments and singing songs that were deeply rooted in Nepal's musical culture—continuously motivated them.
"Financially it was difficult for us, as what we were aiming to do required a lot of research and field visits. But we as a group were driven unapologetically, which helped us to go on," says Kunwar.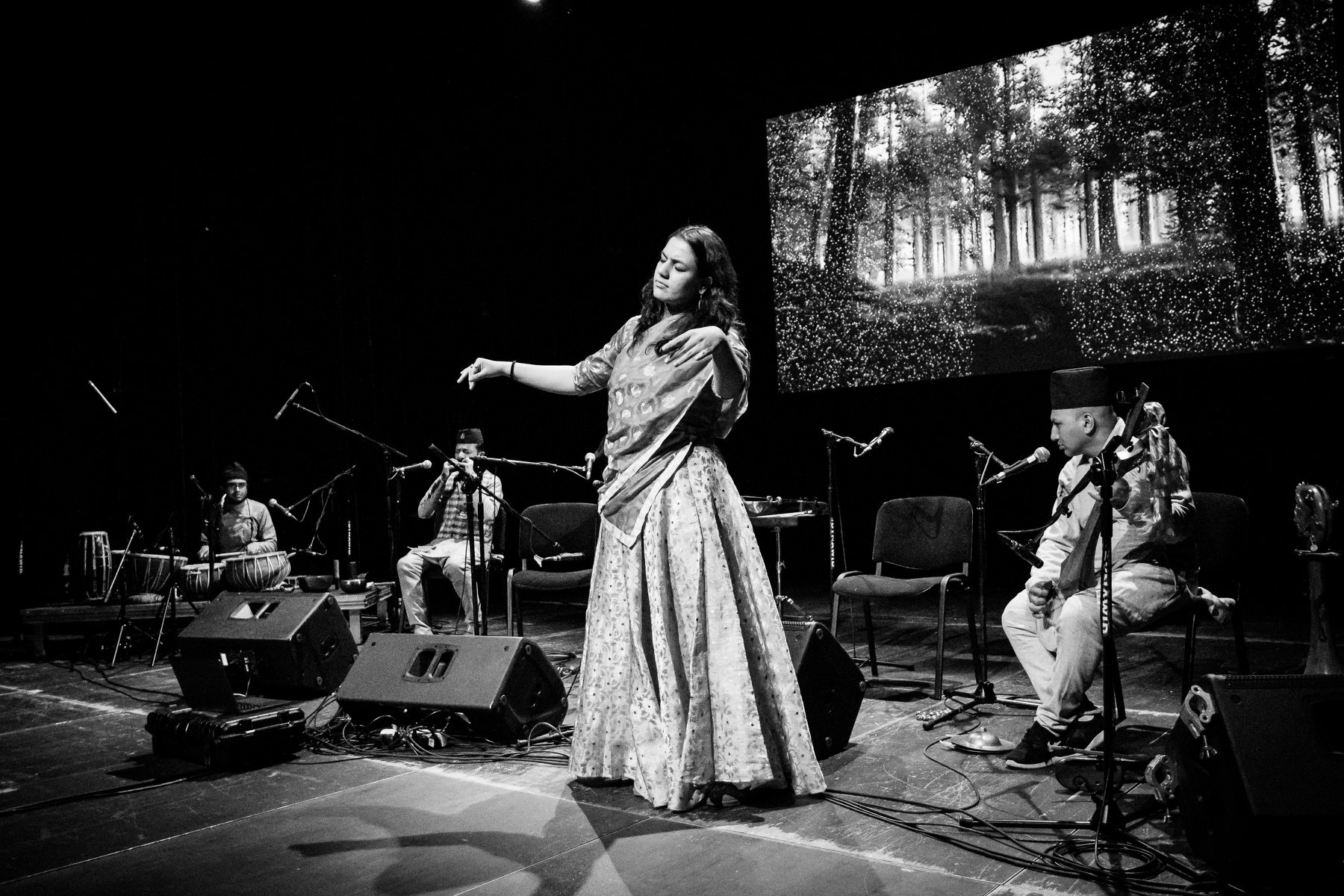 Photo Courtesy: Bartek Muracki.
And more than a decade later, Night has somehow been able to achieve what they wanted to do. They have till date released three albums, Ani Ukali Sangai Orali (2014), Jhalka Raya Buka (2017), and Ramite: The Music, Volume 1 (2019), which features dozens of folk songs, representing the country's musical culture.
And this was only possible because of their hardcore determination, sincerity, and the fact that they were passionate to maintain discipline in learning the craft of folk music, says Kunwar.
"The ethos of metal gave us discipline. We kept learning and discovering folk instruments by visiting remote areas, learning from those who had mastery in playing such instruments. Sometimes, we brought instruments and self-learned as well," says Kunwar.
In the songs of their albums, one can listen to the tunes of the sarangi, the piwancha, the dhimey, the tungna, the nagara, the pilhru, the kastaar, the chatkauli and other endangered folk instruments, which add a layer of depth and melody to their composition, aided by heartfelt lyrics, which Kunwar himself writes.
Each song is composed with the same amount of precision and dedication, where they not only sing a melody but also depict unique yet universal stories of common men and women, addressing their journey, their struggles, their plights, their glories and most importantly their culture.
"We try to be as sincere as we can to our emotions and like to compose songs on those issues that touch us on a personal level. However, we never repeat an idea or composition. Similarly, we always prefer to experiment and explore with musical instruments as well in each of our compositions," says Kunwar.
Photo Courtesy: Bartek Muracki.
But their albums aren't just soothing. They equally make people question and reflect the structures of society that adversely affects the conditions of underprivileged people, who are deprived of happiness from all sources.
For instance, in 'Tuina Ko Cha Hai Bhara', a popular song of their first album, one can find the voices of frustrations and dissatisfaction against the never-changing hierarchy and system of the country that is still fostering socio-cultural gaps between people of the lands.
In the melancholic tune of 'Sunko Jutta', through a three-minute-long music video, they depict stories of thousands of Nepali migrants, who only return to their home, to their families, in coffins. Meanwhile, in 'Kathor' we are shown the world of street children, who navigate their life of scarcity and hope in the big urban cities; whereas 'Basai Bagayo' is based on the floodings of Koshi river in 2006, where we hear the plights and sufferings of the flood victims.
"That's the beauty of art. It transcends everything and can fall into any category of expression," says Kunwar, when asked if he believes that Night's albums are political.
His words are true as not all the songs composed by Night deep-dives into pressing social and political issues only. For instance, in 'Jhalka Raya Buka', the title song of one of their albums, they have recreated the deuda and thadi style of dancing and singing of Western Nepal, creating a celebratory atmosphere.
Likewise, their 'Putaliko Bhesha Barilai' is based on the tunes performed in traditional wedding ceremonies in the remote corners of the nation, whereas their another song, 'Chhokra Geet' is rooted in the music culture of Tharu community, which also includes verses of the Hindu epic, Ramayana. While the audience only hears the final product, a lot of effort is spent on learning and writing the dialect as they try to be as authentic as possible. Likewise, there are many songs, which they recorded live on the field as well, says Kunwar.
"Some of our songs had to be recorded on the field as we wanted to recreate their essence and relive the real experience as they had to be sung in a group setting rather than in a studio," says Kunwar.
In these years of producing, reviving and performing folk music, Night has seen everything. They have performed in big music festivals, like the Shambala Music Festival. Likewise, in 2016, they were also invited to perform for BBC Radio 3.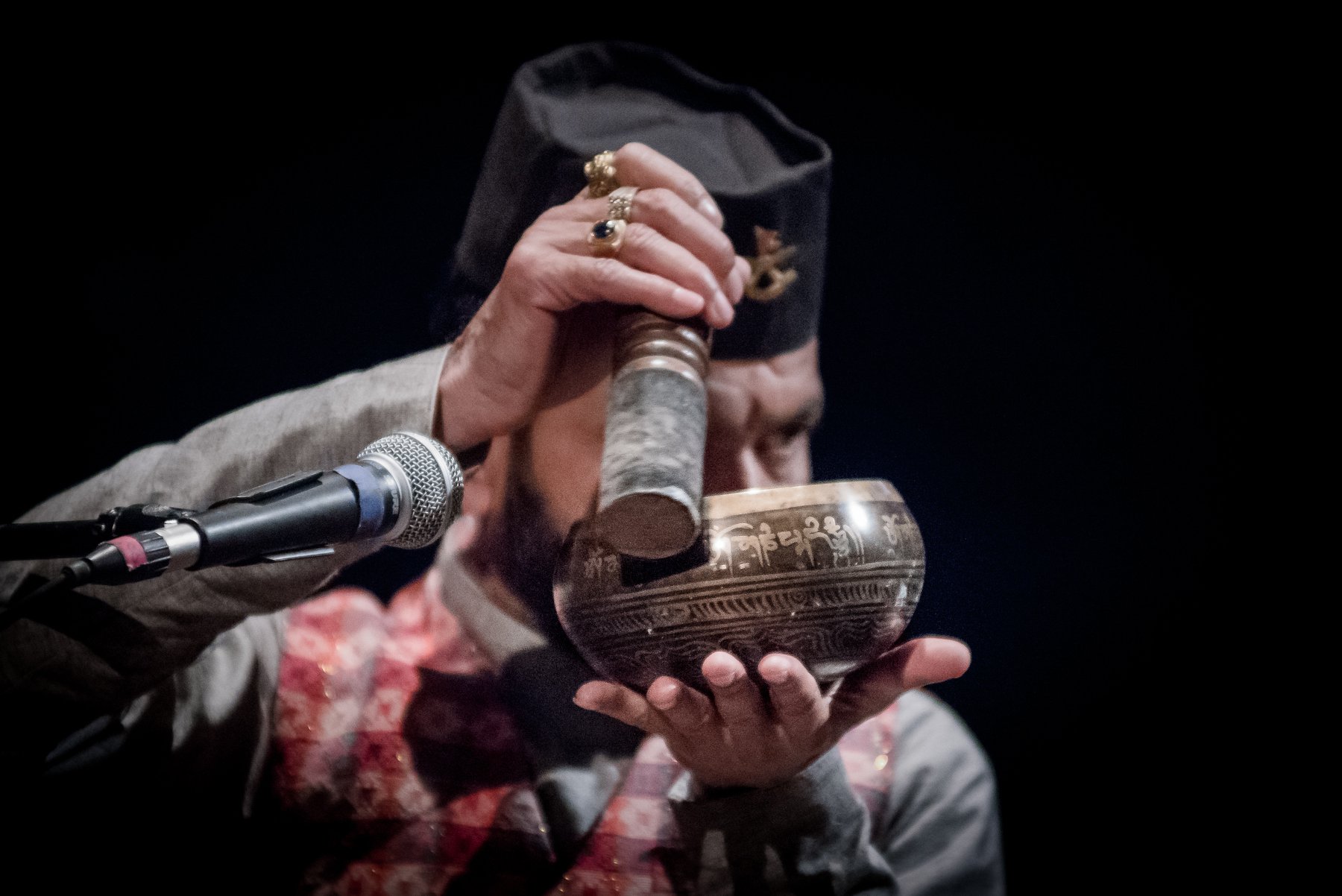 Photo Courtesy: Bartek Muracki.
"Last year was a busy year for us. Along with the release of our third album, we also performed in many countries including Germany, Belgium, France, Macau, Poland, and others," says Sugama Gataum, a vocalist at the band. If they were not busy in composing, recording or performing, they spent time exchanging and discussing various ideas related to their artistic pursuit, say, band members.
But there have been frequent changes in the faces of the band over the years as many of them have joined and left Night. Kunwar is still leading the band, while Shakya, who previously played tungna and is also the founding member of the band, is currently its manager.
Meanwhile, Shiva Kumari Khatri, who plays the paluwa, and Sudhir Acharya, who plays the percussion including instruments like madal, dhime, nyakhin baja, have been with the band for years. Gautam joined Night two years ago, with the recent addition of Agrim Lama, six months ago, who now plays tungna for the band.
"By joining the band, I have received a big opportunity of exploring, learning and relearning various folk instruments as well as received a platform for my artistic expressions," says Lama.
For the band and its members, since its inception, nothing has come easy. They waited almost six years to release their albums, due to insufficient funds as well as the fact that they couldn't find a sound engineer that could do justice to their songs, says Kunwar.
Likewise, they also regularly spent time on collecting funds for their albums, which can occupy a lot their time, due to which they might not be as regular as other bands,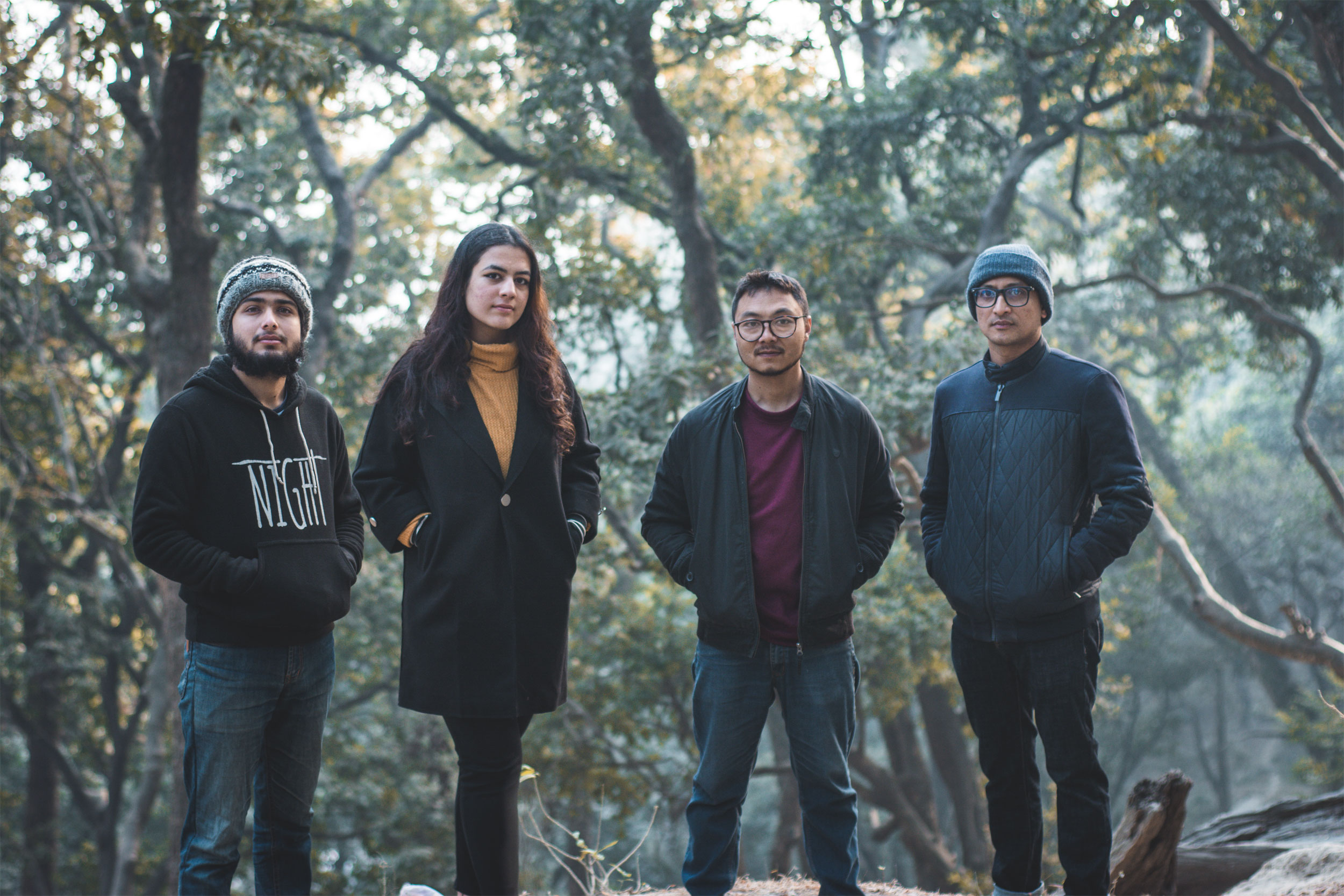 Photo Courtesy: Bishwo Harsha Bajracharya
But like a long starry night, Night's luminosity hasn't faded away, as it's journey in producing folk music, with long-forgotten traditional instruments is still going on, with a joyous and a never-giving up energy that acts a catalyst in their artistic pursuit, says Kunwar.
"All over these years of composing and performing, right now the band is in its best state. We have developed enough intellectual and emotional maturity. The music we create through the folk instruments isn't just for the advocacy of preservation of culture and traditions, but it also has become our medium of artistic expression," says Kunwar, who's gearing for the release of his book, Ramite, a one of its kind fiction novel.
---
---