Santosh Shah, who has brought Nepali recipes to the world, declared runner up at MasterChef Professionals
Shah, 35, is the first Nepali chef to participate and win the runner up title at the prestigious cooking show.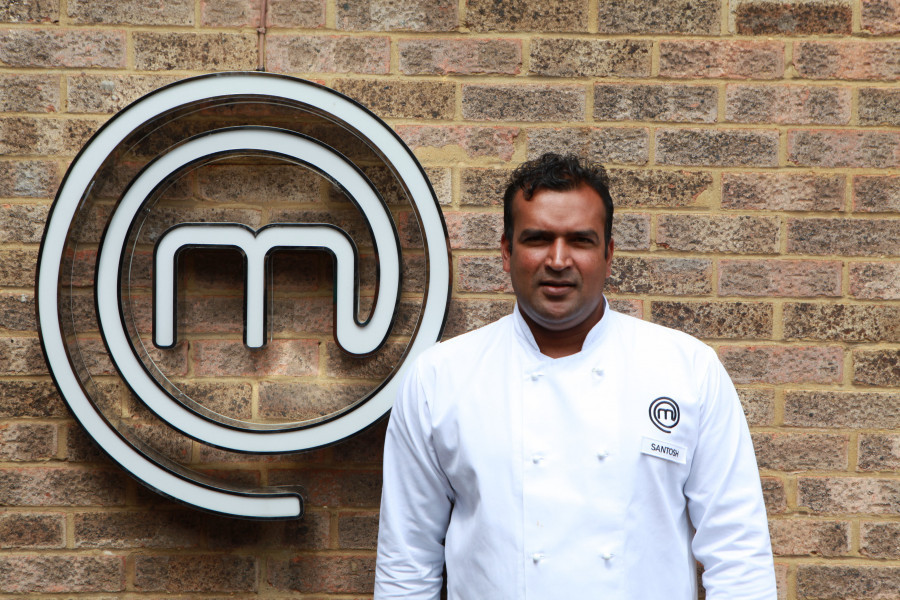 Photo Courtesy: BBC
bookmark
Published at : December 18, 2020
Updated at : December 18, 2020 13:02
Kathmandu
With his impressive culinary skills, London-based Nepali chef Santosh Shah has bagged the runner-up position at the prestigious cooking show Master Chef: The Professionals.
In the final round of the cooking show, which was aired on BBC One, Shah, 35, served spiced buffalo ribs, potato masala cannelloni, gooseberry chutney, and a paneer-stuffed paratha with Nepali rice wine (chhyaang) to the judges who were all blown away with the plethora of flavours.
The show was won by British chef Alex Webb while Shah and another finalist, Bart van der Lee, were declared runner ups of the show.
Born and raised in Karajanha, a small village in Siraha district, Shah's culinary journey in the UK started with him working at Dishoom, an Indian chain restaurant. Since then he has worked with Michelin-starred chef Atul Kochhar, at Kochhar's restaurant, Benares, and also worked as the executive chef at The LaLit London.
Currently the head chef at the Cinnamon Kitchen in London, Shah's culinary skills were appreciated throughout the contest by the judges, who acknowledged his techniques, knowledge of ingredients and flavours and knack for plating the dishes.
"I have followed the show for years, and have been preparing myself for the last five years for an opportunity to be a part of the show. I have dedicated a lot of time to analyse every episode that has aired in the last 10 years, including the contestant's strategies, winning dishes, and judges' feedback, taking notes day and night," told Shah to the Post a month ago, when he was chosen as one of the contestants for the contest.
"Ever since I got the confirmation that I'd be participating in the show, I have been spending hours in preparation for the show. If I am not specifically required to experiment, I am planning to cook only Nepali ingredients for most of my dishes. Master Chef has a wide audience worldwide, and I am planning to make the best use of this exposure," said Shah.
And indeed in the 12th season of the contest, Shah, combining his skills and knowledge, used the platform to introduce Nepali cuisine to the global audience by preparing food like ya: mari, amot, kodo ko kheer, and others, giving wide exposure to Nepal's rich culinary heritage.
"I am not sad that I didn't win as I never participated in the contest to win. Even if I didn't win the title, I won the hearts of Nepali people who gave me so much of love," told Shah to BBC Nepali this morning.
---