How is the beatboxing scene in Nepal?
In our country's growing music scene, many beatboxers are pushing the envelope by not only producing technically sound music but also by making a mark for themselves internationally—despite being in the shadows.

With more access to the Internet and the rise of NepHop, there are hundreds of Nepali beatboxers trying to make a career in the field--waiting for the opportunity to showcase their talent.
bookmark
Published at : November 27, 2020
Updated at : November 27, 2020 06:34
Kathmandu
Nishanta Gauchan clearly remembers the first time he heard a beatboxer. It was the year 2000, a time when everyone was hooked to MTV. Gauchan remembers seeing Doug E Fresh, one of the pioneers of beatboxing, performing on the music channel, creating music with no instrument, and being instantly blown away.
"I had never seen something like that in my life back then," says Gauchan. "I had no clue what it was called as well but I was just blown away watching what I saw on the television by the fact that people could produce music through the sounds made by their mouth as well."
The day became a turning point in Gauchan's life. He decided to learn and popularise the art of beatboxing in Nepal.
Originated in the '80s in the West, beatboxing is a form of producing music with the help of one's mouth, tongue, lips, and voice, intending to mimic drum sounds. While many communities and cultural groups have historically had musical traditions that encompassed employing various techniques of using vocal percussion, it was beatboxing that popularised the artform, with its close association to hip-hop.
According to Gauchan, one of the pioneers of beatboxing in Nepal, the history of beatboxing dates back to the time when people started mimicking sounds through their mouth since they couldn't afford a beatbox, a drum machine which was used by disc jockeys (DJs).
"In the beginning, the main reason why people started mimicking sounds of the beatbox through their mouth was because they didn't have access to the beatbox machine. However, later with more practise, people gained perfection in imitating the same sound of the drum machine that resulted in the popularisation of the art form, which became known as beatboxing or human beatboxing," says Gauchan.
And since the artform democratised hip-hop artists who now did not have to depend on expensive machines of making music, the popularity of beatboxing kicked off. But it was only in 2007, after the internet was more accessible to middle-class Nepalis, that people started learning the art form in Nepal, says Gauchan.
Photo Courtesy: Nishanta Gauchan
"I had to quit beatboxing in the beginning, since it was difficult for me to learn and practise the art form. However, after 2007, when the internet started becoming more accessible, I found resources for learning and perfecting the art form with the help of YouTube videos," says Gauchan.
Thirteen years later, things have changed. With more access to the Internet and the rise of hip-hop, colloquially known as NepHop, there are hundreds of Nepali beatboxers waiting for the opportunity to showcase their talent, according to Sushant Chaudhary, a beatboxer, who goes by the stage name Susay.
"Right now, we have beatboxers not only from Kathmandu but all over Nepal as well, which just reflects how more and more people are interested in learning the art form," says Chaudhary who's from Sunsari.
Among the five elements of hip-hop, which includes rap, deejaying, breakdance, graffiti and beatboxing, it's rap that is more popular in Nepal. While rap is more related to playing with words, music, and rhythm, beatboxing, however, is a difficult art form, since the music is solely produced with the vocal tract, employing various techniques which can be difficult for a layman to understand and learn.
"It might look easy for people since they think that only mouth is required to produce music which can be done using simple techniques; however, beatboxing is tough," says Dhiraj Pakhrin, a beatboxer who started in 2015.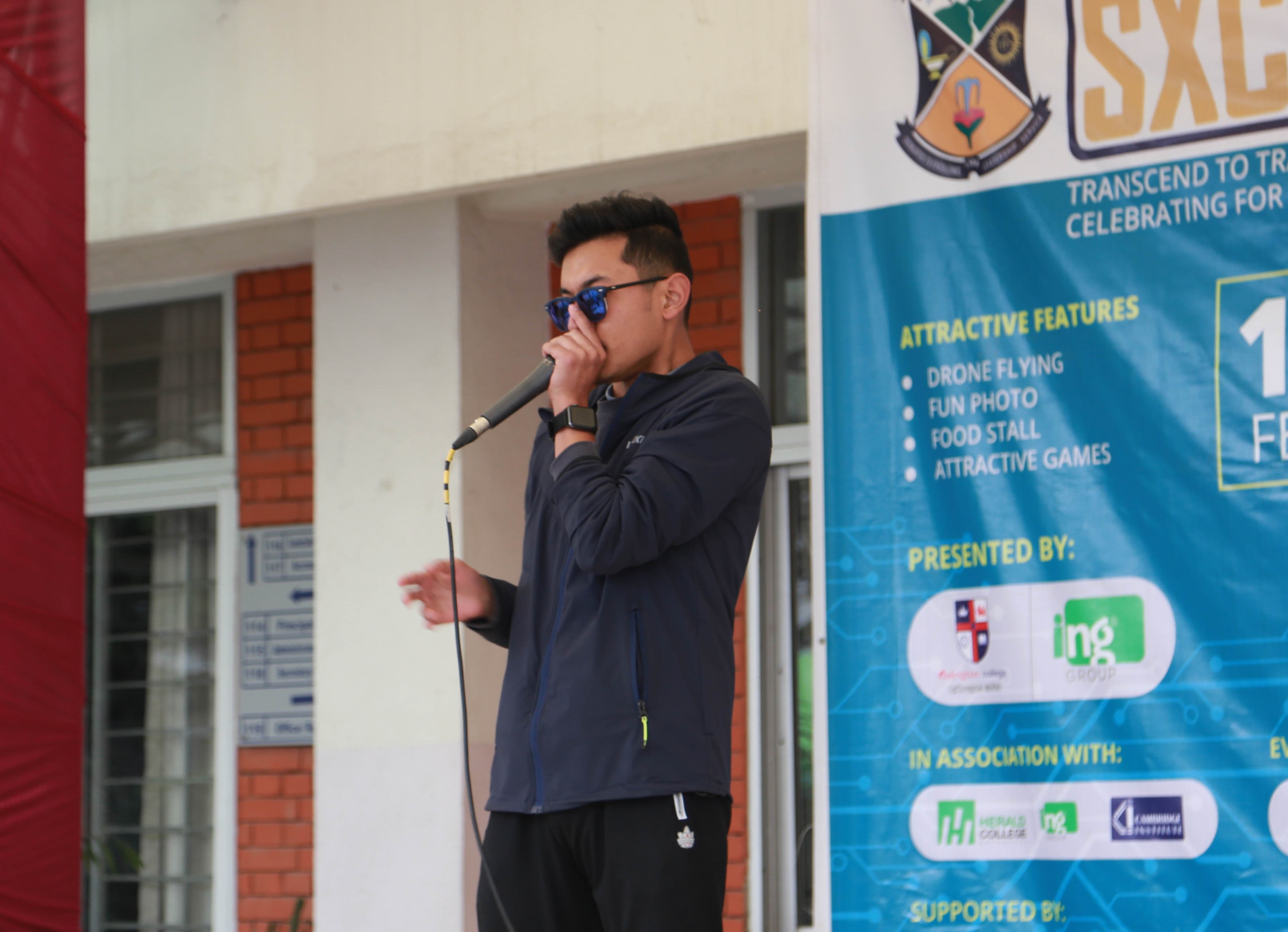 Photo Courtesy: Dhiraj Pakhrin
Curious to learn the artform, as he had seen his brothers performing beatboxing, his journey also started with the help of YouTube tutorials. "In the beginning, there were times when I was demotivated, as I couldn't produce sounds through my mouth. However when I started focusing and practising more and more, I understood the techniques and when I was able to produce the sound I wanted to, I was happy and content to continue learning the art form," says Pakhrin, who goes by stage name Vamp Beatbox.
Although with practise and experience many sounds can be produced, but, according to beatboxers, in the art of beatboxing there are three basic sounds: the kick drum, high hat and snare drum, which one should master to learn beatboxing.
"In beatboxing, we primarily play with these three basics sounds, building up to create music. However, to get the flow and to sound perfect, it takes a lot of practice," says Amos Bhusal, a 17-year-old beatboxer from Lalitpur who has been beatboxing for the past two years and goes by the stage name Amos.
But according to beatboxers, the journey to perfect the art form is not only time consuming but also physically and mentally challenging.
"Since the vocal cord, which is really sensitive, is the medium through which beatboxers produce music, for beginners it can be tough as they might feel pain when they are beatboxing as they have to apply pressure to their vocal cords to make sounds," says Gauchan, who's also a breakdancer.
Likewise, another challenge is to perfect the art of breathing. As the art form requires continuous use of vocal tracts to produce sounds, beatboxing can be physically demanding as the beatboxers have to continuously focus on their breath.
"One can get choked if they don't balance the breathing techniques when they are performing," says Pakhrin. "That's why in our art we not only need to learn the craft of making sound but should be handy with breathing techniques as well which will help us to get the flow of our music."
Regardless of being a technical artform and having hundreds of talented beatboxers, the artform is limited to a niche audience, due to which, unlike rap, beatboxing hasn't seen many admirers and still fails to provide financial security to its artists.
"Two years back I had performed for an event. The organisers had promised me to pay for my act, however later they bailed out. These kinds of things affect any artist, because when you aren't valued for your art form, which you have been learning and practising for years, you are bound to feel sad," says Pakhrin.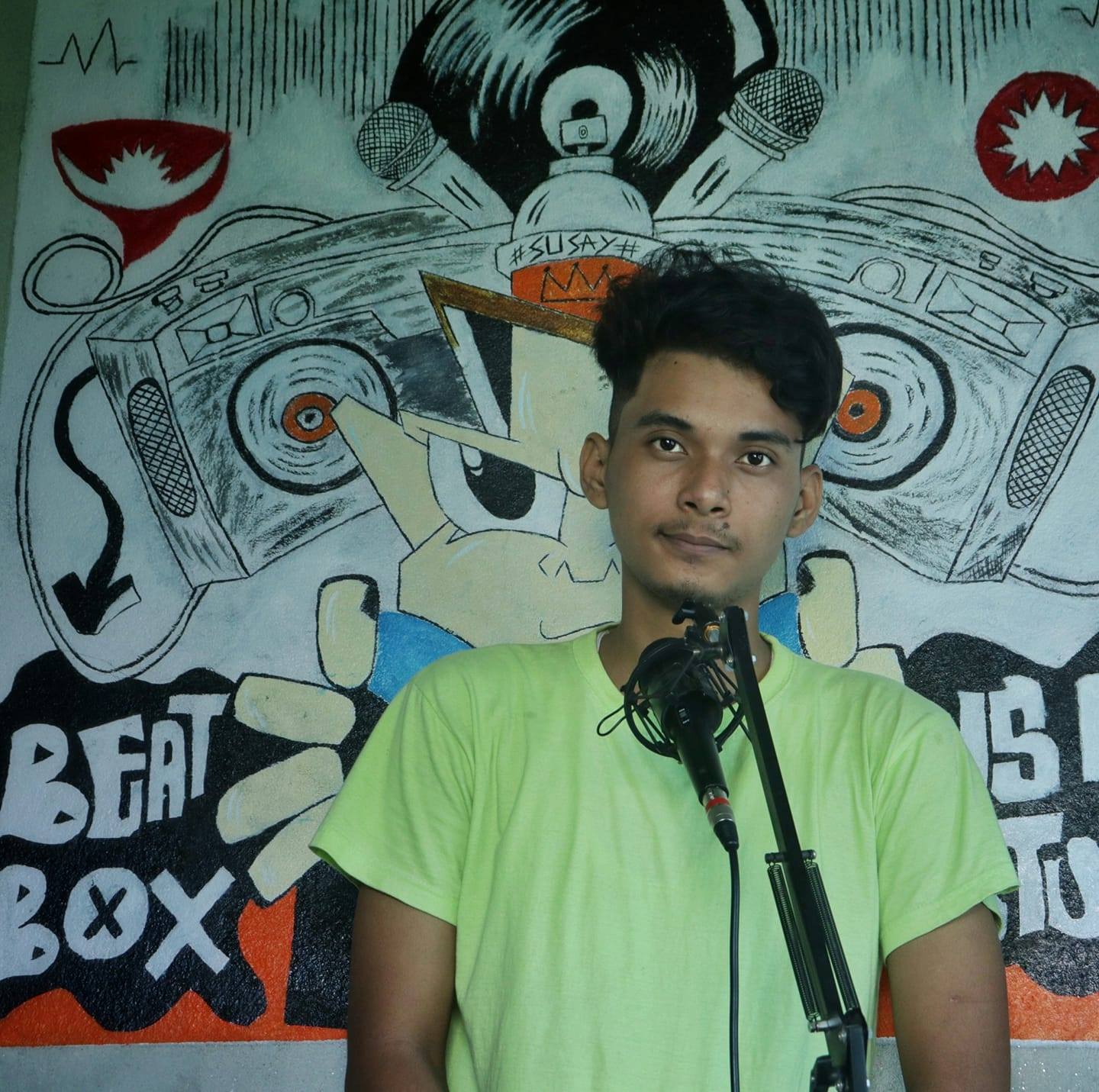 Photo Courtesy: Sushant Chaudhary
However, beatboxers believe that their community itself should also be blamed for the lack of exposure and opportunities of their art form in the country. "Most of the previous beatboxers stayed underground. Because of this, their art wasn't exposed to the mainstream, which also affected the emerging beatboxers, as they didn't have anyone from whom they could learn," says Chaudhary, 19.
In comparison to other Asian countries like India and South Korea, where beatboxing is getting exposure more than before with people finally realising it's brilliance, in Nepal the exposure and opportunities are still in its infancy stage. Likewise, it's also largely dominated by men, as there are only a few women involved in beatboxing, who are mostly underground due to which they are deprived of getting exposure for their art.
But things have improved. Many beatboxers are building strong communities with a single motive: to create a space where there is an exchange of knowledge, ideas, and techniques as well as creating a platform where they can exhibit their talent of beatboxing.
For instance, Pakhrin and Chaudhary are part of Beatbox Nepal Colony, an informal group that works to promote emerging talent as well as build unity among beatboxers. Established in 2015, the group has also organised three beatboxing battles, the recent one in 2020, which witnessed participation of more than 250 contestants from all over the country, says Chaudhary.
Likewise, Gauchan also runs a YouTube channel called Break Station that gives a platform to many hip-hop artists including beatboxers, where they can talk and share knowledge about their art as well as get a platform where they can showcase their calibre, virtually.
"The main intention behind the channel was to create a platform through which we can educate the masses about hip-hop and what goes behind the art," says Gauchan.
And when it comes to talent, Nepali beatboxers believe that they are as talented as anyone internationally. Many of them have participated in many national and international events, some even winning tournaments. For instance, Chaudhary secured a position in the Top 20 of Asian Royal Rumble 2020, an online beatbox contest that hosted beatboxers from Asia. His recent beatboxing video was also featured by Swissbeatbox, the world's largest beatboxing platform, which garnered more than 170k views in two weeks.
Likewise, Pakhrin was also successful in securing the second position in both competitions, Beatswar League and Online Beatbox Battle in 2017 and 2018 respectively.
And because of talents like them, Gauchan believes that the art form is in safe hands. "I feel proud to look at the achievements of our present beatboxers, who are so determined and talented," says Gauchan. "Their energy is so contagious that it makes me believe that we will soon see Nepali beatboxers performing exceptionally well on international platforms as well."
---
---