How this Facebook page is archiving and democratising historical photos of Nepal
With over 60,000 photos from almost 700 contributors, the page has helped record--in photographs--Nepal's history from 1853 to the 1990s.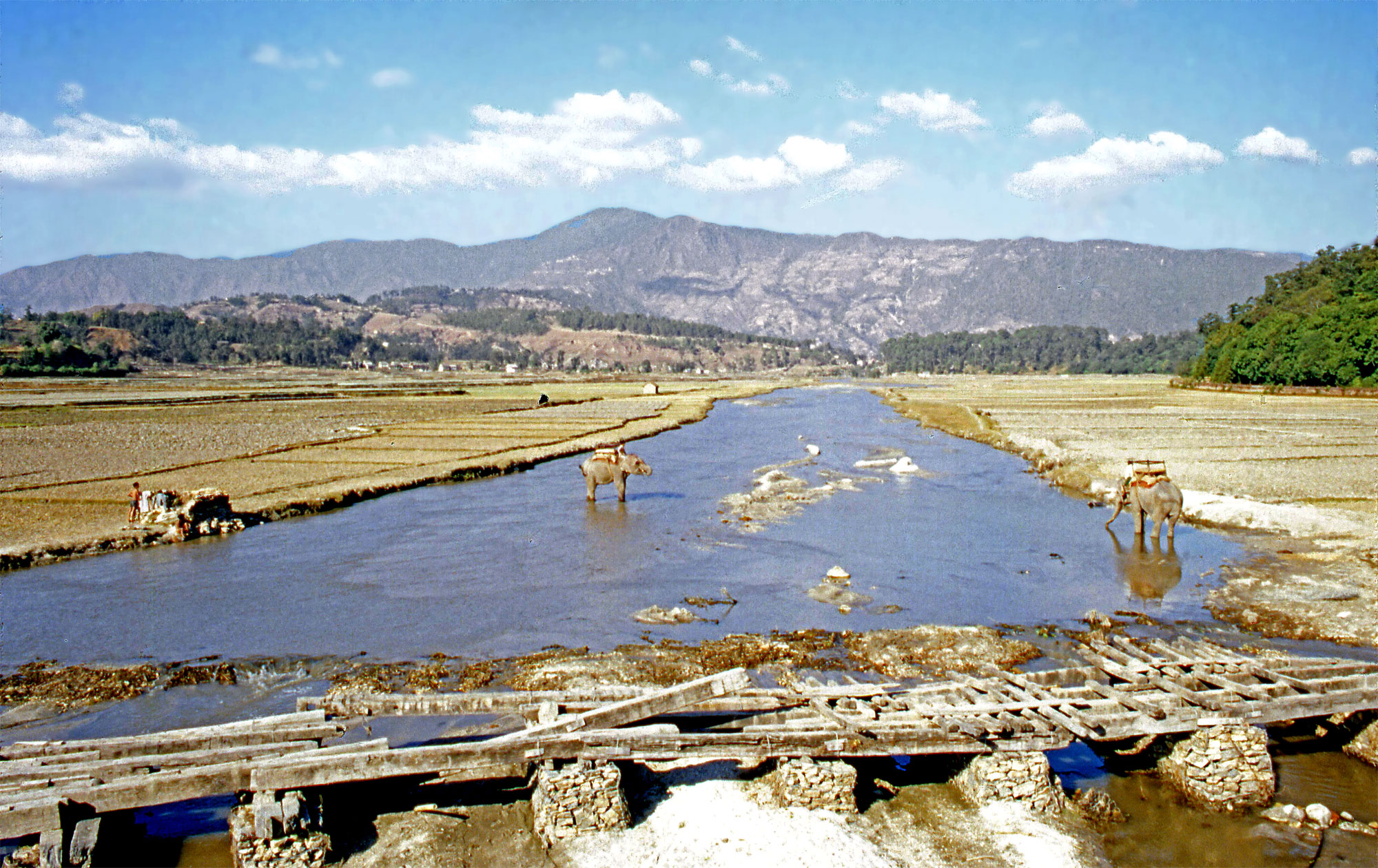 The view from a bridge in Jorpati, on the way towards Gokarna, in 1985. Photo Courtesy: Laurent Provins/ Photo Museum Nepal
Published at : September 24, 2020
Updated at : September 26, 2020 22:10
Trolleybuses moving on the roads of Kathmandu. The milk-white colossal Dharahara standing in all its glory at Sundhara. Lush green farms surrounding the Boudhanath stupa. A pristine turquoise river flowing next to Beni Bazar.
All these are now just images, locked in distant memory. Before 'urbanization' and 'development' took over, Kathmandu was a dream, often visited by backpackers, who through their cameras captured the beauty of the valley which was then relatively untouched. Many of those pictures are now open for public display through one Facebook page called 'Old Photo of Nepal', which since 2014 has been archiving and displaying historical photos of Nepal.
"We just wanted to create a platform where we could share our old pictures from our albums as well as get amused by looking at each other's pictures," says the admin and one of the co-founders of the page.
While they started the page out of joy of seeing and sharing old photos, the founders, who want to remain anonymous, say that things started getting serious when their popularity surged. "We didn't expect that we would receive so much support and response for our page within a short time. That was why we thought that we should take this page seriously," says the admin.
In the beginning, they uploaded old photos that were available on the Internet, but with time, they started contacting photographers, travellers, professors, and ex-volunteers at Peace Corps, who were ready to share their photos from private collections.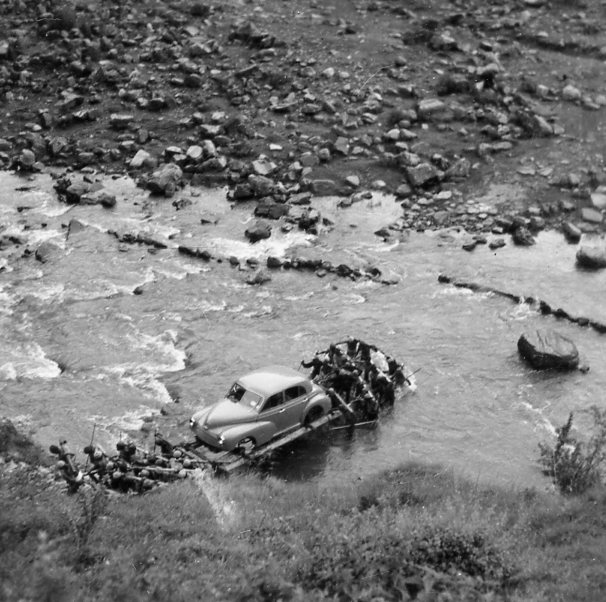 Photo Courtesy: Floyd Dowell / Photo Museum Nepal
One thing led to another, or rather one contact led to another, and six years later, they have collected almost 60,000 photos from almost 700 contributors who have helped record Nepal's history from 1853 to the 1990s.
But working in the digital archiving of old photos while remaining anonymous is tough. However, according to the admin, the support from their contributors is the driving force that has helped them in the archiving process.
"We have a group of professors, former Peace Corp volunteers, travellers, who are serving as advisors to our page, helping us put together the collection and in the archiving process and also readily providing suggestions of how we can operate the page," says the admin.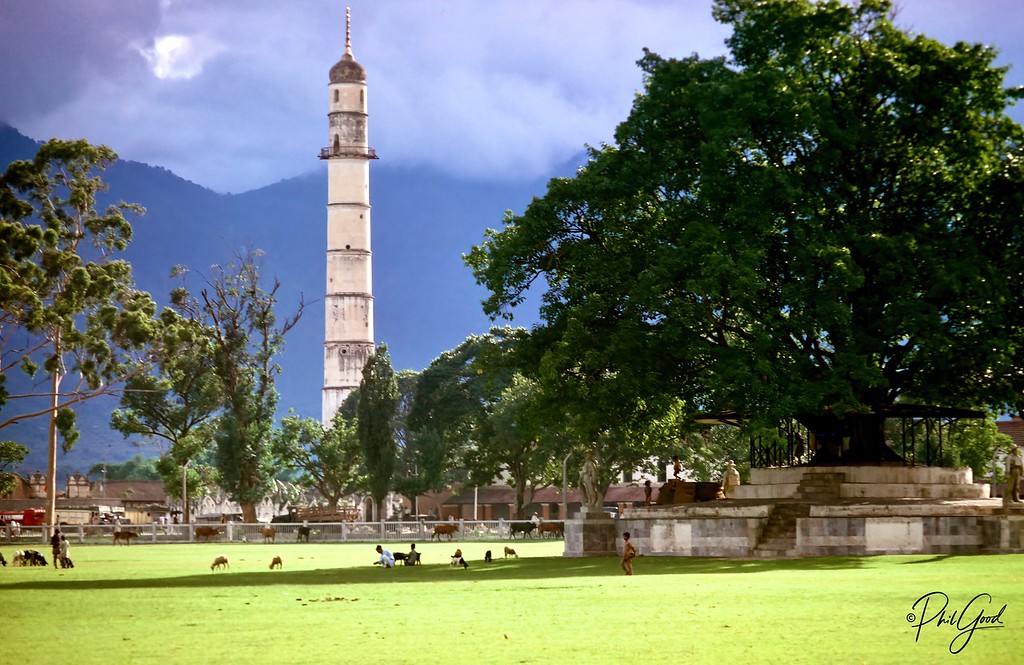 Photo Courtesy: Phil Good/ Photo Museum Nepal
From the blaze of 1973 that destroyed the magnificent Singha Durbar to the construction of the East-West highway to old photos of Dharahara and other monuments, the photos that the page has collected and archived are important tools of recorded history.
But archiving and collecting precious gems that have such huge historical importance comes with added responsibility. Since the page is currently disseminating the photos on Facebook, so that the photos can be seen by more people, many of the pictures have been misused as well.
"Many times, even after including the trademarks of photographers and our page, there is a trend of misusing the photos," says the admin.
To keep such problems at bay, the page minimises the resolution of the photo, so they can somehow control the problems of stealing.
At a glance, while these photos can be a source of amusement for people, according to the admin, their collections have been a great help for people from all spheres of life.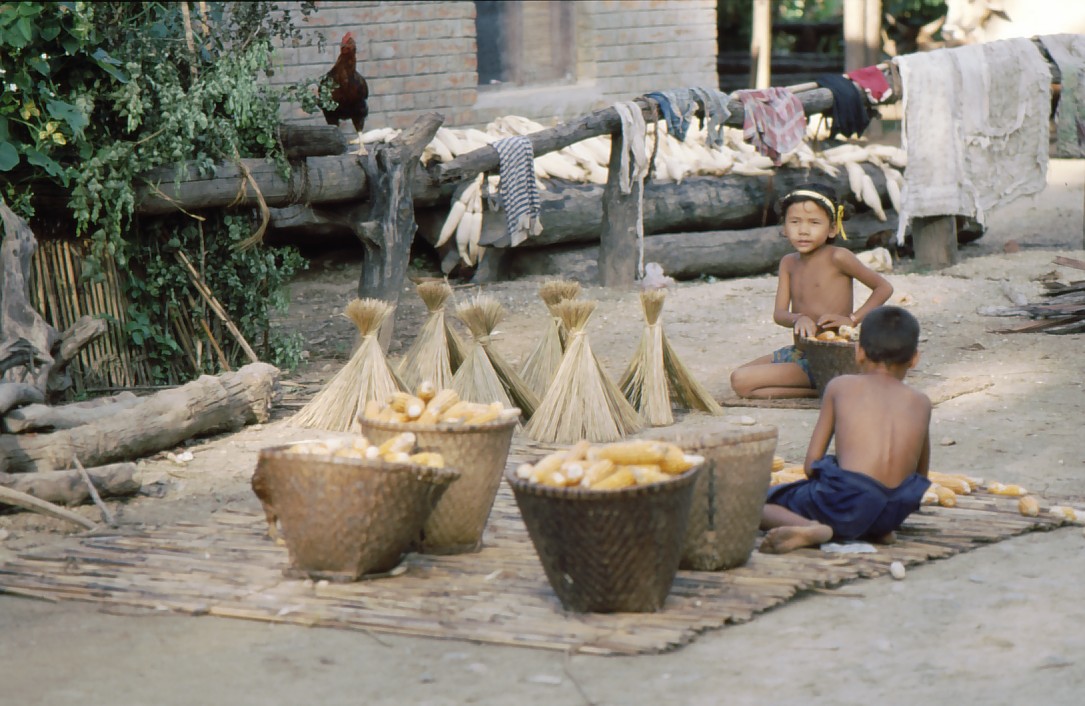 Photo Courtesy: Flavio Beltrami / Photo Museum Nepal
"After uploading the old photos, many people have got connected with their old-time friends, who share and recall their fond memories. This makes us happy that through our platform, not only we are documenting history, but we are also letting people relive the memories of the old-good days," says the admin, who runs two subsidiary pages, 'Nepal ko purano Tasbir haru' and 'Photo Museum Nepal'.
But that's not the only value the page's creation has led to. While the page has definitely been a space where the general mass can learn about the country's history, researchers and institutions too often reach out to them for their research work, says the admin.
"We were contacted by a Japanese University, who were researching about Hanuman Durbar Square. Likewise, we have also been asked for old photos of temples by authorities, so they can be used as a sketch to rebuild the monuments which were destroyed by the earthquake. This just shows that the value of archiving the old photos has, as during the time of necessity the photos can be of great use," says the admin.
In Nepal, few attempts have been made in digitising and democratising old photos at an institutional level. Although Madan Puraskar Pustakalaya paved the way for archiving old, rare memories, it was through Nepal Picture Library, an initiative of Photo Circle, that a successful consortium of preserving and promoting such historical resources was possible.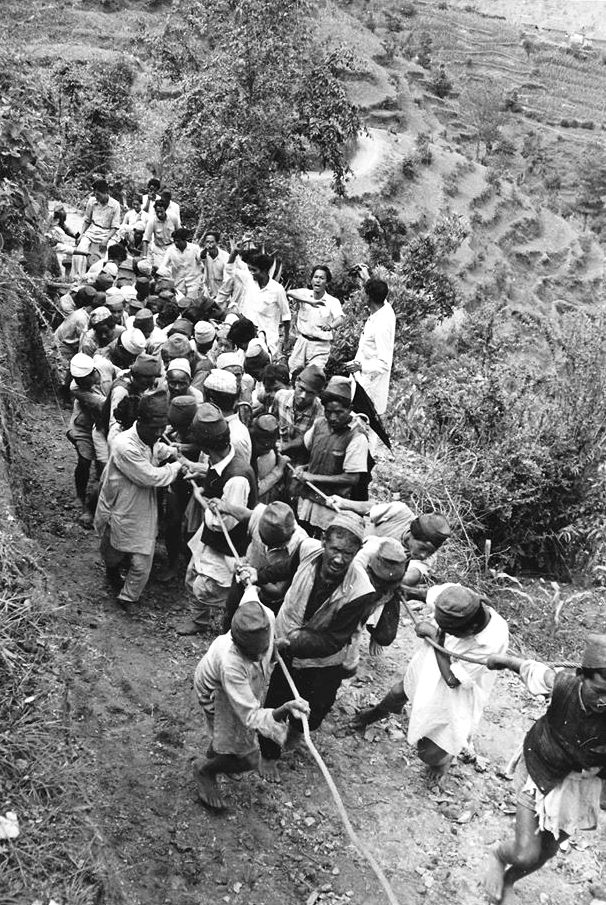 Photo Courtesy: Williams James Stone/ Photo Museum Nepal
However, unlike the two, what makes this page is different and unique in its approach is its use of social media and how it has democratised the old and historical to a larger mass, by making history available through social media.
"Because of the platform we chose, the photos, which were previously seen by a limited circle, can now be reached to many places. In our perspective pages like ours can be the means through which one can easily be well-versed about the past," says the admin.
Currently, the page has more than 100k likes on their main page, named 'Old Photos of Nepal', with a nominal following on the other two. While for the founders, Facebook has been their primary platform for displaying their work, however now with time, the page is also planning to dedicate a separate digital archiving space, both online and offline under the name 'Photo Museum Nepal'.
"We will be sharing our collections on Facebook, but in the long term we also want to create a space where we can digitally archive the photos and even start a gallery," says the admin.
Last year, the page had also conducted 13 exhibitions in different government schools, where they exhibited various photos to the students.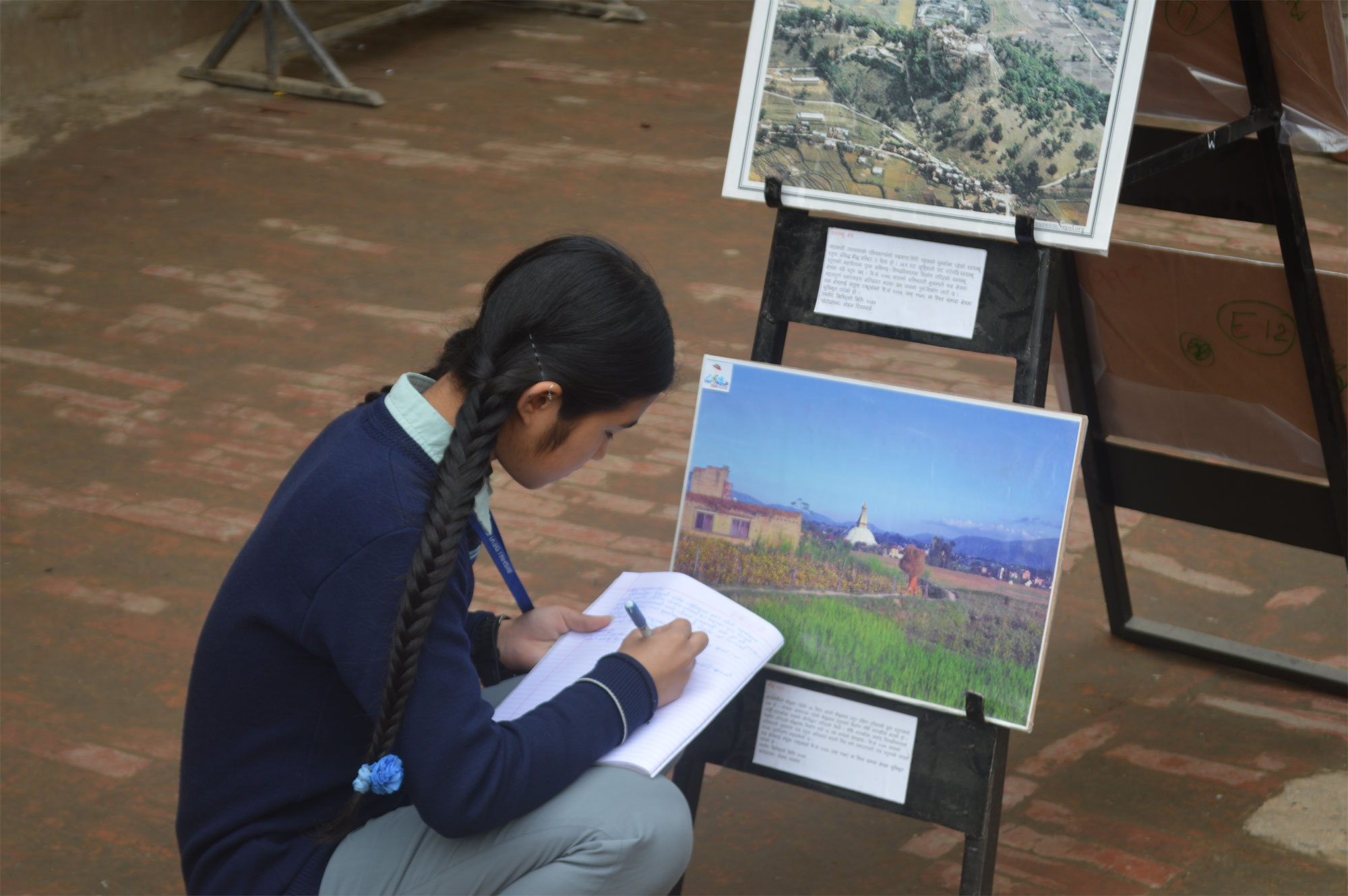 Photo Courtesy: Photo Museum Nepal
"It was amazing to see the response from the children. Not only were they enjoying it visually, but the photos provided them with an opportunity to observe and understand the changes that have taken place in Nepal," says the admin.
Currently, the page is being run by a group of four, who dedicate their time to the collection and dissemination of the images. While their efforts are serving as a repository to the old vintage photos, for them their work is more important than their names.
"We even don't share personal details with all of our contributors, as we don't want our names to get space in any way. There are times when our contributors are reluctant since we don't share our details with them. However since we strictly follow copyright laws and work to give their photos due credit, they understand our objective and share their photos," says the admin.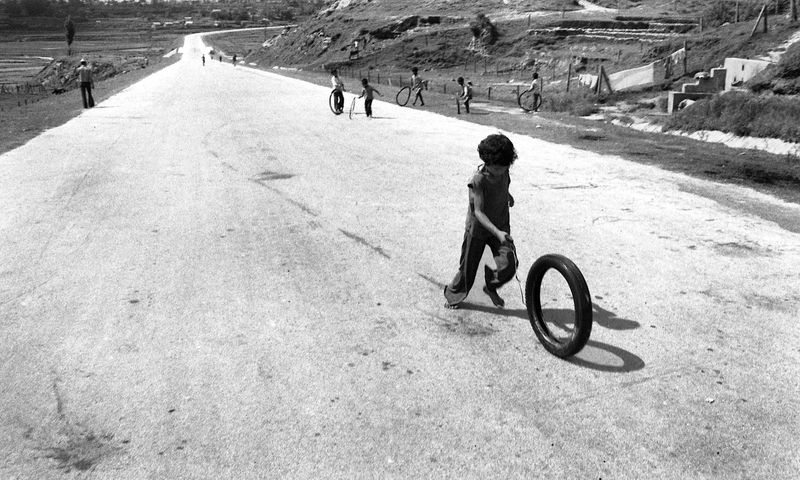 Photo Courtesy: Alain Van Hille/ Photo Museum Nepal
For the founders, these old and historical photos aren't just mere showpieces. These photos, according to them, have visual knowledge of the past that can shape the present and future if they are made available to the public.
"The objective of our work is to preserve the culture, heritage, environment, and traditions of our country," says the admin. "Although we are trying to diversify and make our work more systematic, our end goal will always be of preserving the visuals of the old days for our upcoming generations, so they can have resources to study their history and culture, and observe the overall changes through photos."
---