A man with many hats
Ananda Maharjan for the past 17 years has been working in the field of graphic and typeface design. Now using his talent and skills, he is on a mission to preserve and promote the Newa language and script.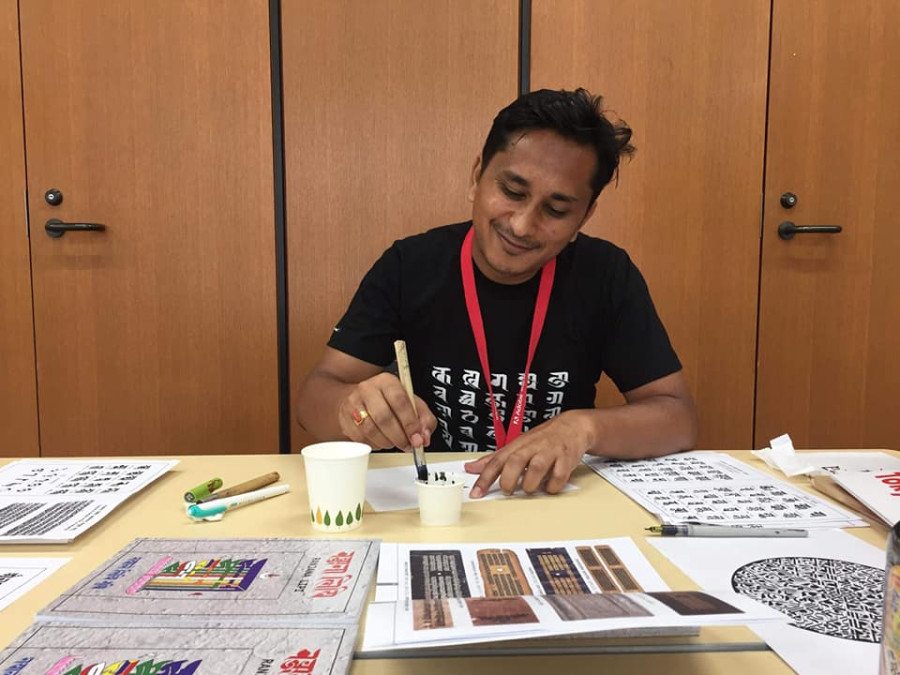 In 2003, Ananda Maharjan created his first font. Today, he has 30 fonts to his name. Photo Courtesy: Ananda Maharjan
bookmark
Published at : September 23, 2020
Updated at : September 23, 2020 06:30
Kathmandu
It was back in 2003, while designing reports, brochures, books, and various other publication materials for NGOs and INGOs, that the unavailability of Nepali fonts immensely bothered Ananda Maharjan.
As someone who had to be handy in graphic designing, the need to work with Nepali fonts was a requirement of the job, as he had to also design the materials in the Nepali language. And for Maharjan, who loved experimenting with different fonts, the lack of Nepali fonts was stumbling his creative process.
And like how necessity is the mother of invention, he combined his designing skills to create his first-ever Nepali font, called Ananda 1 HV, to have more fonts to work with.
"I was always fond of experimenting. But the lack of Nepali font restrained me from doing it, due to which I developed my own so I had more fonts to incorporate in my design," says Maharjan.
Maharjan, who has been working in the graphic designing industry for the past 17 years, is among the handful number of typeface designers who are actively working in designing fonts in Nepal.
Till now, Maharjan has designed more than 30 fonts, among which a few are available on the internet free for public use. However, Maharjan's typeface designs aren't limited to Devanagari fonts only. He equally dedicates his time in developing Roman and Latin fonts as well as the Prachalit Nepal Lipi and Ranjana Lipi of Nepal Bhasa.
To design a new font, he follows three different creative processes which differ as per his convenience, he says. The first design process begins with the sketching of the design on paper, which later gets scanned on to the computer. Then Maharjan, through the help of Adobe Illustrator, makes the vector of the design, which later gets exported to font-making software.
In the second process, using various geometrical shapes and angles, he designs the prototype directly on the Adobe Illustrator, while in the third process he straight away works on the font-making software itself.
However, making fonts isn't as easy as it sounds. Making the desired hook, slant, edge, twirl and the sloop of the font is a time-consuming creative process, says Maharjan.
"You have to dedicate a lot of time in making sure that the font is designed as per your vision," says Maharjan, who says many of his fonts are still pending as he is striving for perfection.
But that's not the only challenging factor in typeface designing. In Nepal, according to Maharjan, there is a lack of market for typeface designers.
"The big corporations do approach me for designing fonts for their products. However the table talks do not proceed into action, as they still aren't ready to invest money and time for hiring someone to design fonts for them as they clearly lack the knowledge about the importance of fonts in branding of the products," says Maharjan, who has been selling his fonts online for the past one year.
While business isn't great in the typeface design market, in the arena of poster designing of films, Maharjan's work has huge demand.
His career in movie poster designing started with 'Chadke' in 2013, whose opportunity he received by participating in a contest held by the makers. Today, in a span of seven years, he has designed posters for more than five dozen movies including Kalo Pothi, Lalpurja, Intu Mintu London ma, Ma Esto Geet Gauchu, and Changa Chet.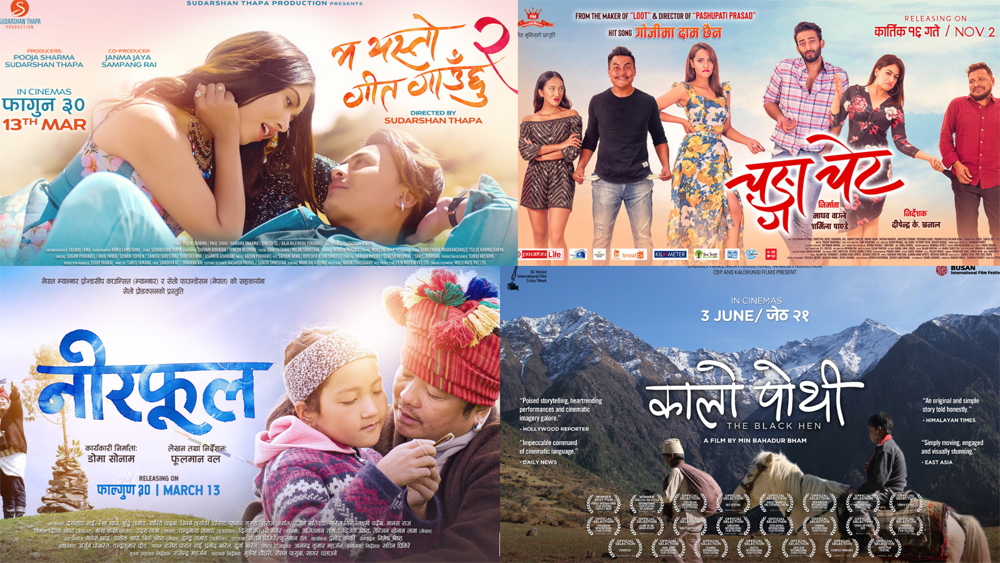 Photo Courtesy: Ananda Maharjan
Likewise, his talent isn't limited to the Nepali film industry only, as he has designed the English and Hindi title fonts of many Hindi movies like Dhadak, Kedarnath, Paataka, Hindi Medium, Tubelight, Padman, Tanhaji, and so on.
While graphics and typeface designing keeps him busy, in 2015, he along with others a group of calligraphy enthusiasts formed Calijatra, through which he along with the other team members are reviving and promoting the Newa language and script.
Started in 2017, Calijatra took off only as a group of like-minded people who were providing training and calligraphy workshops of both Prachalit Nepal lipi and Ranjana lipi, to make the learning of writing the script more accessible to the younger generations in a format that could engage them.
"At first we took the training of writing the script from Nepal Lipi Guthi, as we were just curious to learn it. However when we started learning, we started understanding the importance of language and script, and hence we decided to work together so we can also pass on the knowledge to the younger generations, leading us to organise workshops," says Maharjan, who is also the Creative Head at Hamro Patro.
Until now, Calijatra has organised 40 workshops in the Kathmandu valley as well as in other parts of Nepal, including Lamjung and Ramechhap. Likewise, last year, along with another team member, Sunita Dangol, Maharjan had also been a part of an international event in Tokyo, Japan, where he facilitated presentations, training, and workshops on Newa scripts.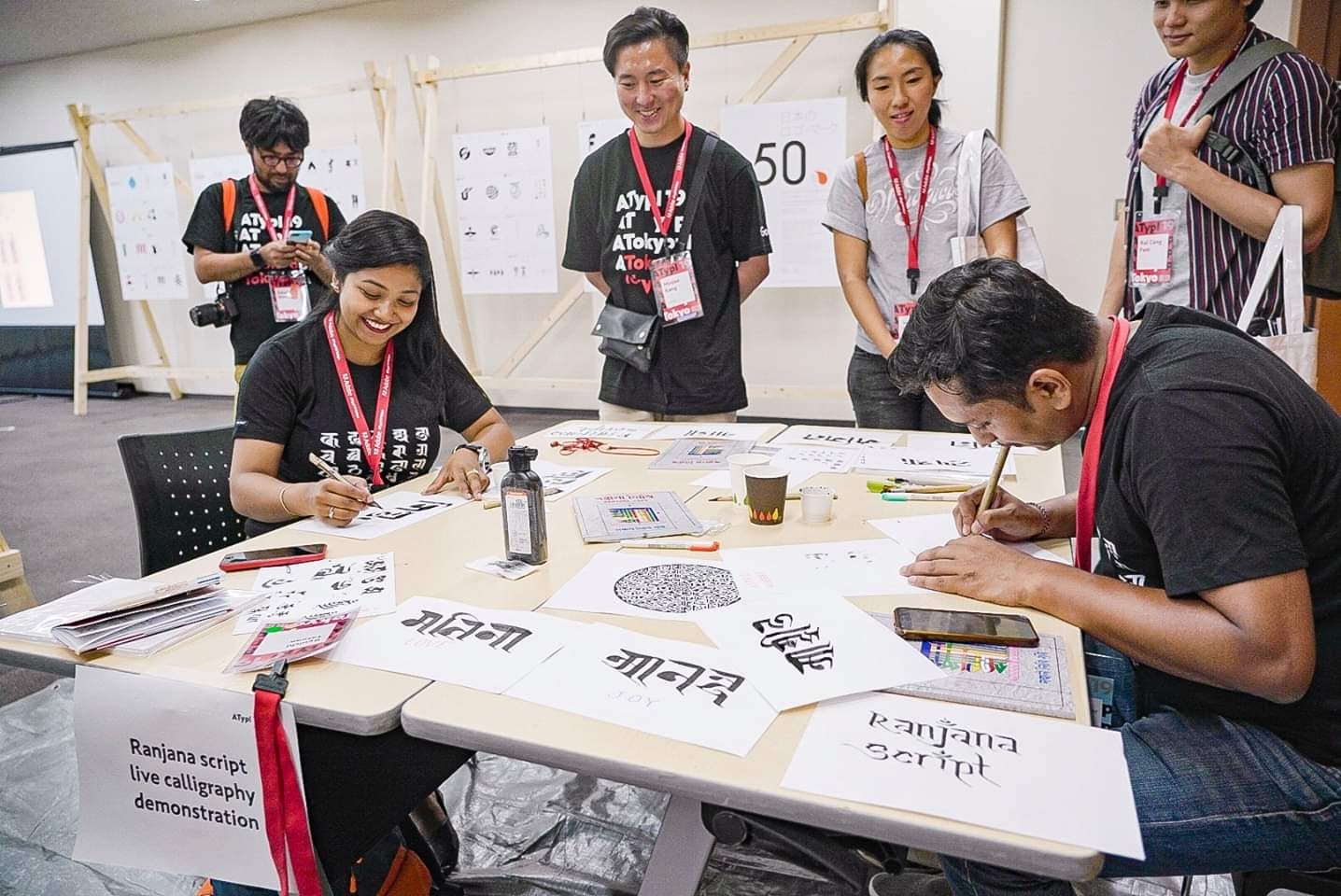 Maharjan with his team from Calijatra, who organise various workshops to promote Newa language and script. Photo Courtesy: Ananda Maharjan
In the past few years, many efforts have been made by Nepal Lipi Guthi, which was established in 1980, to spread the importance of the Newa language and script. While the Nepal Lipi Guthi as an institution still offers people a chance to learn writing Nepal script, which consists of nine variations including the Ranjana and Prachalit Nepal, the mission of Calijatra isn't only to make the participants completely verse in Nepal scripts. Through Calijatra, he and the team members want to develop a conscience and awareness among people, who through their platform, will be interested to learn more about their culture, he says.
"Once you try to learn the script, automatically you will be interested to learn the language as well," says Maharjan
Along with the physical workshops, Maharjan has also been involved in 'Nepal Lipi-Ranjana Lipi (Type Newa)' application, which allows the users to type in Nepal Bhasa on their phones. The application has almost been downloaded 25,000 times, says Maharjan.
Many efforts have been made to revive Nepal Bhasa and its script, but according to Maharjan, the younger generations still aren't interested in learning their language and script, as the teaching approach and materials still haven't been designed adopting the new technologies and changes.
"The younger generations who are interested to learn Nepal Bhasa and script don't have enough platforms that are designed as per their preferences. While many institutions have made efforts for creating a space where people can learn, space is limited with a certain periphery as well," says Maharjan.
And to minimise this gap and create more accessible platforms for the upcoming generation, Maharjan is dedicating his knowledge and skills in designing contents that the present generation can easily understand and use.
For instance, since the pandemic, through Facebook and other social media platforms, Maharjan along with his team members at Calijatra have been conducting free virtual classes, where they are teaching Nepal scripts as well as tutorials on speaking Nepal Bhasa.
"Our collective effort is to make the learning process more accessible and reachable so that more and more people will be curious and interested to learn their language and script," says Maharjan, who has also designed stickers and created animated rhymes in Nepal Bhasa, which are available on social media platforms.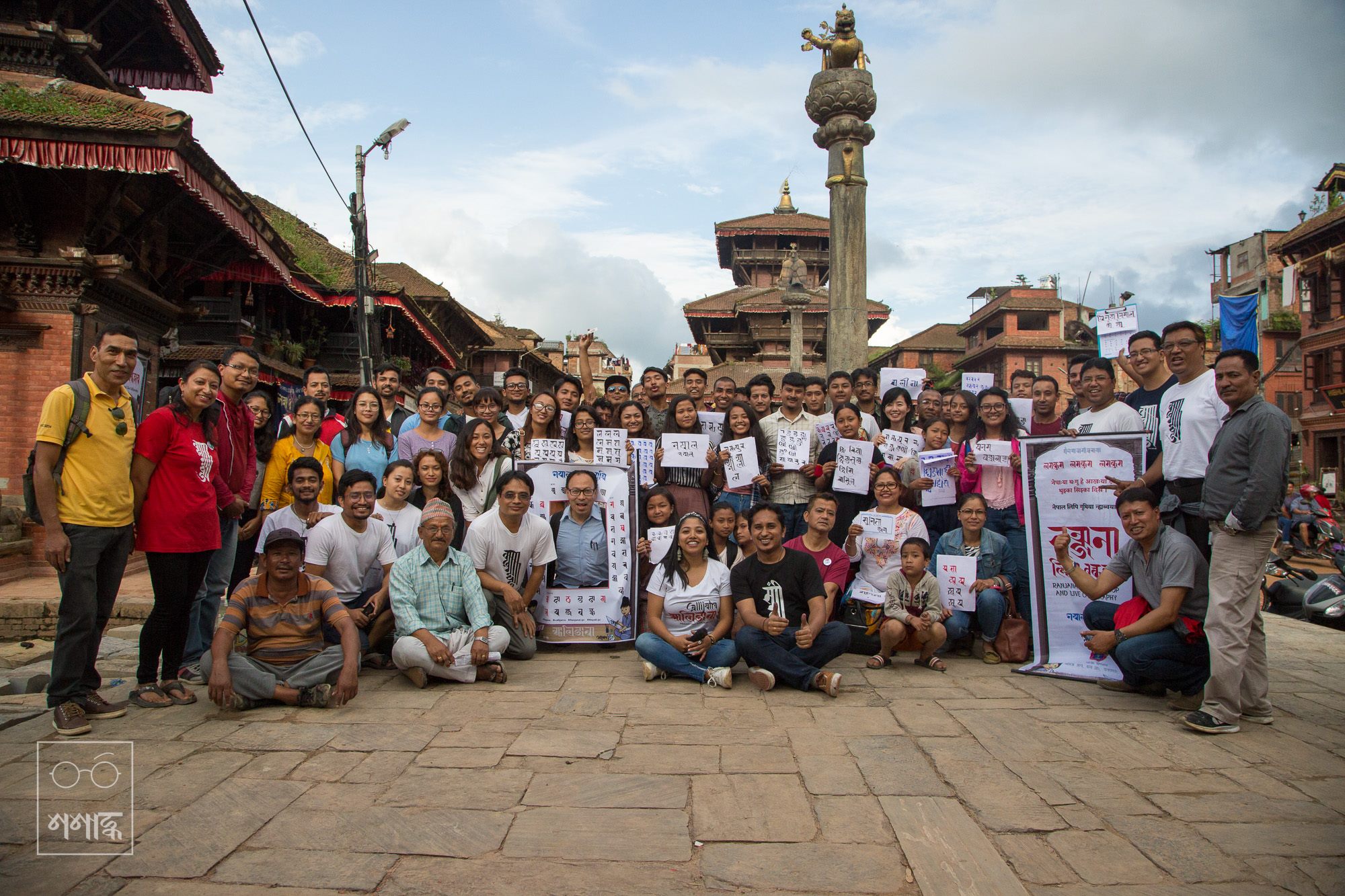 Photo Courtesy: Ananda Maharjan
Maharjan believes his initiative can function as a repository of Newa culture and script. "There are many books of science, astrology, medicine, history, architecture, tantrism and others which were written in Nepal script. Imagine the abundant knowledge we can get if we can read the script," says Maharjan.
And thus combining his skills in graphic and typeface designing, Maharjan has now been devoting his time to giving back to society by creating platforms through which the present generation can learn about their culture, language, and script, he says.
"As someone who has been working in designing, I know the importance of visuals. Hence, while creating any platforms of learning, I make sure that the platforms can visually attract the people, due to which they will be interested to use it," says Maharjan.
---
---