How Teej songs have evolved and what they mean for women
From bitter-sweet lyrics with which women vent their emotions to notes of resilience against patriarchy, Teej songs have for years been used as a means to reflect women's position in Nepali society.

On Teej, which falls on Friday, women come together to observe the festival by dancing and singing. Post File Photo
bookmark
Published at : August 21, 2020
Updated at : August 21, 2020 05:28
Kathmandu
On July 19, singer Sophia Thapa released a Teej song 'No Barta Please' on YouTube. Through the song, Thapa urges women who are pressured to fast on Teej to not succumb to external forces. "If one wants to fast, it should be their personal choice," says Thapa, who wrote the song during the lockdown days within two days.
"Through the song I also wanted to comment on discriminatory customs, like drinking khutta ko pani [leftover water after the husband's feet are cleaned], which are responsible for maintaining hierarchy," she says, for whom such songs are an artistic medium through which she conveys messages of equality and rebels against patriarchal practises in the name of festival and culture.
Her song, however, was met with a lot of backlash, and the video of the song had to be removed from the social media site because the singer started facing threats from the public as well as religious fundamentalists.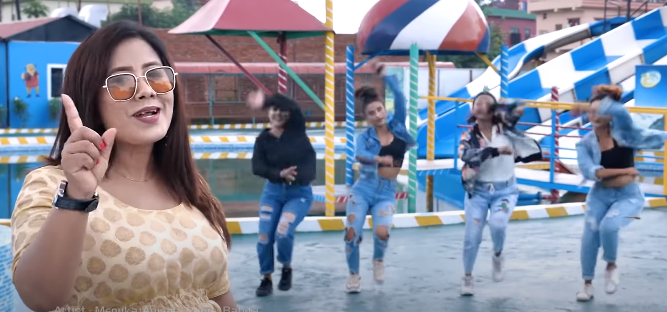 Screengrab via YouTube
Although Thapa had to pay a price for being vocal about women issues through her work, according to Indira Mishra, associate professor of English in Mahendra Multiple Campus, Dharan, the essence of Teej songs has always been this—to use the songs as a medium to vent out the frustrations and grief women face in society, because of patriarchy's unfair treatment and other societal injustices.
"Teej songs, most of the time, are filled with pathos, as it has always been used as a medium through which women express their problems," says Mishra, who has written research articles and presented academic papers on Teej songs.
Celebrated annually on the third day of the waxing moon in the Nepali month of Bhadra, Teej is a prominent festival which is observed with fervour and enthusiasm mostly by Hindu women living in the hills and plains of Nepal.
The women observe the festival (by feasting and dancing with other women and then fasting) in the hope that they will find a 'good' husband like goddess Parvati did in lord Shiva. Legend has it that goddess Parvati, who was supposed to marry lord Vishnu, too had undergone rigorous fasting to get Lord Shiva, as he was the one she wanted to marry. Married women observe the festival in the hopes that their husbands will have long lives.
On this day, women dressed in various hues of red, orange, green and pink dance their heart out in both public and private places on Teej songs, which according to Bindu Sharma, assistant professor of Nepali at Ratna Rajya Campus, is the soul of the festival.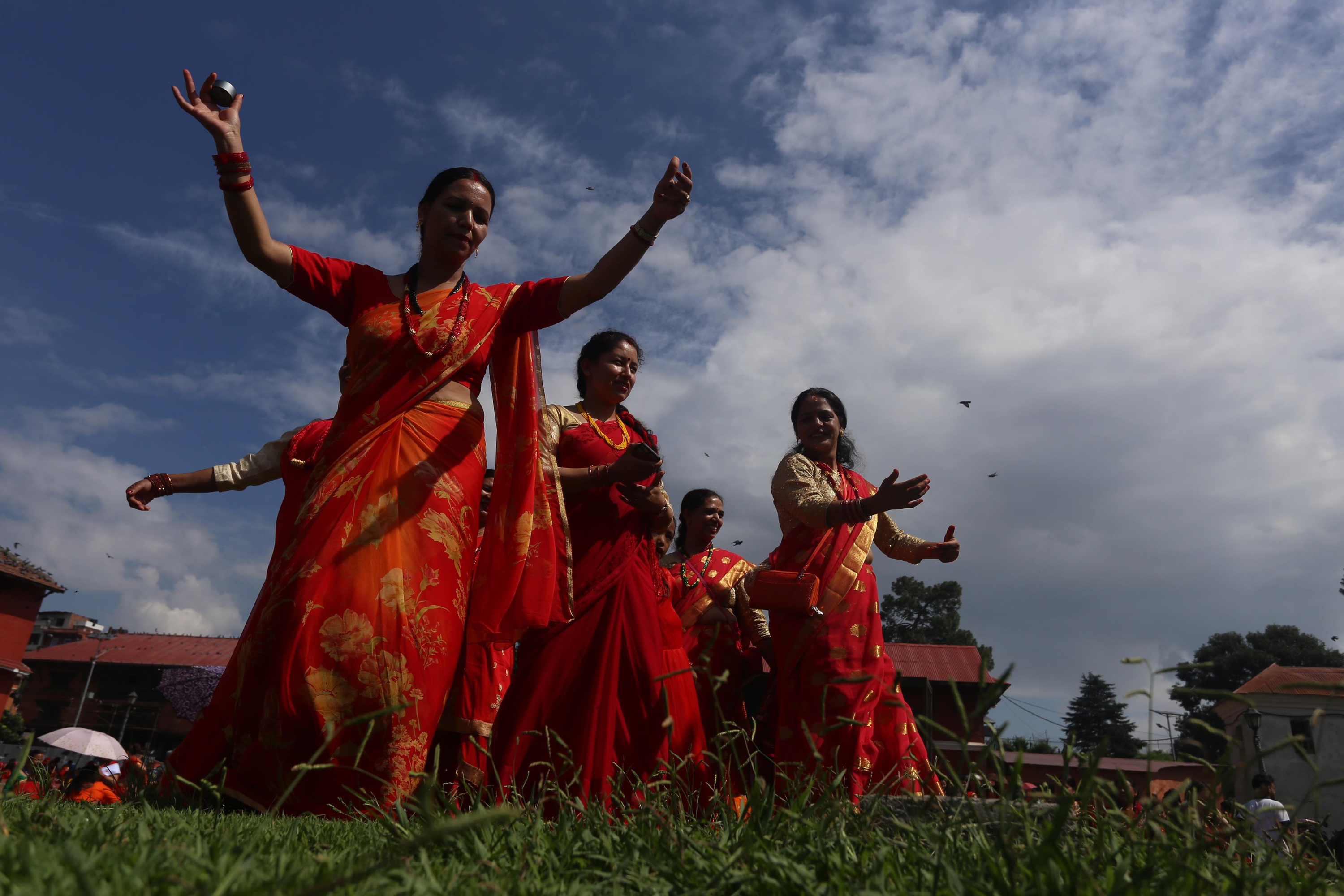 Post File Photo
"Without songs and dance, Teej can't be celebrated. The essence of the festival lies in women coming together to observe it by dancing and singing on songs that are made for the festival," says Sharma.
But over the years, the nature of Teej songs have altered. While traditionally, Teej songs have always been like an alternative genre in the "herstory" of songs in Nepal, where women have the agency to tell their stories, today they have become commodified. "Traditionally, there were no opportunities in the public sphere where women could openly talk about their problems. That's why they used these songs as an opportunity to sing bitter-sweet songs about their inner sufferings," says Sharma.
With the end of civil war, democratisation of institutions, and rise in the economy, many Nepali women started getting employment and education opportunities. And this became the most important changing point in the nature of Teej songs, says Mishra.
"Before Panchayat, we had songs where women made their miseries the subject of the song. During Panchayat, and even during the multiparty system of the '90s, Teej songs had elements of revolution in it," says Mishra. "It was only after 2006 that a new wave in Teej songs flourished in Nepal, after women started getting economically independent," says Mishra, who credits the arrival of Komal Oli's Poila Jana Pam for changing the nature of Teej songs in Nepal.
Until 2006, for almost two decades, Teeja ko Rahar Aayo Bari Lai from the 1991 classic film Kanyadan was the number one Teej song for most women. Then came Oli's song, whose lyrics were initially lambasted (for it carried the message that women should have the decision to select partners on their own), which changed the game and the nature of Teej songs.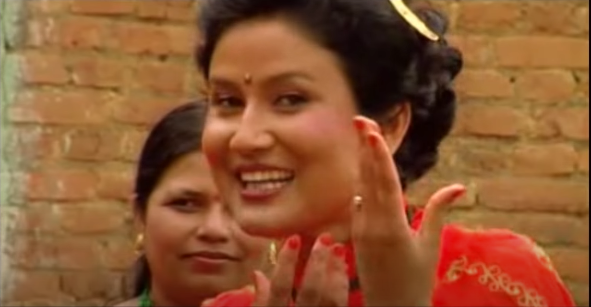 Screengrab via YouTube
According to Oli, who's currently serving as a Member of Parliament, the song was created intentionally to bring a revolution in Teej songs by highlighting the importance of self-decision of women in picking up the spouses. "Back then, it was mostly the family members who decided whom the girl should marry. Likewise, there was also the trend where men would be visiting different families to search for the 'perfect' bride. Only the approval of the guy mattered," says Oli.
With Oli's song, the market of Teej songs blossomed, with more and more artists showing interest in creating such songs; however, according to Sharma, the more advanced society became, the more Teej songs started getting driven by capitalist motives, to cash in on a song's popularity rather than to create meaningful art.
"Before the subject of the songs were centered around women and their expression. Now the trend has switched and artists are only concerned about how to sell their songs for which they use various antics," says Sharma.
These antics, Sharma says, are regressive, failing the songs in helping them become what they originally were created for—agents of raising women's issues in the form of songs, says Sharma.
In Sharma's private study, where she analysed 66 Teej songs that were released this year on YouTube, the researcher found that 32 percent of the songs were still driven by the patriarchal notions, where women were shown as materialistic beings. Likewise, the time-worn archetype of women being responsible for other women's miseries was also reflected in the songs.
According to Sharma, such stereotypical representation and underlying sexism in Teej songs is a result of male singers penning and performing Teej songs. "When more and more men singers and writers started occupying space in Teej songs—which was largely the domain of female artists for a long time, the songs suffered from the male gaze, leading to show women and their issues in Teej songs in a stereotypical manner," says Sharma.
Sharma's views echo in the songs by Santosh KC and Khuman Adhikari, who have been releasing Teej songs almost every year which receives millions of views on YouTube. Last year, Durgesh Thapa had also released the first series of 'Bich Bich Bich Ma', a Teej song that brought a wave of conversations, as it insisted men too should be involved in the celebrations of Teej. This year too, he has released two back-to-back Teej songs 'Bich Bich Bich Ma 2', and 'Bich Bich Bich Ma 3'.
Many do not agree with this notion. "The trend of male singers entering the realm of Teej songs is daunting, as they are not only taking away space of female artists, but are also taking the voice of women for whom Teej songs have been a way of expressing themselves," says singer Jyoti Magar, who for the past seven years has been releasing Teej songs.
While Magar's Teej songs have also been deemed as frivolous by many, for her, it's the market that dictates the nature of her songs. "There have been times when I have been a part of projects, which I did for experience and because it had commercial value," says Magar, who has been part of four Teej songs this year alone.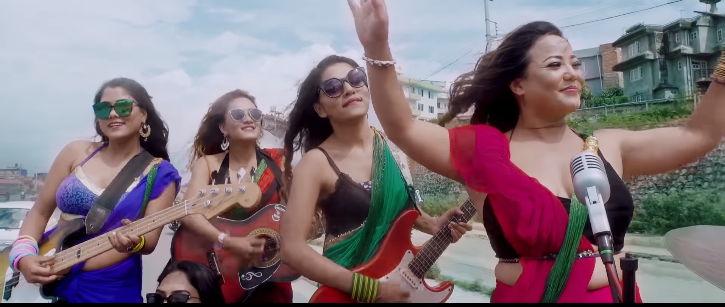 Screengrab via YouTube
But when it comes to creating her own songs, she is interested in composing songs that reflect women's resistance to patriarchy as well as the essence of celebrating the festival with full freedom without any moral policing.
"We don't live in a utopian society, where gender-based discrimination doesn't exist," says Magar. "It's just the forms and ways of discriminating against women that have changed now. That's why artists need to write Teej songs, which reflects the state of women as well as showing them resilient people who won't succumb to any pressure from now on," says Magar.
But the songs don't only have to be limited to resilience, she says; it can be just about having fun as well, which is what her latest Teej song 'Gilash Thokauni' is about. But viewers took offence at her song, for it showed women consuming alcohol during Teej celebrations.
Magar, however, hasn't given much thought to the criticism because she believes a person should be allowed to celebrate a festival any way they choose. "In the end, Teej is a festival of women, by women, and for women only," says Magar. "It's women who should be the one deciding how they want to celebrate and if the songs reflect their way of celebrations, no one should have an issue with it", she says.
---
---