How, in the name of entertainment journalism, actors are still getting objectified and vilified
The latest episode of Rajatpat, hosted by Prakash Subedi, exposes how much of mainstream media still commodifies women and how female actors are still viewed as objects.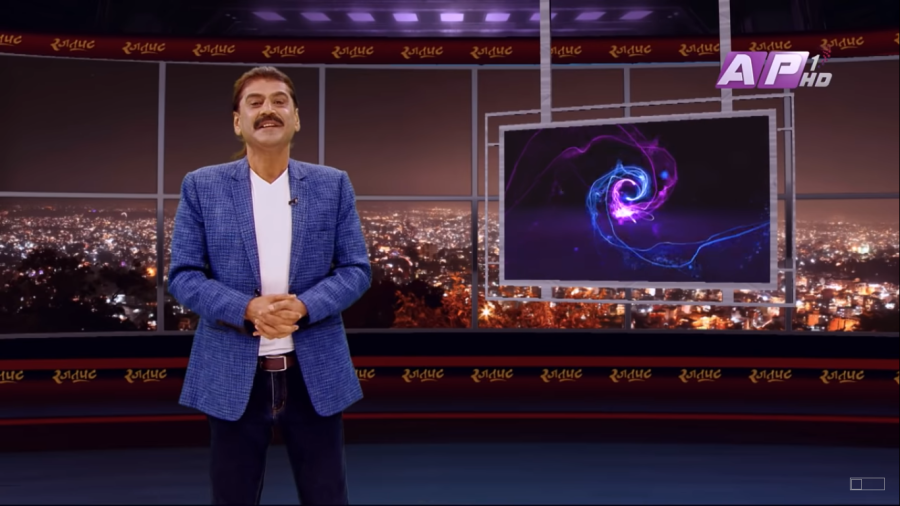 A screenshot of Prakash Subedi speaking in the episode of Rajatpat which is currently trending on YouTube. Screengrab via YouTube
bookmark
Published at : August 12, 2020
Updated at : August 12, 2020 07:39
Kathmandu
The third episode of the latest edition of Rajatpat, a programme which film journalist Prakash Subedi hosts, began with him sharing an account of a female actor's struggle in Bollywood, and talked about how fickle fame is—particularly for the women in the entertainment industry.
But his intention of bringing up this issue at the show, which currently airs on AP1 channel, wasn't to highlight how fragile the film business is—in India or in Nepal—nor was it to highlight how it affects the mental state of the actors.
Rather, with pride, he used a condescending Hindi allegory, "Do din ki chandni… phir andheri raat," which he himself translated to Nepali as "Dui din ko chamak dhamak, feri aausi ko raat (or 'Two days of good moonlit days then again night of darkness', in English)," to say that female actors shouldn't be boastful about their success as they can be replaceable quickly.
However, that wasn't the only problematic statement he made in the episode, which is trending on YouTube.
In the video, he is seen making a personal attack on an unnamed actor by making vicious body-shaming remarks.
The video, which was uploaded on August 6, has been lambasted on social media for the anchor's use of sexist language as well as how, in the name of journalism, entertainment journalists cross the boundaries of ethics and morality when it comes to interviewing and reporting female actors from the Nepali movie industry.
Reeccha Sharma, a popular film actor, who also expressed her discontent through social media, says that the remarks which Subedi made were "disgusting and awful".
"How could someone, who calls himself a veteran journalist, make such a generalisation that every female actor will have a dark ending?" Sharma told the Post. "Likewise, body shaming an actor that too on national television is just disgraceful."
Although not taken as a serious beat, entertainment journalism in Nepal in recent years has seen a rise due to an increasing interest among the audience to know about the actors and makers behind their favourite movies.
However, there have been regular incidents that have raised questions regarding the integrity and ethical considerations of entertainment journalists, who in the name of journalism have been objectifying, and vilifying female actors as well using sexist and misogynistic language and words for them.
Shukrabar, a weekly tabloid, on August 7, published a condescending and sexist 'article' on how actor Priyanka Karki has changed into a 'sanskari' woman after her marriage. Titled Sanskari Priyanka, the piece states that after marriage Karki has now become a 'cultured' woman, as she doesn't post pictures in short dresses like she used to do before and if she keeps on following this path in her life, she is bound to be a daughter-in-law who can manage both her house and work.
"For a national weekly, why was such a story important? Was it even news?" says Karki, who's one of the most popular Nepali actors of recent times. According to Karki, making 'news' out of something that did not have any newsworthiness was wrong. And that was not all that was wrong with the piece, she says.
"Through the news article they have promoted a stereotypical mindset that supports that one is qualified to be a good woman only when they stay at home and perform household chores," says Karki. "Likewise, through the article, they have also propagated the problematic mindset of setting the standard of morality based on one's clothing."
According to Keki Adhikari, a popular actor, entertainment journalism in Nepal has been running exactly this way only—with reporters writing sensational articles about female actors, denigrating their hard work and contribution rather than taking them seriously or involving them in constructive interviews and discussions.
In 2002, actor Shrisha Karki committed suicide after Jana Astha weekly published her personal photos, breaching her privacy and questioning her morality and character. The incident raised a hullabaloo in Nepali society, with them condemning the action of the paper, which in the name of journalism had crossed ethical and moral boundaries.
And while one would think things have changed since then, actors the Post spoke to say things are more or less the same: women working in the film and entertainment business are still seen as objects whose talent have no value.
"In my career that spans for 10 years in the Nepali film industry, there have been rare instances when I have been asked insightful questions about my craft," says Adhikari. "Otherwise, most of the questions are sensational which often question my position in the industry as well as talk about issues which have nothing to do with her professional life in the interviews."
In a press conference of her previous movie, Cha Maya Chapakai, Adhikari shared that a reporter had asked how she got the movie in the first place—questioning her credibility and work as an actor.
"I don't think male actors are asked by reporters how they get their roles every time," says Adhikari. "It was my 24th movie and I have been working for a decade now, yet people do not consider my talent and hard work, as they believe that female actors only get opportunities because of nepotism or in exchange for favours."
Another actor, Reeccha Sharma, has also gone through something similar. In 2015, in an interview with Rishi Dhimala, she was constantly asked about her personal life. Dhamala, in his show 'Dhamala ko Hamala', repeatedly asked Sharma if she had been involved in any physical relationship with her previous partner. His questions were persistent, even though Sharma had taken a strong stand and had said that she would not be answering any of the questions that made her uncomfortable.
Likewise, last year, in an interview with actor Neeruta Singh, titled 'Neeruta Singh ko prem, sex ra romance ko bhayo Khualasa' (or Neeruta Singh's love, sex and romance exposed), Dhamala has pestered Singh on whether she was a virgin or not. A question that has absolutely no ties with the actor's work.
Likewise, in the print media, Sapathik and Shukrabar weekly have, for years, been publishing condescending articles on female actors, focusing more on their personal lives than talking about their careers. [Disclaimer: Saptahik used to be published by Kantipur Media Group, which also publishes this paper. The paper's publication has been suspended for now.]
According to Lina Gurung, who works on gender sensitivity issues conducts research on gender at Kathmandu University School of Education, the male gaze and patriarchal mindset is strongly embedded, especially in the media sector, resulting in such reporting.
"Women, especially public figures, are still objectified by men in the decision-making positions, who are mostly concerned about their beauty and appearance," says Gurung.
However, Gurung believes that it's also because of the fragile ego of men, especially in power positions, who get intimidated by women whenever there is a paradigm shift in power, leading them to denigrate them, so they can make them submissive to the usual hierarchical structure. "If women come forward and are vocal as well, the fragile ego of men gets hurt, restoring them to humiliating them so they can intimidate the women, and maintain their power over them," she says.
But according to the actors the Post spoke to the onus should not be only laid on journalists, as they strongly believe the audience are equally enjoying reading/watching such stories, encouraging and making entertainment journalists entitled to write sensational stories, they say.
"Society still can't accept that women can be successful on their own. They will say luck is favouring a female actor or that she is there in the industry because of someone's support," says Adhikari. "That's why entertainment journalists write sensational stories about us [female actors] as society enjoys reading such news."
Sharma believes that the mushrooming of YouTube 'journalists' is also a prominent factor for such sensationalised news cropping up. "We are so reachable for interviews that the journalists take us and our work for granted. For views, they would put clickbait titles and think that it's okay to ask anything," says Sharma.
Sharma's views echo reality, as there are indeed many videos on YouTube with sensational and clickbait titles which receive thousands of views.
In response to the backlash he faced, Subedi issued an apology video, saying that his intention of passing such remarks wasn't to hurt the sentiments of anyone, and justified the body-shaming remark was used in a friendly manner and not meant to offend the person.
But, according to Gurung, such stereotypical and problematic coverage can lead to adverse ripple effects. "Not only does it demotivate women so that they quit their profession, but it can affect their personal life as well," says Gurung.
For female actors, who have been working hard for years perfecting their art, such vilifying and condescending remarks is something they can't ignore now, they say.
Although, Subedi, didn't name the actor on whom he passed the vicious body-shaming remarks on his programme, Pooja Sharma, who earlier had given an interview to him, and also had requested to edit the final cut, said through social media that she has filed a complaint against the film journalist with the Film Artist Association of Nepal for defamation.
Likewise, Karki is also planning to file a complaint against Shukrabar, the weekly, at the Nepal Press Council.
"It is high time we raised such issues. For the past 10 years, baseless rumours have been written about me. But now we need to boycott these people who in the name of journalism are bullying us," says Karki, who along with other actors are planning to set a proper guideline and conditions for journalists before they interview them.
For actor Ayushman Desraj Shrestha Joshi, the issue which the female actors are raising about unethical journalism shouldn't be viewed as a 'women' issue only.
It's about voicing the need to respect people and break the male chauvinistic attitude that the society is plagued with, he says.
"What the journalists are writing in the name of journalism is highly ridiculous and disgusting," says Joshi. "The writers and editors should be taught about the power and responsibility they have as whatever is being said by them are heard and perceived by the public."
---
---