Life is returning to normalcy in the Valley, but the future of its festivals remains in limbo
With major festivals postponed or halted, the cultural landscape of the Kathmandu valley has suffered greatly, directly affecting its people whose identities are intertwined with their traditions.

bookmark
Published at : July 23, 2020
Updated at : July 24, 2020 15:59
Kathmandu
On the first Monday of the Nepali month of Shrawan, Rama Sigdel put on a mask, wore gloves and walked towards Pashupatinath Temple from her home in Chabahil. Because devotees aren't allowed to enter the temple premises citing fear of Covid-19 contraction, there are over a 100 people gathered outside the premises. Most of them have masks over their faces.
Sigdel is among the thousands of devotees who frequent the temple during the Nepali month of Shrawan every year to pay respects to Lord Shiva. But this year, as people aren't allowed inside the temple, people are seen worshipping the Shiva shrines outside the main temple, offering water, milk and flowers.
"This is the first time that I haven't been able to go inside on the first Monday of Shrawan," says Sigdel. "A part of me understands that it is the correct thing to do, but another part of me feels they [the authorities] could have taken some measures so that devotees could go inside to pray."
A few kilometres south of Chabahil, in Bungamati, Sita Shakya, 57, on a rainy, misty morning, circumambulates the Rato Machindranath temple—still dilapidated by the 2015 quakes—praying that the festival gets to conclude. She's been visiting the temple every day since the chariot was built in Pulchowk.
"I feel that the festival should happen. It doesn't have to happen in the same grand manner it normally does of course," says Shakya. "But festivals are important and so is our faith. At a difficult time like this we have to remember why we celebrate our festivals in the first place. We celebrate Bunga Dyo (Rato Machindranath) because it is believed the lord helped us end a years-long drought. Over 1,500 years ago, Bungya Dyo saved the valley from a difficult situation. We need our gods now too."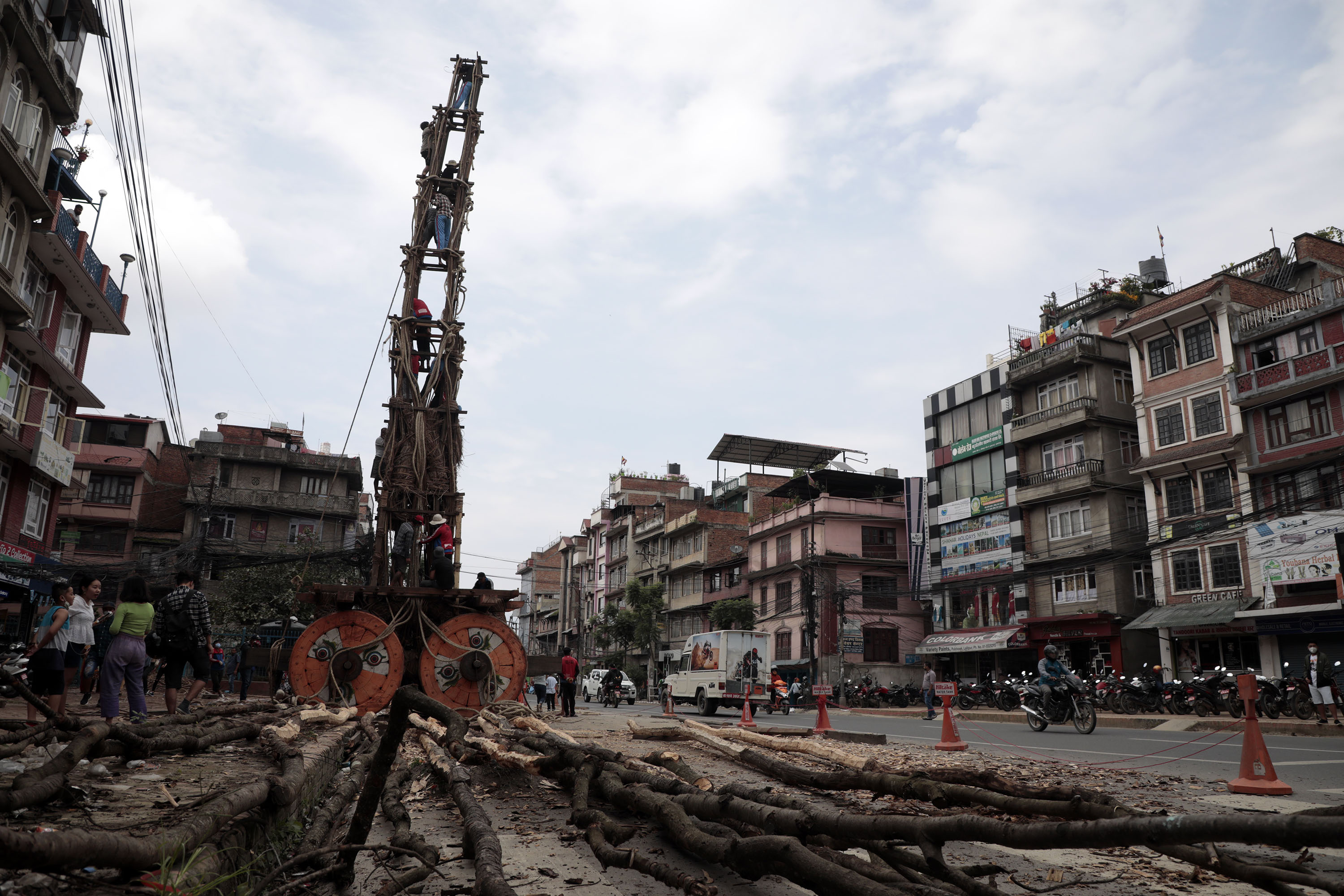 The Covid-19 pandemic's effects have been felt gravely all across Nepal. Thousands have been infected, private businesses have been devastated and many people have been pushed into financial stress. The pandemic has also put a grinding halt to cultural activities, with all major festivals either cancelled or postponed, which has severely impacted the cultural landscape of the Kathmandu valley, directly affecting its people whose identities are deeply intertwined with their culture and traditions.
Major Newa festivals like the Biksa Jatra in Bhaktapur, Sindoor Jatra in Thimi, Jibro Chedne Jatra in Bode and Seto Machindranath Jatra in Kathmandu were suspended by the government due to the pandemic. Only two weeks ago, the procession of the Rato Machindranath Jatra was also postponed. There have also been calls to suspend it entirely, with people questioning whether hosting such a festival that attracts people in the hundreds is wise.
"It's risky no doubt, which is why we are trying to figure out ways to conduct the Rato Machindranath festival," says Chandra Mahajarn, the coordinator of the festival. "We're planning to broadcast it live on television so that devotees don't crowd the chariot. We've been conducting meetings in various wards asking people to take precautions. That said, we won't be doing it if the virus gets out of hand."
Many have even given up that the jatra will take place at all this year. "These are delicate times. Of course I want the festival to take place like it normally does, but given the situation, and the fact that other festivals in the valley have been suspended, I don't think it will take place sadly," says Ram Bahadur Shrestha, a resident of Oku Bahal in Patan.
But not everyone is convinced with the idea of suspending festivals. Shyam Tha, from Bode who documents festivals, feels that by suspending and postponing festivals, culture is paying a price.
"It's as if others can do whatever they want. You can protest, you can go eat at restaurants and buy things in New Road or Bhatbhateni with little to no social distancing. But when it comes to celebrating festivals, the authorities tell us we cannot do it," he says.
Tha says the people of Bode, despite the pandemic, conducted smaller festivals the way they always have. They did not celebrate the Jibro Chedne Jatra though, as it sees thousands of observers. "But we celebrated Gathe Muga the same way we do every year. But everyone, especially older people, wore masks. We are planning to celebrate our annual Nil Barahi Naach the same way," says Tha. The Nil Barahi Naach takes place in August every year.
That said, Tha does believe that it is up to the people of Bode to be responsible citizens and take measures to ensure that these festivals don't become a hotspot for Covid-19 transmission. "Everyone has a role to play. People understand that we need to be careful, but they also feel that these festivals shouldn't stop. We want to celebrate our festivals so that in these difficult times we still have faith and hope," says Tha.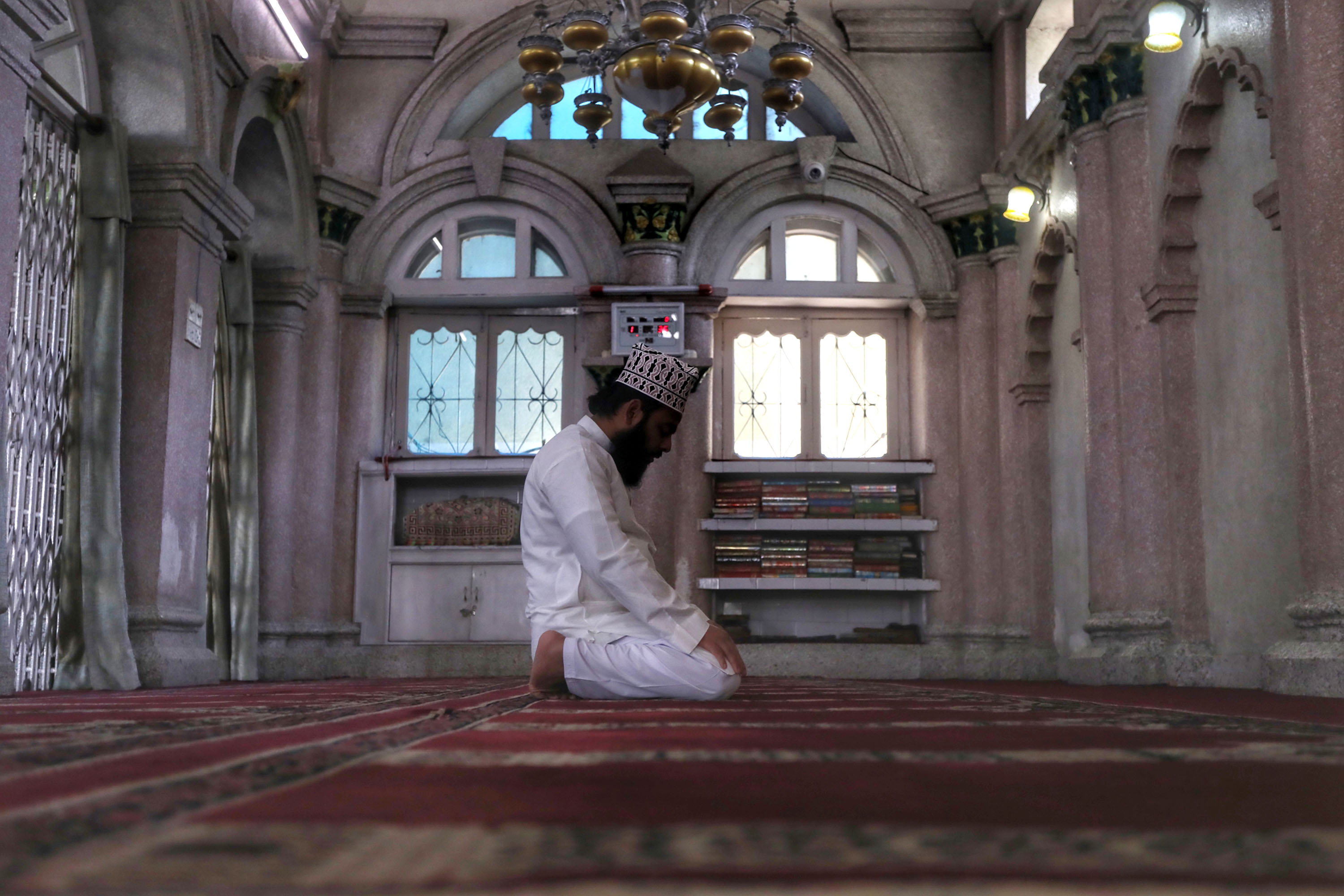 Cultural expert and social worker Subarna Shakya says that the reason why people are insisting on celebrating these festivals is because these festivals are part of the people's lifestyle. "It's not easy to let go of things that you have been doing for so long," says Subarna Shakya. "Sometimes it's blind faith. You know it's bad for you, but you still enjoy it."
Subarna Shakya further adds that for many, festivals are also a time to let loose. "People wait for these festivals because to many, it's a time of merry making. There is food, there is alcohol, there is music. It's a carnival and people want a break."
The pandemic's effect is not being felt just in Kathmandu's Newa communities. Earlier in April, when the nationwide lockdown was enforced strictly, the Valley's Muslims could not celebrate Ramadan, a major festival, with the same fervour as they could every year. Basil Ahmed, 24, for the first time in his life had to spend Ramdan at home. Ahmed and his family didn't invite people over nor did they visit the mosque.
The lockdown was eased on July 10, but Ahmed still has not gone to the mosque for prayers. Bakra Eid, or the Festival of Sacrifice, another equally holy festival for the Muslims, falls on July 30 this year. But Ahmed is unsure if he's willing to risk his family's health and celebrate with his community. "My father says lockdown is over and that we should be able to go pray once a week, but with cases rising in the valley, the risk is just not worth taking," he says. "As for our festival, we spent Ramdan at home, we can do the same during Bakra Eid."
For the Imam, who leads the prayers at Jama Masjid Shamim Sadar Nepali, concerns are a little different. He says that they are conflicted about opening the mosque even if the government gives permission. Nepali says that even though the Jama Masjid, situated in Ghantaghar, can host up to 2,000 people comfortably with social distancing in place, they are considering not opening its doors. "We don't want to repeat what happened in India," says Nepali, referring to the media blaming Tablighi Jamat, a Muslim Missionary movement for Covid-19 outbreak in India. "We don't want to cause stress for the Muslim community, which is why were are discussing how we can celebrate Bakar Eid at home."
Another important festival for the Newas of Kathmandu, Indra Jatra, is also around the corner. The chairman of Indra Jatra Bayastapan Samiti, Gautam Shakya, says that even though the festival is a month away, preparations have started and talks are ongoing with the state regarding how to conduct the festival.
"We are carefully examining how Lalitpur conducts the Rato Machindranath Jatra. If they do a good job, we will follow their methods. If problems arise with their methods, we'll have to look into a different, safer way to do it," says Shakya, signalling the festival will take place despite the pandemic.
Back in Chabahil, Sigdel's faith hasn't been deterred by Covid-19. Even though she cannot visit Pashupatinath, she says she will carry on fasting every Monday in Shrawan and at least go to the outer premises of the temple and pay her respects to the Shiva shrines there. "I really hope they open the temple to us. I feel that if my faith and belief in Lord Shiva is strong, the doors of this holy place will open to us by the end of Shrawan," she says.
---
---