Lockdown is officially eased, with private vehicles allowed on odd-even basis and shops to open
After widespread criticism regarding the prolongement of the nationwide lockdown, the government has decided to ease prohibitions in certain sectors.

(File photo) The number of vehicles on road during lockdown had increased of late in the valley. Angad Dhakal/TKP
bookmark
Published at : June 11, 2020
Updated at : June 11, 2020 22:31
Kathmandu
The government has formalised Wednesday's decision to ease the ongoing lockdown by unveiling a new modality for the lockdown.
"The Cabinet meeting on Wednesday decided to issue an order as per the Infectious Disease Act 2020 to ease the ongoing lockdown," said Yubaraj Khatiwada, minister for finance and Communication and Information Technology, at a media briefing on Thursday.
According to Khatiwada, private clinics, all kinds of agriculture and animal related businesses, stores that sell essential foodstuffs and transport goods will be allowed to open immediately. Private vehicles are also allowed on the streets from Friday onwards, on an odd-even basis. Vehicles with odd licence plates will be allowed out on odd dates according to the Nepali calendar while even licence plates will be allowed out on even dates.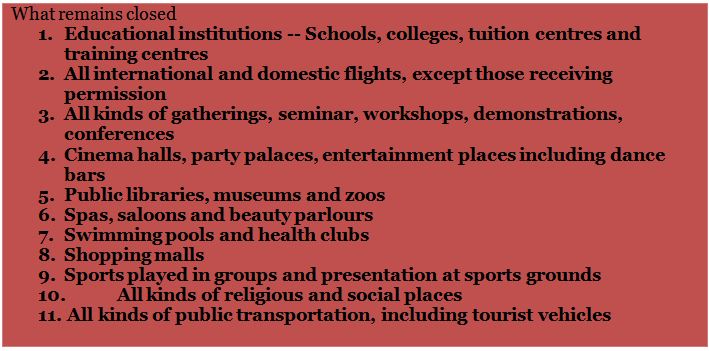 Development projects, including infrastructure and hydropower, extraction, collection, transportation and distribution of materials from rivers and mines for construction works will be allowed to open immediately while solid waste management, electricity, media broadcasting, postal service, and forest-related businesses can continue their activities from Monday.
Though restaurants are not allowed to open for dining in, they can arrange for take away. Hotels are only allowed to open for quarantine services.
As per the government's order, educational institutions including schools, colleges, tuition and training centres and all international and domestic flights remained prohibited. Earlier, the government had determined 20 entry points for Nepali migrant workers to enter the country from India.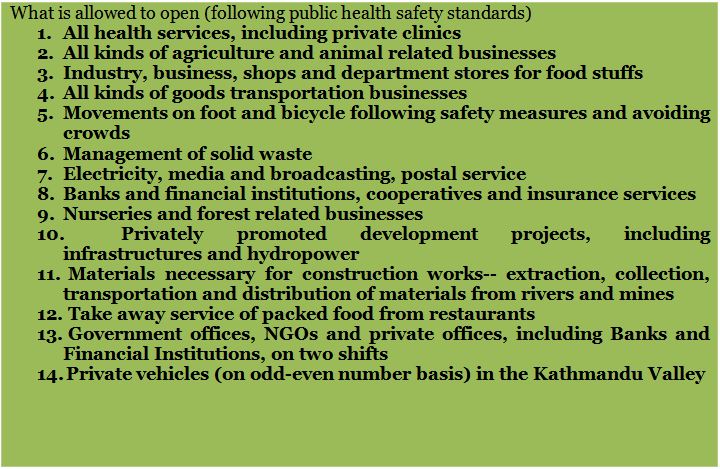 All kinds of gatherings, seminars, workshops, demonstrations, conferences and cinema halls, party palaces and entertainment venues will remain shut.
Minister for Labour, Employment and Social Security Rameshwor Raya Yadav told the Post that the government aims to lift the lockdown completely in the three phases but refrained from elaborating on what exactly the three phases constituted.
"Each phase will last for 21 days," Yadav told the Post.
While announcing the relaxation measures, Minister Khatiwada asked the public to take proper safety measures. Motorcycles should only carry one person while cars should only carry two, he said.
All public vehicles, however, are prohibited for the time being.
According to Saroj Sitaula, general secretary of the Federation of Nepali National Transport Entrepreneurs, the government has ignored the woes of transport entrepreneurs and workers.
"More than 1 million people in the transportation sector are jobless but the government has not come up with any package deal or relief yet," said Sitaula.
While there has recently been a public outcry asking the government to lift the lockdown, not everyone is happy with the government's new measures.
Dr Baburam Marasini, former director of the Epidemiology and Disease Control Division, said that any haphazard easing of the lockdown could cost the country dearly.
"The government should have first prepared certain guidelines for all sectors and published them widely among the public," said Marasini. "The whole country will suffer if one infected person makes a small mistake."
---
---