Meet the women goldsmiths of Dharan
A few women artisans are breaking the mould by pursuing a profession that is predominantly considered a man's job.

Bishnu Gahataraj (left) and Kabita Baraili have been working as goldsmiths since last 15 years. Sumnima Chamling/TKP
bookmark
Published at : November 28, 2019
Updated at : November 28, 2019 07:37
Dharan
Bishnu Gahataraj was only 22 when she first started training to become a goldsmith. She had just become a mother, and had to leave her seven-month-old baby at home to participate in a free training organised by Baraha Jewellery Group. After three months of training, she started working as a goldsmith at the same place.
"Today, I make customised gold and silver chains and beaded necklaces as per the orders received," says Gahataraj, who is now 37 and dexterous at her craft.
When she first started working as an artisan after receiving the training, many doubted whether a woman could work as efficiently as a man, she says. She especially received a lot of criticism for leaving her child at home. But despite all that, she persevered and pursued the profession.
"It was also a little easier for me, as my husband also works as a goldsmith," she says. "But I love my profession. It has helped me gain financial independence and carve an identity of my own."
Designing elaborate, sophisticated pendants and lockets has become Gahataraj's penchant. But she says she finds joy in experimenting with her craft and making more contemporary, chic jewellery. The number of customised pieces that she needs to complete on a daily basis, however, leaves her with little time for experiments. She works for eight hours every day and receives a monthly income of Rs17,000.
"I am known for my designs on gold chains," she says, which she can make in about four hours.
But it's not just appreciation and fame that keeps her going, she says. Her input in helping change the perception of people, of women also taking up the profession in Dharan, motivates her to do better work.
"People still assume that gold and metal workers are men. But women have been making beautiful and intricately carved bracelets and necklaces too," she says.
Kabita Baraili, another goldsmith who works alongside Gahatraj at Baraha Jewellers, agrees with Gahataraj. Like her, Baraili had also left her 10-month-old infant at home to participate in the training 15 years ago.
Leaving her baby at home wasn't an easy choice, she says. But her drive to earn a living and learn new skills made her persevere through the tough times. "It is frowned upon when you leave your young child at home, even when you are gone for work," she says. "But I am glad that I decided to break that shell. Now, I am able to earn for my family."
The journey was not easy, of course. "During the training, my hands used to swell due to the stress of the labour had," says 31-years-old Baraili. "I had never imagined myself working at a workshop and hammering metals to make jewellery."
But once the learner's pain subsided, Baraili realised that she liked working on gold and silver—especially carving designs on chains and pendants. That is still her favourite.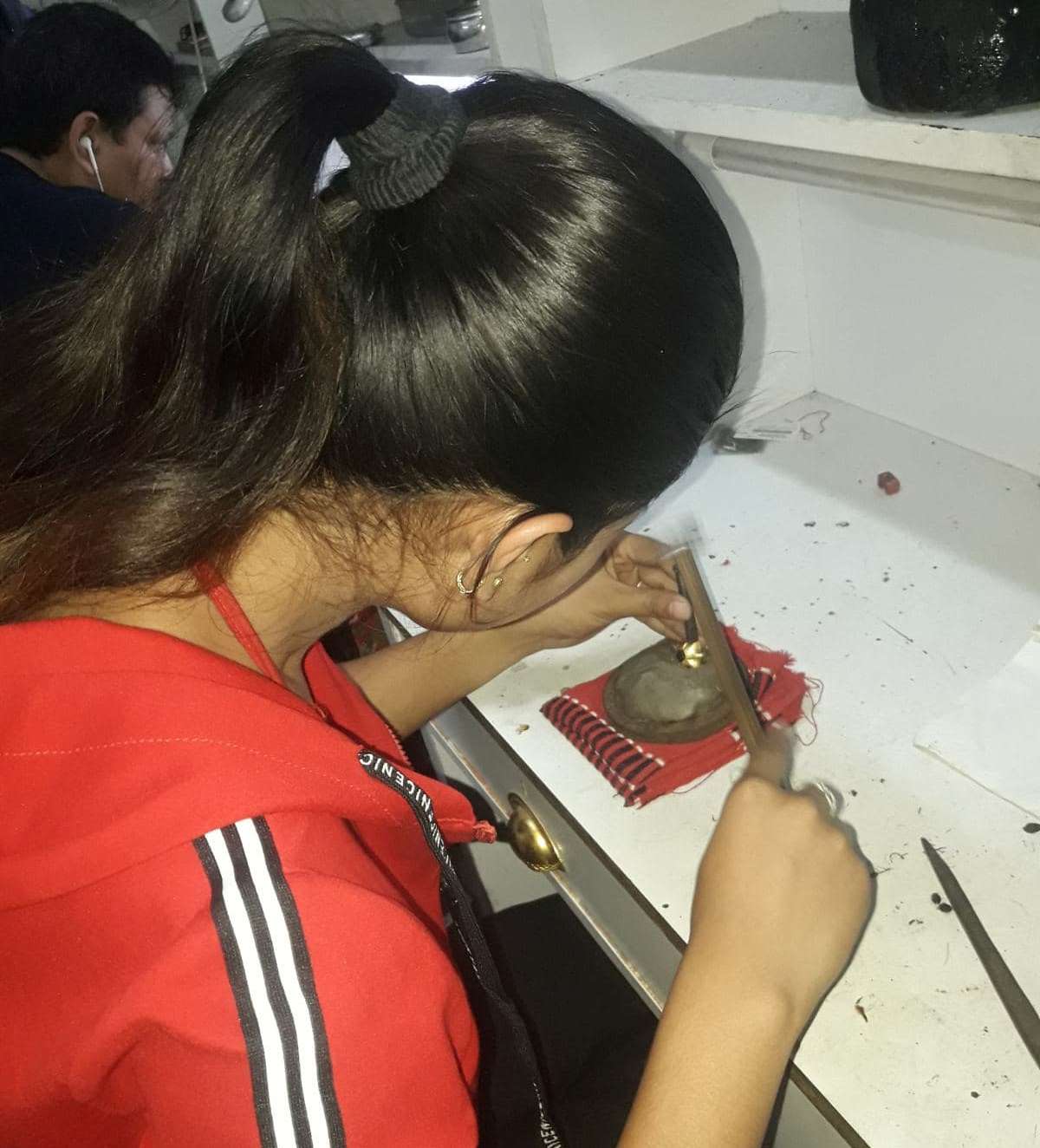 Sumnima Chamling/TKP
Man Bahadur Biswhokarma, director and head of Dharan's branch, says that the training was organised with a motive to increase the number of female goldsmiths. "Women were not getting enough opportunities. That's why we started the initiative of training female goldsmiths" said Biswhokarma.
With that training, today, Baraili and Gahatraj are respected for their work and not judged for deciding to work as goldsmiths, unlike in their initial days when people used to raise an eyebrow when they found out that they worked as goldsmiths.
"Some women even compliment us of our craft and tell us that they feel proud wearing the jewellery crafted by women artisans," says Gahataraj. "It is no longer just a man's profession."
However, although women artisans have been successful in changing the social perception about their profession, they say that they are still facing pay discrimination at their workplace.
"We devote an equal number of hours and put equal if not more effort, but yet men are paid more than us," says Baraili.
Bishwakarma, however, disagrees with Baraili. "We pay our artisans according to their skills and years of experience," he says. "It is not a gender issue at all."
He says that the company wouldn't have started the training programmes for women if they were to discriminate them on the basis of their gender. "We wanted to make space for women artisans to work in this sector."
But despite having to deal with many hardships, both Gahataraj and Baraili still believe that this profession can be of interest for many women.
"It doesn't take too much time to learn this skill," says Gahataraj. "Infact, anyone can do any kind of job. You just have to start."
---
---