Does blackface have a place in Nepali comedy? Probably not
Stereotypical Madhesi portrayals in popular culture are a big hit, but for the Madhesi community, they are racist and offensive.

Deepak Raj Giri (left) says there is nothing wrong with using blackface to portray Madhesi characters. Screengrab via Youtube
bookmark
Published at : September 1, 2019
Updated at : September 2, 2019 13:35
Kathmandu
In a 2017 advertisement released by the Election Commission, the popular comedian duo Dhurmus and Suntali attempt to teach the Madhesi community how to vote. Suntali, played by Kunjana Ghimire, is seen surrounded by a group of Madhesi people explaining how to cast a vote while Dhurmus, played by Sitaram Kattel, disturbs them, saying this is unnecessary. Both Ghimire and Kattel are in blackface—makeup to make one look like a caricature of the community they're playing, in this case, Madhesis.

The ad faced a backlash, both online and offline, with many asking why the same advertisement couldn't have been made with Madhesi actors instead of having actors colour themselves darker while putting on a stereotypical accent. The video was eventually withdrawn from all platforms.
Dhurmus-Suntali's adoption of black makeup and an accent is not unique in Nepali comedy; many prominent comedians have a history of putting on blackface to portray Madhesis. While even comedy veteran Hari Bansha Acharya put on blackface in the past, more recently, Deepak Raj Giri, Shiva Shankher Rijal and Sandip Chhetri regularly portray their Madhesi characters with dark makeup while wearing a dhoti and a gamcha wrapped around their head.
Although blackface videos have dropped in number since the Dhurmus-Suntali controversy, many comedians say they don't understand what is wrong with colouring one's face darker to play a character. Madhesi actors and activists, however, find such portrayals racist and offensive because it stereotypes a vastly diverse community.
"Just wearing black makeup, dhoti-kurta and using the southern accent doesn't make a character Madhesi. Even when done in good humour, it feels humiliating," said Ramesh Ranjan Jha, a Madhesi actor. Despite the diversity of the Tarai, most Nepali movies and comedy skits tend to portray people from southern plains as vegetable hawkers and uneducated half-wits.
"Madhesi characters in Nepali movies are usually fillers. They are not well thought out," said Jha.
Globally, and particularly in the United States, blackface is considered racist and offensive. Its origins date back to 19th century America, where theatre performers coloured their faces in black for comedy skits to portray demeaning caricatures of African-Americans to make people laugh. Blackface has long been considered extremely offensive, and in recent years, it has even cost some people their jobs.
Sandip Chhetri's Mithai Lal Jyadav character on the Kantipur TV's 'What the Flop' series was once portrayed in blackface with an accent. But the actor says people want to see him play that role. The character was designed to subtly raise issues of the Madhes, at a time when Madhesis were fighting for equal rights from the state, said Chhetri.
"The essence of comedy is that it can point to heavy issues in a lighter tone. In this case, Mithai Lal was able to do it sweetly and innocently," said Chhetri.
But Chhetri has time and again played up Madhesi stereotypes for laughs. In one of his skits, his character says, "Hami ka kalo cha, hami ta kaaaaaaaloh cha," (I am not just black, I am very black). But Chhetri says the line was just for the sake of laughter and entertainment, and that people shouldn't look deeper.
"People love my character. My jokes don't humiliate them, instead my character represents the Madhes community," said Chhetri, who grew up in Birgunj. "Over the years, Mithai Lal has been presented as someone intellectual."
Today, the Mithai Lal character has evolved. Chhetri doesn't put on blackface anymore, even though the accent has remained.
"I put on a darker shade of makeup in the beginning so that I could capture the audience's attention. It was necessary for the character to look like most Madhesi people, but now that the character has grown, it's not necessary for me to put on darker makeup. I have also been playing the character in diverse roles—sometimes he is a businessman, sometimes a politician," Chhetri said about his decision to do away with the makeup.
It is not just Chhetri who's amassed a following playing a Madhesi character. There's Himalaya TV's 'Joginder Bole Pranam Ji' and Deepa Shree Niraula and Deepak Raj Giri's Ram Bilas and Dhaniya. While many seem to find these characters entertaining, others say that such portrayals are ultimately detrimental to the communities they're representing.
"It's problematic because they are reducing a community's culture and diversity to their colour and accent," said comedian Aayush Shrestha. "Although people may say it's not about the colour, we live in a society where colour discrimination exists, so it shouldn't be a punch line."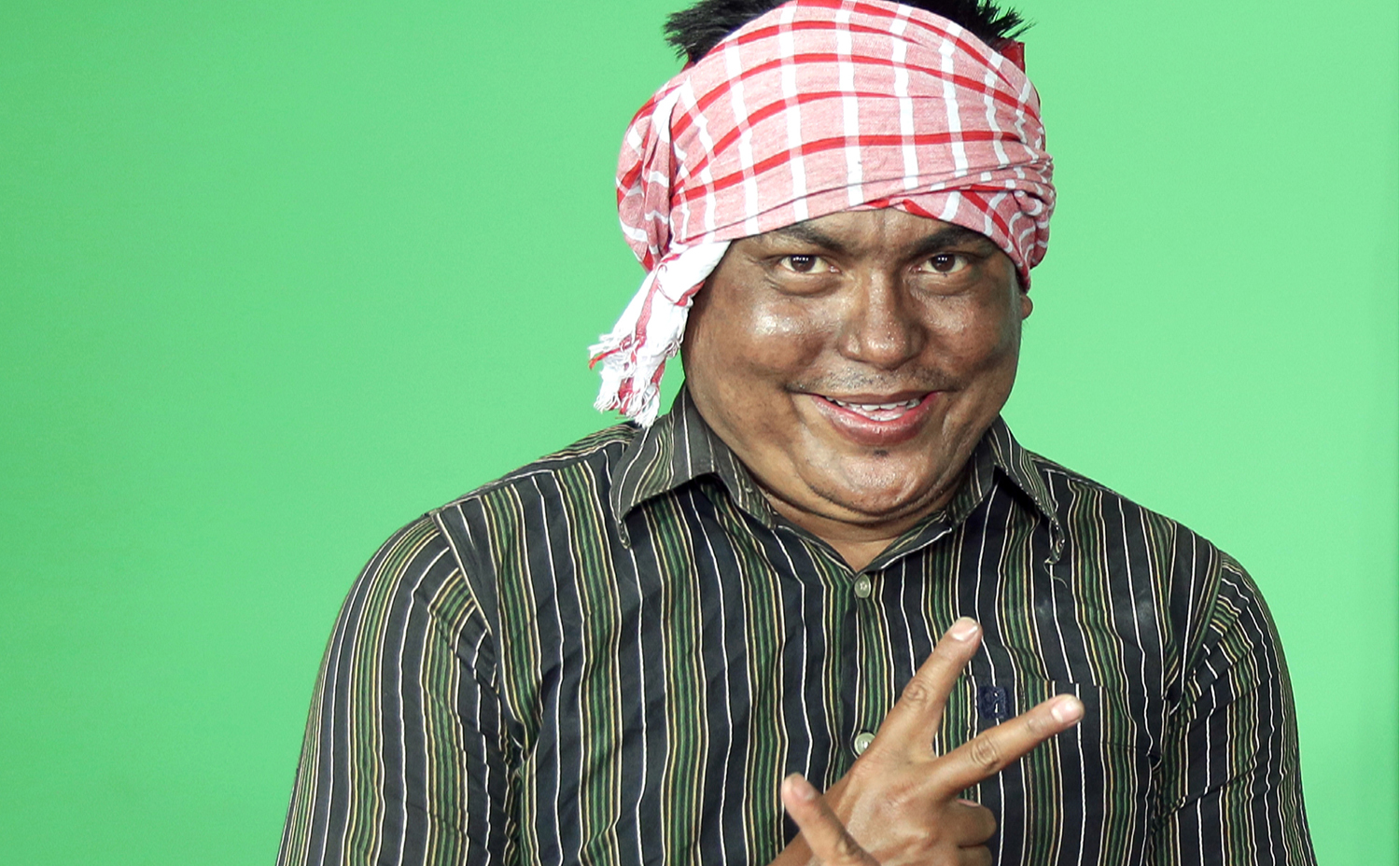 Sandip Chhetri's Mithai Lal character was once portrayed in blackface. Now just the accent remains. Courtesy of Nepal Magazine
In recent years, more people are calling out such characters as offensive and disgusting, and that Madhesi actors could easily bring authenticity to such roles.
Deepak Raj Giri, however, believes that there is nothing wrong with colouring one's face dark.
"I am an artist and I should be able to play different roles. For representation's sake, I can't go looking for a terrorist because someone needs to play the role of a terrorist," the actor said.
Even revered comedian duo MaHa Jodi has indulged in blackface in the past. In Pandra Gate, released in 1986, Hari Bansha Acharya's character marries Chanda, a Tharu woman played in blackface by Sharmila Malla. Acharya himself has portrayed a Madhesi character in several MaHa Jodi comedies.
"At first, we just tried to represent her character through Tharu clothes and jewellery, but we felt that Sharmila didn't look enough like a girl from the Tarai and so we used black makeup," said Acharya.
Acharya, however, recognises that blackface is problematic. His team had sought a Tharu actor at the time, but they were unable to find one, he said.
"Looking back, maybe we could've done without the makeup, but at that time, we thought it was necessary," Acharya told the Post.
Actors should be allowed to play diverse roles, said Acharya, but they need to be more responsible about not hurting community sentiments.
The continuing popularity of such portrayal shows that Nepali cinema hasn't led the audience to think critically, said Jha. But there is also dearth of diversity in the kinds of Madhesi characters in Nepali films.
"We can't even say that people like these portrayals because we haven't given them a variety to choose from," said Ramesh Ranjan.
But things are changing in Nepali cinema and stories now look for a more diverse set of characters, said Rabindra Jha, an actor endeared for his role as Munna in the film Jatrai Jatra.
"Previously, Nepali comedy was based on distorted and exaggerated buffoonery, comic characters would usually be someone disabled, black or poor, but I think that has changed now," said Rabindra. "The audience has become wiser and southern characters today have more important roles."
There is, however, still a need for more diversity in the movie industry, he said.
"For equal representation, people need to seek out actors from diverse communities. Storytelling can be more powerful when you can show the depth of a culture," said Ramesh Ranjan. "Then our movies will also reach a wider audience."
For filmmaker Deepak Rauniyar, it is up to the film industry itself to promote this change and reject such regressive portrayals.
"Our job is to question the powerful, question wrong beliefs and systems. Filmmaking should be about making bridges, connecting communities and people," he said.
For many Madhesis, their problematic portrayal in popular culture is another symptom of how communities in the Tarai are seen. Madhesis have long faced discrimination from the state apparatus, leading to periodic outbursts of discontent. The Madhes movements have attempted to pressure the government to ensure equal rights and for other communities to view them differently.
"Because there is much history to how we have been brought up, it may take longer to get rid of this kind of character profiling," said Kalpana Jha, author of 'The Madhesi Upsurge and the Contested Idea of Nepal'. "What has changed today is how Madhesis react, and the voice has certainly become stronger."
***
What do you think?
Dear reader, we'd like to hear from you. We regularly publish letters to the editor on contemporary issues or direct responses to something the Post has recently published. Please send your letters to [email protected] with "Letter to the Editor" in the subject line. Please include your name, location, and a contact address so one of our editors can reach out to you.
---
---