With changing times, traditional Tharu baskets are dying out
Although the art of weaving these traditional baskets have been handed down generations, in recent years, young people are refusing to take it up.

Tharu women in their traditional attire carry 'Deluwa', a special variety of basket known as Dhakiya mostly used in weddings. Photo courtesy: Tharu community Facebook page
bookmark
Published at : August 20, 2019
Updated at : August 20, 2019 08:29
Tikapur
Women in traditional Tharu lehenga, adorned in traditional silver bangles and headgear, flock in groups with colourful baskets on their heads. The women from the groom's side are carrying gifts for the bride—clothing and jewellery inside those baskets known as 'Deluwa' in common tongue. The baskets made from shrubs found in nearby forests are carefully decorated with peacock feathers, colourful fabric and woolen decorations.
Women in the Tharu community weave these baskets themselves, which they say is an integral part of their weddings. Apart from Deluwa, they also weave Dhakiya, a similar basket, in varied shapes and sizes—according to the functionality they serve: Panchhopni is used to cover up water pots, Bhauka is used to store clothes, Payin is used to cook dhikari, a local Tharu dish, and Feruwa is used to store household items.
Although the art of weaving these traditional baskets have been handed down through generations, in recent years, there has been a steady decline in this trend, as weaving baskets demand a lot of effort, with the bigger baskets taking as long as a month to complete. Additionally, the local community has also been facing difficulties sourcing the shrubs that are used to make these baskets.
"These baskets were used to send gifts to married daughters," says Bir Bahadur Chaudhary, a local resident of Tikapur. "But now very few people weave these traditional baskets."
According to Bir Bahadur, the younger generation too isn't interested in weaving these traditional baskets, because, despite having to dedicate a lot of time and effort to weave these baskets, they don't have any market value.
"There is ample opportunity for the local government to promote these locally made products," says Bir Bahadur. "As they were traditionally used to offer gifts, it can be promoted likewise—to offer gifts during auspicious occasions, but that idea has not been popularised."
Traditionally, women from the Tharu community started weaving these baskets after they were done with the agricultural chores in the fields and had free time to spare.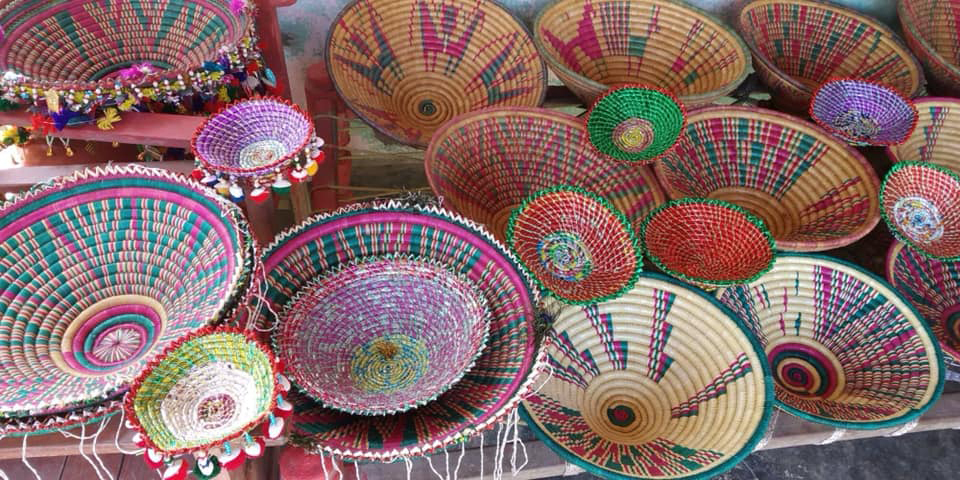 Photo courtesy: Indu Chaudhary
"We collect these shrubs before monsoon and let them dry so that the shrubs are ready to be weaved into baskets when monsoon is over," says Phool Kumari Chaudhary from Janaki rural municipality. These baskets also come in handy at the right time during harvesting season as dhakiya is also used to transport food grains.
The primary shape of these baskets are more or less the same: they have wide-opening mouths that gradually tapers to the bottom. A special needle called chedana is used to weave these baskets together. But the designs and colours are chosen according to its purpose, says Gita Chaudhary, a radio jockey at Tikapur FM.
"The colourful ones are for festive occasions like weddings or other festivals and the ones without any designs and are just colourful are mostly used to store food or other household materials," she says. "There are a number of traditional designs—sikahar, garadgladi, ghoruwa to name a few. The women in the community know these designs by heart."
This multi-purpose basket also signifies the Tharu community's self-efficacy and approach to sustainability, says Gita. "People utilised whatever is available to them in nature and made good use of them," she says. She adds that since they are made from wild shrubs found in the forests, paddy can be stored in them for a longer time without worrying about them going bad.
But now, these baskets are just limited to being used during weddings. Instead of weaving Bhauka and Feruwa to store clothes and household items, people prefer buying wooden cupboards, which is easily accessible in the market.
But the trend of using these baskets can be brought back if the local government comes up with a solid plan, says Bir Bahadur. "Nowadays, community forests have also limited their access resulting in scarcity of the shrubs used to make these baskets. But if community forests focus on farming these shrubs, then it can be profitable for both the community forest and the community."
Locals also say that the local government can conduct trainings for young people to teach them the craft of weaving these traditional baskets and formulate plans to make it a marketable product.
"Visit Nepal 2020 is just around the corner and these traditional baskets can be a unique product from this region," says Bir Bahadur. "It will also help preserve this traditional handicraft skill."
Dear reader, we'd like to hear from you. We regularly publish letters to the editor on contemporary issues or direct responses to something the Post has recently published. Please send your letters to tkpoped@kmg.com.np with "Letter to the Editor" in the subject line. Please include your name, location, and a contact address so one of our editors can reach out to you.
---
---