After being largely replaced by Devanagari, Nepal Bhasa scripts are making a comeback
Kathmandu's millennia-old scripts, primarily used in religious texts, have now been turned into digital fonts and calligraphy artwork.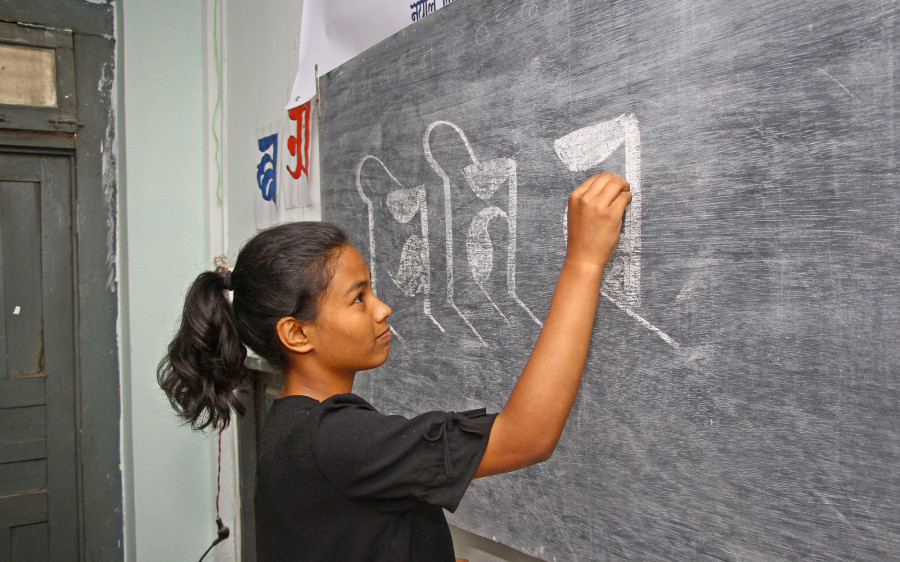 A young woman practises writing in Ranjana script during a class in Jyatha. Beeju Maharjan /TKP
bookmark
Published at : July 28, 2019
Updated at : July 29, 2019 09:30
Kathmandu
The rooms at the Yakety Yak hostel in Thamel are named after the four primary cities of the Kathmandu Valley—Ye, Yala, Khwopo, and Kipu—the Nepal Bhasa names for Kathmandu, Patan, Bhaktapur and Kirtipur. These names are painted on the walls in an artistic rendition of the Ranjana script, by Bikash Man Shakya, who goes by doodlemyan.

"About a year and a half ago, I learned the Ranjana script in Ason, as I found the script artistic," said Shakya. "After learning to write the script, I wanted to fuse them with my doodles. When I pitched the idea to the Yakety Yak team, they were happy to go along with it."
Nepal scripts like Ranjana have a history that dates back millennia, but over the years, they've largely been supplanted by the Devanagari script and are no longer used as commonly as they once were. But young people like Shakya are rekindling interest in these scripts, giving them a modern context but also making certain these ancient alphabetic forms of writing don't disappear.
Ranjana script is just one variation of the many writing systems in the Nepal scripts, primarily used by the Newars to write Nepal bhasa. These scripts are said to have originated from the Brahmi script, one of the oldest established writing systems of ancient India. During the Lichhavi period, from 400-750 CE, Nepal scripts were widely used as the main medium for trade, literacy and communication, according to Sharad Kasa, librarian at the Asa Saphu Kuthi, a public library of Nepali manuscripts.
Nepal scripts have a total of nine variations: Ranjana, Bhujinmol, Kunmol, Kwanmol, Golmol, Pachumol, Hinmol, Litumol and Prachalit Nepal.
"You can understand them as a variety of Nepal Bhasa fonts. They got their names depending on their curves and what they look like. Some use 'deko', or 'mol', meaning head in Nepal Bhasa," says Kasa. Deko is the straight line used in many South Asian scripts, including Devanagari, from which the individual letters hang.
Among the nine systems, Ranjana is omnipresent, as it is most commonly used to write the Buddhist mantra, Om mane padme hum, which is ubiquitous in Kathmandu's Buddhist prayer wheels.
"You can see Ranjana script in every Buddhist monument you visit in Tibet," said Padhmadhar Tuladhar, a member of the Asa Saphu Kuthi. "Tibetans believe that Ranjana is the script of their guru, Manjushree, and therefore treat the scripts with utmost reverence. That's why the script is used so much in Tibet. You will see it everywhere, particularly on ceilings, because you always keep things that you respect at the top of your head."
Ancient manuscripts written in Nepal scripts are not just confined to Nepal and Tibet; they are spread across the world. History has it that when Prithvi Narayan Shah defeated King Jayaprakash Malla of Kathmandu, he began to eliminate the use of Nepal Bhasa in administration and trade, said Kasa. But the script was only completely replaced after the Ranas came to power, abolishing the use of textbooks and documents written in Nepal Bhasa in favour of Devanagari.
"Books were seized and burned, but many Newar families hid their books in their dhukus, secret wardrobes, while others, to save their ancestral texts, cast them afloat in rivers," said Niranjan Tamrakar, current president of the Nepal Lipi Guthi.
Some of the documents saved were collected by historians like Daniel Wright and Brian Houghton Hodgson, and travelled with them to countries like India, France, Germany, Europe and the US, said Kasa. Later, the Royal Asiatic Society, a community that documented Asian languages, cultures and history, also started accumulating manuscripts. "Hence, the text is now everywhere in the world," said Kasa.
However, by the time the Rana regime was overthrown, even Newars couldn't understand their own scripts, said Madhav Shrestha, another member of the Nepal Lipi Guthi. But writers like Nisthananda Bajracharya, Siddhidas Mahaju, Jagat Sundar Malla and Yogbir Kansakar attempted to keep Nepal Bhasa and Nepal scripts alive during the Rana period.
Bajracharya spent many years in Kolkata learning hand printing, and upon returning to Kathmandu, printed 21 verses of the Pragya Paramita path, one of the holy canons for Buddhists, using Devanagari letters in Nepal Bhasa to make it more accessible to Newar communities.
In 1914, he also published the Lalita Vistara, a collection of Buddhist folk tales, using Devanagari letters in Nepal Bhasa.
Following his footsteps, Malla, who also believed that education should be provided in one's mother tongue, translated the famous Aesop's Fables in the spoken Nepal Bhasa language of the time which started the trend of using Devanagari letters for Nepal Bhasa literature. This contemporary writing style quickly became easier for Newars to read, but it also meant that Nepal scripts started to die out, replaced by Devanagari.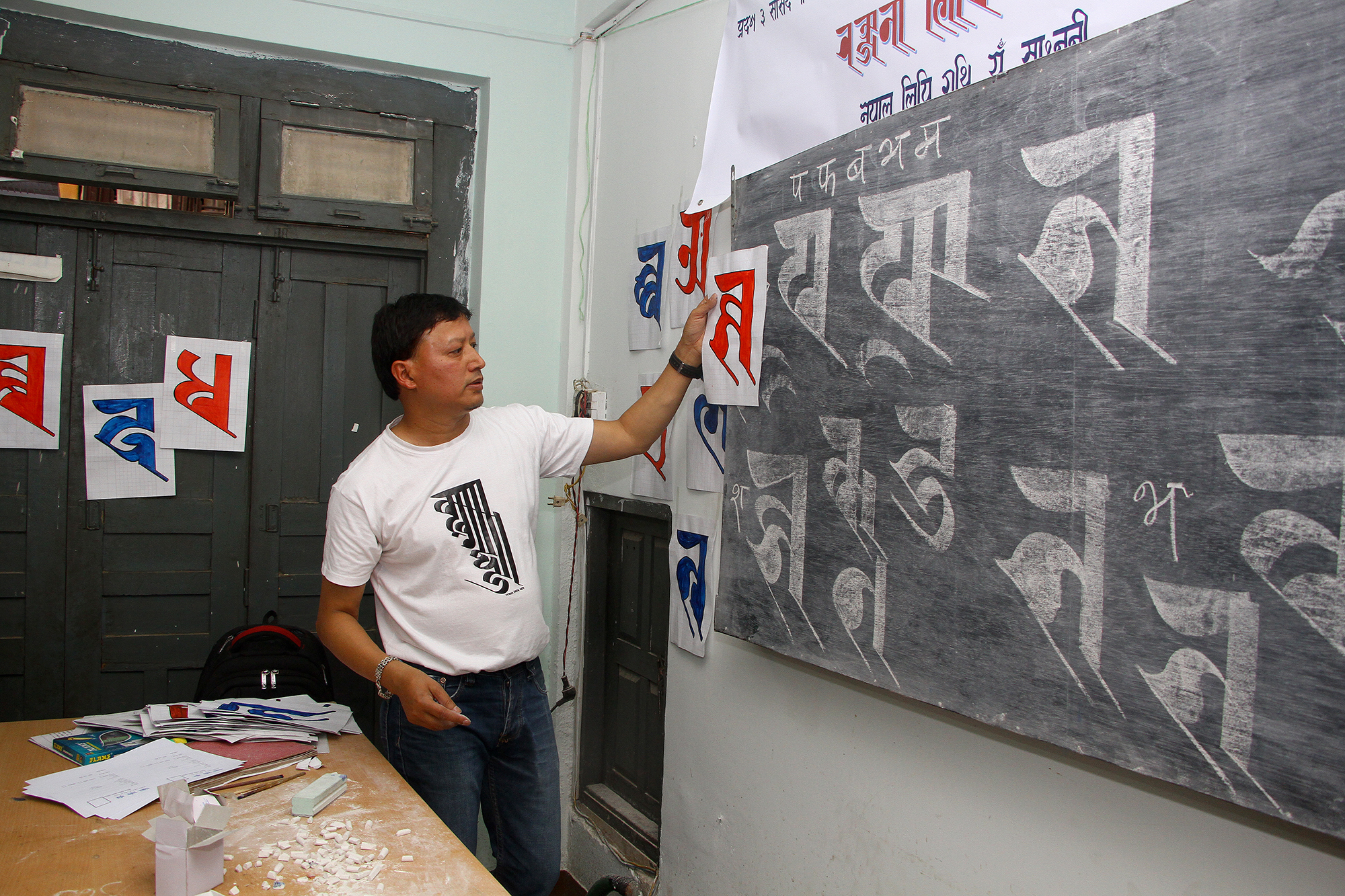 A teacher takes a class on Ranjana script in Jyatha, Kathmandu. Beeju Maharjan/TKP
With Devanagari becoming the more prevalent script, many began to assume that Nepal scripts were only for Newar priests. This hindered the growth of the language and the script itself, leading to the scripts being used even less.
"That's when the Nepal Lipi Guthi came into the picture. In 1980, Bikash Man Sheshya started the institution and played a significant role in spreading awareness about the importance of Nepal Bhasa and the history it carries. Today, the institution continues to teach people how to write in Nepal scripts under the leadership of its various guthi members," said Kasa, who's been teaching Nepal script for 27 years now.
Even Newars from Sikkim come to learn Nepal scripts, according to Kasa, in an attempt to get back in touch with their roots.
Along with the Nepal Lipi Guthi, Callijatra, a young group of calligraphers, artists, designers, illustrators from around Kathmandu, has organised more than 27 open Nepal script calligraphy workshops in and outside the Valley. They have now worked with more than 1,500 participants, including foreigners interested in the language and alphabet.
"Nepal scripts are elegant and unique, so I wanted to digitise the script and create different fonts to make it available to people who want to use it," said Ananda Maharjan, a member of the Callijatra group, who's taken classes at Nepal Lipi Guthi.
There have been previous attempts to create a Nepal script font. In 1984, Deepak Maharjan and Munni Bahadur Shakya created Nepal script fonts to encourage the use of the script in the modern era, said Anil Sthapit, vice president of the Nepal Lipi Guthi.
"These were TrueType fonts that gave space for only 256 characters which limited Nepal script. So it was difficult to make multiple compound words with them," said Sthapit.
Later, Ravindra Pachhai developed a variation in 2000, which was also used to print Paubha, a Nepal Bhasa magazine. In the succeeding updates, the font was revised to open-type Unicode. Subsequently, Sameer Karmacharya and Devdas Manandhar developed Ranjana lipi font in 2012 after working on the font for four years.
"These were all done in association with the Nepal Lipi Guthi, but there were individual font designers as well who were coming up with different Nepal script fonts like Rajendra Shrestha from Thimi and Mobishan Shakya from Chahabil," said Sthapit.
Recently, in May, Callijatra, together with Nepal Lipi Guthi, also launched the 'Nepal Lipi—Ranjana Lipi (Type Newa)' app, which allows users to write in Nepal Bhasa. The app currently has 16,782 users.
"I think it's important to start with visibility for Nepal Bhasa scripts," said Sunita Dangol, a Callijatra member. "For now, we simply want Nepal scripts to reach many people. Once people are curious, they will venture into using the scripts for other purposes."
Callijatra hopes to take Nepal scripts to the people instead of waiting for them to come to the scripts.
"The classes the Nepali Lipi Guthi organises is limited only to a few people. We need to break that wall and reach more people, and we are glad that our workshops are slowly grasping the interest of more people," said Dangol.
Today, Nepal scripts are used as designs on T-shirts and various other merchandise, and as decor in restaurants, hotels and hostels like Yakety Yak.
"The modern use of the scripts will hopefully revive Nepal scripts and will help preserve them in the future," said Dangol.

***
What do you think?
Dear reader, we'd like to hear from you. We regularly publish letters to the editor on contemporary issues or direct responses to something the Post has recently published. Please send your letters to [email protected] with "Letter to the Editor" in the subject line. Please include your name, location, and a contact address so one of our editors can reach out to you.
---
---