Victims of Madhesh movement left to fend for themselves
Seven years after their revolt, many survivors struggle to meet basic needs.

Bachcha Patel carries his older brother Munsi at their home in Gahi, Birgunj. Prakash Chandra Timilsena/TKP
bookmark
Published at : November 11, 2022
Updated at : November 11, 2022 08:10
Birgunj
The victims of the Madhesh uprising are languishing in abject penury despite repeated assurances of compensation and rehabilitation by leaders across the political spectrum.

They are leading a miserable and painful life—struggling to secure two meals a day. Neither the provincial government nor the Madhesh-based parties, or the major political parties for that matter, have bothered to address their woes.
It's been seven years since the Madhesh uprising of 2015 when many protesters were shot dead, while some others succumbed to their injuries. Still others who were seriously hurt eventually became physically disabled.
"Kathmandu has tricked Madhesh. Let's join the movement for our rights even by risking our lives," the then chair of the Sadbhawana Party, Rajendra Mahato, announced in the third week of August, 2015 just before the promulgation of the constitution. "If someone is martyred in the process, the government to be formed after the movement will provide Rs5 million to each victim and guarantee free education for their children and employment for their family members."
In their 2017 election manifestos, Mahato's Rastriya Janata Party and its partner Sanghiya Samajbadi Forum had made similar promises: "The martyrs of the Madhesh uprising will get Rs5 million each. For the injured, we will guarantee the honour of a living martyr, employment, and education for their children."
On the day of the constitution promulgation on September 20, Munsi Patel from Bagahi in Birgunj Municipality-28 was hit by a bullet while protesting near Geeta Mandir in Birgunj.
He now is unable to walk or stand—he can only lie down or sit on the bed outside his house.
Patel got involved in the movement as he, along with many others, believed the constitution, which was going to be promulgated, had undermined the Madheshi people and their rights.
Even though the school was only 50 metres from his home, he could not attend it for want of finances. Financially weak, all four of the family's sons, including Munsi, became daily-wage labourers.
Patel is unaware of his age. When asked how old he is, he just showed his citizenship card. He had three children, but none survived. He even doesn't remember the date of his marriage. "I got married in the year of the royal massacre in Kathmandu."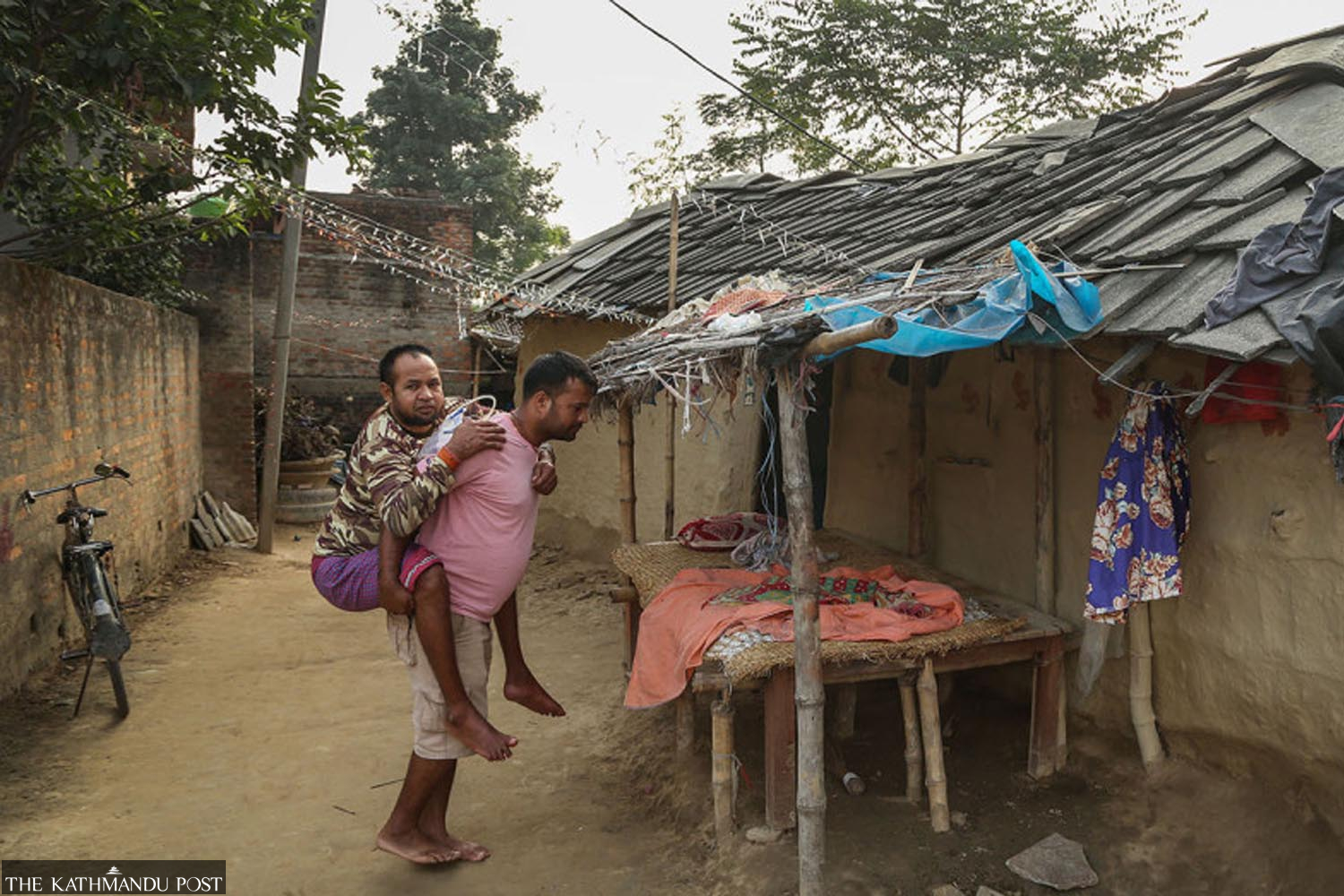 On the day of the constitution promulgation on September 20, Munsi Patel from Bagahi in Birgunj Municipality-28 was hit by a bullet while protesting near Geeta Mandir in Birgunj. Prakash Chandra Timilsena/TKP
Patel hopes political leaders would help him lead a normal life and feed his family. He doesn't have the laalpurja [land registration certificate] of his house. His father had purchased a house from a moneylender named Madhav Shah back in 1971, but he is yet to get the laalpurja.
When he was shot at, he was first taken to Bir Hospital in Kathmandu, and later shifted to the Sushma Koirala Memorial Hospital. After that, he was brought to the Narayani Hospital in Birgunj and then taken to Delhi for further treatment.
Lying in his bed, he recounts the days when he actively participated in the Madhesh protests and the years of his struggle after getting bullet injuries. After seven years of the Madhesh movement and five years of Madheshi parties' rule in the province, Patel has come to a conclusion, "Leaders only promise, never deliver."
But Patel still hopes that the leaders from Madhesh, who have enjoyed power, will help him build a house for the family: "That is the least they can do." He said the financial support he got from the government was not adequate. "They provided Rs300,000 twice. The money was spent on repaying loans. Once a loan is paid, another gets added. It would be better if they provided us monthly allowances." He has been requesting for the same quite a few times, but to no avail.
In Patel's view, the agenda raised by the Madhesh movement is yet to be addressed. "The leaders became ministers, lawmakers and chief ministers, but we are still landless. Even though a government was formed in the Madhesh, it has done nothing for us."
Ranvir Singh Rajput, a resident of Hajminia in Rajdevi Municipality-5, has not been able to work to provide for his family after he was hit by a bullet in the Madhesh movement. His is a family of four—two children besides him and his wife—and he is struggling to run his family household.
Before the incident in which he was hit by a bullet at the Ram Krishna Mandir near Nandini hotel, he used to work as a lift operator in India, but now he can't due to the bullet injury.
His wife works at a nearby school named Aadharbhoot Vidyalaya in Harminiya where she earns a monthly salary of Rs 10,000.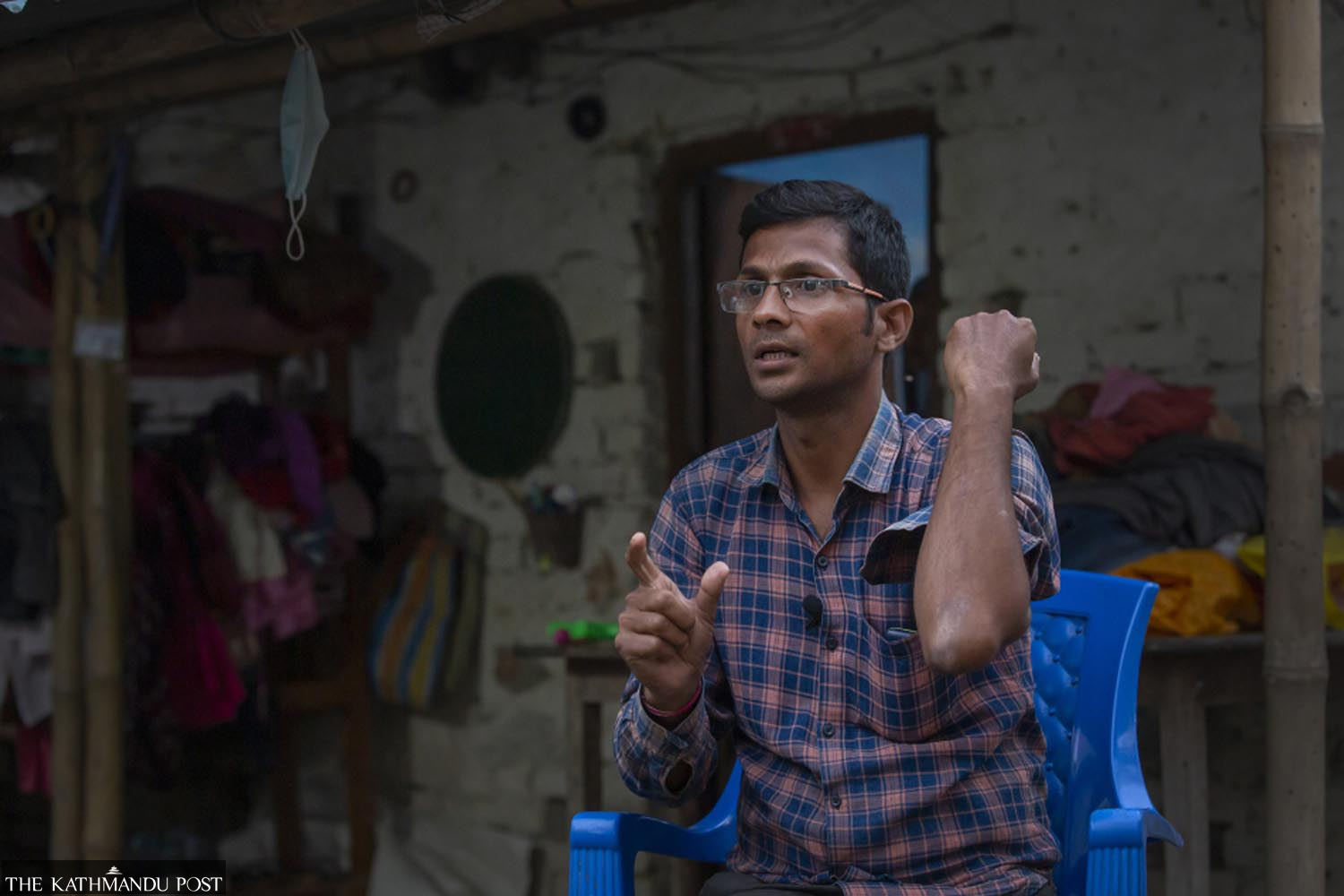 Ranvir Singh Rajput of Hajminia in Rajdevi Municipality-5 has not been able to work to provide for his family after he was hit by a bullet in the Madhesh movement. Prakash Chandra Timilsena/TKP
"No Madhesh-based party came to my help after I was injured during the Madhesh movement," said Rajput. He reached out to the local and provincial leaders and even met the chief minister of the Madhesh province. "Once, I didn't even have enough to feed the family."
He is losing his eyesight and has swelling in his joints. There is also a problem with his digestion. The Madhesh government did not respond to his plea, and none of the provincial leaders sympathised with him, he said. "I am in this pitiful situation because of the Madhesh provincial government. They simply don't care."
Suffering from extreme hunger, Rajput threatened the provincial government that he would commit suicide. "We don't have access to the central government. But even the provincial government lent us a deaf ear."
According to Rajput, the Madhesh-based parties do little, and are only good at bargaining for a share in the federal government.
Jitendra Prasad Yadav, from Kalaiya-12 of Bara, is now fifth in number in the list of proportional representation (PR) candidates from the Janata Samajbadi Party Nepal. He was also badly injured during the 2007 Madhesh movement.
That year, he led a protest against the killing of his leader and friend, Majid Miya, in the Madhesh uprising a day before. The administration had imposed a curfew at the time. They defied the curfew and performed Miya's cremation rites. While they were returning home after doing so, they clashed with the police.
The police started firing and he got hit by a bullet. Yadav's urine bladder burst. He now limps while walking and takes painkillers to ease the constant pain.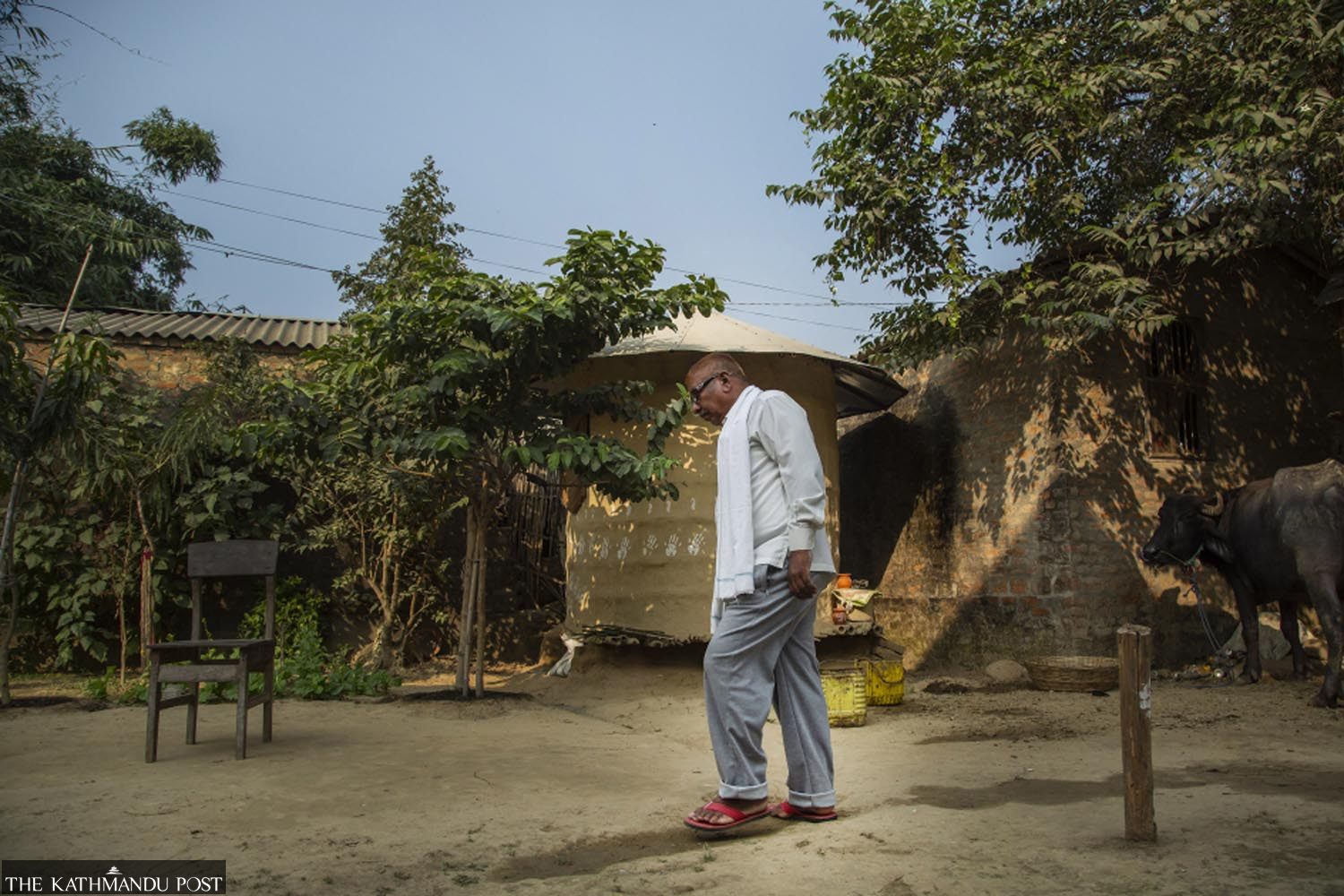 Jitendra's urine bladder burst after a bullet fired by the police hit him during the movement. He now limps while walking and takes painkillers to ease the constant pain. Prakash Chandra Timilsena/TKP
"Though the party leaders say I am a living martyr, neither the state nor the party has supported me financially or provided me any benefits," Yadav said. "I also suspect that the inclusion of my name in the proportional representation list is merely a lollipop that I will never get to taste."
Not all those who were injured by bullets in the Madhesh uprising returned home alive. On the same day Munsi Patel was injured, 20-year-old Satrughan Patel from Pakaha Mainpur also received a bullet near the Geeta Mandir in Birgunj. He did not survive.
Patel had just returned from Delhi when he joined his local friends in the protests.
"We got a call from his mobile. He was taken to the hospital. But he died before he could be treated," his mother Kusumidevi recalls.
Two years after Patel's death, the Sanghiya Samajbadi Forum made Patel's mother, Kusumidevi, a candidate for the deputy chair of a rural municipality in the 2017 local polls. She got elected but her role was limited to doing formalities. She was not given any meaningful work by the rural municipality chair. "They had made me a candidate only to cash in on the public sympathy for the mother of a martyr," said Kusumidevi.
Kusumidevi Patel, mother of Satrughan, who died in Madhesh uprising of 2015. Prakash Chandra Timilsena/TKP
After she was left out of the decision-making process, she had complained about it with party chair Upendra Yadav, then led a group of protestors against the rural municipality chair Vijaya Chaurasiya, before registering a case at the court. Nothing worked. She lost. Now she concludes, "Yi Rajanity Ham Naakaresakem." ("Politics is not my cup of tea.")
She is now fed up with politics. She played no part in the last local polls nor is she now engaged in any electioneering.
Lalbabu Patel from Tikuliya in Gaur Municipality-4 was injured in the Madhesh movement. In return, the government provided him with a water buffalo. He was frustrated with the corruption even in water buffalo distribution. "The buffaloes were given to us and they made a bill [invoice] of Rs175,000 for each animal," he said. But they were so weak that he could sell his for only Rs50,000, while others could get no more than Rs25,000.
Patel was hit in the spinal cord in Gaur violence on September 13, 2015. He was treated in Birgunj, Kathmandu, and Delhi. He is still incapable of sitting up and working.
The Madhesh province government, however, claims that they have adequately compensated the victims of the Madhesh uprising.
Internal Affairs and Information Minister of the Madhesh Province Bharat Shah said, "It is human nature to be never satisfied." He claimed the government had helped treat the injured and to provide skill-training to the family of the martyrs. "If they need any more assistance, we are ready for that as well."
Federal government officials also claim to be sensitive to the needs of the Madhesh uprising's injured and martyrs' families. "We have provided an equal amount of financial assistance, that is Rs1 million each, for the families of those martyred during the Madhesh movement as well as the Jana Andolan [April 2006 movement]," said spokesperson of the Home Ministry, Phadindra Mani Pokharel.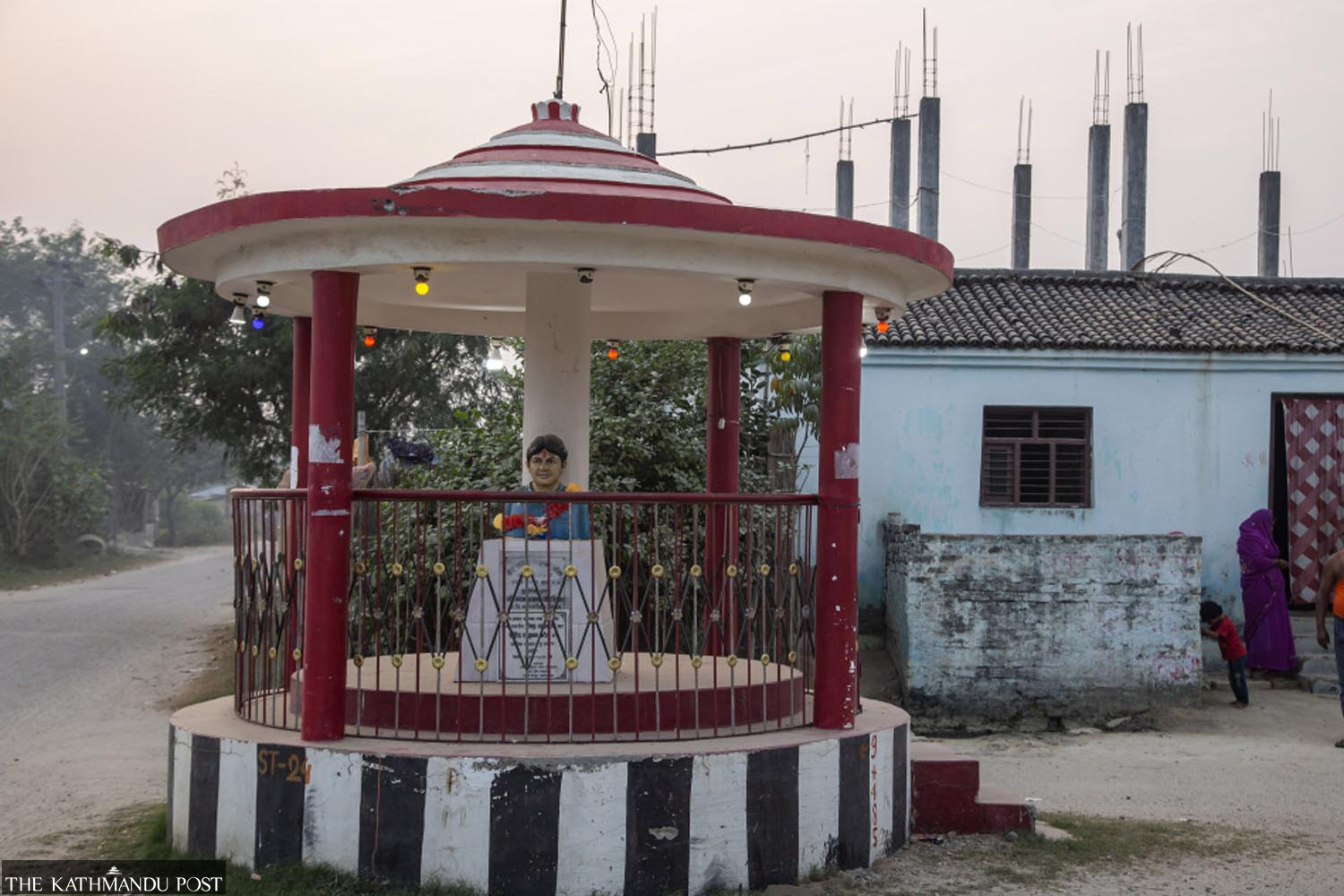 Prakash Chandra Timilsena/TKP
The two Madhesh-based parties—Rastriya Janata Party and Sanghiya Samajbadi Party—had fought the 2017 elections together in the Madhesh province.
They won 19 federal seats—compared to 13 by Nepali Congress, Maoists and the UML combined.
They dominated the provincial elections too, winning 44 seats and forming the provincial government.
In the past seven years, the Madhesh-based parties went through several splits and mergers and are now largely represented by the Janata Samajbadi Party and the Loktantrik Samajbadi Party.
But they failed to do justice to the movement's victims.
"In every political movement, the poor are at the forefront, and in clashes, they mostly become victims. Compensating and helping them has never been any party's priority," said Tula Narayan Shah, a political analyst and a close observer of Madhesh politics.
The Madhesh-based parties had gotten votes by promising to provide compensation, free education, and jobs to the people in Madhesh. "They have done the movement grave injustice by breaking their promise," Shah told the Post.
---
---