Athletes spend the best years of their lives playing sports, but are often left with little to retire on
Things have gotten better with the establishment of domestic leagues, but a majority of players are still working second jobs in order to make a living.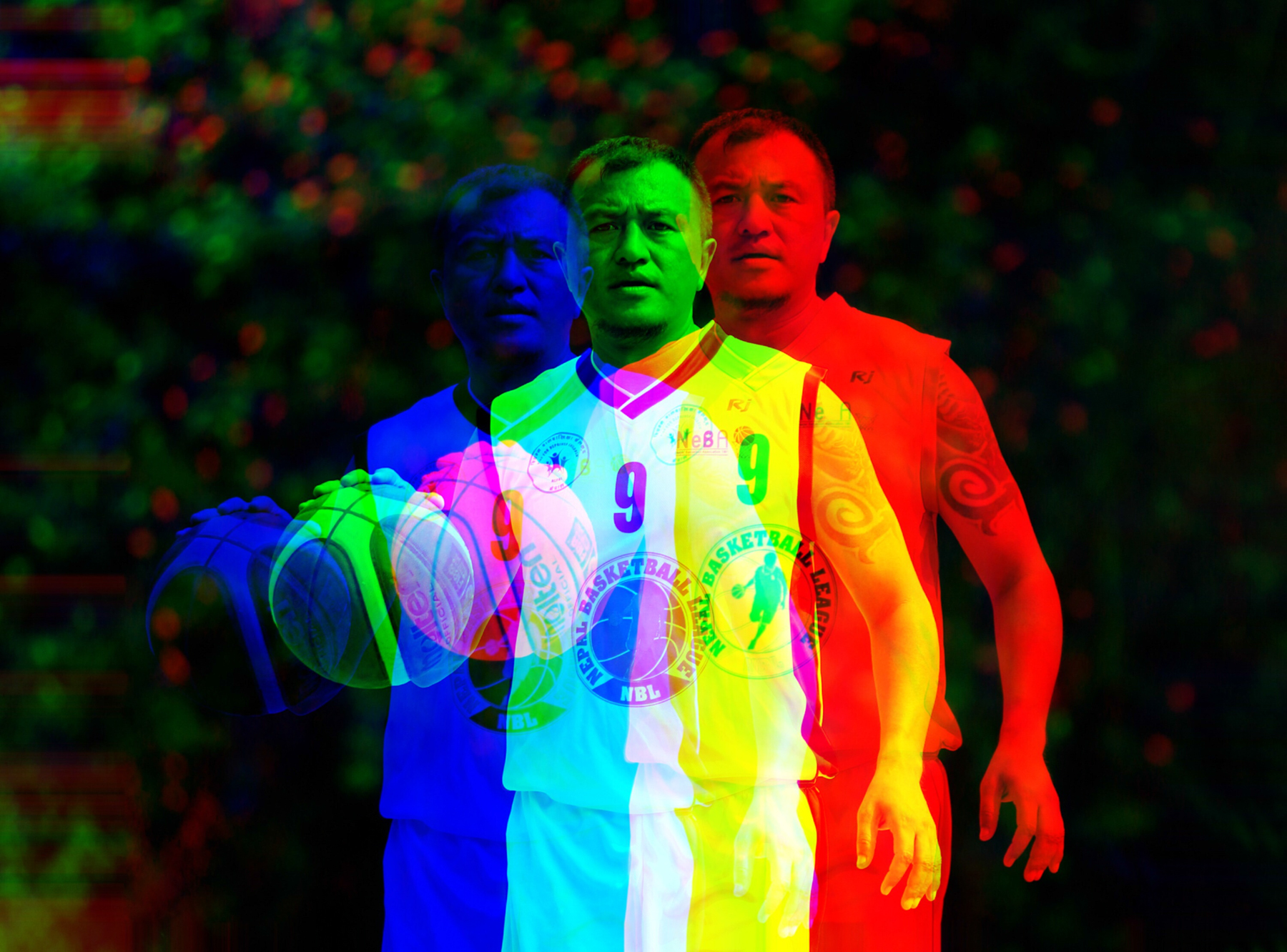 Bipendra Maharjan, who captained the Nepali basketball team for over a decade, received only a certificate of appreciation and Rs 5,000 when he retired. Composite Image/Post File Photo
Published at : February 22, 2020
Updated at : February 21, 2020 21:53
In the 90s, Uttam Karmacharya was a stalwart of Nepali cricket. At a time when the sport had barely a fraction of the following it does now, Karmacharya was the first captain of the men's cricket team. Despite institutional shortcomings and a lack of infrastructure, Karmacharya led the Nepali cricket team to the 1996 ACC Trophy, where Nepal crashed out in the group stage.

Despite the decades that Karmacharya contributed to the foundations of a sport that has now taken over the country, he is no longer involved with Nepali cricket. Karmacharya currently operates a grocery store in Satdobato with his friends.
"When we played cricket, it was not for financial benefit," Karmacharya told the Post. "We were barely paid Rs500 per match."
Karmacharya reiterates what most Nepali sportspeople will profess--that they play out a love for the sport and for the country, not for the money. It's a noble sentiment, but the fact is that there hasn't been much money in sports. Most sports teams, whether it is cricket, football, basketball or any other sport, do not pay year-round salaries. It is only in recent years, with domestic leagues in place, that Nepali football and cricket teams began paying salaries to their players. But even then, only a few clubs pay year-round salaries. Most clubs only pay their players a salary during the three-month league.
For most national players, having given most of their best years to sports, they are left with nothing when they retire. In other countries, even neighbouring India, former players turn to commentary or coaching or endorsement deals to make a living in their twilight years, but in Nepal, even the star athletes of yesteryear end up with little to show. While the scenario is slowly changing, it is no thanks to the state.
When Bipendra Maharjan, who captained the Nepali basketball team for over a decade, retired, all he received from the Nepal Basketball Association was a certificate of appreciation and Rs 5,000 cash. Maharjan now coaches privately but that is a privilege not many former sportspersons have.
"It certainly does not feel good when the state does not give the athletes the respect they deserve," Maharjan told the Post.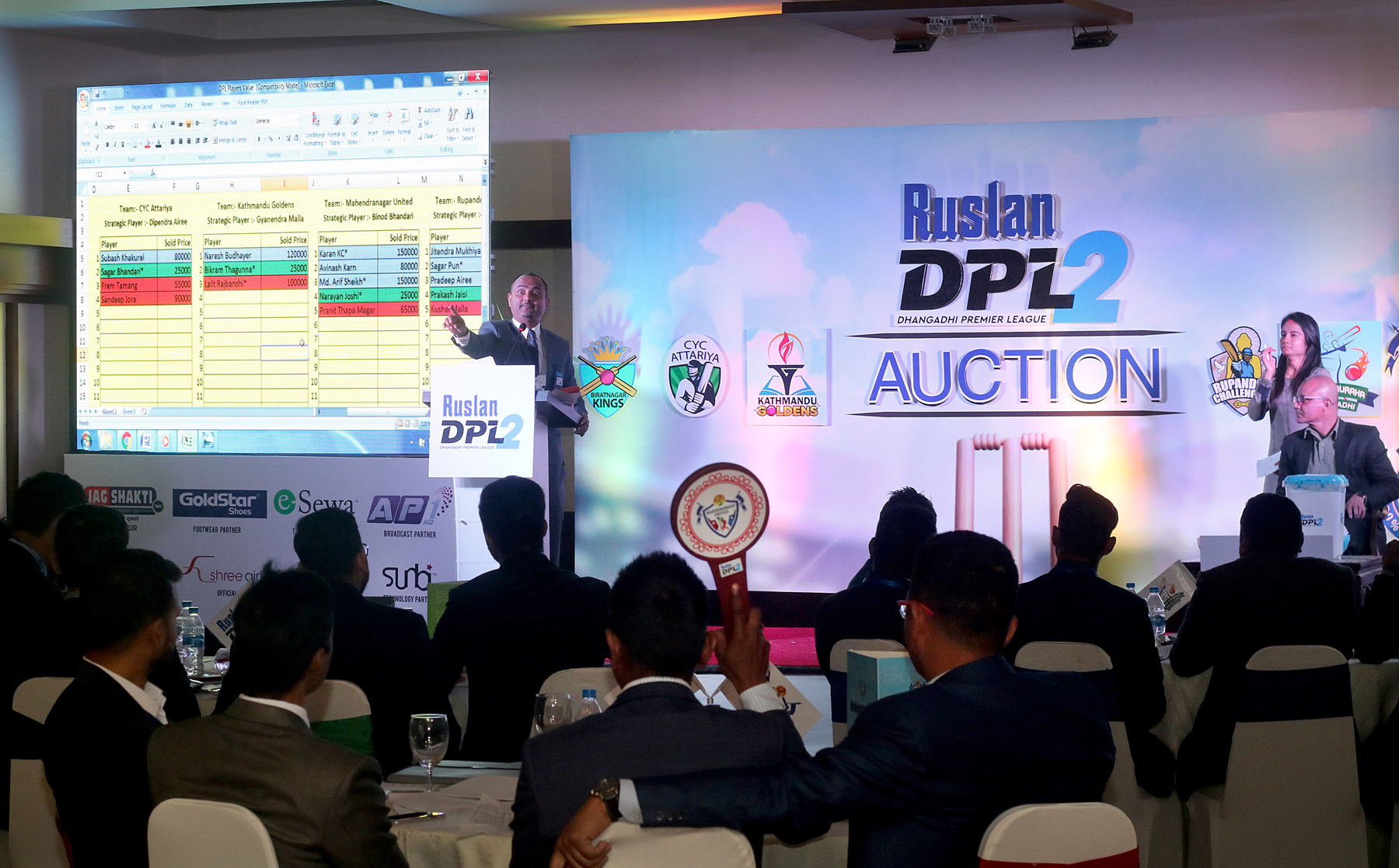 Team owners bid for players at an auction organised for the second edition of the Dhangadhi Premier League. Post File Photo
Maharjan's sentiments are echoed by a wide range of athletes who play multiple sports. There is a prevailing belief that neither the state nor society values sports.
Beginning with the family, sports is not seen as something to pursue as a career, as it is not lucrative. Many of today's top sportspersons report being discouraged by their parents from pursuing sports full time as for a long time, it did not provide a stable income.
"Our parents often scolded us for running around with 'wooden sticks'," recalled Karmacharya. "It was actually funny how they did not understand the sport despite our attempts to introduce it to them."
But for athletes like Karmacharya, sports was about passion and their families' disapproval was not going to stand in their way.
"We used to play with seniors who had returned from India and we picked up the sport there," he said. "There was never any financial reason for pursuing cricket."
But ultimately, their families were right. Up until very recently, sports was not a lucrative profession. Sportspersons often had to juggle their day jobs with their sporting careers if they were to make a living.
"It wasn't money that kept us in football as it wouldn't be wrong to say that we were paid peanuts back then," said Salyan Khadgi, who started with the Sankata Football Club 19 years ago when it was in the 'B' division. "We were simply very passionate about the 'beautiful game', as Pele called it. Our attachment to the game was unconditional. We were patient and getting minutes on the field was the most important thing."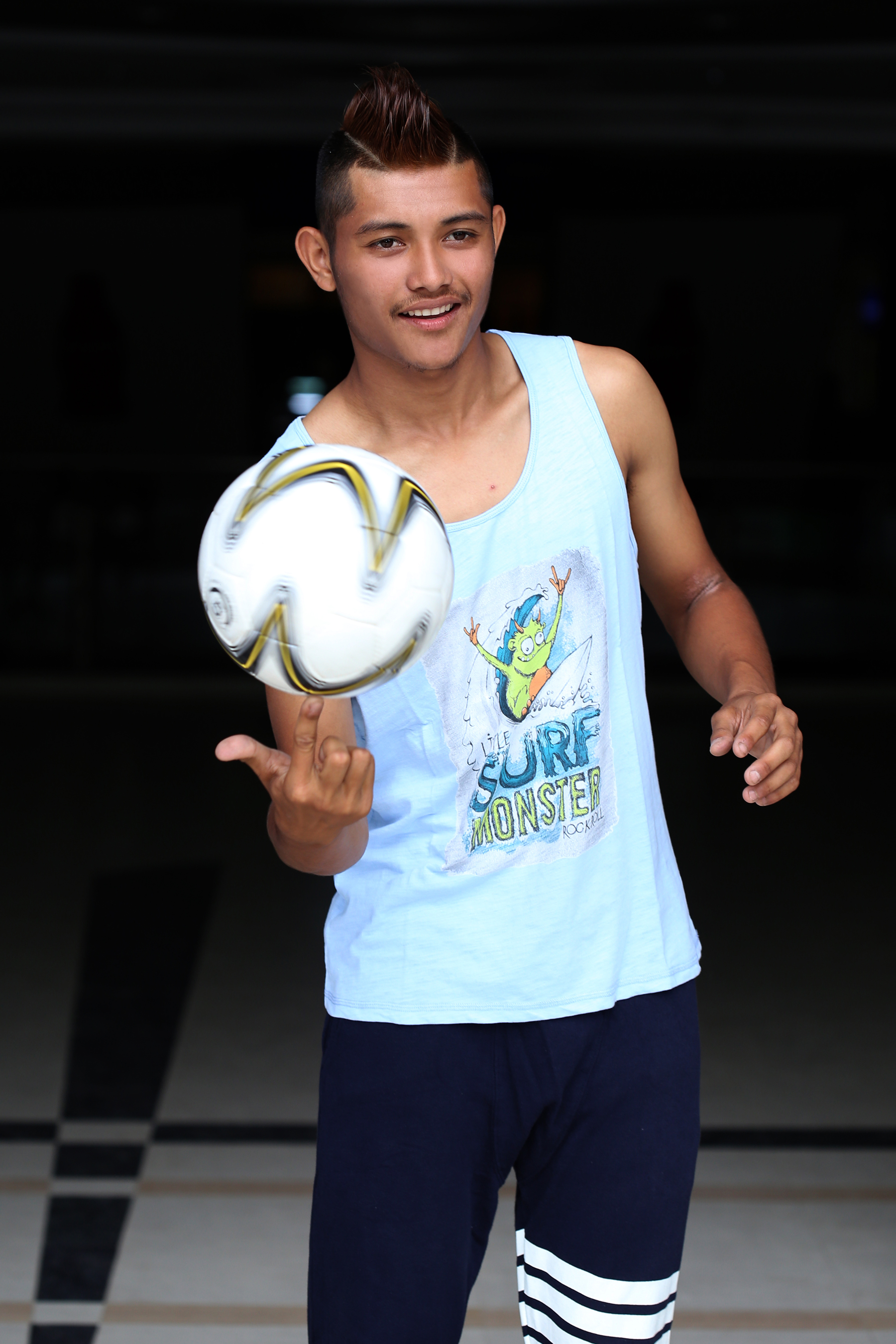 National team forward Bimal Gharti Magar recently returned for the Maldives after playing Dhivehi Premier League for TC Sports. Post File Photo
Families are much more open now, especially ones where even the parents play sports. One such family is Nepal women's basketball captain Sadina Shrestha's, who started playing basketball around 14 years ago during her school days. She recently led Nepal to a silver medal in the women's basketball tournament at the 13th South Asian Games.
"For Nepali athletes to succeed, family support plays an instrumental role," said the 30-year-old power forward who comes from a sporting family. "As it is very challenging for basketball players to generate revenue from the game, the role of families is even more significant."
Sportspersons too need to make a living and provide for their families, which is increasingly difficult if they are giving most of their time to sports and not getting back anything in return.
For long, Nepal did not have any domestic leagues for any sport and those who played for the national team had to train on their own, while working other jobs. The entrance of departmental teams from the Nepal Army, Nepal Police and Armed Police Force made things slightly easier, as these institutions had the funds and the organisational and institutional wherewithal to support their players. In the last decade or so, things have improved markedly, with the establishment of a number of privately run domestic leagues and the private clubs that now pay their athletes a decent salary.
"These days, we have a lot of tournaments that help the players financially," said Karmacharya. "Leagues are now being organised in districts that previously remained detached from cricket like Arghakhachi as well."
According to Khadgi, players these days make up to six figures monthly depending on their performance and consistency. Star players like former Nepali cricket team captain Paras Khadka have received cars as rewards for their performance. Players can also enter into lucrative endorsement deals with private companies.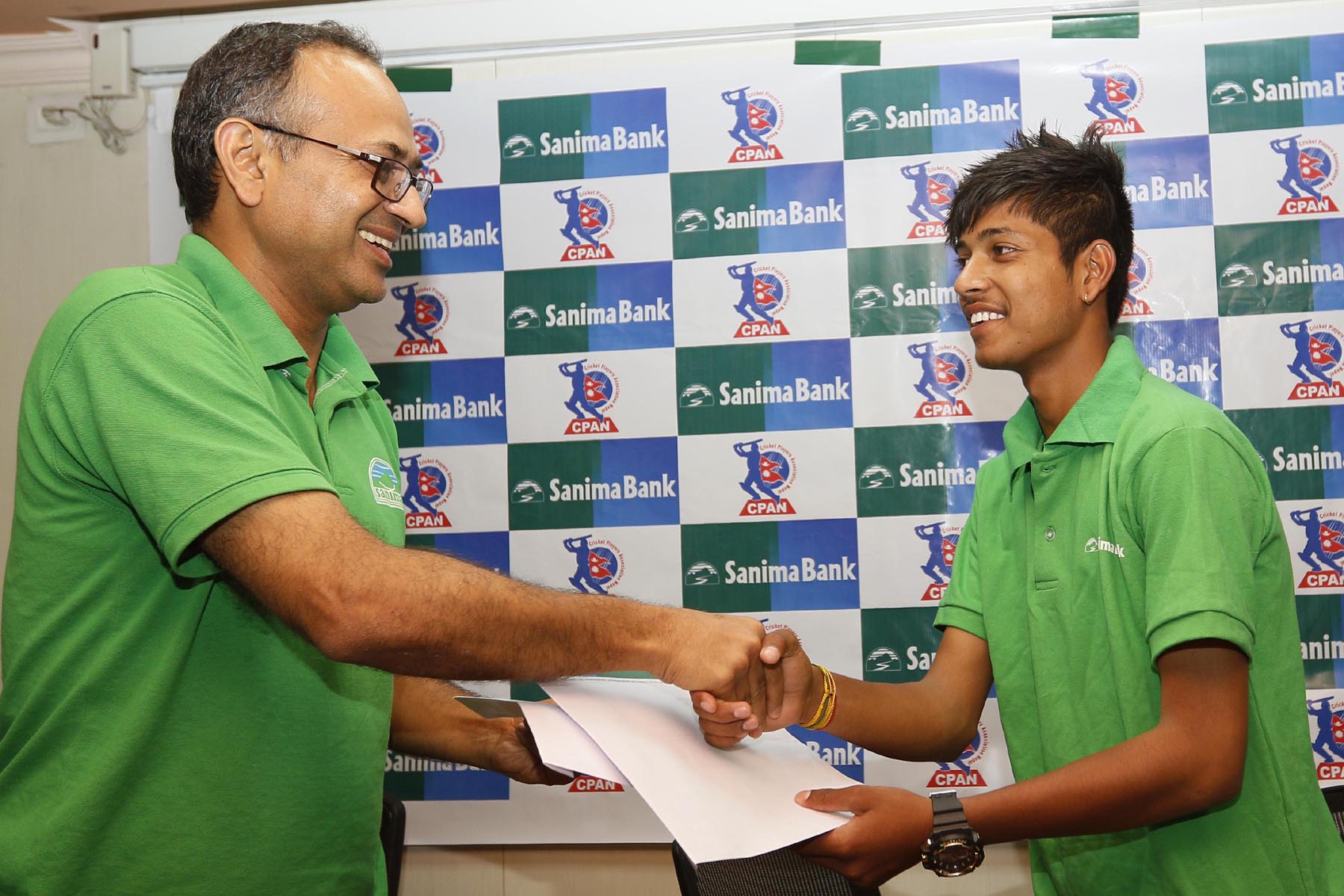 Sandeep Lamichhane, who has played for the Twenty20 franchise across the world, is currently one of the highest-earning Nepali athletes. Post File Photo
But even for a player like Khadka, after the 2014 ICC World T20, Suraj Vaidya, a prominent industrialist, had announced a car for Khadka as a prize for leading Nepal into its first World Cup. But six years later, that car has yet to materialise.
"The scenario has obviously become better than during our playing days," said Khadgi, who coached the Sankata Football Club to a second-place finish at the Martyrs' Memorial 'A' Division League in the previous season. "There are more tournaments these days with higher cash rewards and awards for individual categories. This is promising, as such recognitions and returns for players help them sustain their families."
In the Martyr's Memorial 'A' Division League, the average salary is Rs30,000 a month for Nepali players, but the highest earning national players, like Nepali internationals Three Star defender Ananta Tamang and Manang Marshyangdi winger Anjan Bista, earn around Rs90,000, which is a decent salary for Nepal, especially when it comes to sports. The footballers and cricketers who get opportunities to play abroad for foreign clubs are able to make much more.
But athletes are circumspect. While these salaries may help sustain them while they are able to play, they do not ensure that athletes will have enough to retire on. And having given the best years of their lives to sports, it is often too late for them to learn a new skill or a new profession.
"Only players involved in clubs have a regular source of income, but even that does not ensure their financial stability," said Aruna Shahi, captain of the Nepal women's volleyball team. "While such an income may be good enough for now, there is no security in the long run."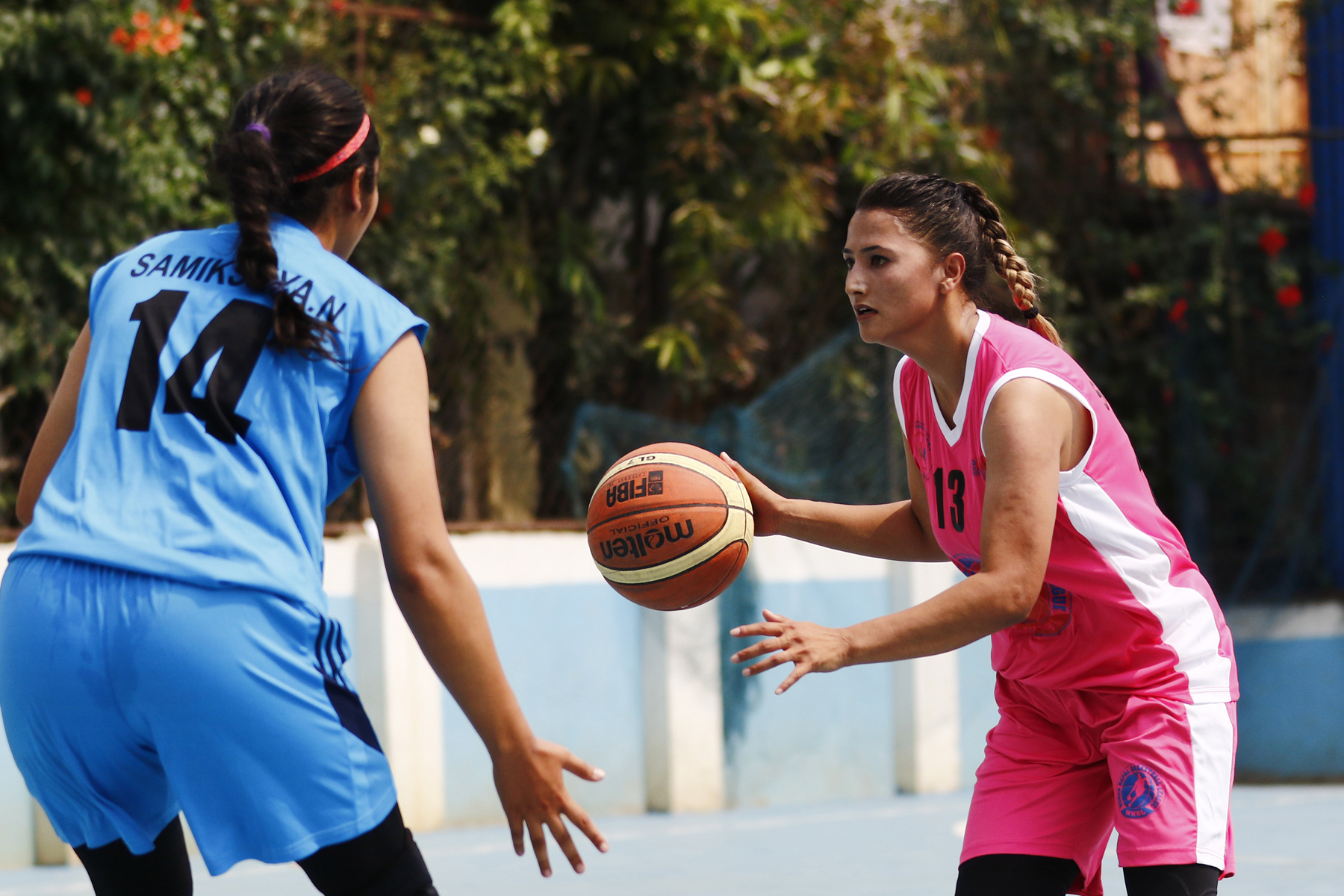 Sadina Shrestha, Nepal senior Women's basketball captain, says for Nepali athletes to succeed, family support plays an instrumental role. Post File Photo
But in contrast to football and cricket, where the private sector invests relatively heavily, other sports, like basketball and volleyball, remain under-appreciated.
"Basketball won medals in all four events at the recent South Asian Games, but the private sector has yet to show any interest in the sport," said Shrestha, captain of the women's basketball team. "What was more disappointing was that the National Sports Council officials went to watch football and cricket events but they were not even in attendance for most of our matches."
Shrestha and a majority of the sportspersons that the Post spoke to expressed disappointment with the way the state manages the development of sports in the country. For many, the state is a hindrance, rather than a facilitator. Political interference in sporting bodies and corruption has long been rife.
In 2014, 18 Cricket Association of Nepal officials were indicted by the Commission for the Investigation of Abuse of Authority on corruption charges. In 2015, Ganesh Thapa, who led the All Nepal Football Association, for more than two decades, was banned by FIFA from all football-related events and associations, both national and international. And in 2016, the Cricket Association of Nepal was suspended by the International Cricket Council for "breach of ICC regulations that prohibit government interference." The suspension was only lifted in 2019, although the national team was allowed to compete internationally in the interval.
These are only representative incidents that illustrate the widespread pattern of interference and corruption within the bodies that lead Nepali sports. While politically appointed officials attempt to use these bodies as a means to make a quick buck or go on lavish state-sponsored trips abroad, sportspersons lament the lack of any real support, from proper training, infrastructure to opportunities to play abroad, from the state.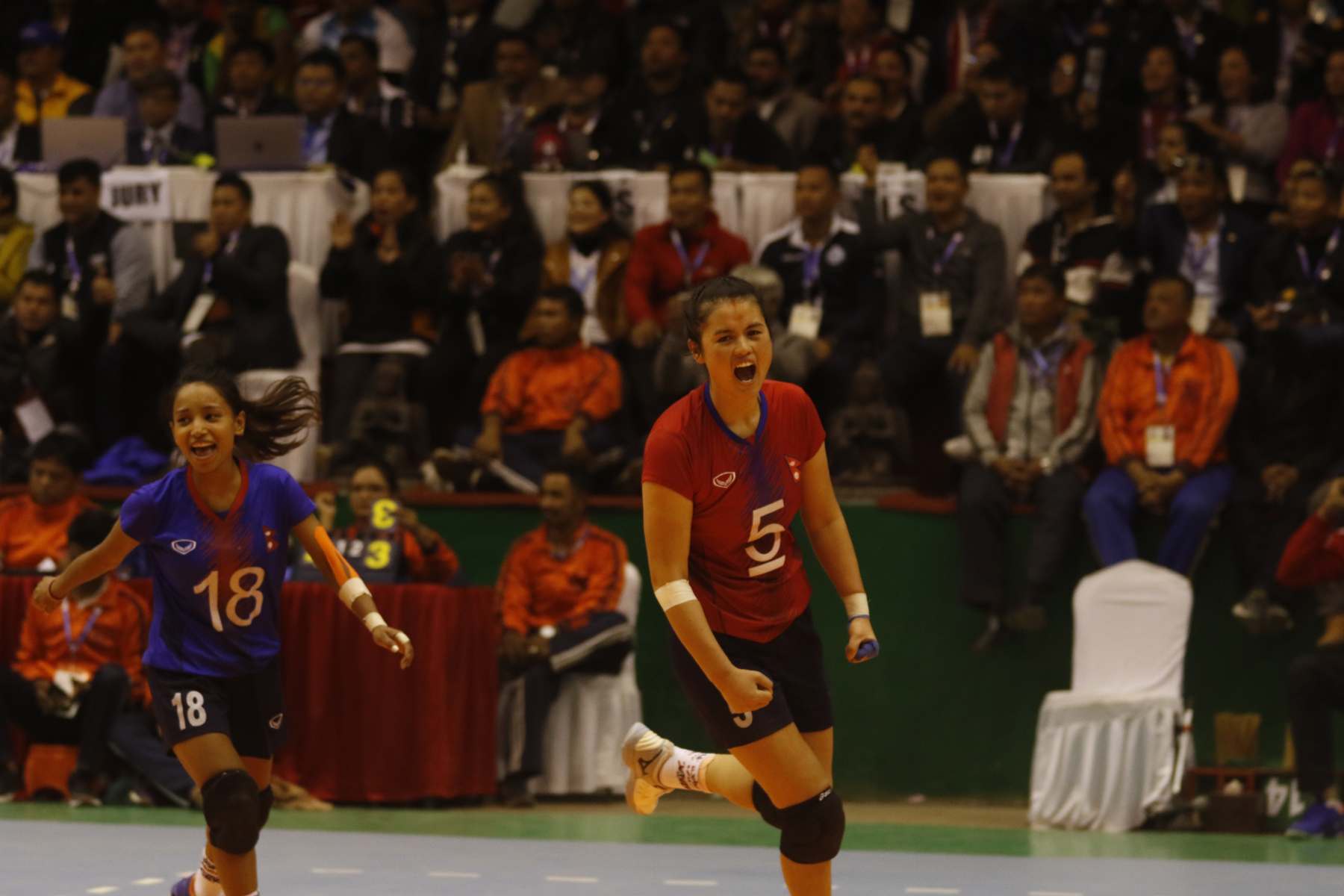 Aruna Shahi, captain of Nepal Women's volleyball team, led her team to win the Asian Volleyball Confederation Central Zone Senior Women's Volleyball tournament. Post File Photo
Volleyball, which is Nepal's national game, does not receive half the attention that the more popular sports like cricket and football do, said Shahi.
"It would be nice if the government gave a bit more priority to the national sport by allocating an adequate budget for its growth and development," said Shahi. "There is no meaning of calling volleyball 'the national game' if it is going to remain in the shadows."
Attention from the state doesn't just mean training and infrastructure but a means for national-level sportspersons to make a living. Currently, national team players are not allowed to take part in college-level tournaments, which means they cannot play for the winnings, which are often quite lucrative.
"This not just denies us the opportunity to make some earnings, but also limits playing opportunities for us. Our presence in such tournaments could actually help lift the standard of the other players as well," said Shrestha.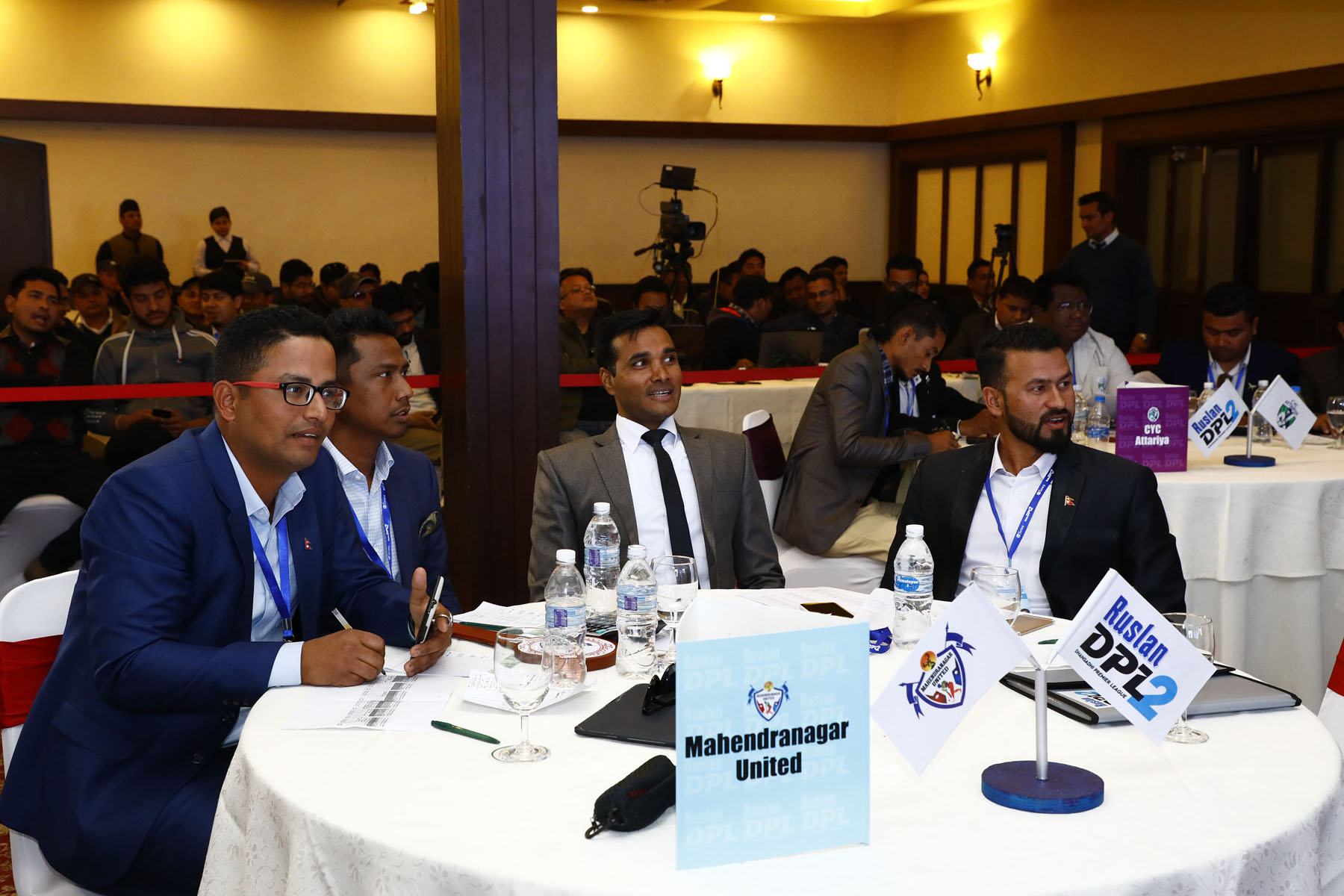 In the last decade or so, things have improved markedly with the establishment of a number of privately run domestic leagues that now pay their athletes a decent salary. Post File Photo
However, there are arguments to be made for the exclusion of national players from college tournaments as players of such skill could overshadow younger players and completely dominate what is meant to be a platform for new players to emerge.
Shrestha meanwhile has called for the inclusion of up to three national players in each team playing in domestic tournaments, which, she says, would create a 'win-win' situation for everyone.
"We have to wait for national games or international tournaments to play, which does not help us improve our game as we are often rusty," she said.
One of most visible snubs to team sports came at the recently held 13th South Asian Games. Prime Minister KP Sharma Oli announced a Rs900,000 prize for gold medal winners in individual sports but winners in the team events would receive Rs500,000 each.
"What left us even more frustrated was the fact that despite the repeated assurances of a 'special package' for medal winners at the Games, the prime minister did not even have a plan in place for runners up and third-place finishers," said Shrestha.
Without the finances to tide them over during their careers or after they've retired, former players often turn to coaching. Khadgi, Maharjan and Shrestha all hold coaching certificates. This is a natural progression for players but not an avenue that is open to everyone.
Khadgi, however, believes that all former players should at least make the attempt to get into coaching or management, especially since there is a plethora of private clubs now.
"It is imperative for senior and former players to get into coaching and management," he said. "Our experiences will help shape the career of young players and they need proper guidance and inspiration to save their talent from going to waste."
Shahi, the volleyball team captain, wishes to contribute to the development of the national game as a coach after her retirement.
But ultimately, athletes believe that the state must shoulder the majority of the responsibility.
"The Nepal Basketball Association and National Sports Council have lately begun to show interest in the development of sports," said Shrestha. "But there is a lot more to be done to create a conducive environment where young people start seeing a career in sports."
---