Does pranic healing work?
While practitioners of pranic healing believe it to be an alternative for curing many ailments, not many buy it due to lack of scientific evidence.

Kabin Adhikari/TKP
bookmark
Published at : March 12, 2020
Updated at : March 12, 2020 07:20
Kathmandu
Inside a concrete room, Roshan Kunwar is sitting on a chair, silently. Although his throat is burning like wildfire and he can hardly swallow a thing, he tries to calm himself as much as he can. After a painful few minutes, he completely surrenders to a pranic healer, who then slowly starts moving her hands along his neck area.
And suddenly, all his pain is gone. Without even getting touched or taking any medicine, he starts feeling relief on his neck, and the burning sensation that was troubling him is no more.
"The pain went away magically in just one seating that I didn't need to take medication later," says Kunwar, 25, who initially was not sure that pranic healing would cure his problem.
Started in 1989, with extensive research by Master Choa Kok Sui, the founder of pranic healing, the practice has cured many people like Kunwar, naturally providing relief to their physical and mental ailments.
Based on the principle that the body has the power to heal itself, the 'healers', without even touching their patients and prescribing drugs, with just their hands and crystals manipulate the body's energy and relieve the body from physical and mental pain.
"In pranic healing, we try to harmonise the energy by replacing the negative with the positive, and that is what cures the physical and emotional pain of the body," says Madhu Todi, a certified pranic healer.
The healers say their process can fix anything—from physical pain and health conditions like hypertension, gastritis, migraine, common cold to psychological issues like low self-esteem, anxiety, depression and even financial and relationship problems. They do so by making use of the three natural sources of prana (or energy): air, sun and ground. The healers use their hands to draw positive energy from these sources and heal the negative.
One would assume that such a technique is difficult to learn, but according to Todi, who's also an instructor at the Divine Touch, a pranic healing centre based in Kathmandu, anyone with proper guidance can learn this healing modality in a matter of days. "As human beings, we all have prana in our body," says Todi. "If we are able to control it, we can solve all of our problems ranging from psychological to even physical illness, as the energy body and the physical body are directly connected to each other," she adds.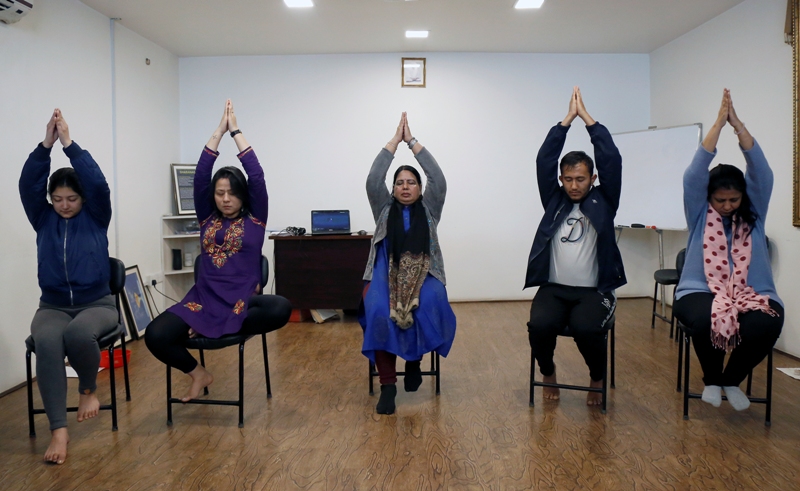 Kabin Adhikari/TKP
And this is the underlying belief that guides pranic healers and their healing technique. The healers first try to scan the negative and diseased energy on the body of the patient who has to be in a receptive state. After identification, the healers can then remove that negative energy by channelling the respective chakras (energy centres) of the body. Then they transfer the positive energy which later will help in the healing process.
"What we try to do is heal the negative aura present on the chakras of our patients by transferring the positive aura. Once the chakras are energised with positive energy, the person can recover from all of their sufferings," says Todi.
This is what exactly Kunwar's pranic healer did to him, he says. "When the pranic healer was performing the healing on my neck, where one of the chakras among the eleven major ones of the human body is situated, my pained eased out so quickly. I recovered within a half-hour session," says Kunwar. The quick healing has impressed Kunwar so much that he picked up the technique and is now working as a healer at the Divine Touch.
"As we can self-heal ourselves, if we know the technique of manipulating the energy present in our body, then we can regularly apply the technique in our lives," says Todi.
A normal healing session at her centre can last up to 35 to 40 minutes, but it depends on how deep the pain is, she says. For instance, a patient suffering from cold and cough can be healed with just two sessions, while for the patients suffering from heart problems, it may take numerous sessions.
Normally, the healing happens in a silent room, where the patient has to be in a receiving state, which is possible either if they sit silently on a chair or are in a sleeping position. But it's not compulsory for both the healers and the patients to be in the exact geographical place, says Todi. "Healing can also happen boundaries across. The energy has the power to travel due to which we can manipulate and send it to people who are far away as well," says Todi.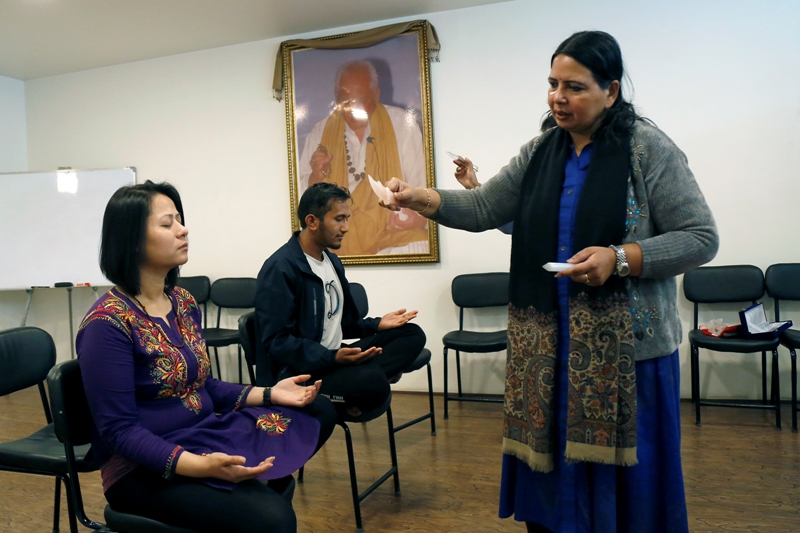 Kabin Adhikari/TKP
While there is a whole debate regarding whether to consider natural healing processes like pranic healing as an alternative for curing the diseases, due to the lack of scientific evidence of the therapeutic use, many medical practitioners believe that the placebo effect caused by such healing modalities can complement the healing process of the patients.
However their effect is only limited to the pain or diseases which are mild, says Ritesh Thapa, consultant neuropsychiatrist at Rhythm Neuropsychiatry Hospital and Research Center."Since we don't have enough literature that supports the claims made by natural healing processes like pranic healing, we can't fully recommend it to people. It might work as a stress reliever for there is lack of scientific evidence to suggest it could do more," says Thapa.
But Todi believes in this healing process. "I have seen people getting cured of serious illness with my own eyes due to pranic healing," claims Todi. "Since we provide a drug-free healing procedure, we focus on energising the body with positivity, which accelerates the healing and the treatment. We don't interfere in their medical treatments but we rather help in the removal of the negative energy which is somehow responsible for the cause of the disease," says Todi.
---
---