A confluence of highland food cultures
There are hidden mountainous treasures tucked away in the alleys around the stupa—it's time to explore.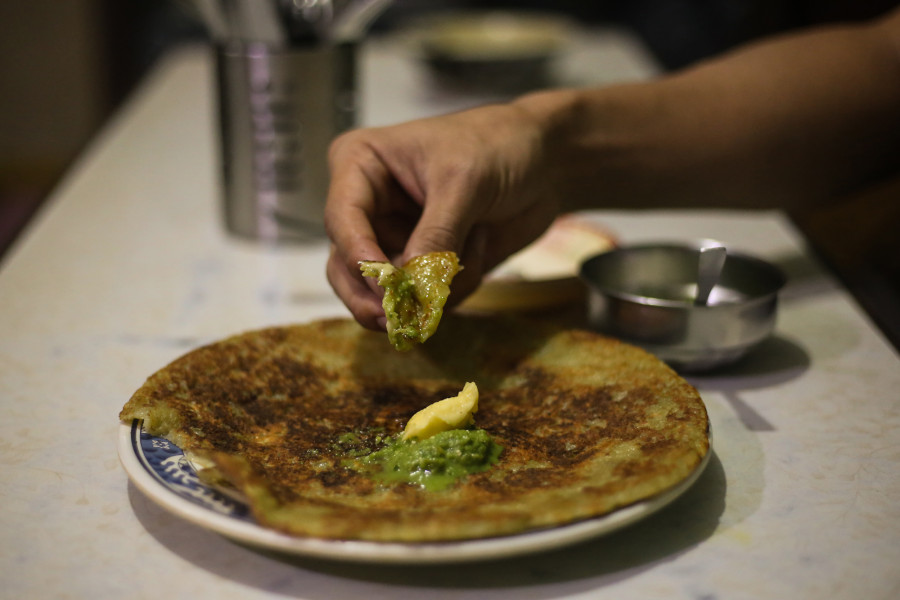 Kabin Adhikari/TKP
bookmark
Published at : January 30, 2020
Updated at : January 31, 2020 09:04
Boudha
Nuns, monks and devotees with mani and mala in their hands circumambulating the Boudha stupa, known by Newas of Kathmandu as Khasti Chaitya; visitors strolling around and the elderly on benches facing the stupa watching as time passes by; women selling khapse and local produce brought down from the mountains—Boudha is a fascinating place, even more so during mornings and evenings.

While many are aware of how Boudha has a different energy and vibe compared to the rest of the city, what many are unaware of is how good the local food scene is. It is a place where different mountainous food exists. But to get a taste of the authentic flavours of cuisines from the mountainous region, you have to go beyond the gentrified restaurants in the stupa's inner circle, many of which cater to foreign tastes.
Take the narrow doorway right after you cross a popular local coffee shop chain. The dimly lit passageway will lead you to a few Sherpa eateries. These places serve more than just your typical momo and thukpa. As you near the small joints, you will likely be greeted with sounds of heavy pounding sounds. That sound is how you know that rildok is being prepared. Rildok is a simple, delicious soup filled with dumplings made by pounding boiled potatoes. In some Sherpa communities, however, rildok simply refers to mashed potatoes and eaten with curry.
One of the eateries in the lane is family-run Himalayan Sherpa Food House, operated byDolma, Namkha and Ang Tshering Sherpa. It was in the eatery that I had my first bowl of rildok,
The eatery is cozy, intimate, and has a very homely feel to it. There are just a few tables, and most of the customers who frequent the place are locals who hail from Solu and Khumbu regions.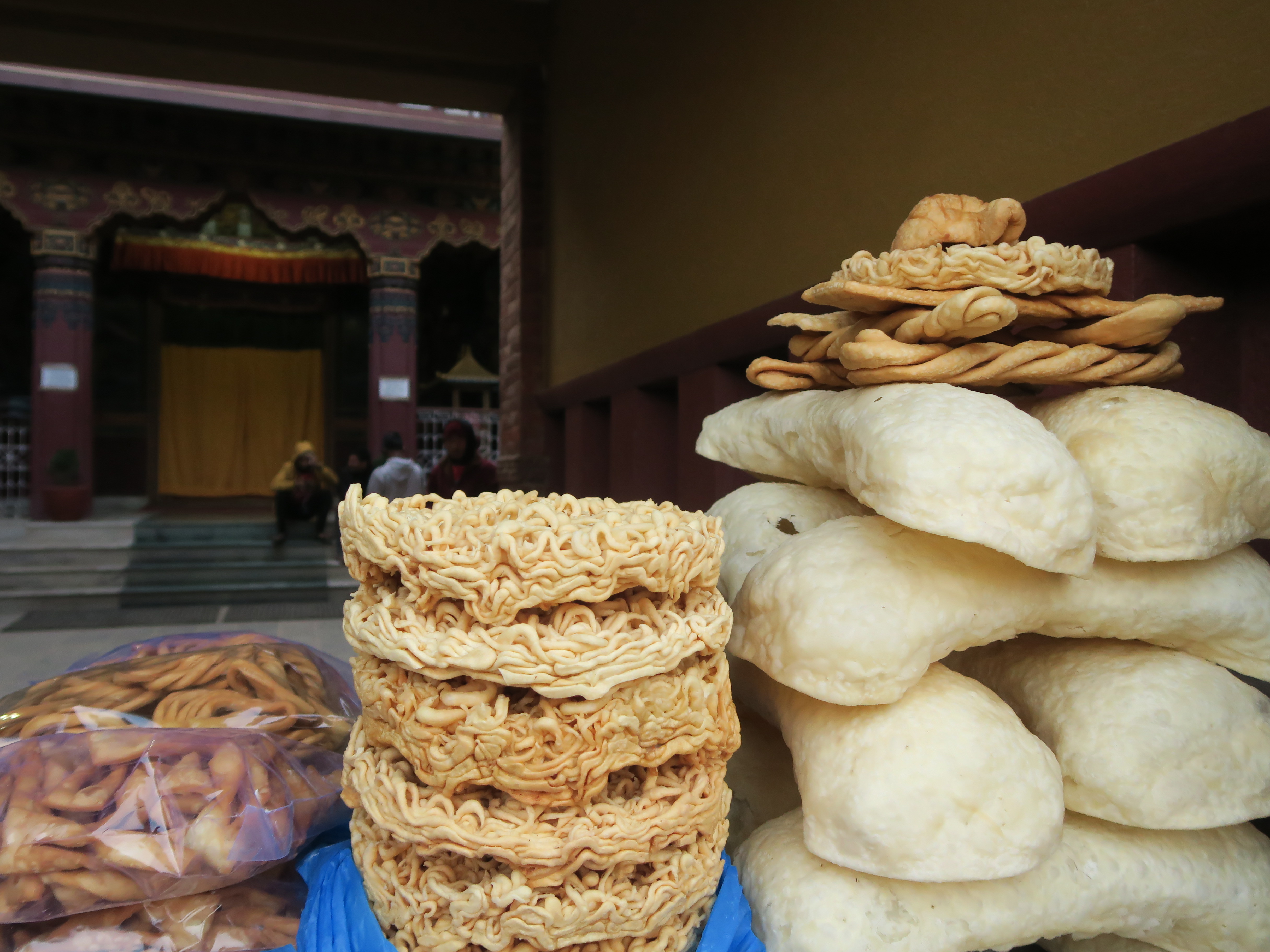 Photo courtesy: Prashanta Khanal
Rildok is prepared by boiling potatoes, peeling them, and then pounding them in a tsomgok—a large wooden mortar and pestle. The pounding continues until the potatoes become a soft and sticky mass. It requires quite a lot of effort. Potatoes for the dish are usually sourced from Solu or Mude. "Only mountain potatoes are good for making rildok," Dolma didi explained, as she pounded boiled potatoes. The sticky mass is then squeezed by hand to make small dumplings and dropped into a boiling soup made using spring onion, garlic, chillies, turmeric powder, and salt. The dumplings are so light that they float in the soup and melt in your mouth like butter.
Every time I visit Boudha, I make sure I have a bowl of rildok. I also make sure that I sprinkle in some airmong (sichuan pepper) to add peppery-numbing flavour to the dish. If you are adventurous, ask to add soshim—a pungent bitter-tasting flavouring ingredient made with the dregs of fermented buttermilk (also known as serkam or milk cream)—which they generally don't serve to customers. It has a strong smell and flavour, but a small amount will transform the flavour of the whole dish. Fermentation is truly something magical.
Although potatoes were introduced to the mountainous region not long ago, about 200 years ago, it has now become a Sherpa staple. Potato is commonly used in many dishes: stews, curries, mashed. They are also simply boiled and eaten with a paste of salt and chillies. Sherpas even make potato pancake. The dish is called rikikur and is made with finely grated potatoes. In Sherpa language, riki means potato and kur means roti. It is served with nak (female yak) butter and a slightly sour,creamy, spicy sauce made from the aforementioned serkam. While grating potatoes with improvised steel plate grater, Namkha dai shared his childhood memories of making rikikur, "In the early days, when we didn't have modern graters and flat pans, potatoes were grated on rough stone surface and cooked on a thick flat stone slate," he told me. "Those rikikurs were special and nothing can beat that taste."
Another eatery, opposite Namkha's restaurant, is Solu Sherpa Khaja Ghar, which serves a typical Sherpa winter dish known as phalgi. This stew is made by cooking sun-dried unripe maize,white beans, radish, potato, and meatFreshly harvested unripe maize is boiled and sun-dried, which is an ingenious way of preserving sweetness and tenderness. A small jar of airmong grounds infused in oil is placed at each table for added zing. Pemba Sherpa, from the eatery, explains that putting the grounds in oil helps to preserve flavour and colour. A little of it is enough to make the phalgi come alive. Airmong is a common spice used in Sherpa cuisine, and packets of those sourced from Solu are displayed in the restaurant, alongside serkam, chhusik (dried serkam), nak butter, beans, and more.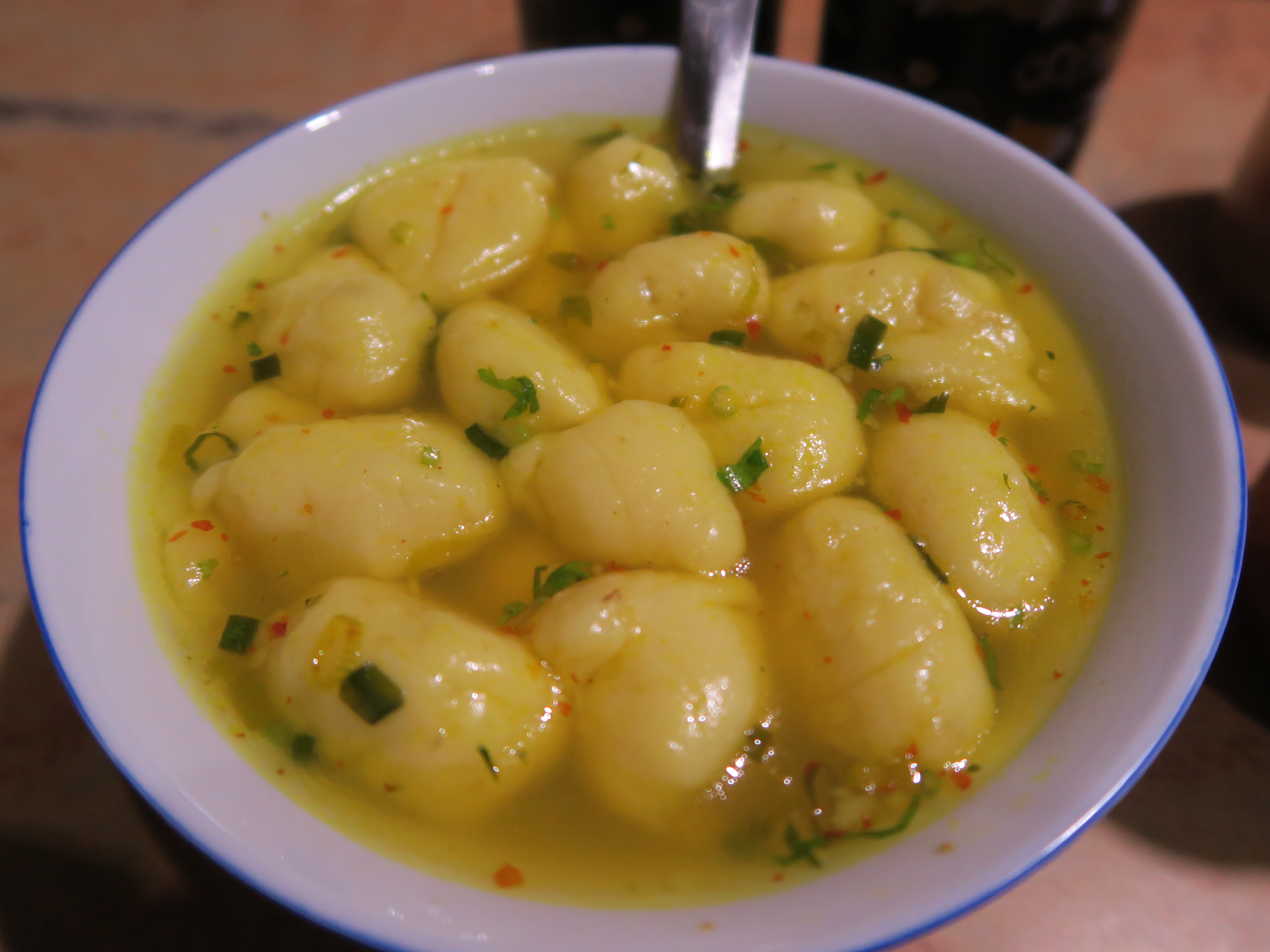 Photo courtesy: Prashanta Khanal
In Boudha eateries, it is common to see monks and locals of all ages sipping sucha (butter tea). But you can also find other high-country delicacies such as tsampa (roasted barley flour), khapse (deep-fried pastry), nak butter, chhurpi (hard cheese), tsiluk (preserved animal fats), and shabhalep (meat filled pastry). There's also amdobhalep (leavened Tibetan bread), thukpa and shyakpa or thenthuk (hand-pulled noodle soup), and momos, of course.
Boudha's streets have it all. The credit for making momo, thenthuk and shyabhale very popular dishes, making them staple among Kathmandu urbanites, is largely thanks to the Tibetan diaspora of the 60s and 70s. Living here now, for generations, Tibetans have enriched Nepal's food culture and have more recently introduced a culture of laphing and Tibetan dry noodles, which are very popular among city's young population. Laphing is a cold noodle dish that originates from northern Chinese where it is called liangfen.The popular Tibetan dry noodle is a version of Sichuan's dan dan mian.
Distinct from rest of the Kathmandu city, Boudha is a gastronomical microcosm, and more than an ancient heritage site. It has given refuge to Tibetans, and Sherpa, Tamang and other mountainous communities have moved down to the valley and made it their home.
For decades many families living in the upper Himalayan region have migrated to Boudha for the winter, a trend that still continues. These heterogeneous mountain communities have brought their culture and traditions, and that is reflected in the environment and food scene of Boudha.
---
---