A place to rock and roll
Purple Haze, since its opening in 2011, has not only become the go-to place for many music enthusiasts, but has become an institution that has nurtured Nepali rock music.

Purple Haze has hosted everyone - from the big names of the industry to young talent. Photo Courtesy: Purple Haze
bookmark
Published at : March 15, 2020
Updated at : March 15, 2020 08:05
Kathmandu
Samir Basnet goes to Purple Haze every weekend. For the 27-year-old, it's become a ritual. For him the place has always been the best bar in Kathmandu ever since it opened back in the end of 2011.

"When I saw the shadow of a drummer busting out my favourite song Smoke on the Water from the road, I was instantly moved to go up," says Basnet, who has been going there since he was 18. "If I don't go there, I feel that my week isn't complete. It makes me nostalgic and also makes me feel alive."
When Swapnil Sharma and Ashok Sen co-founded Purple Haze in 2011, little did they think the way their place would turn out as big as it has. All they wanted was to provide young budding musicians the platform to showcase their talent. But in the eight years since its come into operation, the place has been more than that. It's been an institution for rock and roll in Kathmandu.
"Ashok always wanted to open a bar, as did I. But we wanted to open a bar which was different to the ones that were already in Thamel," says Sharma. "We wanted to open a bar which focussed solely on rock music."
While a few places in Thamel already did live music, there wasn't one which was dedicated to rock music. Restaurants and bars like Shisha and Tantra did have live music but bands were just given a corner to play their music while people ate and drank. And musicians had to manage their own equipment—from amplifiers and speakers to even drums.
"Our main aim was to stop that. I believe we were the first ones to tell the bands all they needed to bring was their guitars. The rest we provided ourselves. That for starters, along with our huge stage, sets us apart from the rest of the places," says Sharma who is also the frontman of popular band The Shadows.
Rajan Shrestha, the bassist of Jindabaad, says that it is exactly the reason why the place stood out. For performers like Shrestha, Purple Haze gave them a bigger stage—both literally and figuratively.
"It opened up stating, hey look musicians, you deserve a bigger stage than a corner in a pub. And I think we should be thankful for that," says Shrestha. "It also encouraged other entrepreneurs to take risks and open bigger performance venues."
Ashutosh Kharel like Basnet has been going to Purple Haze since it opened. "I go there because of the music, the ambience and most importantly, because of the type of music the bands play," says Kharel. Over the years that he has been going to the place, he says that the place hasn't changed much.
"Apart from the price of alcohol, everything else is the same. That is why I like going there. It's rustic and when the band belts out my favourite songs, I cannot help but sing to some," says Kharel.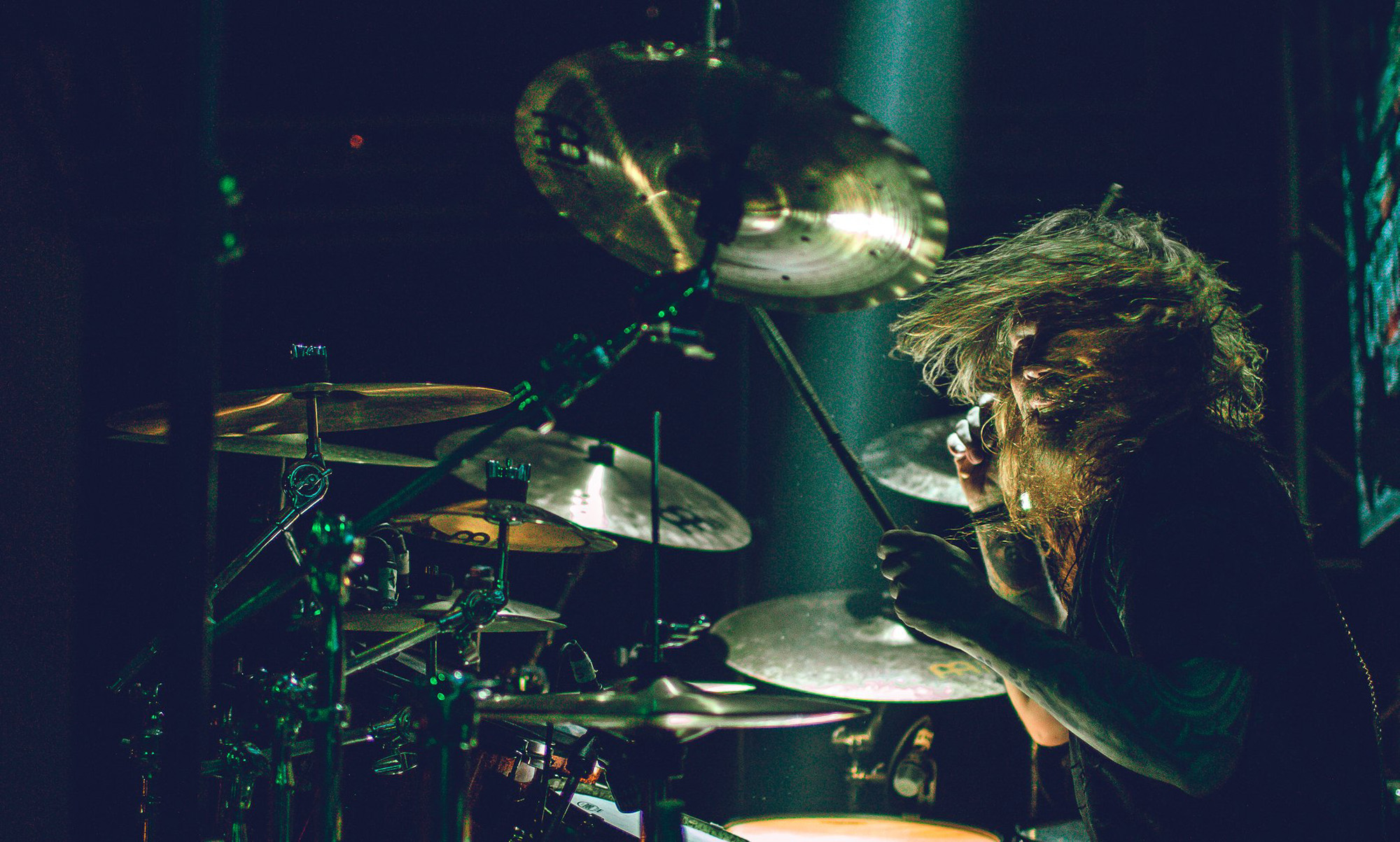 The place has also hosted Lamb of God drummer Chris Adler twice. Photo Courtesy: Purple Haze
This response from both bands and loyal customers has enabled the founders to stay true to its roots. Sharma says that while other places give importance to the bar before they focus on music, they did the exact opposite. He says, if they hadn't given importance to music, there would not be a Purple Haze.
"Even now we try to do something different each time. We were the first place to give two bands a chance to play music in the same night. After we started others started to follow. I like that we are setting a benchmark," says Sharma. For any new band to play at Purple Haze, there is one criteria. The band has to have played somewhere else in Thamel. "We are always on the lookout for new and promising bands. We watch them personally and seek the opinion of others too. After that we'll approach them and if they say yes, we put them on our schedule," says Sharma.
But he does admit it's a tough job as they only have 14 slots in a week. "Some will definitely miss out."
The place hasn't only hosted Nepali bands. It has hosted its fair share of international superstars as well. Most notably rock and roll legend Chris Adler.
Adler, who's played for famous bands like Lamb of God and Megadeth, has performed at Purple Haze twice. "It's great for us to host icons like Chris. He was extremely in awe when so many people came to watch him. He was joined by Michael Angelo Batio one year. People loved it," says Sharma.
He further states that the future has a lot more to offer. He says they are renovating the place and making it bigger and better. They're also slowly focussing on food. But apart from that, they are also working on other avenues to promote new bands.
Every month, the place also hosts Purple Haze Underground, where upcoming bands can launch their albums. "It's our way of giving back to the bands. They organise the event, they set the ticket prices. We charge a nominal fee for it. It happens once a month. It's been getting a good response so far," says Sharma.
Shrestha, from Jindabaad, feels that the right way to go ahead. "My best memory of performing there was when Jindabaad decided to reunite and do a gig. It was such a pleasure to perform to the massive crowd that came to show support, we were the original lineup and such a good restart for Jindabaad as a band. The place was electric," says Shrestha.
Sharma says its comments like these that keeps them going. And while good business is what has allowed them to continue doing what they have been doing, it's their love and passion for rock and metal music that encourages them to push the envelope.
"When people from all across the globe come to us and tell us we're doing a great job and that even their country doesn't have a place dedicated to rock music like ours, we feel proud of what we have been able to achieve," says Sharma. "It's things like these that matter to us and push us to make the place even better for the future."
---
---