It's not just humans suffering under the lockdown—dogs are, too
Street dogs are usually fed by neighbourhood stores and butcher shops, which have all closed down, and passers-by, who're all at home.

Sanjog Manandhar/TKP
bookmark
Published at : March 27, 2020
Updated at : April 1, 2020 13:22
Kathmandu
On day two of the nationwide lockdown on Wednesday, Sonam Dekey was up by 5am. Ever since the lockdown was announced by the government in a bid to control the spread of Covid-19, the image of Boudha's stray dogs going hungry had plagued her mind. Dekey knew the dogs depended on the generosity of restaurant owners and passers-by for food.

"But with people's movement restricted and restaurants closed, I was worried that the lockdown would starve these dogs to death," said Dekey, who often feeds a mixture of buff or chicken with rice to the 30-odd dogs in her neighbourhood. But with the extensive closures, Dekey has been forced to resort to dog biscuits she gets from Street Dog Care, a Boudha-based animal rights organisation.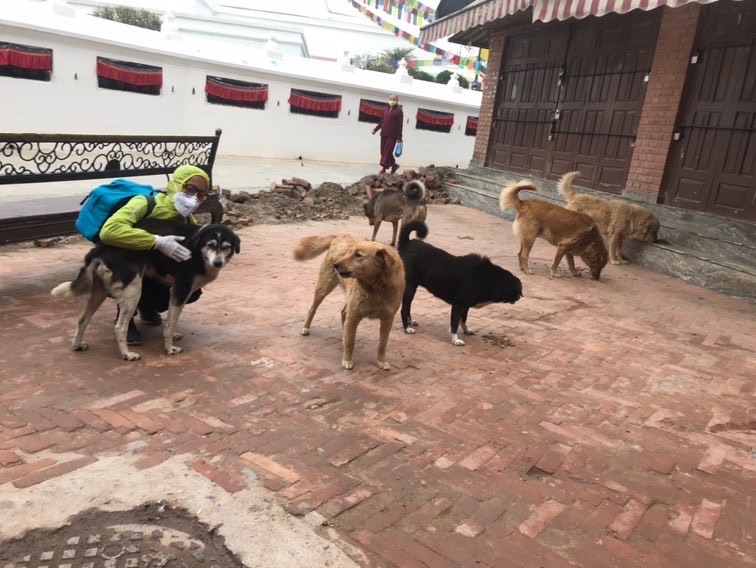 Photo courtesy: Sonam Dekey
As butchers, restaurants and shops around Kathmandu have all virtually closed, approximately 26,000 street dogs around the Capital are relying on people like Dekey to keep them fed for as long as the Covid-19 lockdown persists. On Tuesday, Dekey, along with a Street Dog Care staff member, fed and watered approximately 90 dogs, she said.
Although all movement outside of the house has been prohibited, Dekey said that the police have allowed her to continue, so long as she maintained a distance from other humans. But the rules remain unclear.
According to Ben Charman, a board member of the Kathmandu Animal Treatment (KAT) Centre, despite having identification verifying their place of work, they were being treated badly.
"One of our staff was beaten by a policeman. What we want is some sort of assurance from the government," said Charman, who said he had heard of other cases of people being beaten for violating the lockdown. "Our team is scared of both the coronavirus and the police now."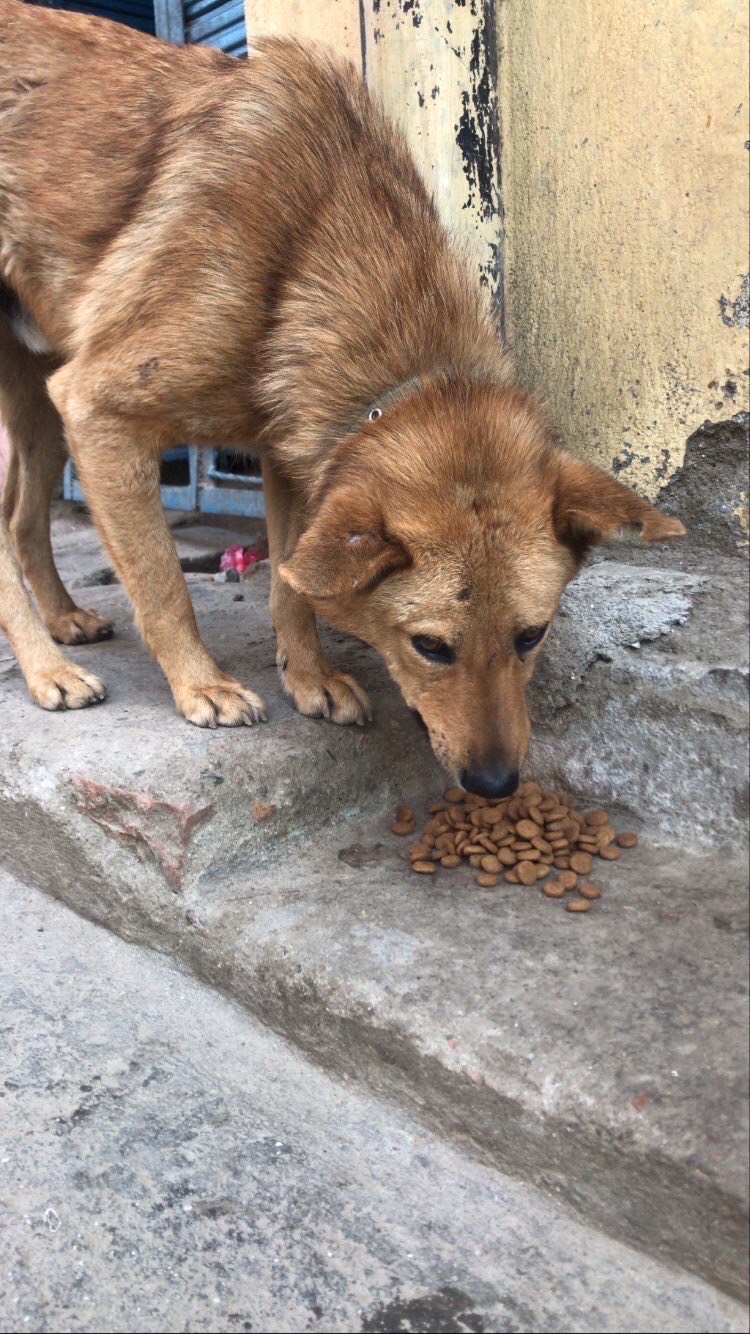 Photo courtesy: Sonam Dekey
KAT Centre has applied for permits from the government, but Charman anticipated it would take another few days for anything to be granted. That means the organisation will not be able to continue giving cancer-ridden canines chemotherapy treatments or dealing with other emergency cases until the permits arrive.
If the lockdown is extended, it will become very difficult for the organisation to function, said Charman.
Animal Nepal's mobile response treatment service and Chobhar Dog Treatment Centre have also been functionally suspended since March 22, the day the lockdown was announced.
"It's been worse than Dashain. Even the shops are closed, so there's no one to feed them at all," said Animal Nepal president Pramada Shah. "If each person fed one dog, then no dog would go hungry."
Shah said that the organisation needed vehicle passes so it could rescue emergency cases. But she was both happy and surprised that communities had been doing their bit to make sure street dogs were relatively well fed, and has appealed to the public to continue being vigilant about dogs in critical conditions, asking people to contact Animal Nepal if they come across any dogs requiring medical attention. The organisation would try to address the issue any way it could, said Shah.
As Shah observed, numerous good samaritans across the Valley are making sure that the dogs don't go neglected.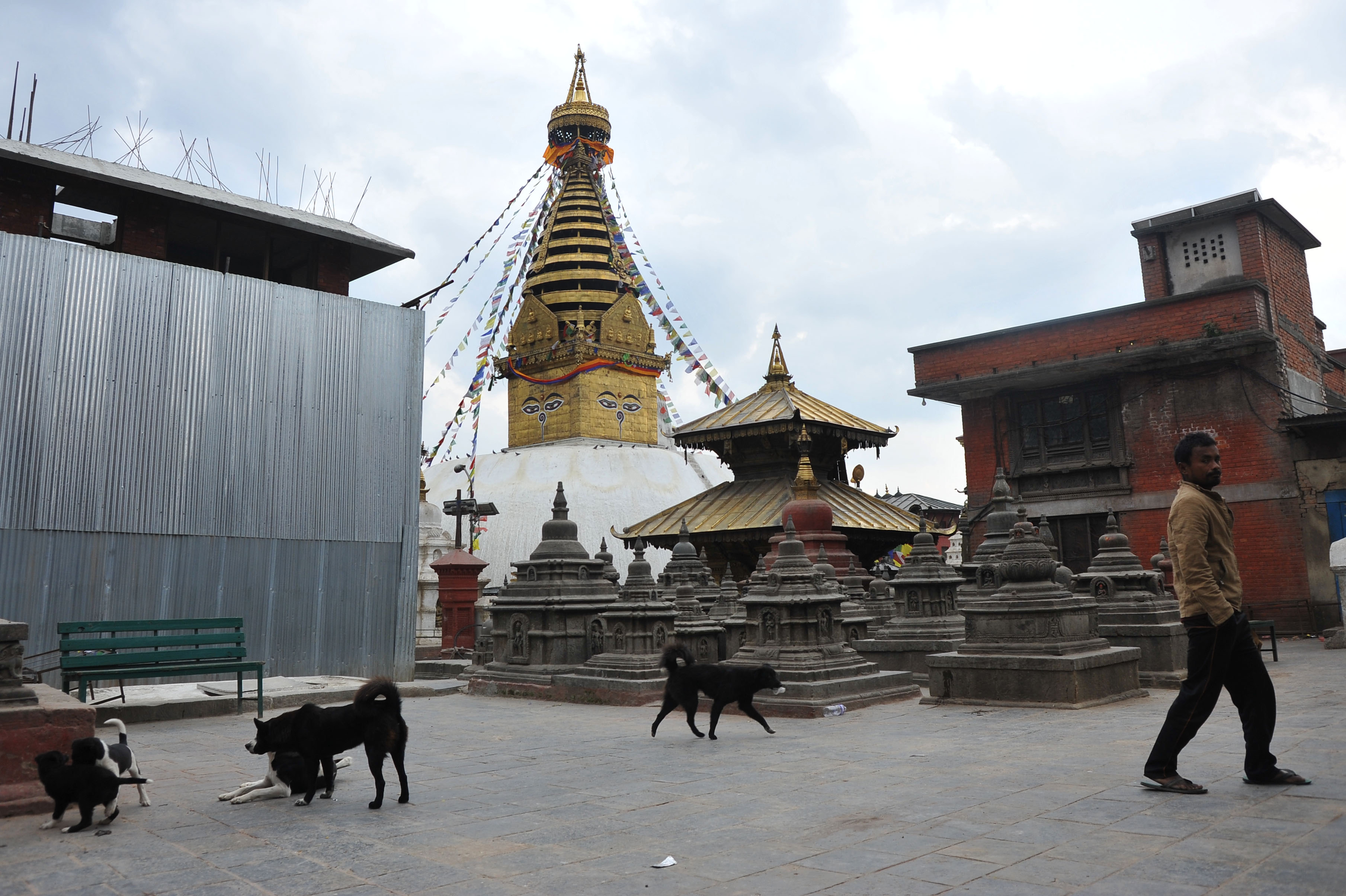 Sanjog Manandhar/TKP
Muna Subedi is one.
Subedi, who runs a shop in Bakhundole, collects leftover food and puts it in a bucket for the dogs in the area.
"Before people would come to our shop and buy biscuits to offer to stray dogs. But there aren't any people on the road," said Subedi.
"Around half a dozen dogs had gathered around my store on the first day of the lockdown, waiting for food. They looked thirsty and hungry. But from the second day I have not seen them around."
Subedi's shop has been mostly closed for the past three days.
Indu Byanjankar also houses 30 stray dogs in her family's garage in Kupondole and feeds around 70 stray dogs every day at the UN park along the Bagmati River in Jwagal and Kupondole.
"The police have not obstructed me, since I do it in the early hours of the morning," said Byanjankar. "We have frozen meat and enough rice for a week, but don't know what to do after that."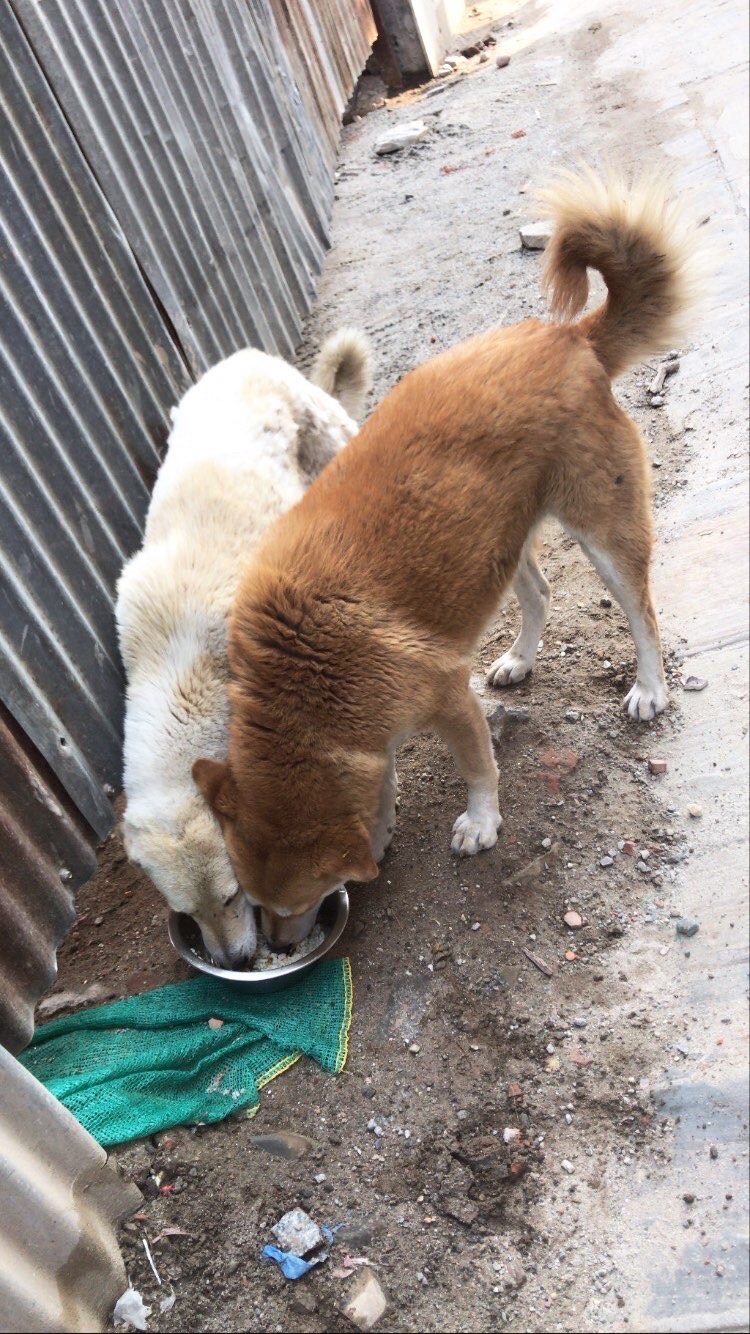 Photo courtesy: Sonam Dekey
Charman of the KAT Centre told the Post that while it was commendable that communities were caring for strays, dogs in commercial areas and around temples might suffer.
"It's these dogs in Boudha and other temple and commercial areas that I would be worried about," said Charman. "These are places that would be good to visit but as of today, we're not risking that."
On the government end, Kathmandu Metropolitan City Environment Division Chief Hari Bahadur Shrestha said that a meeting had been held regarding animals, but no decision had been taken so far on keeping them fed.
"There was a discussion regarding feeding stray dogs and monkeys, but how we will do it is still undecided, because people should not walk in groups," said Shrestha. While a meeting on Friday would decide on the issue, Shrestha requested people to feed their neighbourhood dogs by giving them their leftovers.
But for dog lovers like Dekey, feeding the neighbourhood dogs is "a shared responsibility".
"I know it's risky to go out everyday to feed the dogs, so I left packets of food with people I knew in different neighbourhoods so that they could feed dogs in the coming days," she said. "The most sustainable solution could be people feeding stray dogs in their respective neighbourhoods. This will mean people like me won't have to go far feeding dogs in these difficult times."
Frequently asked questions about the coronavirus outbreak
UPDATED as of September 22, 2020
What is Covid-19?
Covid-19, short for coronavirus disease, is an illness caused by the coronavirus SARS-CoV-2, short for severe acute respiratory syndrome coronavirus 2. Common symptoms of the disease include fever, dry cough, fatigue, shortness of breath and breathing difficulties. In severe cases, the infection can cause pneumonia, severe acute respiratory syndrome, kidney failure and even death.
How contagious is Covid-19?
Covid-19 can spread easily from person to person, especially in enclosed spaces. The virus can travel through the air in respiratory droplets produced when a sick person breathes, talks, coughs or sneezes. As the virus can also survive on plastic and steel surfaces for up to 72 hours and on cardboard for up to 24 hours, any contact with such surfaces can also spread the virus. Symptoms take between two to 14 days to appear, during which time the carrier is believed to be contagious.
Where did the virus come from?
The virus was first identified in Wuhan, China in late December. The coronavirus is a large family of viruses that is responsible for everything from the common cold to Middle East Respiratory Syndrome (MERS) and Severe Acute Respiratory Syndrome (SARS). After an initial outbreak in Wuhan that spread across Hubei province, eventually infecting over 80,000 and killing more than 3,000, new infection rates in mainland China have dropped. However, the disease has since spread across the world at an alarming rate.
What is the current status of Covid-19?
The World Health Organisation has called the ongoing outbreak a "pandemic" and urged countries across the world to take precautionary measures. Covid-19 has spread to 213 countries and territories around the world and infected more than 31,405,983 people with 967,505 deaths and 22,990,260 recoveries. In South Asia, India has reported the highest number of infections at 5,557,573 with 88,943 deaths. While Pakistan has reported 306,304 confirmed cases with 6,420 deaths. Nepal has so far reported 65,276 cases with 427 deaths.
How dangerous is the disease?
The mortality rate for Covid-19 is estimated to be 3.6 percent, but new studies have put the rate slightly higher at 5.7 percent. Although Covid-19 is not too dangerous to young healthy people, older individuals and those with immune-compromised systems are at greater risk of death. People with chronic medical conditions like heart disease, diabetes and lung disease, or those who've recently undergone serious medical procedures, are also at risk.
How do I keep myself safe?
The WHO advises that the most important thing you can do is wash your hands frequently with soap and water for at least 20 seconds or use hand sanitizers with at least 60 percent alcohol content. Avoid touching your eyes, nose and mouth with unclean hands. Clean and disinfect frequently used surfaces like your computers and phones. Avoid large crowds of people. Seek medical attention if symptoms persist for longer than a few days.
Is it time to panic?
No. The government has imposed a lockdown to limit the spread of the virus. There is no need to begin stockpiling food, cooking gas or hand sanitizers. However, it is always prudent to take sensible precautions like the ones identified above.
---
---