More power: Women in villages becoming self-sufficient
The installation and operation of a renewable energy source has opened up means of employment for women living in rural parts of the country.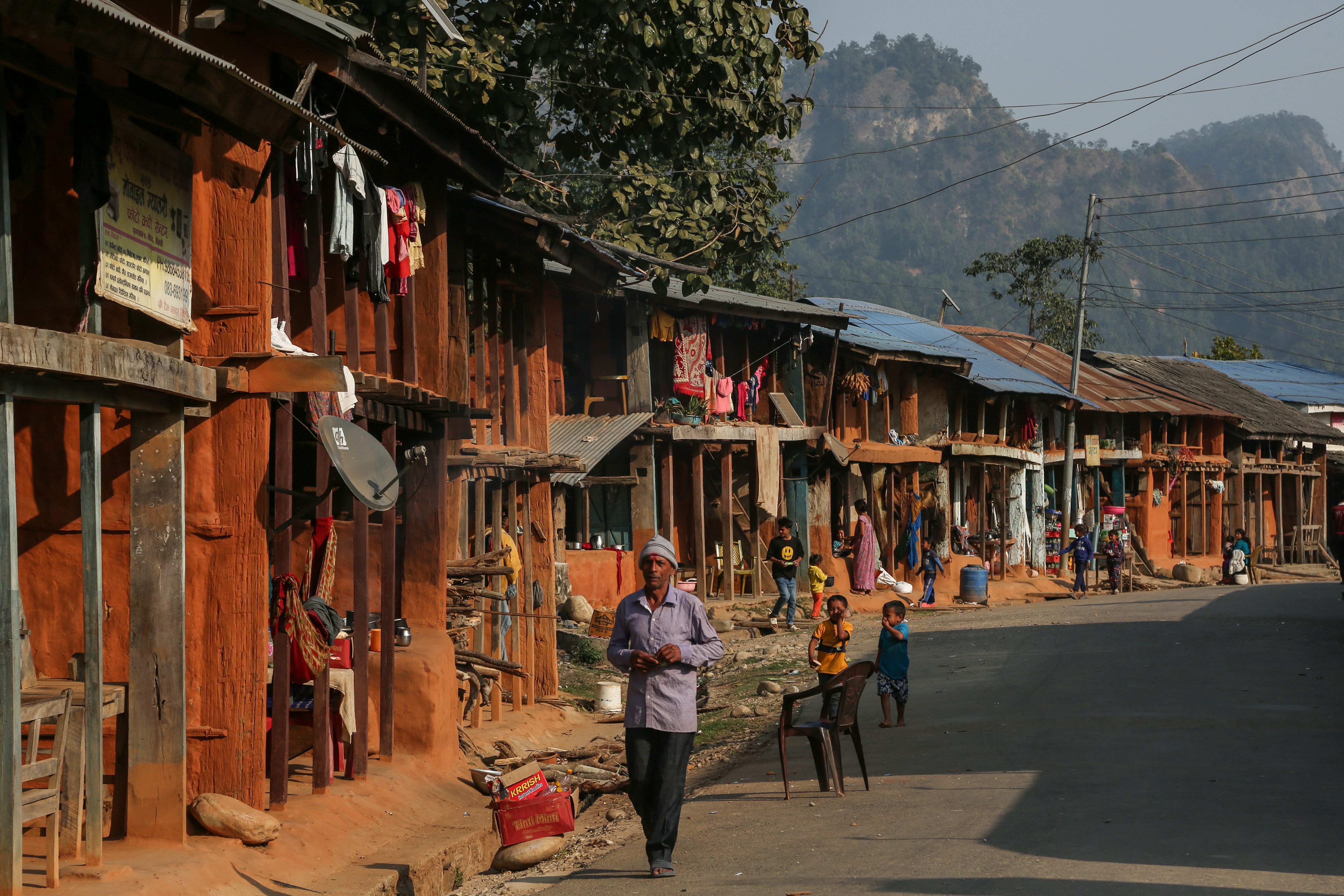 The village of Solta Bazaar in Kailali, Sudurpashchim Province. Prakash Chandra Timilsena/TKP
Published at : March 11, 2023
Updated at : March 11, 2023 08:02
Four years ago, Dura Devi Bhandari, a 45-year-old woman from Mohanyal rural municipality, Solta Bazaar, Ward 6, Kailali used to wake up at 4 o'clock in the morning to use a traditional dhiki (husk lever). But now, the laborious task of using the dhiki early in the morning feels like a distant past. After the solar mini-grid started operating in her village, Bhandari uses an electric mill to make rice flour. "Solar has made my work very easy," she says. Bhandari isn't the only woman in the village whose life has been made less arduous since the installation of the solar grid. Thanks to the electricity produced by the grid, the women of Solta Bazaar have been running various businesses--a medical shop, an electronics shop, a computer training institute and more.
A total of 65 kilowatts of electricity is produced from the Sugarkhal solar mini-grid. The electricity was produced and distributed from March 26, 2019 to two hundred and eighteen households. The money collected as the charge for using the electricity is again given to the community in the form of business loans.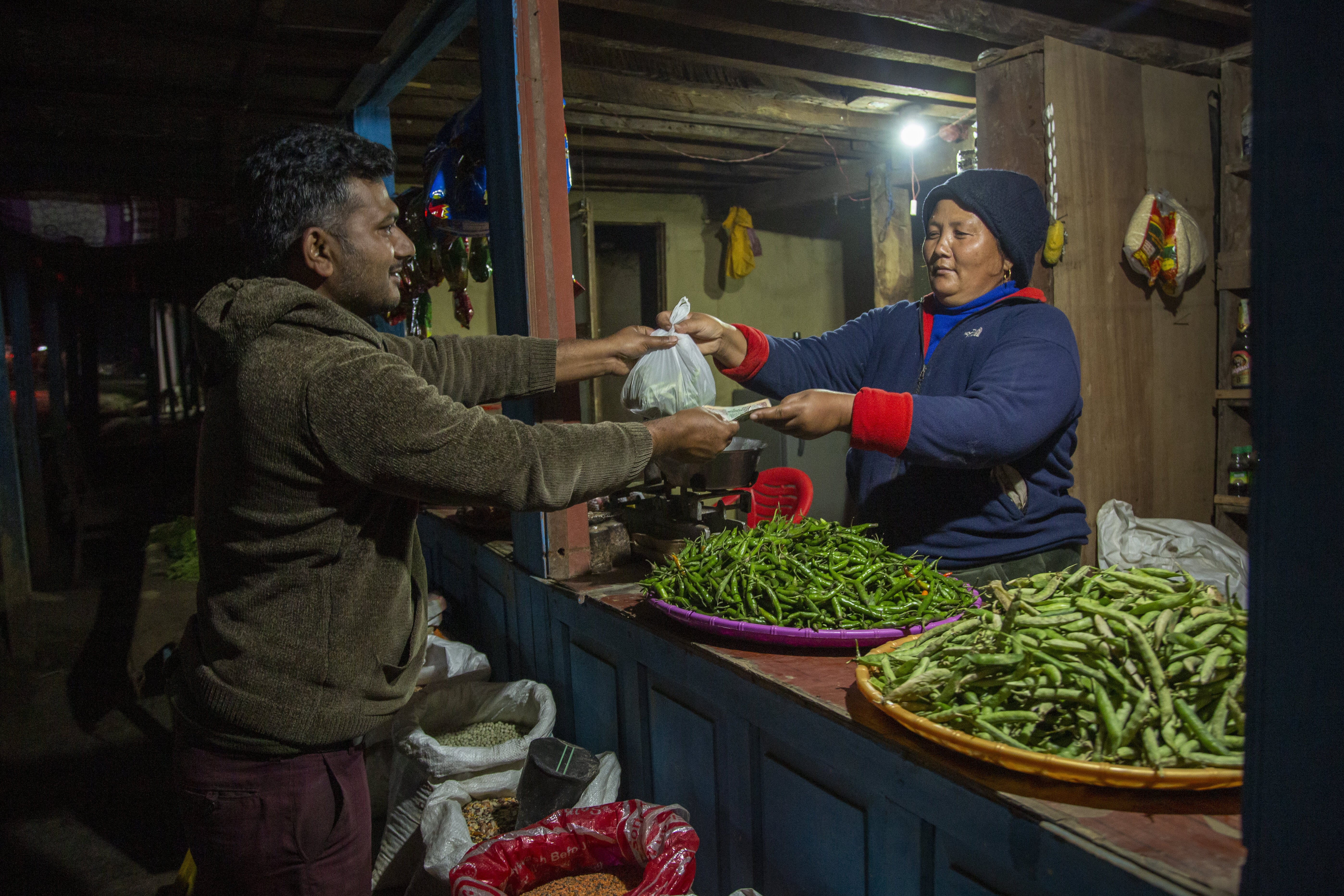 Dhanrupa Bayak, 47, has been operating a grocery shop for the past 20 years in Guttu. She invested about Rs200,000 in the shop after her marriage. Before solar lights, her shop was lit by kerosene lamps and candles. But these days, solar bulbs illuminate the space. She does not miss the smoke and unpleasant smell of kerosene. Prakash Chandra Timilsena/TKP
Similarly, Khumisara Shrestha, aged 45, of Chaukune rural municipality, Ward 8, Guttu, Surkhet opened the 'Shrestha Hotel and Lodge'. Her husband runs an electrical shop nearby. Along with running the hotel, Shrestha also helps her husband in the shop. Shrestha repairs watches, radios and fixes mobiles. She also trains women to repair electric devices. "I feel independent ever since I've been running the hotel, I don't have to ask my husband for the money. I can go anywhere I like, eat what I want and buy any clothes I like. On top of that, I also manage the expenses of our family." says Shrestha.
Around 100 kilowatts of electricity is produced from the Guttu solar mini-grid. The electricity was produced and distributed from April 28, 2006. Three hundred and forty-four households benefit from it.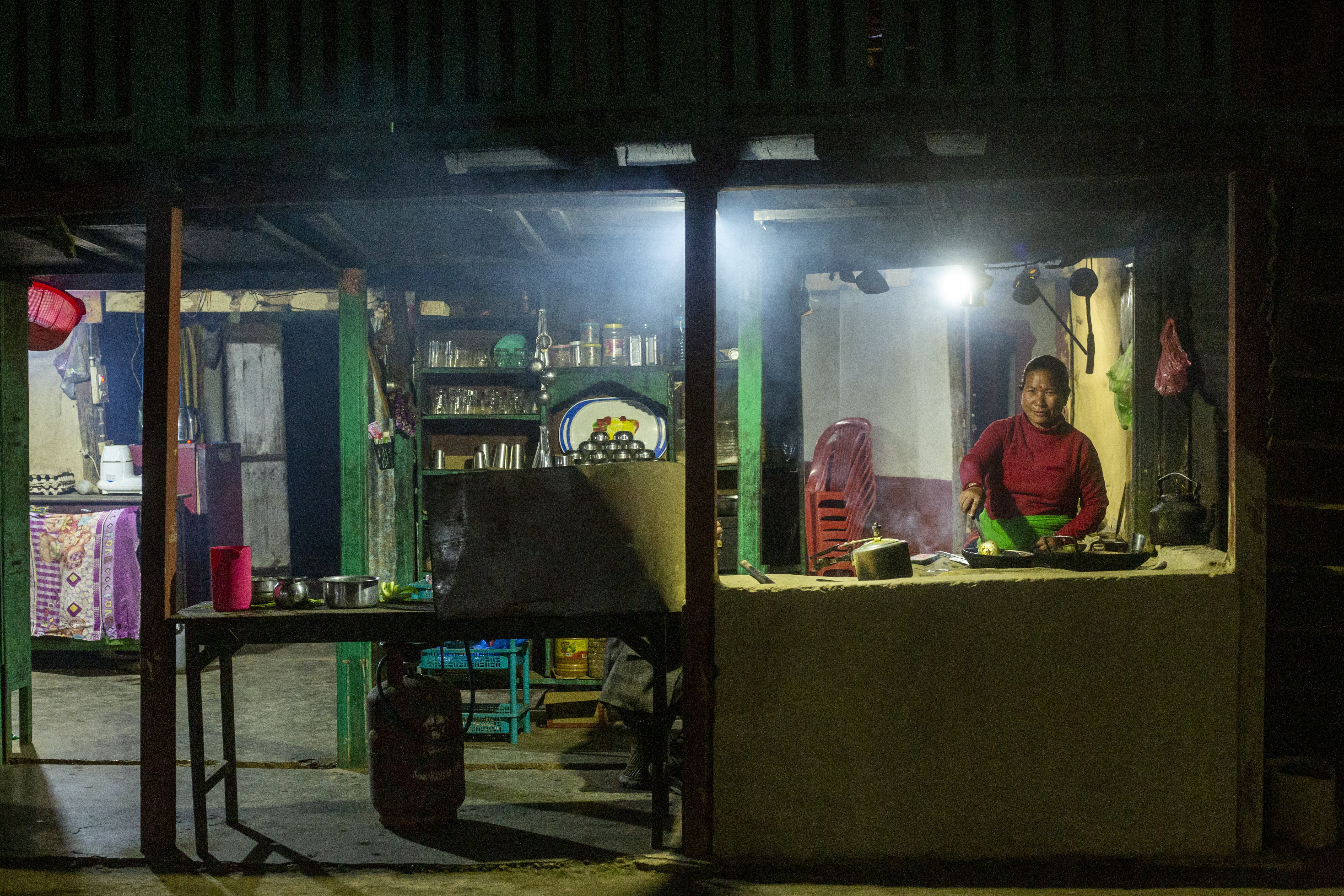 Khumisara Shrestha, 48, launched 'Shrestha Hotel and Lodge' in Guttu 13 years ago. Earlier on, the hotel had a small solar panel which could operate a few electrical items. Now that the village has enough electricity, Shrestha added more electric items, including fans, heaters and refrigerators. Customers who would previously stay at the hotel in the Babiyachaur village located 5km away also come to her lodge now. Prakash Chandra Timilsena/TKP
Like Shrestha, other women of Guttu are successful businesswomen. They run beauty parlours, grocery shops, garment shops and tailoring centres. Like in the case of Solta Bazaar, the money collected from the solar grid in Guttu has given business loans to 32 individuals.
According to the Ministry of Energy, just 1.94 percent of the nation's total installed capacity of more than 2200 megawatts—or about 44 megawatts—of solar energy had been connected to the national grid as of the recent fiscal year 2021–22. Given that Nepal is prone to earthquakes and landslides that could at any time disrupt hydropower facilities, experts say the nation has to diversify its energy mix to ensure energy security. Nepal wants to ensure that hydropower and other renewable energy sources can meet 15% of its energy needs.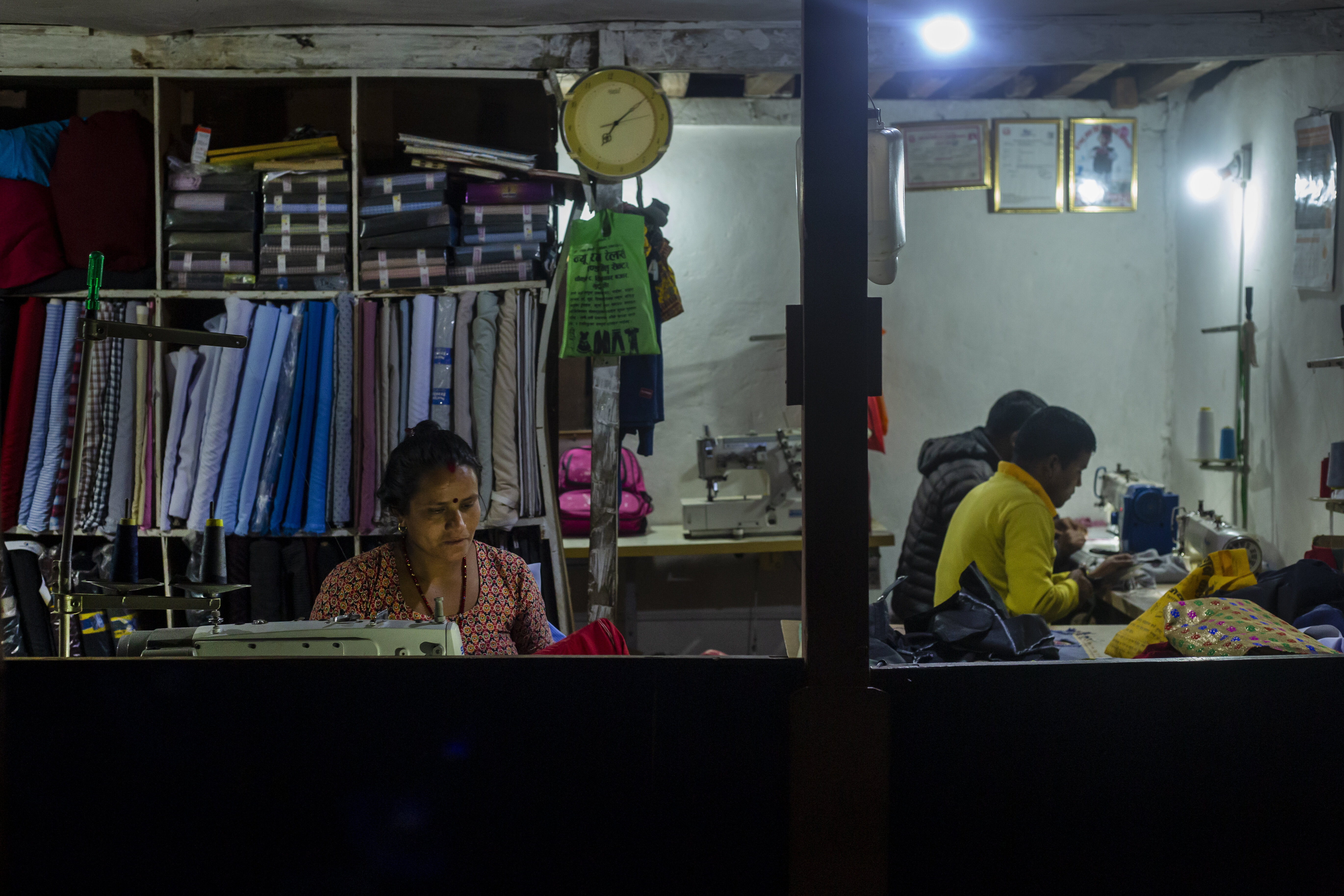 Jamuna Nepali, 34, runs a tailoring centre at a rented space in Guttu. She specialises in making ladies' clothing, whereas her husband sews clothes for men. The couple used a manual sewing machine before but have now switched to electric sewing machines, making their work easier and faster. Prakash Chandra Timilsena/TKP
The solar grids in both locations were built by Asian Development Bank and the local government, with technical support from UNDP. The installation and the subsequent operation of the solar grids have proven to be a boon for the villagers—especially women. The introduction of electricity has opened up means of employment, and self-sustainability as well as an easier way of life for the women.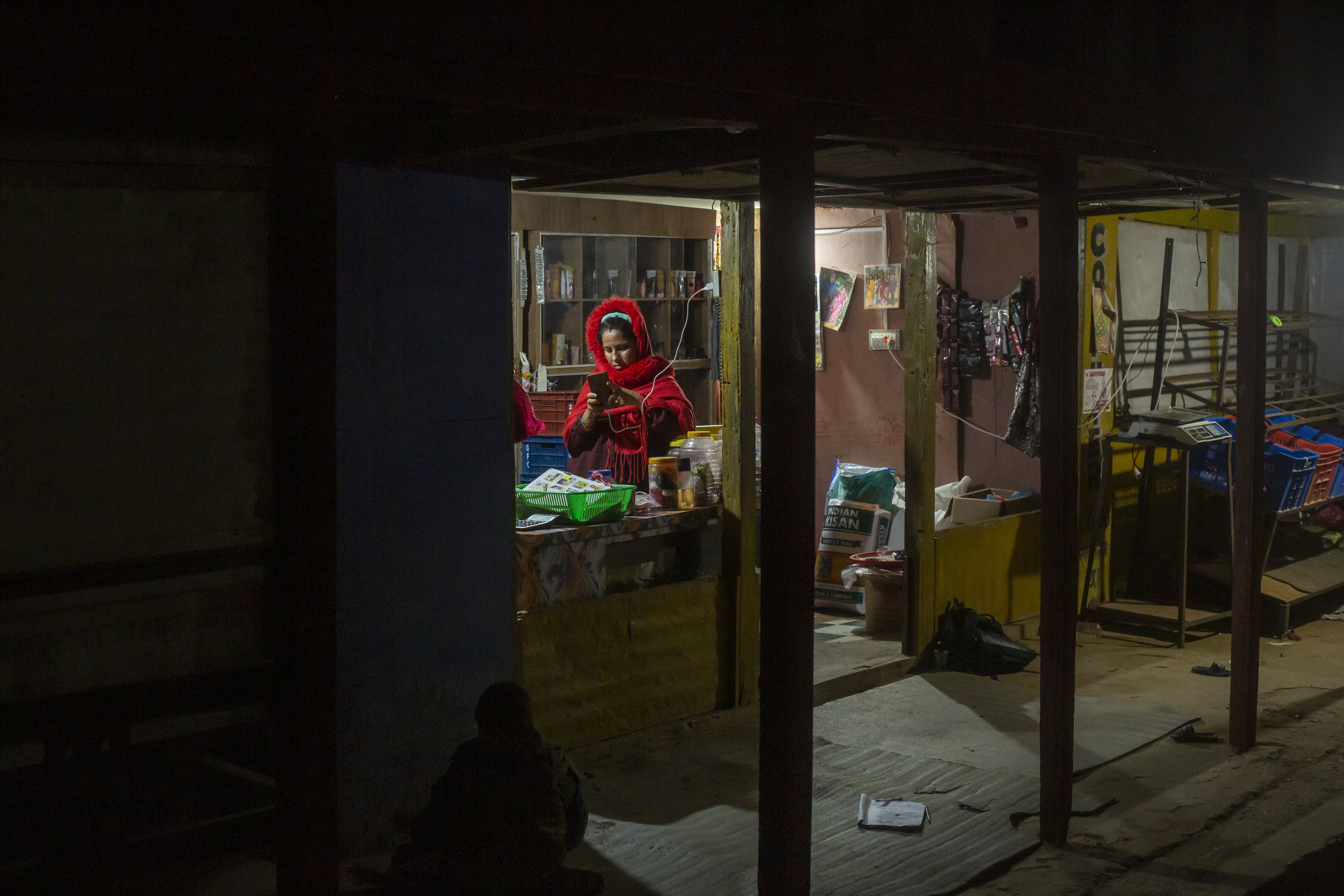 In Guttu, Smriti Acharya, 28, runs a parlour after completing a training course conducted by the rural municipality. Before, she had to close her shop early in the evening. But these days she operates her parlour till 9pm. "I earn enough to buy everything my family needs from the parlour. This has been a self-esteem boost," says Acharya. Prakash Chandra Timilsena/TKP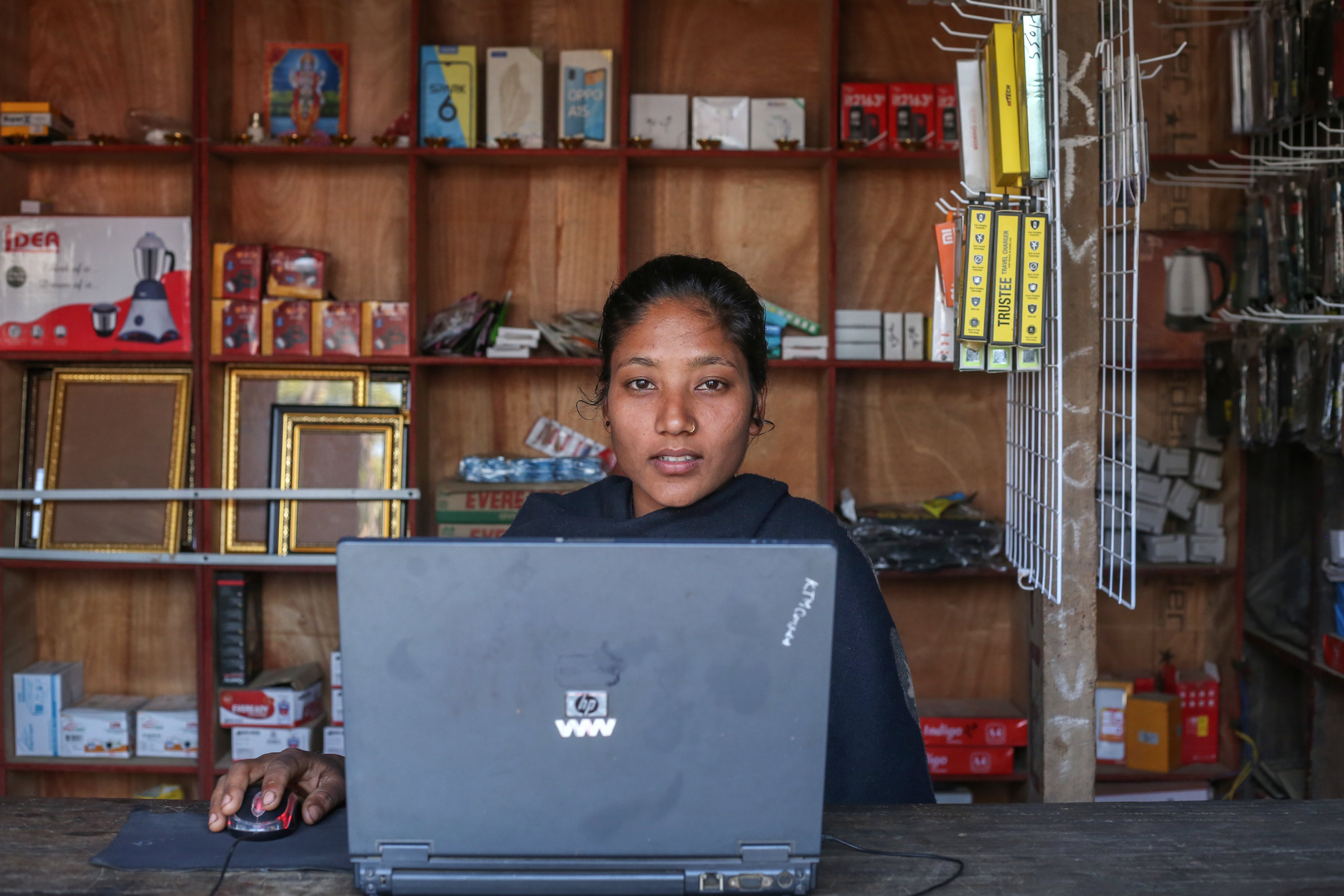 After solar light came to her village, Jayasara Bhul, 21, from Guttu invested Rs200,000 to start 'KTM computer education and training centre' about two and a half years ago. Now she earns more than Rs35,000 monthly-- providing internet, photocopy, lamination and electronics services. Students from nearby schools also learn computer courses here. She has hired a computer teacher to take the classes, and her brother, Tika Bhul, also helps her. Prakash Chandra Timilsena/TKP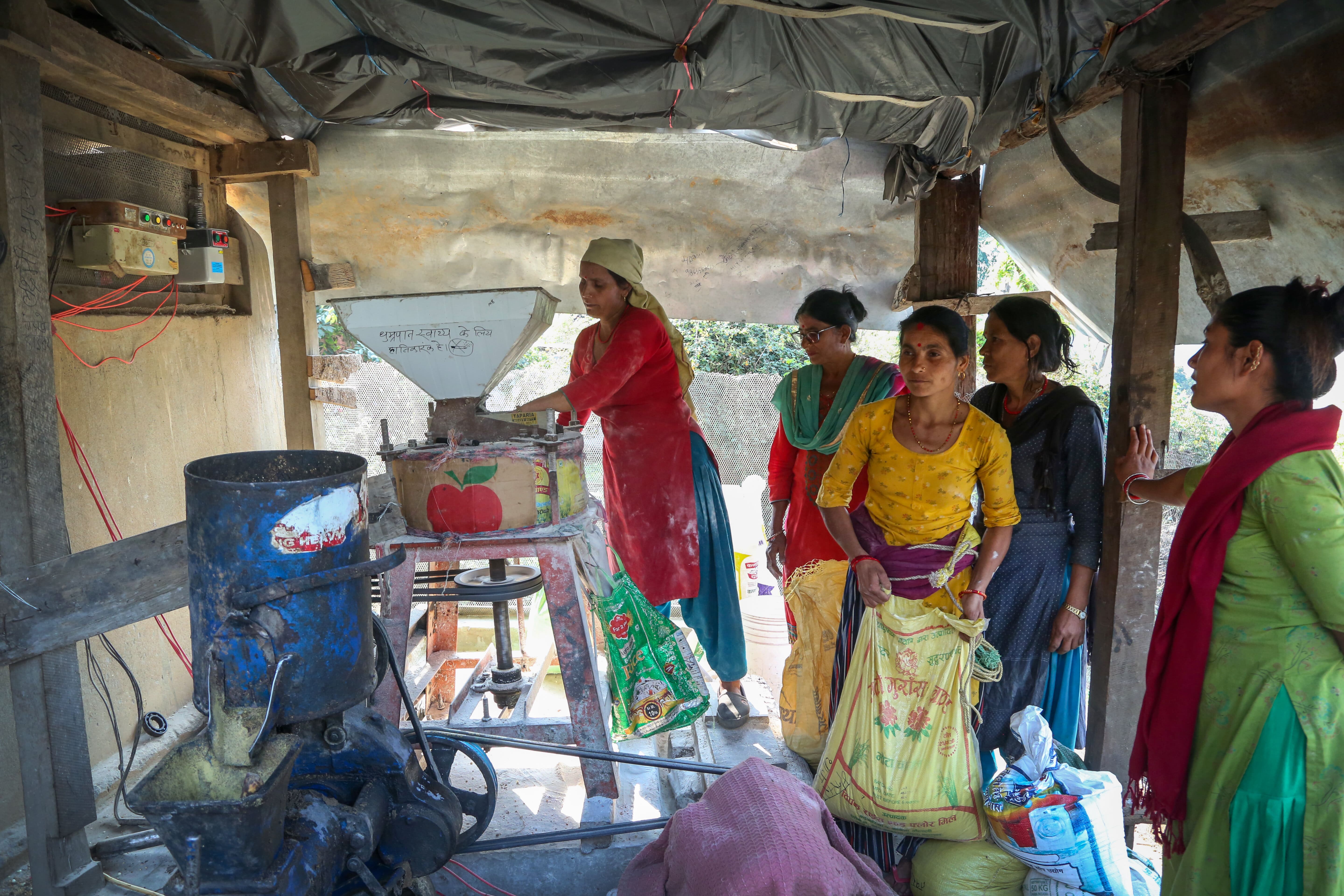 Dura Devi Bhandari (first from left), 45, earns around Rs30,000 monthly from a solar-operated mill she started three and half years ago. Before that, she used to manually operate a dhiki. Nowadays, she can easily process wheat, maize, lentils, mustard, and rice in the solar-operated mill. Prakash Chandra Timilsena/TKP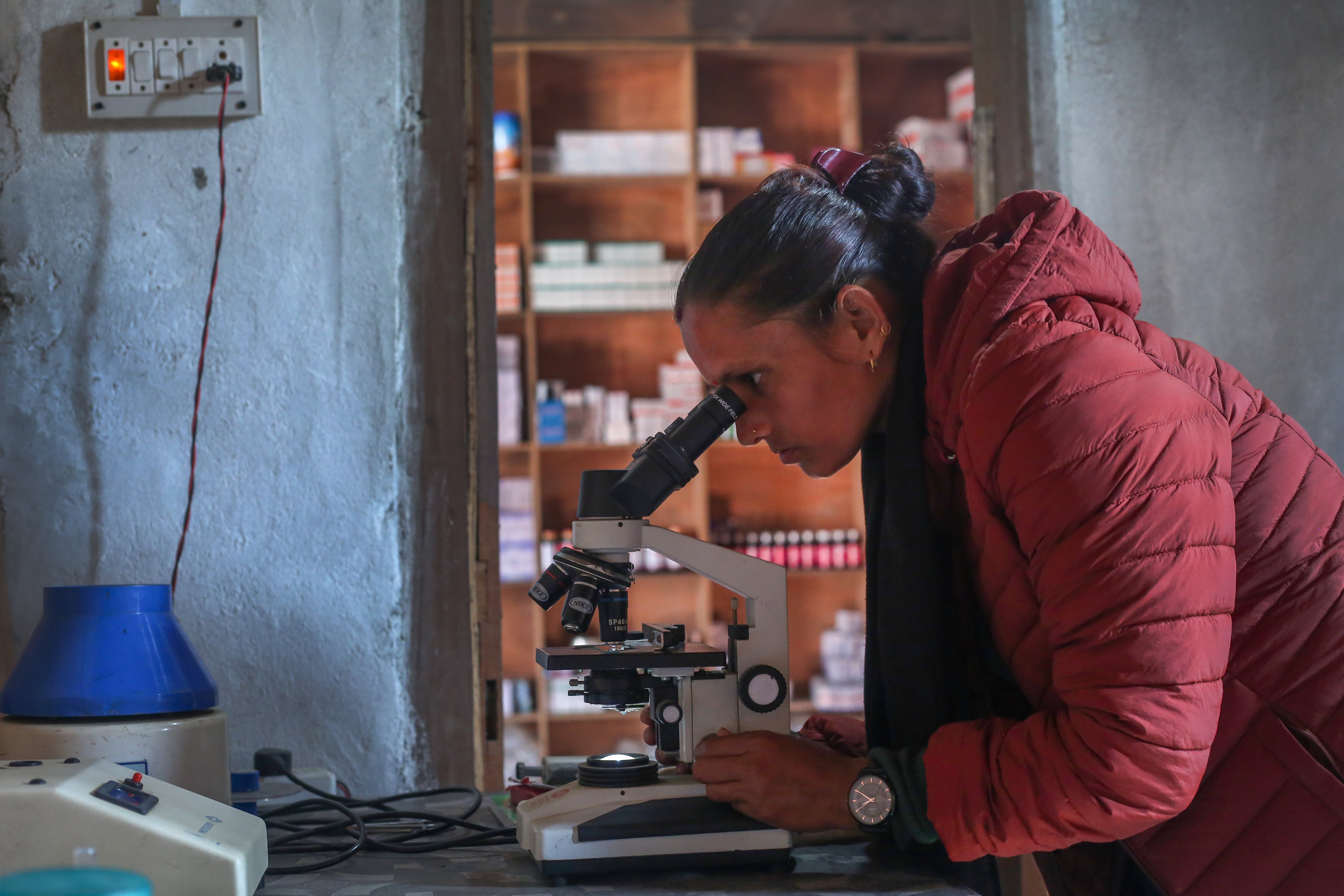 A worker looking through a microscope at the medical clinic run by Babita Yogi Chaudhary, 31, which was started by her husband in 2008. It is the only private lab operating in Solta Bazaar which provides services like X-ray. Previously, locals had to travel to Nepalgunj, Lamki, and Dhangadi even for minor checkups. Prakash Chandra Timilsena/TKP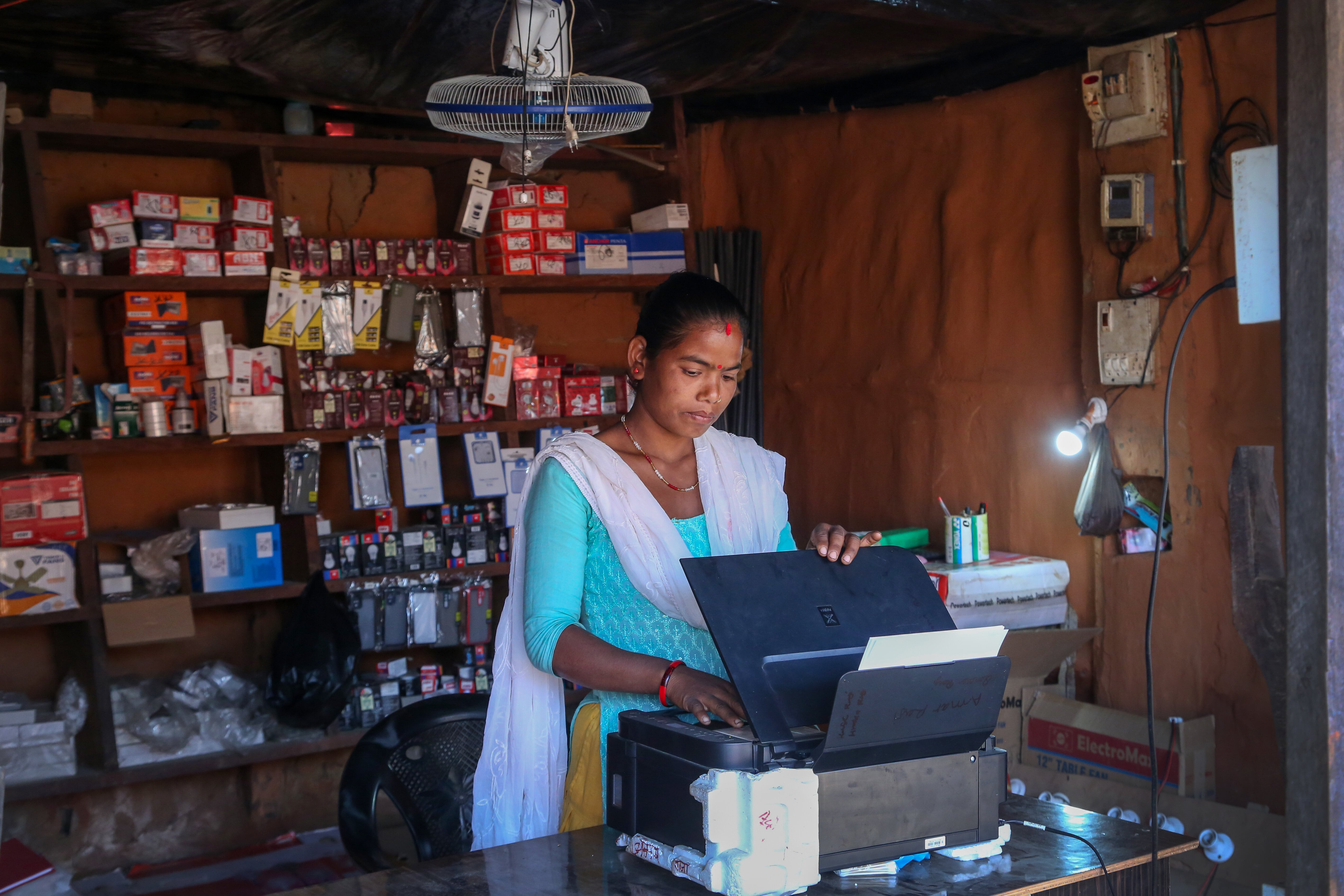 Sarita Devi Raji, 29, has been operating an electronic shop for a year in Solta Bazaar. She also sells small solar panels, bulbs, mobile glass, fuses, fans, mobile covers, and winter clothes. Before the shop, she made a living by raising goats. "Running an electrical shop is easier than raising goats or farming," says Raji. Her husband also helps her in the shop. They earn over Rs50,000 monthly. Prakash Chandra Timilsena/TKP
---