Kathmandu Metropolitan City announces to padlock offices of 23 tax evaders
Analysts say the City has made such promises in the past as well and, owing to a lack of sincerity on the part of its officials, has failed to bring taxpayers under the tax net.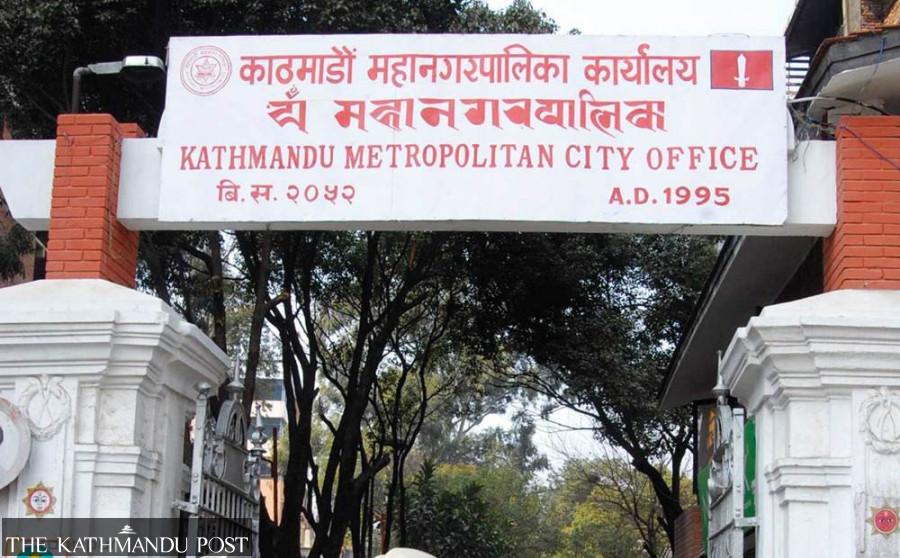 The City office had earlier asked the taxpayers to pay their taxes in 30 days, by Friday. Post File Photo
bookmark
Published at : July 30, 2021
Updated at : July 30, 2021 00:02
Kathmandu
On Wednesday, the Kathmandu Metropolitan City made a public announcement to padlock the offices of 23 businesses including hospitals and organisations if they didn't pay their taxes to the City office. However, analysts suspect the City will be able to bring them under the tax net, as such announcements were made earlier as well.

In its announcement, the City also made public the names of 23 big taxpayers who have not paid their municipal taxes till date. Earlier on July 14, the City had released the names of tax defaulters and before that on June 30, it had issued a 30-day deadline to clear the taxes. The deadline expires Friday.
"We have already published their names. Now we will be sending notices to the respective big houses. If they still refuse to come under the tax net, we will padlock their offices," said Shiva Raj Adhikari, chief of the City's revenue department.
He said the City will take the help of Nepal Police and its own municipal police to take necessary action against the tax defaulters based on the Local Government Operation Act 2017 and other prevailing laws, policies and rules.
"We have tried numerous times to contact the businesses concerned asking them to furnish their tax details, but they did not respond," said Adhikari.
Based on the City's report, Chirayu Hospital, Kantipur Dental Hospital, Tribhuvan University Teaching Hospital, Shaheed Memorial Hospital, National Hospital and Manmohan Hospital have not paid their taxes.
"These hospitals made a good income even during the pandemic, but they have not paid their taxes despite our repeated calls," said Adhikari.
New Road Team, United Trade Centre; Buddhabai Complex, Bagmati Chamber, Kathmandu Engineering College, Nepal Tuberculosis Centre, Nepal Red Cross Society, Aadhar Complex, Agriculture Inputs Company Ltd, RB Complex, Suraj Arcade, Manmohan Memorial College, Shubhashree Cooperative, Kathmandu Plaza, Nepal Share Market Complex, Gopalji Properties and Star Mall are also on the City's list of tax defaulters.
"This time we are mainly focused on big taxpayers. We will also go after small taxpayers," said Adhikari.
Santa Raj Subedi, a former finance secretary, said it was in the nature of every taxpayer to show reluctance when it comes to paying their taxes.
"It is the state that should make an effective mechanism to bring all taxpaying citizens and entities under the tax net," he said. "There are so many sectors that need to come under the tax net. If the City is successful in making them pay their taxes regularly, it can earn huge amounts in revenue."
Subedi said the fault lies both with the City and the taxpayers.
"One tries to avoid paying tax and the other does not show any proactiveness to collect tax," said Subedi.
Khim Lal Devkota, fiscal federalism and local government analyst, said collecting tax is the biggest challenge of all local bodies, mainly because the officials are not accountable to their jobs.
"The problem with the City is that its staff are not serious about their jobs. Many tax-related issues are settled internally with their knowledge and participation," said Devkota.
---
---