No takers for mall spaces, but financiers continue to pour money into shopping complexes
A desire to replicate success, a failure to conduct market research, and changing shopping habits are behind the failure of malls, say economists.

More than half of 82 retail spaces on the ground floor remain empty at Chhaya Centre in Thamel. Anup Ojha/TKP
bookmark
Published at : February 18, 2020
Updated at : February 18, 2020 09:34
Kathmandu
The Chhaya Centre, one of the biggest malls in the country, is located in the tourist heart of Kathmandu—Thamel. But more than a year after opening, it remains largely empty.

The ground floor of the Chhaya Centre, which opened on December 25, 2018, has 82 retail spaces but 53—more than half—are empty. Out of 75 spaces on the first floor, 25 were empty, including two large halls while on the second floor, out of 76 spaces, 38 were bare. The third floor was almost empty with construction work taking place. The mall, spread over 860,00 sq ft, was reportedly built at a cost of Rs5 billion.
In the past decade, giant shopping malls have mushroomed across Kathmandu Valley. There are nearly a dozen malls in Kathmandu alone while massive new buildings are being constructed across the Valley. In the past fiscal year alone, construction permits for 15 commercial buildings above an area of 10,000 square feet were issued, with 16 permits in the preceding year, according to the Building Construction Permit Division office at Kathmandu Metropolitan City. While the division did not maintain separate data on malls, since 2016, the city has given construction permits to 832 commercial buildings, which include shopping malls.
Despite being built at a cost of millions of rupees, many of the new malls are finding it difficult to attract new retail outlets while older ones are emptying out. According to economists, this reflects changing shopping habits and a tendency among financiers to simply follow trends without conducting proper market research.
Kavita Risal, marketing manager at Chhaya Centre, said that out of 258 spaces, only 100 are occupied.
"People have bought spaces here but they are not opening up shops," said Risal.
According to the few retailers who have maintained storefronts at Chhaya, footfalls are dwindling and do not support the cost of renting a physical space.
"It's been a year since we opened our adventure information centre and we have not had a single customer yet," said Pravat Adhikari, who operates HST Adventures, a travel and tourism company, on the first floor of the centre.
The only space that regularly attracts customers to the mall is the film theatre on the top floor, according to both retailers and the few customers.
Among nearly a dozen shopping malls in Kathmandu and Lalitpur that the Post surveyed for nearly two weeks, only a handful had a steady stream of customers and vibrant storefronts.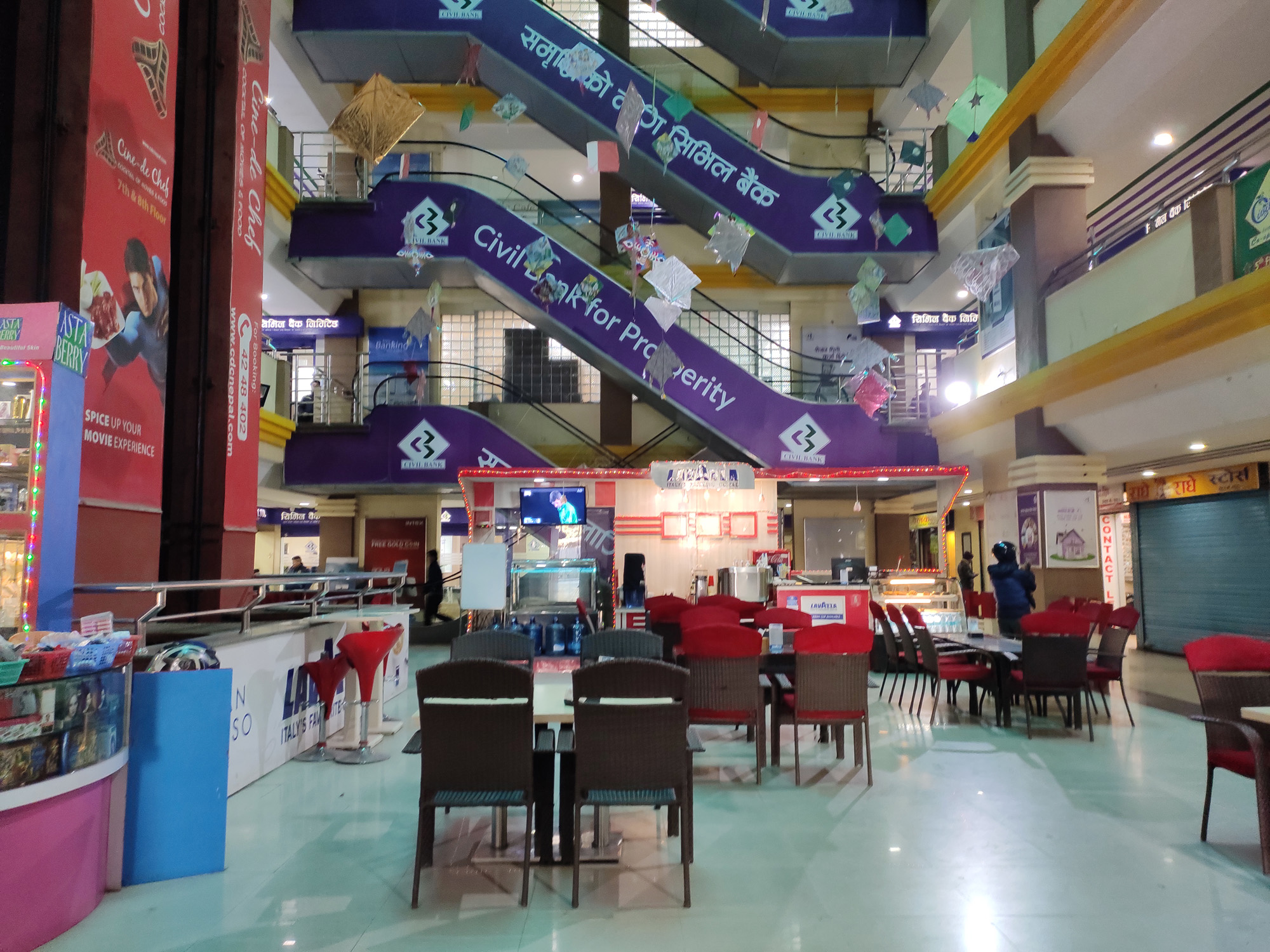 There are no customers and no retail shops at the nine-storey CTC Mall in Sundhara. Anup Ojha/TKP
Ramesh Sharma, former chairperson of the Contractors' Association of Nepal, said that almost all shopping malls in the Kathmandu Valley are in trouble.
"Most investors in malls see the vibrant business that Bhat-Bhateni is doing and think they can replicate that success with malls," said Sharma. But they're trapped because people who can afford to shop at malls are going abroad while middle- and lower-income people prefer to shop elsewhere."
At the nine-storey CTC Mall in Sundhara, built seven years ago in 2013, there are no customers and no retail shops. The ground floor has a few mobile accessory stores, clothing and coffee shops, but no customers. Portions of the first, second and third floor have been offered up to the Civil Bank but all other shutters were closed. On the seventh floor are two cinema halls—Cine De Chef and Cine Dine.

Gopal Krishna Koirala, who runs a Chinese restaurant on the sixth floor of the CTC Mall, said that he is on the verge of closing down his business.
"When we started as a food court, there was a good footfall in the initial phase as all the floors were filled with shops, but after the earthquake, the building was damaged and everyone left," said Koirala, who pays Rs250,000 in monthly rent. "I am only able to run my business here as I have over a dozen clothing outlets in the Valley."
Lacking customers and retailers, many malls are now opting to rent out their spaces to other commercial ventures like banks and employment and education consultancies. At the Star Mall in Putalisadak, six of its seven floors are occupied by education consultancies.
"The building was initially constructed as a mall, but before we opened in 2016, we did some market research and found that most malls were failing," said Utsab Shrestha, manager at Star Holdings, which operates the Star Mall. "Since Putalisadak is known for its consultancies, we decided to provide space for them in our building."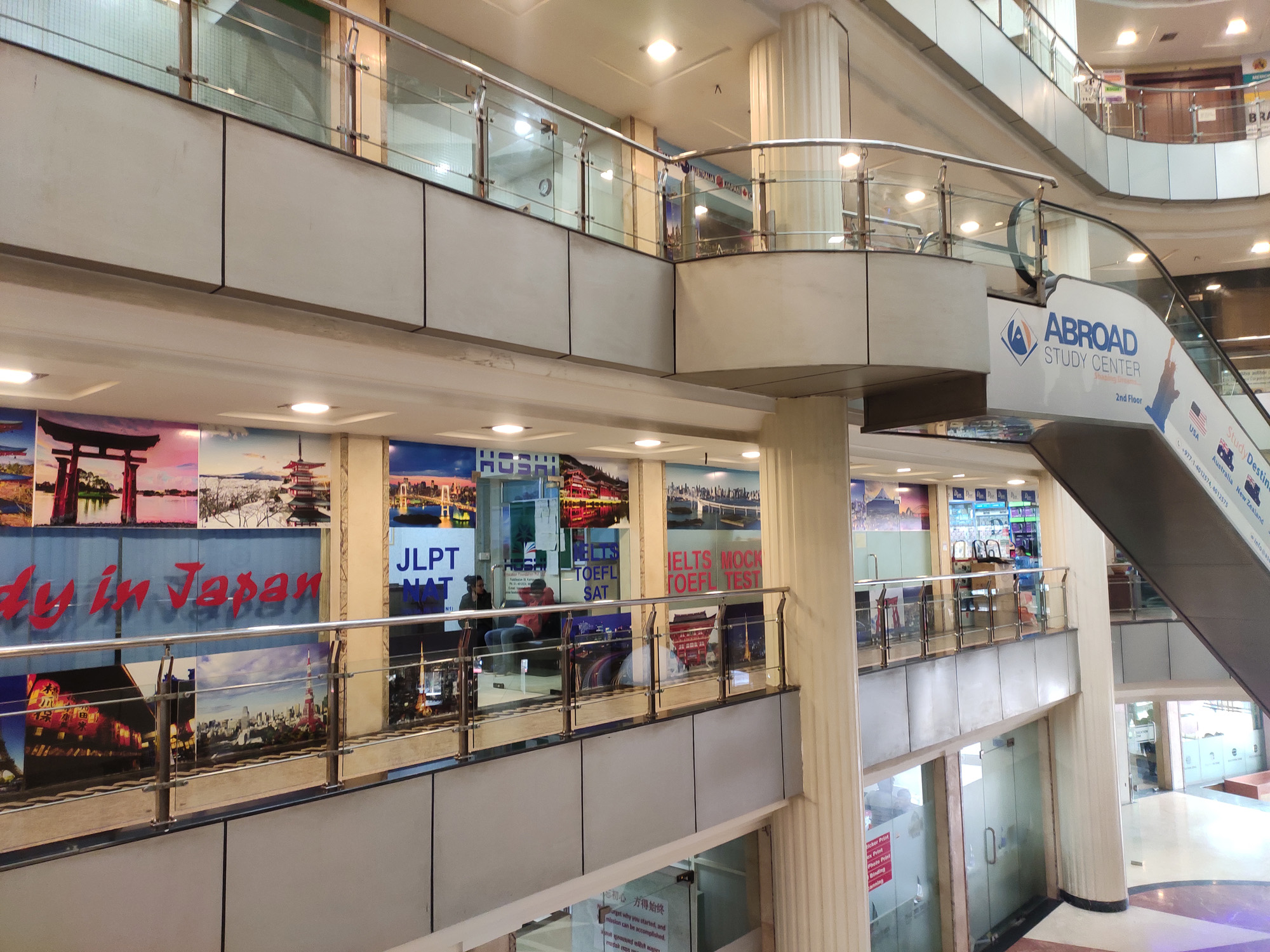 The retail spaces at Putalisadak-based Star Mall are occupied by education consultancies. Anup Ojha/TKP
For economists, these numerous malls are the result of a 'bandwagon effect' where financiers are pouring millions into malls because others have done it.
"But they do not do any market research," said Keshav Acharya, former executive director of Nepal Rastra Bank and senior advisor to the Ministry of Finance.
But according to Acharya, there could be something suspicious in the way so many malls continue to pop up despite most of them not making any money.
"Nepal Rastra Bank does a lot of screening if you want to invest in the banking sector, but if you want to build a mall, there is no scrutiny. So this could be a great means to launder black money," said Acharya.
Raghubir Bista, an associate professor at Tribhuvan University's Central Department of Economics, agrees with Acharya, that the regulatory framework is at fault. Without a proper plan for the city, malls are being erected anywhere, even when it doesn't make economic or urban sense.
"In our case, individuals are proactive while the state isn't," he said. "These malls are constructed on the basis of power rather than analysis. And in most cases, they are also linked with the black economy. So individuals do not look for returns."
But the answer could be simpler. With the rise of e-commerce, shopping habits are changing and young people, the prime target market for malls, are increasingly doing their shopping online.
Julia Subba, a nurse who spoke to the Post at the Civil Mall in Sundhara, said that she was there to buy cosmetics but prefers to shop online.
"You don't need to suffer from Kathmandu's chronic traffic, you can get good deals and there are a variety of items to choose from when you shop online," said Subba. "You can shop from home and things come right to your doorstep."
---
---