Tinkune tries to show the Nepali female's struggle—but through the lens of a man
In Sulakchhyan Bharati's latest play, the Nepali female's journey is still seen through a man's lens.

Character Satish (right) is the constant in Tinkune, despite the play focusing on the female struggle. Keshav Thapa /TKP
bookmark
Published at : July 19, 2019
Kathmandu
In the centre of a sparsely furnished living room, a man and a pregnant woman are seated on a mouldy, old sofa. The stage is dimly lit, except for a spotlight on the two characters on stage. From their one-sided yelling match conversation, the audience can deduce that they are husband and wife. The woman, Sarita, is visibly upset and angry. The reason: her husband, Satish, can't take out time for her; she feels neglected and hurt. Satish is a writer, and his profession restricts him from spending time with his family. Calm amidst the argument, and tired from a day of work, Satish drinks some water from a karuwa that's on the table and tries to console her, but she does not want to listen to him.
Tinkune, written and directed by Sulakchhyan Bharatiーwho also plays the lead role of Satishーopens with this scene. This scene casually unmasks the reality of many marriages in Nepali society, where an entitled husband feels little sense of responsibility towards the wellbeing of his pregnant wife—even when she is carrying their child.
The scene is part of three stories that constitute the play: Poshan Pandey's Bhinaju Ko Sweater, Biyas Rai's Champa Ko Naam and Ramesh Bikal's Euti Awakash Prapta Beshya Ko Aatmahatya. And Satish is the common thread that weaves all the narratives together.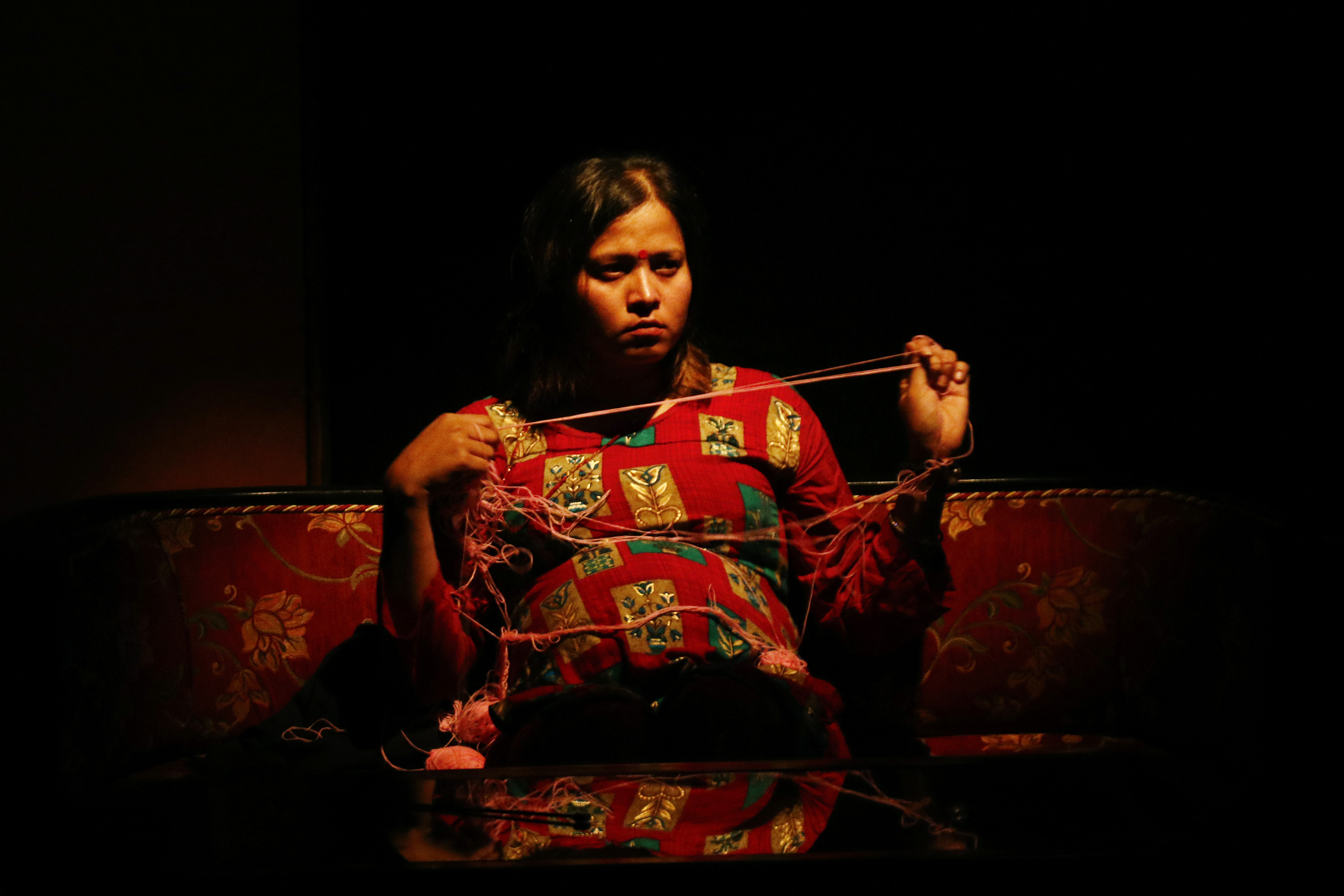 Keshav Thapa /TKP
Sarita is short-tempered, irritated, and moody—constantly seeking validation from her husband. In the middle of her argument with Satish, Sarita announces that her younger sister, Babita, will be staying with them for a few days to keep her company. On cue, Babita arrives even before Satish gets a chance to oppose the decision.
But the introduction of Babita does more harm than good. Babita is young and vibrant, often teasing her sister and brother-in-law. And this does not sit well with Sarita, who is jealous of the bonding between her sister and her husband—revealing her deep sense of insecurity and profound loneliness. When alone, she compares herself to a yarn of wool, tangled in itself. Her jealousy escalates when her sister announces that she is going to knit a sweater for Satish, which Sarita ruins. And as she slowly and angrily undoes the knitted yarn, she unravels and destroys her relationship with her sister.
Despite having a male character to tie all the stories together, writer and director Bharati's Tinkune shows the stories of lower middle-class women. All lost and trapped in their own desperation, it attempts to depict how our patriarchal society dictates and defines women. It sugarcoats nothing, presenting an ugly, depressing reality that women throught our society suffer.
The most interesting character is Rita—a strong-headed protagonist who knows exactly what she wants from life. Rita's character is based on the story Euti Awakash Prapta Beshya Ko Aatmahatya written by Ramesh Bikal in 2055 BS. She is a prostitute by choice and refuses to allow society to force her to do something it thinks is right and acceptable. In a chance encounter with Satish, where he asks her why an educated woman like her is into sex work, she proudly answers that she values her independence and does not want to be a slave and work for others.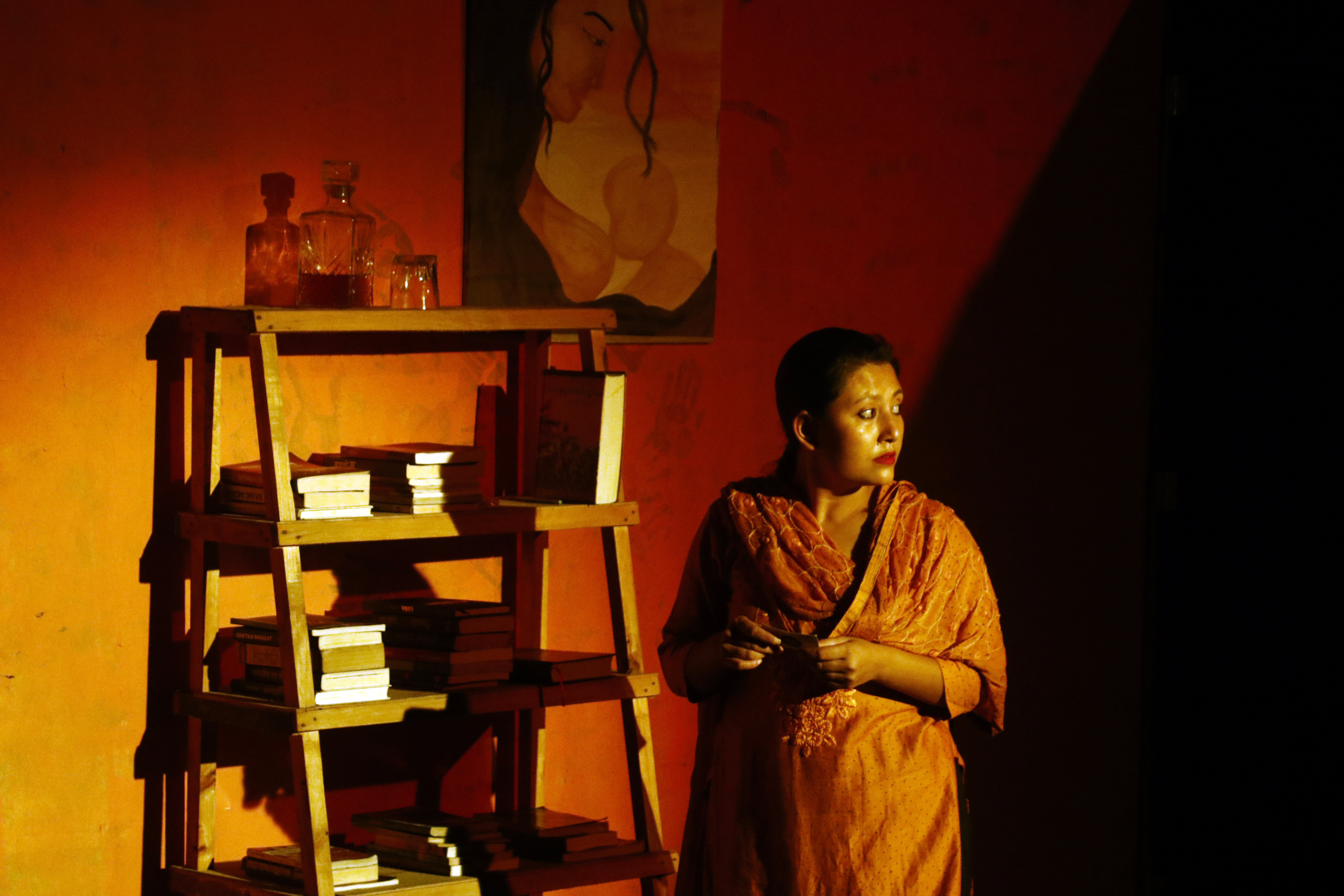 Keshav Thapa /TKP
The third predominant personality within the play is Champa, a pitiful, wrecked soul. She gets tossed out of the bhatti where she works and lives, when the owner finds her husband harassing Champa, trying to touch her inappropriately. Even though it's the husband who is clearly at fault, the owner throws young Champa out to streets in the middle of the night, with nowhere to go. This is a damning but clear reflection of the nature of Nepali society, in which women cop the blame, and are even punished, for wrongs they have not even committed.
Champa believes that she needs a man to survive. Without a man, she thinks she is incapable of taking care of herself. Knowing her meekness the men take full advantage, and they keep taking advantage of her throughout the play. Eventually, towards the end of the play, the audience is hardpressed not to sympathise for the submissive soul.
Bharati has done a commendable job to create an engaging piece of theatre, whether it be through the emotional background scores or the characters' sharing their innermost thoughts through soliloquy. But the design of the stage is minimal and basic, as though it didn't get enough attention. While it may have been a conscious effort to minimise props and limit set design, there could have been more effort put in—the only props to separate Sarita's home from Rita's brothel were paintings of semi-naked women in sensual poses, a couch and bookshelf.
As for the storyline, even though director Bharati has effectively portrayed a strata of women from different echelons of Nepali society, he failed to give all of his characters dignified endings or justice. This speaks to a larger, and perhaps more problematic theme, surrounding society-induced shame. While Satish helps as Tinkune's theatrical glue, the story's central theme is the Nepali female's struggle, but it is still shown through the lens of a man.
By the end of the play, however, the audience could be left confused—with many questions left unanswered, the audience can only empathise with the characters from a distance. The early and middle stages of the play's storylines are considered and thoughtful, but like the yarn that unravels in Sarita's hands, this play falls apart quickly in a brash attempt to wrap things up. Nevertheless, the dramatic storyline and commendable acting of all the actors makes watching the play worthwhile.
The play is being staged every day except for Tuesdays at 5:30 pm, and Saturdays at 1:30 pm and 5:30 pm at Kausi Theatre, Teku, until July 28.
***

What do you think?

Dear reader, we'd like to hear from you. We regularly publish letters to the editor on contemporary issues or direct responses to something the Post has recently published. Please send your letters to tkpoped@kmg.com.np with "Letter to the Editor" in the subject line. Please include your name, location, and a contact address so one of our editors can reach out to you.
---
---