A majority of leprosy patients do not seek treatment fearing ostracisation from society in Sudurpaschim
The government aims to make Nepal leprosy-free by 2020 but every year one or two new cases of leprosy surface in the country.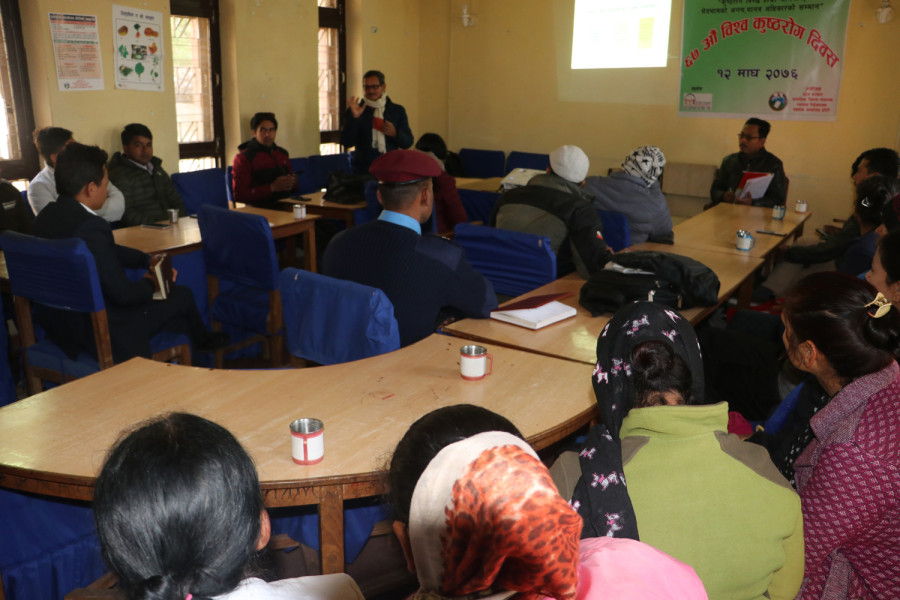 A programme organised in Doti on World Leprosy Day. Mohan Shahi/TKP
bookmark
Published at : January 28, 2020
Updated at : January 28, 2020 07:56
Doti
Leprosy patients from the hill districts in Sudurpaschim still hesitate to disclose the nature of their disease for fear of social exclusion, say health officials. This has led to most not seeking medical treatment to cure the disease.
Leprosy, a chronic infectious disease caused by Mycobacterium leprae, is transmittable through nasal secretion or from droplets from the mouth. It affects the skin, peripheral nerves and eyes, leading to disfigurement and nerve damage.
Ramesh Malasi, chief at the Doti Health Office, said the disease is curable with multi-drug therapy. "But the tendency of hiding leprosy is the main obstacle in eradicating the disease. The hospital has been unable to maintain the exact data of the number of patients suffering from leprosy in the districts," said Malasi.
In Doti alone, there are seven leprosy patients. According to health workers, two new cases have been identified recently, but the health office has not registered them yet.
The government targets to make Nepal leprosy-free by 2020 but every year one or two new cases of leprosy surface in the country. The prevalence rate of the disease should drop to below 1 per 10,000 population in order for the country to be declared leprosy-free, according to World Health Organisation. "But leprosy prevalence is 1.05 in every 10,000 population in Sudurpaschim province," said Uddahv Singh Thagunna, chief at Tuberculosis and Leprosy Section of the District Health Office, adding that these are only the reported cases.
Authorities have demanded the federal, provincial and local governments launch a campaign to provide door-to-door service to patients and to control the spread of the disease. Shiva Kumar Rai, an administrative officer of District Administration Office in Doti, said volunteers could be mobilised in the hills to identify and control the disease.
In the last fiscal year, leprosy prevalence was 1.91 in Kailali and 0.89 in Kanchanpur (Tarai districts) out of 10,000 whereas the ratio was 0.28 to 10,000, 0.14 to 10,000, 0.38 to 10,000, 0.39 to 10,000, 0.9 to 10,000, 0.23 to 10,000, and 1.80 to 10,000 in Doti, Darchula, Dadeldhura, Bajura, Bajhang, Baitadi and Achham respectively.
In the current fiscal year, the rate of new leprosy patients is 9.28 in every 100,000 population. "This shows that leprosy patients are still hiding their disease in society," said Sashi Sop, deputy coordinator of the District Coordination Committee. According to Thagunna, the new patients' rate is 18.78 in Kailali, 7.73 in Kanchanpur and 12.01 in Achham in every 100,000 population in the current fiscal year.
In an interaction programme organised to mark the 67th Leprosy Day on Sunday, Sop refers that her nephew, who is a leprosy patient, went to India for treatment in the fear of social exclusion in her community. "There's no environment for leprosy patients to be open about their disease. Awareness should be created in the community to stop the spread of the disease and the misgivings it carries," said Sop, adding that most of the patients cannot openly talk about their disease for fear of discrimination, stigma and a life marred with social and economic hardships.
In 2009, the country had received leprosy eliminated status, after reducing its prevalence rate by 0.77 percent. According to the Leprosy Control and Disability section of Epidemiology and Disease Control Division of the Department of Health Services, the prevalence rate was 0.92 and 0.89 in 2017 and 2016 respectively.
The World Health Organization in 2014 had listed Bangladesh, India, Indonesia, Myanmar, Nepal and Sri Lanka as high-endemic countries, contributing 99.8 percent of new cases from the South-East Asia Region.
---
---