Shortage of manpower hits government offices
Short of hands, ward offices in Achham rural municipality are forced to put off daily operations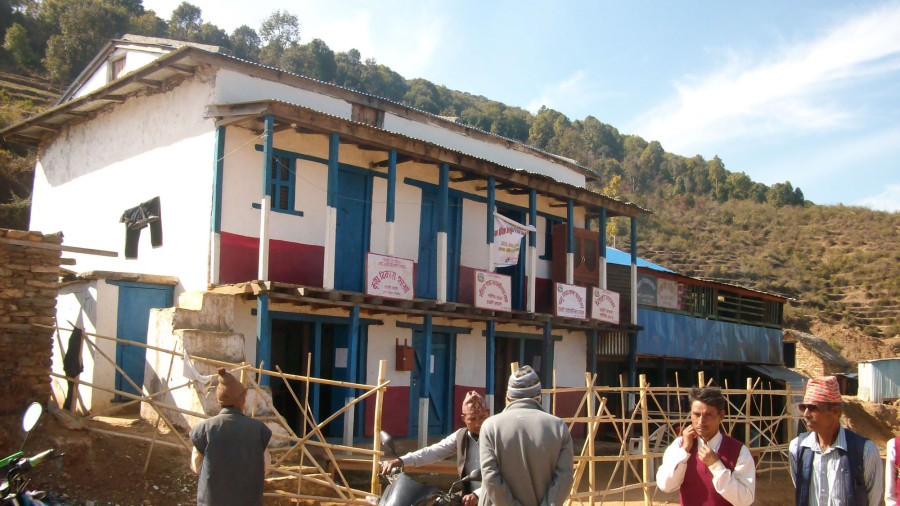 Owing to the lack of staff, only two out of the eight ward offices in Dhakari Rural Municipality, Achham, are functioning at present Post Photo: Menuka Dhungana
bookmark
Published at : June 19, 2019
Updated at : June 19, 2019 15:59
Achham
Nabina Shahi of Kalekanda village in Panchadeval Binayak Municipality-9 recently went to the ward office to prepare the birth certificate of her newborn child. She had to return home empty-handed and disappointed. The ward office didn't have a single official who was authorised to prepare birth certificates.
"I had heard that a baby's birth certificate should be prepared within 35 days of birth in order to receive the nutrition incentives the ward office provides," Shahi said. "But none of the officials were present there."
The federal government's introduction of the Staff Adjustment Programme has led to transfer of government employees to various districts from their original location. Consequently, most of the local units in rural districts such as Achham do not have adequate manpower to carry out their operations.
Although the employees have been adjusted as per the Employees Adjustment Act, the local units will still fall short of around 20,000 staff, according to the Ministry of Federal Affairs and General Administration.
In Achham, daily operations that need to be carried out by the wards have been postponed.
Moreover, local level in Achham are unlikely to organise the municipality- and rural municipality-level assemblies, which are due to take place by June 25 this year.
"Officials at the municipality were transferred to other offices, in and out of the district. Those who are native to this place are also not willing to get a transfer here because of the remoteness of the location," said Devraj Devkota, mayor of Panchadeval Binayak Municipality.
Currently, none of the ten wards in the municipality has a ward chief. "Not only that it's unlikely the assemblies will take place on time but it has also posed difficulty to process daily operations," Devkota said.
Owing to the lack of human resources, operations at some ward offices have been handled by the people's representatives themselves.
According to chief of Dhakari Rural Municipality Dhan Bahadur Buda, only two out of the total eight wards in the rural municipality are functioning at present.
"There's a confusion regarding the choice of development projects and budget," Buda said, adding that the chief administration officer is also currently out of the district. "While we have allocated work related to agriculture to local representatives, other bureaus are without officials."
According to Amrita Buda, deputy chief of Turmakhad Rural Municipality, even those officials native to the same rural municipality are away because of its remoteness. "It's become really hard to carry out operations," she said. "It imperative that the government should formulate strong plans and policies for local level."
---
---