As open spaces shrink, Kathmandu's youths flock to futsal courts to play the beautiful game
But futsal's popularity in recent years cannot be ascribed to the lack of open spaces alone. There are multiple other factors. In the game, players touch the ball frequently, which some players say make it more exciting; games do not get disturbed by rain or wind; and the futsal hubs provide facilities such as showers and eateries. It has also paralleled the popularity of compact, shorter versions of sports in other parts of the world.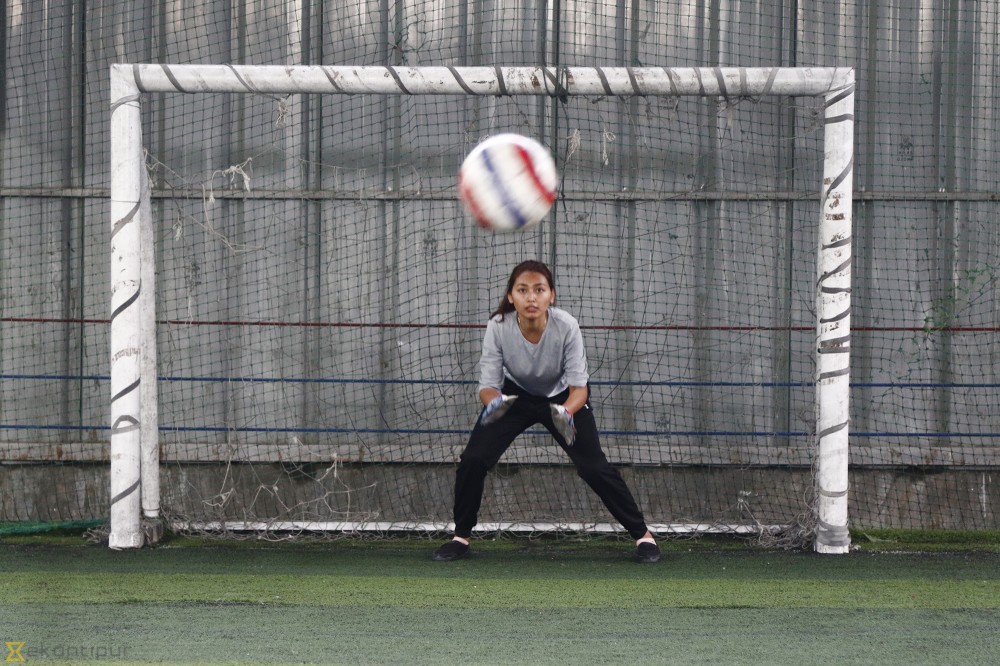 For many youths, futsal has become an easy and viable form of entertainment, especially due to a lack of open spaces in the cities. Post Photo: Keshav Thapa
Published at : May 17, 2019
Updated at : June 28, 2019 15:59
To get to the Dhuku Futsal Hub in Baluwatar, you'll have to walk a dusty, congested road. Surrounded by tall, concrete buildings on either side, the road feels claustrophobic, like you've just entered a cave with no immediate end in sight. Around a 15-minute walk from the Nepal Police Training Academy, take a sharp turn from the main road and you reach an airier, expansive space.
"About 10 years ago, there used to be an open space every 200 or 300 metres in the neighbourhood. Not big enough space to play proper football, but enough to kick the ball around with a small group of friends," says Raj Maharjan, co-founder of Dhuku. "Today, things have changed."
Dhuku Futsal Hub has two futsal courts alongside two swimming pools and a large parking lot. Inside, small groups of young people mill about, clapping and cheering from the sidelines as teams of five battle it out on the court, which is a stripe of seaweed and emerald green.
Rain or shine, nothing matters to the players on the futsal court, for Dhuku has a roof and is well-lit with 12 LED sports lights in each court. At Dhuku, futsal games are played on the two courts in one-hour shifts. Games start from six in the morning and end at nine at night.
"No scores were counted in our game because it was just a friendly match sponsored by our company," says Sheetal Maharjan, 26, a self-taught game developer who's been playing futsal for the past two years. "For us, it's more of a means of relaxation. A perfect way to end a week of hard work."
For many like Sheetal in Kathmandu, futsal is more than just a game—it is a culture, a form of entertainment, an easy, viable weekend hangout, and, more importantly, something that feeds the nostalgia of playing football in a wide, open space.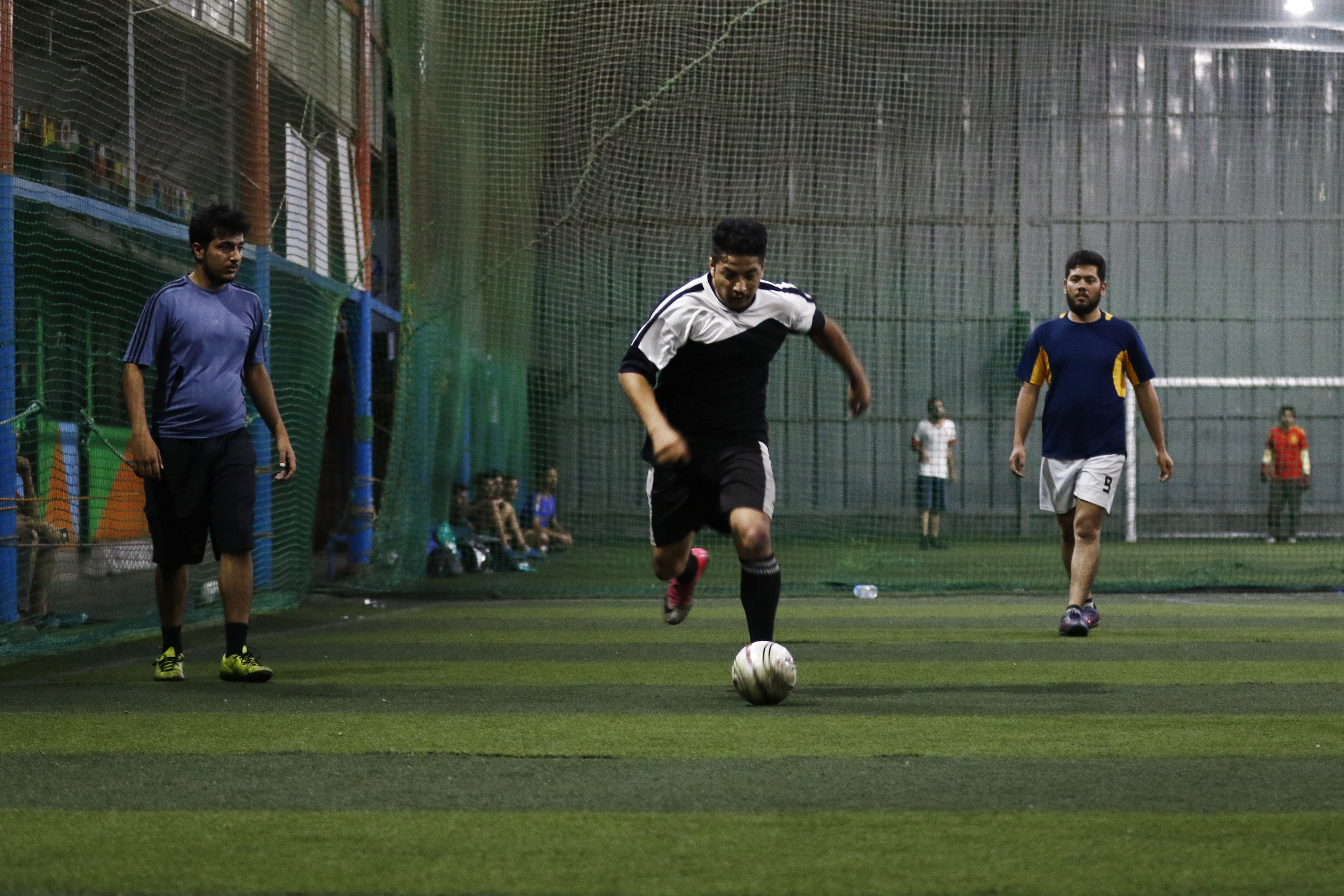 Post Photo: Keshav Thapa
For Nawang Nima Lama, the primary reason behind opening up Kathmandu's first futsal arena was just that: the lack of spaces to play football.
In 2011, Lama was in Bangkok, where his brother Tsering Norbu lived. The Lama brothers, both sports fanatics, would frequent futsal arenas in the city, marvelling at how the sport had taken off in one of the most congested cities in the world. Lama, who had grown up playing football in open spaces around Lainchaur and Gaucharan, was fascinated that the sport could still be enjoyed in the heart of the city, albeit differently.
When he returned to Kathmandu, he opened up his own futsal arena, at the Godavari Alumni Association hall in Thamel. This space, simply called Futsal Arena, had one court, ten sports lights, and a shower.
"I was certain that futsal would take off in the years to come," Lama says. "There might be various factors behind its rise but the most prominent is definitely the lack of open spaces in the Valley."
As the number of open spaces shrank in Kathmandu, futsal arenas only multiplied. Today, there are 887 open spaces, as designated by the Kathmandu Valley Development Authority after the 2015 earthquakes, while there are around 120 futsal arenas within the Valley. The designated open spaces include patches of public land, premises of schools, colleges, hospitals, and riverbanks.
"The public importance of open spaces, which are essential at normal times including for students and a must in the event of a disaster, are immense... Among the 887 spaces in total, 83 were listed in the Nepal Gazette as "public spaces" five years ago [in 2013]," according to a report published by the Centre for Investigative Journalism, Nepal (CIJ). "From 2.29 square kilometres in 1980, open spaces shrunk to 2.01 sq km in 2012. From 38.03 sq km in 1980, settlements grew to cover 118.65 sq kilometres five years ago."
But futsal's popularity in recent years cannot be ascribed to the lack of open spaces alone. There are multiple other factors. In the game, players touch the ball frequently, which some players say make it more exciting; games do not get disturbed by rain or wind; and the futsal hubs provide facilities such as showers and eateries. It has also paralleled the popularity of compact, shorter versions of sports in other parts of the world.
Over the last few decades, sports such as cricket and football have gone through several changes in terms of the rules and duration of play, transforming from sports played outside over long hours into compact, indoor versions of themselves.
What Twenty20 is to cricket, futsal is to football. Even though futsal originated in the 30s in Uruguay, it was only in 1965 that the first international game of futsal was played. Since then, it has spread across the world, winning over casual fans as an after-work exercise.
A game of futsal, divided into 20-minute periods, involves five players on each side. The ground—or futsal court—can be anywhere between 38 to 42 metres long and between 20 to 25 metres wide. In Nepal, however, futsal is played on a smaller court, measuring from around 15x25m to 20x33m, according to Nepal Futsal Business Association.
Since the opening of Lama's futsal arena in Kathmandu, the sport has taken off exponentially. Within two years, there were already 10 futsal courts in the Valley, including Dhuku, which started in 2013. In the subsequent years, the number kept growing, today reaching around a hundred in just the Kathmandu Valley and over 120 across Nepal, according to Raj, who is also chairperson of the Nepal Futsal Business Association.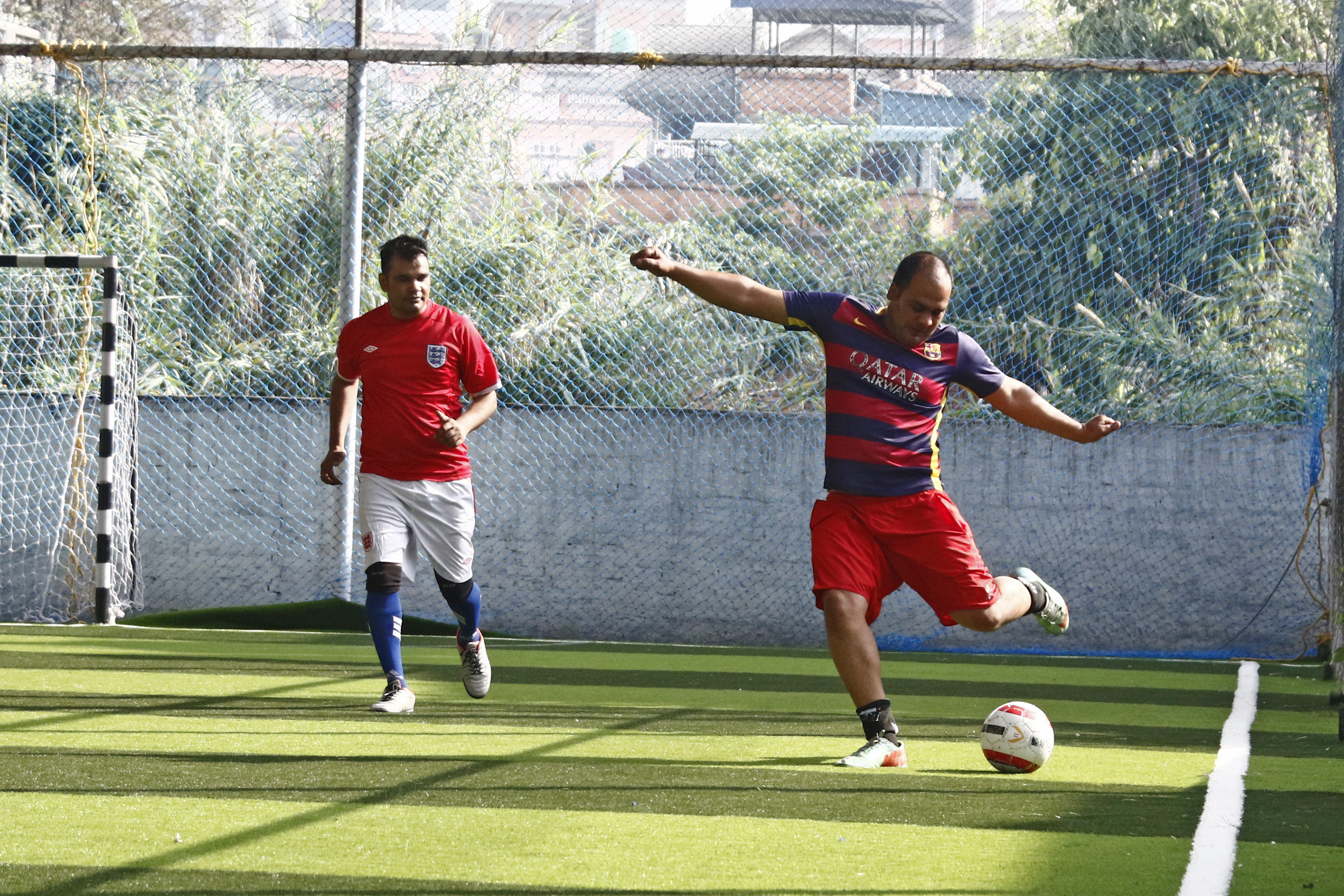 Post Photo: Keshav Thapa
For Raj, the growth of futsal in Kathmandu has been nothing but remarkable.
"When I started Dhuku, I had expected that there'd be around 30 centres around the Valley. I had never imagined futsal would be this popular," he says.
These days, Dhuku's courts are always busy and it receives bookings a month ahead of a game, according to Raj. There are many regular players who book the courts year round.
"People of all ages and from all walks of life come here, from primary-level school kids and teenagers just out of high school to national-level footballers and middle-aged professionals," says Raj. "Weekends are always full. But we see the most number of people during the football World Cup and the UEFA Champions League."
Both Raj and Lama admit that if there were more spaces where young people could gather to play actual football, perhaps futsal might not have become the sport it is today.
"This is a city where even top A-division clubs don't have proper grounds to practice on," says Raj, who was once the captain of the now-defunct Dhuku Football Club.
Although there are spaces, in neighbourhoods like Lainchaur, Gaucharan and Bansbari, most of them are poorly maintained. "You can't play there if it rained the night before," Raj says. "In Lainchaur, for instance, the ground is covered with construction material."
Futsal courts, on the other hand, provide good facilities, are well-equipped and well-maintained, says Raj. And you can play whenever you want and for however long, as long as you pay.
Still, for some, futsal does not compare with football. Sushant Pokhrel, a 17-year-old management student and futsal regular, says that football is "a lot more fun."
"Passing the ball and shooting is more fulfilling on a wide open field," he says. "But in Kathmandu, there are only a few grounds and all of them have their own sets of limitations. So a futsal court nearby is your best chance to play the game."
The rise of the futsal culture, however, has not been without controversy.
A few years ago, as open spaces started to disappear and more young people began to congregate at futsal arenas, some parents were upset, and suspicious, that the arenas had become spaces for drug abuse and gambling. A few of them got together and filed a complaint with the police.
In January 2016, the government, responding to the parents' complaints, banned futsal in the Valley, citing reasons such as "futsal facilities are causing a disturbance in society and spoiling youngsters" and "increasing cases of gambling." The ban was immediately met with incredulity, as many young people criticised the decision they say defied all logic. The next day, following huge public outcry, the government withdrew the ban.
"There might have been some cases of gambling and irregularities but the government could have regulated futsal before taking the decision," Raj says. "The ban reflected the government's way of work regarding the development of futsal in the country."
Other futsal operators said the ban showed that the government didn't really understand the sport. "They were confused," Lama says. "When they can't grasp the concept of something, they announce a ban."
Most futsal centres in Kathmandu have one court while only some have two. Raj, says that the costs of opening a futsal court, discounting property rentals, can be between Rs 3.5 to 9 million, depending on the quality of the fences, roof, turf and balls. The cheapest artificial turf used in the Valley's futsal courts cost $12 per square metre, while the most expensive costs $25. The monthly cost of operating one futsal court is around Rs 100,000, including maintenance and repair, according to Raj.
Each futsal centre also needs to employ at least two personnel, each of whom is responsible for booking and maintenance of the courts.
Almost all futsal centres in the Valley run for at least eight hours a day. Depending on the cost of an-hour-long shift, each futsal court makes at least Rs 12,000 every day, and can go up to Rs 20,000 on busy days. Some centres charge as low as Rs 1,000 per game while others as much as Rs 2500.
But the cost varies in a single day. For instance, at Dhuku, the cost for a game until 4pm is Rs 1,200 while afterwards, and on weekends, the arena charges Rs 2,000 per game.
"Besides court maintenance, there are few challenges to running a futsal centre," says Raj. "Since we have a strict set of rules, along with designated timeframes for games and payment, there is rarely any argument. There are bound to be one or two feuds, or rather discussions, in a month, but that's negligible."
With the Valley itself boasting close to a hundred futsal centres, businesspersons have now shifted their focus to the Valley's outskirts, like Sankhu, the far reaches of Bhaktapur. In the last three months alone, three new futsal centres were set up in Pokhara, which makes a total of 15 centres in the city, while Dharan already has four of its own. New futsal courts have also opened up in Itahari, Biratnagar and Urlabari.
Despite the growing popularity of the game, it is unlikely that it will be as beloved as football and cricket, and this, according to Raj, can be attributed to the government's apathy towards the sport.
Two years ago, the then minister for Youth and Sports had commented that futsal would play "an important role in making Nepal popular in the international sector through the sports medium." But that hasn't happened yet. For futsal operators like Raj, the government doesn't seem interested in developing the sport. Despite the demand and popularity, the country doesn't have a single international-standard futsal court. That may be why it was no surprise when Nepal was defeated in all three matches at the recently-held Futsal Worlds. "Even the selection process of players was fishy," says Raj.
For many like Sheetal, game developer, it doesn't matter if futsal puts Nepal on the worldmap; it is simply a means of recreation that satiates their passion for football and feeds the nostalgia of playing the beautiful game on an open field.
Sheetal, who was an avid footballer during his teenage years, says that if there were ample open spaces around, he'd prefer football over futsal.
"But then," he says, "something is better than nothing.
---