Kathmandu's mayor promised way more than he could deliver. Now he blames everyone but himself.
Bidya Sundar Shakya has bitten off more than he can chew as he struggles to keep his promises.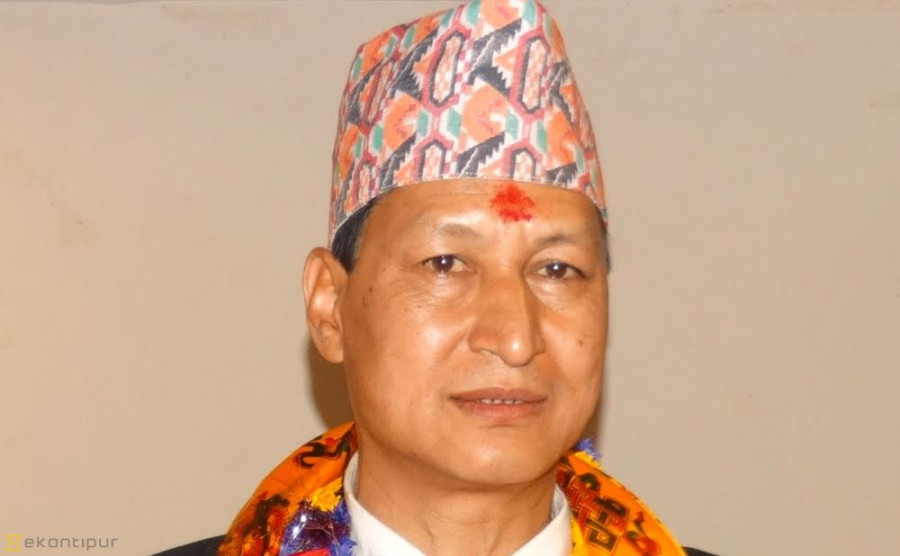 bookmark
Published at : December 30, 2018
Updated at : December 31, 2018 13:17
Hopes were high in 2017 when Kathmandu Metropolitan City got its first elected mayor in 15 years.
Bidya Sundar Shakya's ambitious election manifesto and promises to accomplish 101 tasks in his first 100 days in office made many hope for a 'clean and green livable city'. Metropolis voters took Shakya's words at face value and elected him to the office with a significant margin of 19,000 votes over his rival Raju Raj Joshi. But it was evident from the beginning that Shakya was promising way more than he could deliver, in a bid to win the elections.
In an interview with the Post hours after his election victory on May 28 last year, the first promise Shakya made was to restore earthquake-damaged monuments to their original forms, in coordination with cultural experts and the Department of Archaeology. But his very first gig has been his biggest blow.
Shakya did not initiate any reconstruction work until a controversy sprung up when conservation activists and the media raised the issue of the KMC using concrete to build a 10-foot boundary wall on the southeastern side of the historic Rani Pokhari.
The Mayor's plans to build a coffee shop and a modern water fountain in the pond were also revoked after widespread opposition from locals, historians and cultural activists. The metropolis office has already doled Rs30 million on Rani Pokhari, but the historic monument, originally built by King Pratap Malla in 1665 AD, remains a mess.
KMC's inability to carry out its work effectively, especially in relation to the reconstruction of the ancient and historic monuments, has attracted immense ridicule from heritage conservationists. Unable to withstand his incompetencies, both the public and the press soon started calling out Shakya for his lack of delivery. The complete apathy towards addressing day-to-day problems faced by the common people also made Shakya the subject of ridicule and criticism on social media platforms.
From his grand basket of promises, Shakya has only succeeded in delivering one: increasing the allowance for elderly citizens. Because instead of fulfilling his promise of accomplishing one task each day for the first 100 days since he took office, he was preoccupied with distributing smartphones to ward members and procuring a Rs12 million vehicle for his personal use from the KMC budget.
In a recent interview with the Post, Shakya said that he could not perform the tasks properly due to lack of coordination at the metropolis office while the public continues to suffer. In an effort to mend things, three weeks before the KMC observed its 24th anniversary on December 15, the metropolis doled out plans for sustainable development in the metropolis.
Read: City mayor vows to prove himself after slow start
Shakya and his deputy Hari Prabha Khagdi even went out to clean the city's streets in the presence of Minister for Transport and Urban Development Raghubir Mahaseth. But many in the public called the act as a publicity stunt because this was not the first time Shakya had appeared with brooms on the streets—soon after taking office, Shakya and Khadgi went on a spree to clean the city, which lasted only for a few weeks.
Wary of the growing public backlash, the metropolis office has recently come up with a 'Smart Urban Technology Challenge-18', under KMC's City Plan Commission, a campaign that Shakya says is the beginning of a 'new era' to transform the city with the involvement of youth and their innovative ideas.
Under the campaign, the metropolis office on the first week of December sent five of its officials to Italy to bring broomer machines to clean dust from the road. Shakya had tried to do something similar a year ago, but failed when he had allocated Rs120 million to buy 10 broomer machines while unveiling KMC's 30-point immediate action plan.
Fearing criticism for failing to accomplish noteworthy work for the residents of Kathmandu, the metropolis organised the 'KMC Good Governance Award' during its 24th anniversary celebration, and awarded 10 journalists with Rs50,000 cash prize. The metropolis also launched 'Pick and Drive' in Ratnapark area from December 15 in coordination with Metropolitan Traffic Police Division and Department of Transport Management to address the increasing number of traffic jams—but, again, with no results.
Three years after the devastating 2015 earthquake, the KMC has finally started reconstruction works of historic monuments, such as the Dharahara, the iconic 18th century tower that was reduced to rubble in the disaster. The reconstruction work on the seventh century Kasthamandap has also just begun but work on other ancient monuments, such as Rani Pokhari and Sohrakhutte Pati, have been limited to paper so far. The fate of numerous ancient structures and historical buildings like the Bagh Durbar on KMC's premises is still unclear.
Today, after over a year in office, the mayor and his office have little to show. The potholes on the road are intact, the footpaths are occupied by vendors, stray animals are roaming freely causing traffic nuisance, and there aren't enough public toilets—all of which were part of the grand promise campaign by the mayor.
When the Post raised these questions to Shakya, he said that the media was just looking for ways to put the blame on him.
"I always have good intentions," he said. "People ignore the fact that there are 11 municipalities and the central government in Kathmandu. But when they see potholes in Thankot they blame me, when they see garbage in Lalitpur and Jorpati they scold me."
Shakya has now vowed to fulfil a list of new promises: to make KMC's service transparent and accessible to the public, to control pollution, to construct toilets, to expand health service, to preserve historical monuments, to solve parking problems and to solve the water crisis. But none of these is different to the ones he vowed to fulfil within his first 100 days.
Shakya, to some extent, accepts his inability to meet all his promises, and blames his colleagues for not working efficiently to bring forth substantial changes. He has long been blaming the Department of Roads, Water Supply Department and Nepal Electricity Authority and Nepal Telecom for not coordinating with the KMC.
Following widespread criticism from the public, the KMC had formed a five-member 'inspection committee' in December, right before its anniversary celebrations, to make its the ideas come to fruition. Some KMC officials say that the central government will now play a more involved and constructive role in linking the metropolis with other stakeholders to clear bottlenecks.
According to them, after witnessing Shakya's failure to bring any substantial changes, Prime Minister KP Sharma Oli himself has become proactive in creating a roadmap for the Kathmandu Metropolitan City.
But only time will tell if Oli, who himself is under the gun for not delivering for the country, will be able to deliver the mayor's unfulfilled promises.
---
---