How fraud and payment hassles in online shopping sites keep customers away
Internet shopping is certainly popular. This is because consumers can purchase products from all over the world by using their smartphones and computers. With just a few clicks, consumers can have anything they want to be delivered straight to their door. But this is for people who live in developed countries.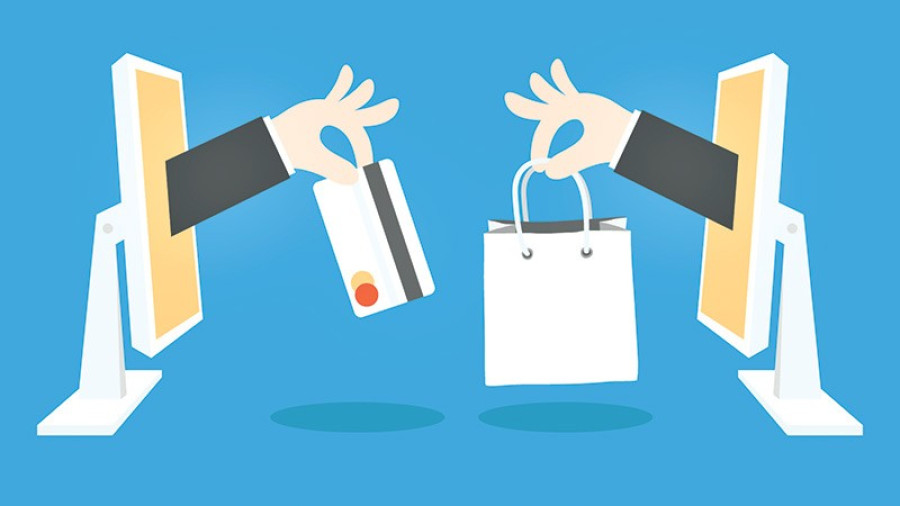 bookmark
Published at : December 30, 2018
Updated at : December 31, 2018 09:17
Internet shopping is certainly popular. This is because consumers can purchase products from all over the world by using their smartphones and computers. With just a few clicks, consumers can have anything they want to be delivered straight to their door. But this is for people who live in developed countries. For people in developing countries, shopping online is still a huge challenge. There are many reasons: inadequate infrastructure, lack of consumer rights protection laws and, most importantly, a poor online reputation.
It's been more than a decade since e-commerce debuted in Nepal, and many online shopping portals are flourishing delivering a range of items from medicines to groceries, but the sector is still at the crawling stage. Anil Basnet, the co-founder of MetroTarkari, an online grocery shop that has been operating for the last six years, says the major factor behind the slow growth is lack of trust. "Trust matters the most in the e-commerce market. And in Nepal, a trust deficit prevails." The trust gap widens when the customer does not get quality products and services. "But all online shopping platforms are not the same."
Prajwol Tamrakar, marketing manager at Sastodeal, agrees that most of the e-commerce platforms have not delivered what customers expected. "Such cases are a key hurdle to the growth of the e-commerce market in Nepal." Online stores should know that the shopping experience of each consumer is important for their sustainability, says Ramesh Awale of Bhaktapur, who often buys goods online.
"If the customer is satisfied, it influences his or her next purchase decision," he says. This is how the e-commerce market grows. Daraz's biggest sale day 11.11 (November 11) was supposed to be a milestone in the history of online shopping in the country. But most customers expressed dissatisfaction regarding the goods, prices and delivery services on social media the day they opened for the big day sale. Daraz said they made more than 50,000 sales.
There are no official records of how and when e-commerce started in the country. But it is believed that, a decade ago, Nepalis living abroad began sending money and gifts to Nepal online. The very first online store in Nepal came into operation in 1999. It used to supply gifts in Nepal ordered from abroad. In 2007, NepBay officially started its online shopping service as faster internet connection became available. After 10 years, e-commerce is yet to take off in a big way.
According to Subodh Sharma, chief marketing officer at Esewa Pasal, online shopping is currently driven mostly by offers and discounts. Sharma says it's really difficult and challenging to bring change in people's established behaviour. "People are habituated to traditional shopping. To change this behaviour into digital needs a huge investment in terms of marketing and educating consumers," says Sharma. Indian and Chinese e-commerce ventures are backed by international businesses with huge investment. They are aggressive in their marketing approach. "Nepali businesses still do not have that kind of backup and infrastructure which is one of the main reasons for the slow growth of the industry."
Home appliances, garments, groceries, books, cakes and gifts are the biggest selling goods on online platforms. Some online stores deliver even very small items. Mero Kirana, for instance, even delivers a packet of biscuits that costs Rs15. Online food service provider Bhok Lagyo delivers food from 11 pm to 4 pm. Metro Tarkari receives 100 orders daily for groceries and requires a minimum Rs500 purchase. The company makes a daily turnover of Rs300,000 by selling vegetables. Tamrakar of Sastodeal says that the e-commerce sector is a growing industry and most of the customers are aged from 24 to 35 years. With the rise of a tech-savvy generation, he hopes the e-commerce sector will grow by leaps and bounds in the coming years. Believe it or not, the e-commerce market in Nepal has been growing 300 percent annually, he says. "It will take time to build trust, but Nepali consumers will accept e-commerce soon," says Sharma of Esewa Pasal. "We are working towards making it more convenient for our customers by providing fast delivery, easy exchange-return facility and genuine products."
E-commerce traders say that easy online payment services, heavy marketing, easy logistics management and technological innovations are necessary to change the face of Nepal's e-commerce sector. Most of the online shopping platforms have a cash-on-delivery system for payment. Esewa said that the company had multiple payment options. More than 70 percent of online shopping transactions are made through eSewa. "We are soon integrating with fonepay. We also accept VISA and Master Card online and on delivery." The company is planning better digital payment schemes to encourage more and more Nepalis to buy online. Esewa provides 2 percent cash back on ESewa payment, and 10 percent cash back on Nabil's VISA card payment. Learning from 11.11 feedback, Daraz plans to invest heavily in infrastructure, the company said.
Proper regulatory guidelines seem to be missing in the e-commerce market. The Ministry of Industry, Commerce and Supplies is creating a guideline to keep tabs on online shopping platforms amid concerns over possible fraud and business misconduct. With rising cases of business misconduct, customers are being cheated, says consumer rights activists. Late delivery, exchange and refund problems, sales of substandard and second-hand products, and overcharging are some of the issues with online shopping.
Navaraj Dhakal, joint secretary of the ministry, says they were holding consultations with a number of government bodies to prepare the guideline. "As the ministry lacks information technology equipment and manpower to keep track of e-commerce platforms, we are seeking help from other government agencies," Dhakal said.
---
---