RippleDevice: High demand for a small company
Rahul Kayastha on what got him to start Nepal's first OEM company dedicated to making gaming laptops and the company's journey so far.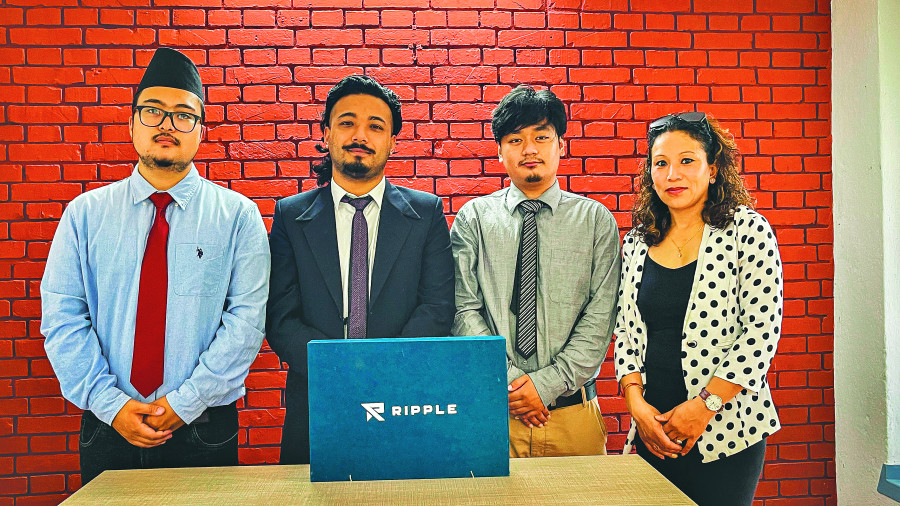 Team RippleDevice (From left to right) Megh Shakya, Head of Logistics; Rahul Kayastha, CEO; Siddartha Rai, head of technical services; and Aratee Joshi, finance director. Photo courtesy: RippleDevice
bookmark
Published at : July 26, 2021
Updated at : July 27, 2021 07:08
Back in 2020, RippleDevice started as the first original equipment manufacturer (OEM) company in Nepal focusing solely on gaming laptops. In 2021, they launched seven laptops of varying capacities and price points in the Nepali market, and since then the company has seen overwhelming demand for their products. In those two months, the company sold all of their laptops and are currently working on fulfilling a backlog of pre-orders. Prajesh SJB Rana caught up with the young 20-year-old CEO and founder of the company Rahul Kayastha, who takes on different roles at the company but primarily manages day-to-day operations, and performs risk assessments. Kayastha spoke about the hurdles he faced while starting an OEM business in Nepal, dealing with the overwhelming demand and his vision for RippleDevice.
How did RippleDevice start?
When I was pursuing my Bachelor's degree in Malaysia, I had a five-year-old Dell that I desperately needed an upgrade from. My sights were set on the Helios 300 and instead of buying it in Malaysia, I thought I'd get it in Nepal since I was returning home soon. My introduction to the Nepali laptop market wasn't the best. Prices here were marked up by more than 50 percent than in Malaysia, a country where technology isn't considered cheap. Researching more into the Malaysian market, I came across the OEM manufacturer, Illegear, a company assembling OEM laptops in the country. Malaysia is not necessarily known for its manufacturing, but here was Illegear making gaming laptops for the local market, a model that I saw working really well in Nepal.
With Nepal's market and the lower operations and human resource costs, we realised the benefits of replicating the OEM model in Nepal. So, a year ago, RippleDevices began with a vision of developing powerful gaming devices for a reasonable price to the local gamers. We sell laptops equivalent to their US prices and this is because laptops made locally aren't subject to the 35 percent tax that all the imported laptops are subject to. Two months ago, we released seven laptops of varying prices in the Nepali market; the reception has been phenomenal, to say the least.
How are Ripple laptops assembled?
We work like all laptop manufacturers do, by sourcing OEM parts. Laptops are such complex technology that no one company or country can produce an entire laptop on their own. They rely on their OEM partners to provide them with the parts that they assemble into a finished laptop for the market. We do the same. We source all of our chips from Taiwan, the Taiwan Semiconductor Manufacturing Company (TSMC); we get our screen, glass, keyboard and chassis from Germany while we source our RAM chips and SSDs from Malaysia. So, everything comes from different places, and we as an OEM, assemble all of the parts into finished market-friendly products like the Ripple laptops.
While sourcing these parts to Nepal wasn't easy, the hardest part for us was to find OEM partners willing to work with us. Many OEMs want you to buy chips in bulk so making a deal with them, finding reliable partners and partners who are willing to sell to you was the hardest part for us. Importing them to Nepal wasn't as difficult but there was plenty of red tape from the government. Some laptop components are classified as dangerous goods, so getting the clearance for those was a bureaucratic mess; as a small business we also have a cap on the amount of money we can send outside, around $35,000, and our laptops cost around $2000 each, which doesn't leave us plenty of headroom to expand.
Talking about expansion, Ripple device is working on pre-orders with delivery dates in late September for orders made today. What would you say are the main reasons for these delays in production and what are you doing to overcome them?
We've launched seven laptops so far, the Pandora was a general-purpose laptop that costs around Rs 70,000. On the other end, we had the Genos Pro, which costs around Rs 250,000 but was a beast of a machine and our passion project. Our most popular laptop has been the Raze and all of them have sold out. We were kind of overwhelmed with the reception we got. We had initially thought that we'd have to earn our customer's trust first. But the reception that we got from the Nepali market has been phenomenal, but we just can't keep up with the demand right now. We're very young. We're just two months into our launch and we have limited machine-time and manpower to keep up with demands. We can currently make around 100 laptops a month, but that's just not enough to keep up with the overwhelming demand.
It also doesn't help that there is a global chip shortage right now and it's almost impossible for us to find chips for our laptops. We've been trying to secure AMD 5000 series CPUs, which have become impossible to secure and the same goes for Intel's 11th Gen CPUs. TSMC, one of the biggest players in chip manufacturing, is facing a huge supply issue right now and there aren't enough chips, not just for us but for bigger companies too. We, as a small independent manufacturer, have no influence over companies like TSMC, which is also why it has become increasingly more difficult for us to meet demand.
There are plenty of imported gaming laptops available in the Nepali market. What makes Ripple laptops special?
For bigger companies that make gaming laptops, I think their priority is on getting the best specs of paper. Gaming laptops do have premium parts but how those parts work in conjunction with everything else matters a lot. I can say with confidence that a Ryzen 7 on a Ripple laptop would perform way better than on a Lenovo Legion. This is because we have our priorities straight. For us, value to performance is the biggest priority, which is why we never underpower or underclock powerful components to cripple their performance to get it to work in thinner and lighter chassis. For us, it's all about performance so we overclock all our components at the factory and try to maintain the best thermal performance.
Our thermal solutions aren't revolutionary by any means, but they are practical. Our Artifact line of laptops are built around a thin chassis, but we managed to cram 14-inches of cooling components into the chassis. We use vapour chamber technology and top-of-the-line Thermal Grizzly cooling solutions to dissipate heat. For our flagship, the Raze Pro, we have a 27mm thick chassis, which is 3mm thicker than the industry standard of 24mm, but for us, the extra thermal dissipation is so much more important than the thickness of the laptop and I think that is why we are different. We understand the Nepali market. Customers here only care about the value to performance, which is also a philosophy that we as Ripple laptops believe in. So, there isn't anything revolutionary inside Ripple laptops, it's just because we have priorities straight. We never underclock and undervolt components to fit in a chassis, and we're built around power and performance through overclocking components.
What does your quality control look like?
RippleDevice is part of a large OEM network with strict QC (quality check) rules for all OEM partners, which means that all OEM partners need to meet QC standards before they ship out their components. In Nepal, we do our own QC checks as well. Individual components are tested and all assembled laptops are tested for 24 hours under the Prime95 Blend stress test—a test that checks for system stability. If everything checks out and the system is stable, we send it out to our customers. If it's not stable, we run all kinds of troubleshooting including having some of our staff test them for real-world use for a couple of days.
We also can have strict QC checks in place because we're so small right now. We have the space to give each laptop a quality check, and because of our strict QC, we've only had two instances where laptops showed issues. But all Ripple laptops come with two years of warranty, so we fix issues for free should users face them within the warranty period. To control accidental user mistakes, all of our overclocking is done in-house and users can easily overclock their laptops with a single click. This way there is very little chance for mistakes from the user's side.
What does your after-sales service look like? Are your laptops user-upgradeable?
As a small startup company, our customer base is the biggest priority for us. Unlike bigger companies that are not in touch with their consumers anymore, we want to make our customers happy which is why we have a strong focus on after-sales service. We will fix your laptop if we can, and even if there are customers who've bent or scratched their laptops, we fix them for free because we understand that we have the expertise to fix our products that users don't. We have to implement a stress-free after-sales service because we believe in our community and want to provide them with the best service we can. And as a Nepali company, I believe that we're in a great space for this since international laptops don't come with warranties that can be availed here. We are a Nepali company and therefore we are responsible to our local buyers, and we don't take that responsibility lightly.
User-upgradability has been a problem since many new CPUs will demand a new CPU socket and chipsets which are all part of the motherboard. So, there was no point in making the laptops modular when you'd have to swap out the entire core of the laptop anyways. The Genos line has an AM4 socket, a desktop-class socket that is user-upgradable, but for the Artifact and Raze lines, this level of modularity was not possible although they do offer certain levels of upgradability like RAMs and SSDs. But despite our line of products, we also work with customers on custom laptops and assemble laptops with anything the user wants, which is not going to be cheap but provides users with the ability to spec out their laptops the way they want it to.
What plans do you have for the future of RippleDevice?
It is my understanding that if you can build laptops in Nepal, you can build anything. We want to finish our laptop orders for now and then bring back our Pandora-line of general-purpose laptops. We also see ourselves in the cellphone market, but primarily want to explore hardware for banks and hospitals. While we won't be moving away from customer electronics anytime soon, we do hope to fill the hardware gaps at all of these essential services.
---
---