Breaking the glass ceiling, one STEM class at a time
Since its formation in 2016, Women in STEM Nepal has trained more than 500 girls, teaching them the basics of coding, design thinking and robotics.

Students participate in a class organised by Women in STEM Nepal, an initiative that aims to lessen the gender gap in the field of science and technology. Photo Courtesy: Women in Stem Nepal
bookmark
Published at : August 26, 2020
Updated at : August 26, 2020 09:46
Kathmandu
In 2009, when Binita Shrestha started her physics and computer science classes in high school, she was surprised to find herself to be the only girl in her class. But she didn't make much of the situation and did not think that not having a female friend in the classroom would affect her much.
"But I lost my confidence and I would hardly interact in the classroom," says Shrestha. Because of a lack of female companions, she felt that she couldn't find a confidant, making her feel intimidated to put her views in the classroom, she says.
"I used to question and self-doubt myself, whether I made the right decision of studying computer science," she says.
However, regardless of her struggle, she decided to pursue Information Technology in her Bachelor's degree, where she met Pratiksha Pandey, a fellow student of her college, who was studying Electronic and Communication Engineering.
Pandey, too, was one among three girls studying engineering in high school, and the absence of women's participation had always bothered her too, she says.
"It wasn't like our [girl students] performance wasn't up to mark. We were equally innovative and were scoring good marks," says Pandey. "However the lack of female participation in my field always bugged me, as I understood that it wasn't because women couldn't fight in the competitive environment."
Both Shrestha and Pandey concluded with their experiences that it was societal expectations and gender stereotypes that were stopping women like them to study and make careers in the field of science, technology, engineering, maths (STEM).
"We found that girls were told again and again that STEM wasn't made for them, which discouraged them to even think about studying any STEM-related course," says Shrestha. "Likewise, there wasn't any visible role model in the field as well that aspiring girls could look up to."
And that's when Shrestha and Pandey decided to start Women in STEM Nepal (WiSTEM Nepal), an initiative through which they would fill the gender gap as well as address the root of the problem by educating as well as teaching young girls about science and technology.
Starting in 2016, the social enterprise, by collaborating with schools and various organisations, has been teaching young girls, between the ages of 10-25, computer-related courses along with creating an environment where they could aspire the girls to think of making a career in the STEM field.
While the training sessions and the workshops last as per the interest shown by the school, on average the enterprise tries to teach the STEM-related curriculum according to the syllabus of the textbook in a manner that school-going students can easily grasp, says Shrestha.
"From coding to design thinking and robotics, we try to teach the students how they can use STEM knowledge in real-life situations," says Pandey.
However, for young students, learning computer science can be tough, since they also have to study their regular school curriculum. And that's where the enterprise does things differently. They have added 'A' to the curriculum, turning STEM into STEAM, in which the A means art.
"We try to make sure that the curriculum we are teaching students are well-suited and are within their comfort zone. That's why we use a lot of graphics, toys, games, and hands-on techniques, through which the children can learn more about STEM," says Shrestha.
Until now, according to enterprise, they have trained more than 500 girls from around 11 schools both private and public in both rural and urban areas teaching them the basics of coding, programming language, design thinking, web page design, and robotics. Likewise, the enterprise has also collaborated in various projects with government and non-government organisations.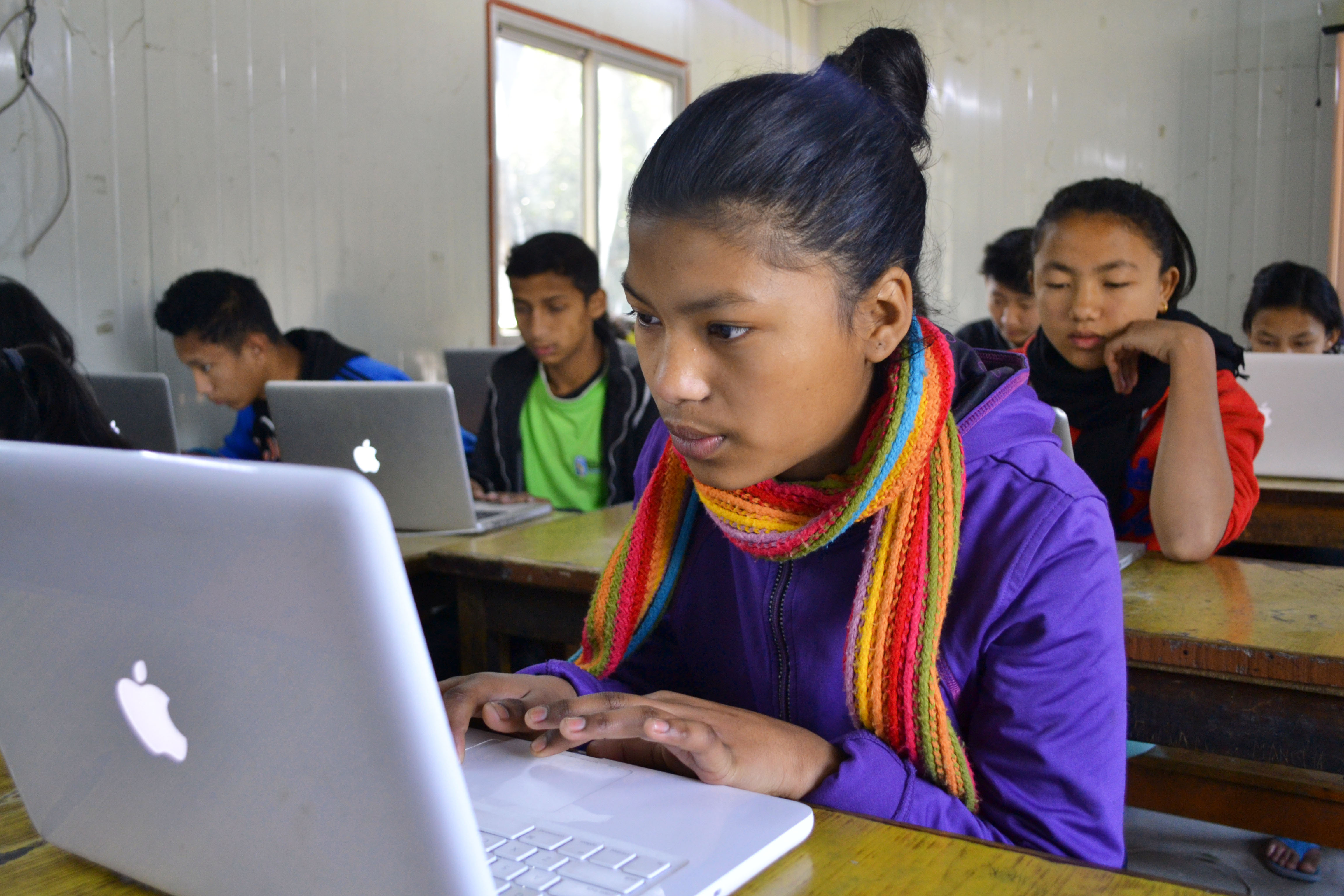 But despite their dedication to teach more students, according to Pandey, the schools in Nepal are still reluctant in making STEM-related courses available to students. "In the beginning, the schools weren't interested in collaborating, as they thought our presence and teachings weren't required since they had a computer teacher," says Pandey, who believes that people in Nepal still don't have adequate knowledge about the importance of STEM.
However, that wasn't the only problem they had to suffer. Since STEM is a highly male-dominated field, not only in Nepal but also worldwide, the schools which they contacted for collaboration highly distrusted and questioned their capabilities, they say.
"The reluctance of the school authorities was so visible that they wouldn't show interest in collaborating with us, as most of them were guided with the same thought that questioned the capabilities of women, thinking that STEM is a man's field," says Shrestha.
But for Shrestha and Pandey, the struggles and challenges didn't stop them from doing what they aspired to do—help the next generation to think that they are capable of joining STEM, a field which is filled with gender bias because of existing gender stereotypes.
And thus by building networks among schools, students, teachers as well as facilitating free workshops to teach the foundation of STEM as well as organising various sessions of career counseling, both Shrestha and Pandey kept trudging through.
And after four years of their hard work, this year in March, both Shrestha and Pandey were facilitated with Power of Radiance Award by Clé de Peau Beauté, receiving international recognition for their contribution to educating and encouraging young girls to pursue making a career in the STEM field.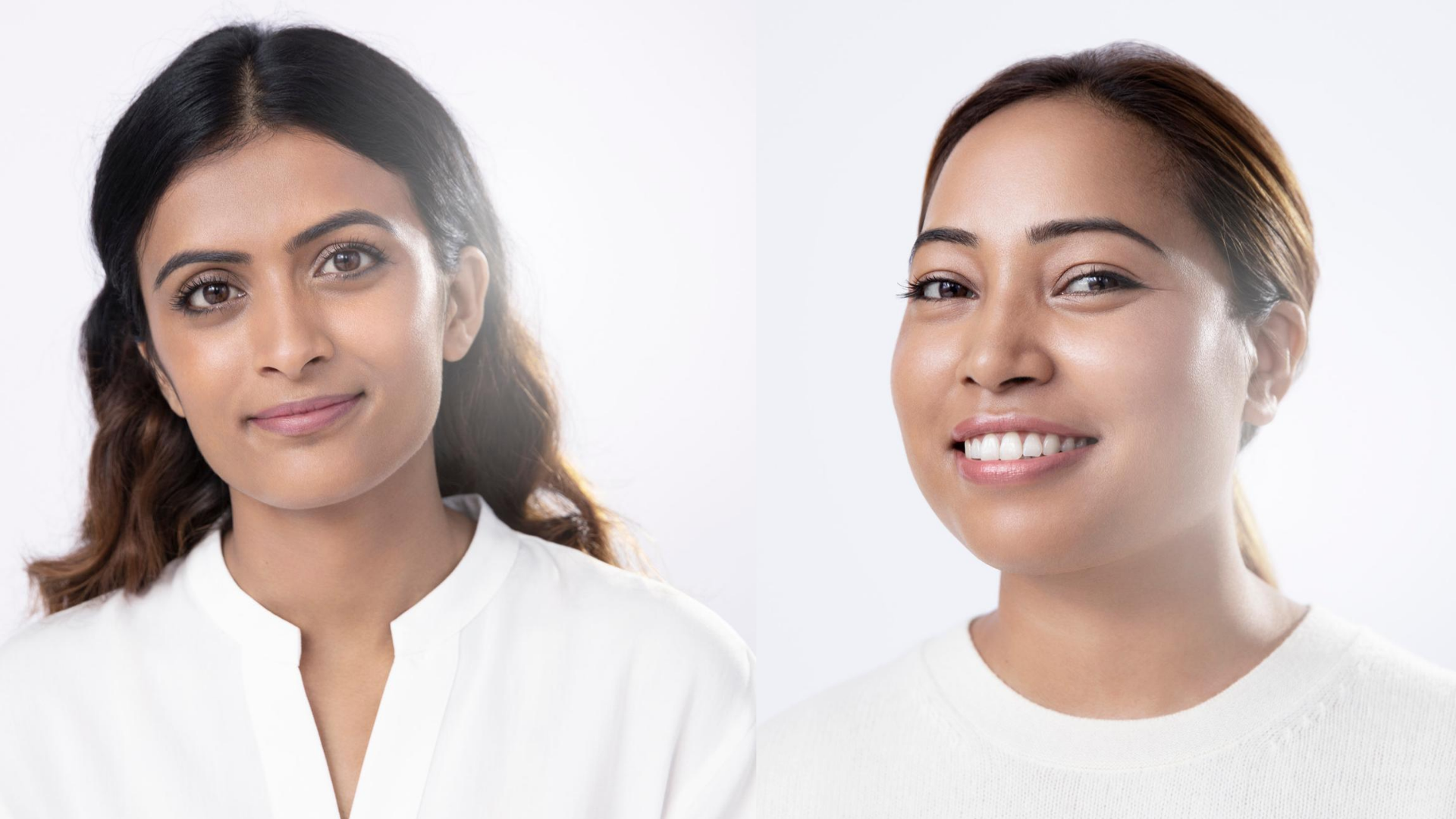 Pratiksha Pandey (left) and Binita Shrestha (right) were facilitated with the Power of Radiance Award by Clé de Peau Beauté in March, this year. Photo Credit: Clé de Peau Beauté
"Winning the award was inspiring, as we felt that our work and advocacy was getting recognised. Similarly the feeling that our story could inspire more people gave us new energy," says Pandey, who's also leading a separate initiative called, 'Smart Cheli' which focuses on diversifying STEM-related workshops in public schools.
Because of the ongoing pandemic, like any other social enterprise, the organisation hasn't been able to carry out their projects effectively. However, according to Shrestha, now they are focusing more on research, creating more learning resources which they can apply later as well as put in the public domain, giving wider access to interested stakeholders.
"We are also now planning on how we can reshape our educational system by digitising it as well as creating new learning strategies that can improve as well as integrate advanced approaches of education," says Shrestha, who plans to diversify the WiSTEM Nepal initiative addressing the gender gap along with improving the educational system of the country.
At present, the enterprise is also involved in Women Entrepreneurship Data Nepal Project, an initiative in which they are working with two other enterprises, to create a database of businesses led by women so that more upcoming women entrepreneurs can use the data to make administrative decisions in their business.
"There is a lack of data-driven evidence of Nepali businesses led by women, due to which many upcoming women entrepreneurs are compelled to work on assumption. Likewise, the lack of data also fosters the reluctance of policymakers to make the business policies gender-friendly, as they always need to back up the policies with the evidence," says Shrestha. "That's why we are leading this campaign, so the available data can help future entrepreneurs."
However regardless of their other projects, the main aim of the initiative, they say, is to encourage more women to break the glass ceiling by taking STEM-related jobs which will help them break the current foundation which still caters to the needs of men.
"Most innovations are created with a motive of solving men's problems, as there is a wide gender gap due to which male's perspective and experiences take centre stage in creation," says Shrestha. "That's why we want to inspire and encourage more women who are interested in making a career in STEM, so they can fill the gap of women's point of view in the innovation of technologies," she says.
---
---