When science and art meet to create designs
Kushal Pokharel is looking to redefine art and its medium with the help of the software he has built.

The sound art of Hindu mantra 'Om Namah Shivaya' created through Eclipse App. Photo Courtesy: Eclipse Labs
bookmark
Published at : January 7, 2020
Kathmandu
When we think about art, we usually envision the paint and canvas. But Kushal Pokharel uses technology to make art. With the help of software he created, which he has named Symbiosis, he generates patterns from a number of references he curates. He then customises and creates hundreds of different patterns or artforms.
"The designs are created by the software. It's basic programming. But I use different apps and software to create the design," says Pokharel. "I like to call it example based installation art."
In order to train the software to create a design, he has curated over 100,000 designs and patterns, which has given him a general idea of whether the design is good or bad.
Take the example of two colours—red and yellow. The software creates a structure where the colours are mixed with one another to create abstract art. Some make sense, some don't. Pokharel says he has made around 1,500 designs manually in the past year and is working on his software to do the same.
"I want to have at least 100,000 designs so that when a design opportunity comes, I can sell it and the buyer will have plenty of options to choose from," he says.
But like his software, the idea for pursuing this has also evolved from his previous attempts. In 2015, he was a part of a team that pitched the idea of creating art by using sound through a mobile application. His team had named it Eclipse App, but it didn't get to the next round at Ncell App Camp Season 2. The rejection hit the team hard. Many of his team members decided to stop pursuing it further.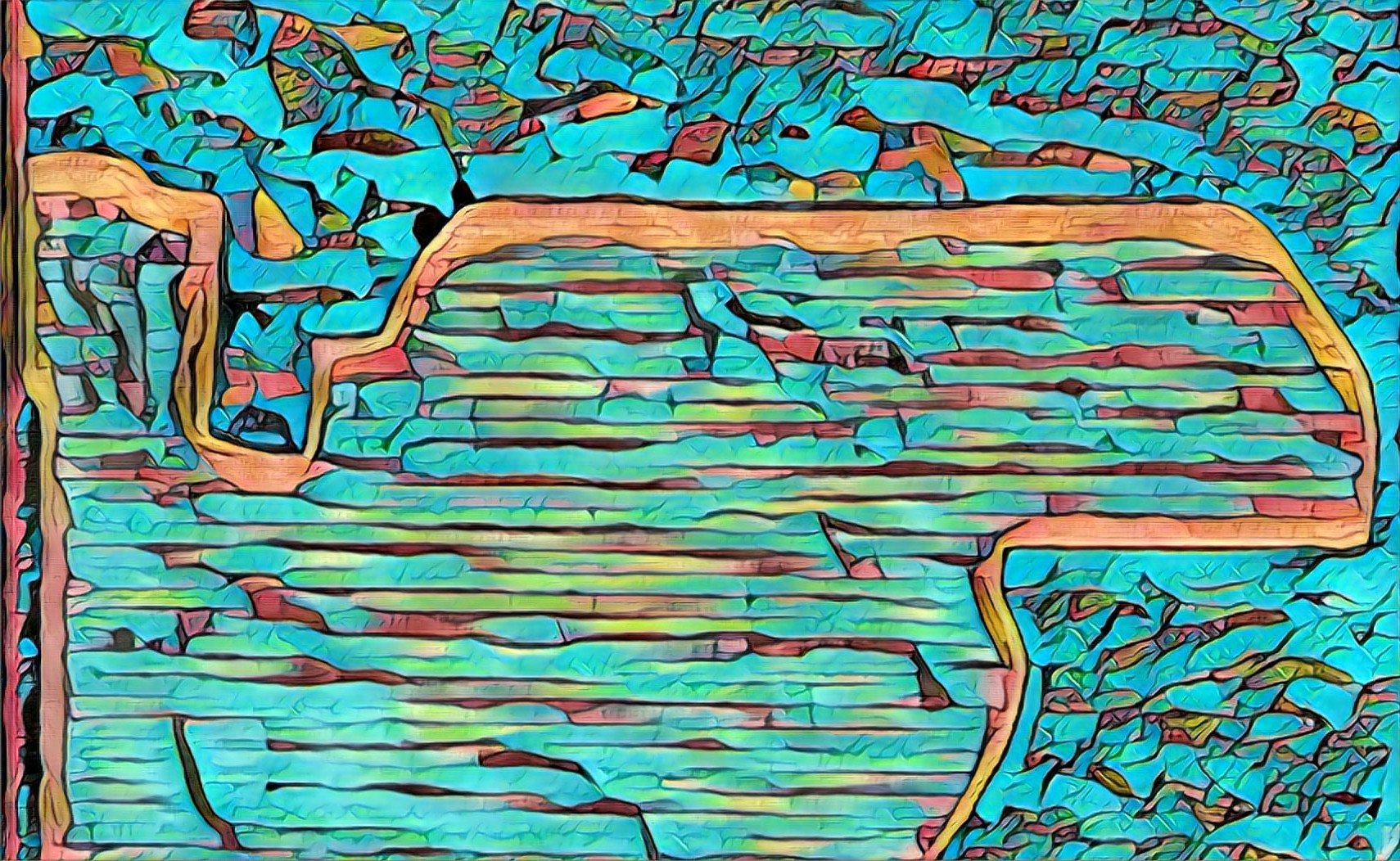 Pattern for a rug created by Pokharel through his software Symbiosis. Photo Courtesy: Eclipse Labs
But that didn't deter the 25-year-old from continuing. Five years on, Pokharel has completed his Electronics and Communication Engineering from Tribhuvan University, and has gone ahead with the project on his own. He has established Eclipse Labs, a company which visualises sound and creates art.
"The prototype has come a long way. I still feel it isn't the finished product, but the headway I've been able to make in the past few years has been incredible," says Pokharel.
After graduating in early 2018, Pokharel formed his company with one vision—to transform sounds into artistic images. The concept was simple—create art using sound through a systematic application of computer-based algorithms. He says the initial plan was to convert sound wavelengths into visual images by applying specific methods.
The first thing he did was record names of people, process it into art, frame it and give it to the interested customers. But that didn't work out well, he says. While Pokharel did sell a few designs for as much as $20, many wanted the application for free.
"Many Nepalis are used to free mobile applications," he says. "So, I get why they wanted it for free. But it wasn't practical for us."
After failing to sustain through just one design idea, Pokharel then started thinking about what he could do differently.
"The idea of exploring visual art where I use linear patterns to create art and designs is what created Symbiosis," he says. While these things are also being tested abroad, the software he is designing is very new to Nepal.
Pokharel says there are two ways to create art via software. One is by hardcore programming using math, and the other is by creating patterns via data. He chose the latter.
"I use technology, but I try to figure out the process because if I don't, my software and my AI will not be able to figure out how to recreate it," he says.
He is also planning to do an exhibition to showcase his art and call it '1502', which he says is inspired by Leonardo Da Vinci's Ichnographic Plan for the City of Imola in 1502. He says Da Vinci's ichnographic drawing technique provides a unique perspective on the landscape and beauty in the natural design. The painting exhibition series will delve into reviving this perspective to inspire future creative endeavours from fashion design, rug design to architectural or interior design.
"There is a pattern of copying and modifying the source in a repeated pattern. In other words, given we have a source system that has enough variety—creative outputs can be generated through it," he says. "1502 follows similar philosophy—if professionals copy and take reference from a source, 1502 takes one of those sources to present the creative potential in copying. On the broader view, this process of taking a simple reference from a source and modifying them to generate creative outputs implies the future of automated creativity."
He says he is still working on designs and plans to showcase the artwork around April.
According to Pokharel, 1502 also showcases the true impact of form and new media to enable understanding of design from the automated creation process.
When you ask Pokharel why he is focusing on this form of art he says that it is because it will last for a long time.
"When we see human history, we know that people used to draw on walls and stones. But that didn't last. Papers last but we need to preserve it," says Pokharel. "But this can be stored anywhere. It's easy. It's still art but the medium is changing."
---
---