Nepali lawmakers tend to shun study and research—with rare exceptions
Shrestha and Thapa like to prepare themselves thoroughly with the help of teams in order to carry out their duties.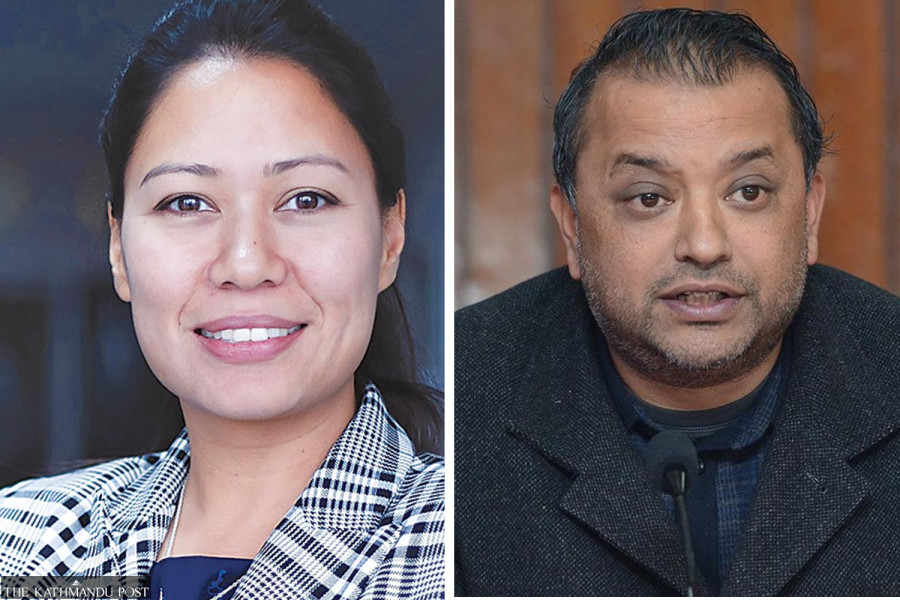 Sumana Shrestha (left) and Gagan Thapa. Post File Photo
bookmark
Published at : February 20, 2023
Updated at : February 20, 2023 07:31
Kathmandu
The House of Representatives on February 15 endorsed the proposal to consider the bill to revise the Food Purity and Quality Act, allowing lawmakers to register amendments to it in three days. The very next day, Sumana Shrestha, a member of the House, with the support from the members of her secretariat created a virtual platform—Google Docs—seeking feedback. She had taken to social media to reach out to the public.

Her team received over four dozen suggestions, which Shrestha incorporated in the amendments submitted to the Parliament Secretariat. She has registered a 34-point amendment to the bill.
Even before the bill was presented in the House, members of Shrestha's secretariat had undertaken a study of their own on food purity and quality. "We studied different aspects of the bill so that we could register appropriate amendments," Shrestha told the Post. The research outcome and the public feedback were the basis of her amendment to the Act.
Not only in studying the bills, Shrestha's team supports her with research in collecting information and data whenever she makes comments and takes part in deliberations in the lower house. This is why her presentations are effective and her efforts are being appreciated in different quarters.
"It is not possible for an individual lawmaker to have information on every issue that needs to be discussed in the House. My background as a researcher has helped me find needed information myself while my team is available for more study as and when I need it," said Shrestha.
The Rastriya Swatantra Party lawmaker has a secretariat comprising five-six people. Every lawmaker gets a personal secretary paid by the government for their support including in research. Shrestha, however, has also enlisted volunteers in her secretariat. Her experience suggests that if individual lawmakers want more support for their effective functioning, they can get it.
However, it is uncommon for a Nepali parliamentarian to set up a secretariat and have a research team for support. Shrestha and Nepali Congress lawmaker Gagan Thapa are perhaps the only exceptions.
Thapa had set up a secretariat with a team of supporters and researchers after the 2008 Constituent Assembly election. Pratap Poudel, an old aide to Thapa, said there are five layers of supporters to help Thapa, most of whom are volunteers.
The first layer helps him in day-to-day affairs while the second layer handles issues from his constituency. Similarly, a third layer helps him with party activities. (Thapa is Nepali Congress general secretary.)
The fourth layer helps him in parliamentary affairs, conducting research on issues related to bills presented in the House, collecting information and facts for Thapa's address before the House.
Lastly, the fifth layer is composed of experts from diverse fields who offer suggestions and feedback from respective fields. "A leader like Thapa who has so many responsibilities related to his party, House and constituency cannot be expected to deal with them all on his own. He needs support in every field in order to perform effectively," said Poudel. "Thapa himself prepared the teams from diverse fields as his support system."
A research paper by Khim Lal Devkota, a National Assembly member and expert on federal affairs, published in May last year points out Nepali lawmakers' lack of study and research habits. According to the paper 'Law-Making Processes in Federal Nepal'—published in the journal of International Center for Public Policy under Andrew Young School of Policy Studies in Georgia State University, United States—the lawmakers seldom give due attention in studying bills, and as such their presentation in the parliament suffers.
"The study and research habits of our lawmakers are very weak," said Devkota. "It is difficult to give informed comments and suggest proper amendments to bills without proper research and study." He says the fact that the library inside the premises of the parliament is mostly empty is proof of the weak study habit of Nepali lawmakers.
The government pays for a personal secretary of lawmakers at par with an officer-level staff. However, most lawmakers tend to hire their relatives or close ones instead of the professionals as their personal secretary. "A personal secretary is provided so that the lawmakers have a support system to be more effective but the motive has not been served," said an official at the parliament secretariat.
The lawmakers say while it is the responsibility of individual lawmakers to equip themselves well, the parliament secretariat also needs to create a proper research environment. The library, for instance, is not well-equipped in terms of literature. "Also, the archives of the House decisions are not well-managed," said Shrestha. "We are preparing to write to the parliament secretariat to revamp the library."
Experts on parliamentary affairs say both the individual lawmakers as well as the parliament secretariat need to play their part. There's a research department in the secretariat to support lawmakers in research and fact-finding. The problem is that the department is composed of parliament staff, not experts, says Som Bahadur Thapa, a former secretary at the secretariat.
"However, the lawmakers themselves are not using available resources," he told the Post. "What kind of study and research can you expect from ill-qualified family members and relatives who get appointed as personal secretaries of lawmakers?"
---
---