Congress set to see four-way contest for party top post
Old equations break down after rapid change in party dynamics on nomination day as the grand old party prepares to vote to elect new leadership for next four years.

Nepali Congress representatives have gathered in the Capital from around the country. Prakash Chandra Timilsena/TKP
bookmark
Published at : December 12, 2021
Updated at : December 12, 2021 14:38
Kathmandu
The Nepali Congress is set to see a four-way contest for the party president post, with incumbent Sher Bahadur Deuba, Bimalendra Nidhi, Prakash Man Singh and Shekhar Koirala filing their nominations on Saturday evening.
Party internal dynamics rapidly changed on the nomination day, as some leaders switched sides, just as Ram Chandra Poudel, a senior party leader and an aspirant for the party president, decided to pull out of the race.
Kalyan Kumar Gurung from Mahottari and Yubraj Neupane from Gorkha too have filed their candidacies for the post of party president, but insiders say the fight will be between Deuba, Nidhi, Koirala and Singh.
Deuba, also the prime minister, who is eyeing a second term, has fielded Bijay Kumar Gachhadar and Purna Bahadur Khadka for the two vice president posts. Similarly, after a deal with the Krishna Prasad Sitaula camp on Friday night, Pradip Paudel is contesting for the general secretary post, along with Prakash Sharan Mahat, from the Deuba group.
After Paudel managed to find his space in the Deuba camp, Bishwa Prakash Sharma, an aspirant for the general secretary post, joined hands with Prakash Man Singh. Another aspirant for the post, Balkrishna Khand, who is currently home minister in the coalition government, is not running for any office bearer position. Similarly, Gyanendra Bahadur Karki, who is also the incumbent information and communication minister, and NP Saud also were aspirants for the general secretary posts. Khand, Karki and Saud have filed their nominations for Central Working Committee (CWC) members.
"I have strong reservations about the way the team was formed [by Deuba]. I am really hurt by Deuba's actions," Saud told the Post. "Unethical compromises have been made. But I decided not to change the camp. Had I done that, I would have been blamed. I am fighting for a post in the CWC now."
As nominations were being filed, senior party leader Poudel announced to quit the race, largely because of Koirala and Singh's refusal to budge from their stance. A series of meetings held by the Poudel camp over the last few days failed to yield any result.
"In view of the evolving situation in the party, I have decided to stay away from the 14th general convention competition," Poudel, 77, said in a statement on Saturday afternoon.
Poudel told mediapersons that despite his repeated requests, both Shekhar and Prakash refused to stand down.
"I had told both of them clearly that my full support will be there if we have just one candidate," he said. "But they refused. So I decided not to remain in such politics."
After Poudel withdrew his claim and did not announce who he was going to support, the camp led by him split into two—one led by Koirala and the other by Singh.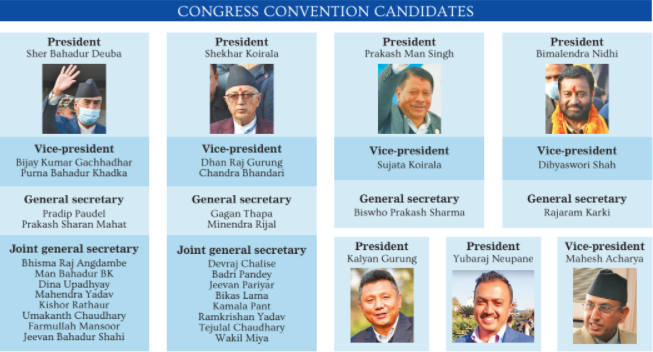 Gagan Thapa, a general secretary candidate from the Koirala group, told the Post that the party must regard Poudel highly.
"I decided to file my candidacy from the Koirala panel because the Nepali Congress needs to undergo a huge transformation now," said Thapa, in an oblique reference that Deuba's reign must end.
From the Deuba camp, Bhisma Raj Angdambe (Janajati), Man Bahadur BK (Dalit), Dina Upadhyay (Woman), Mahendra Yadav (Madhesi), Kishor Singh Rathaur (Khas Arya), Umakant Chaudhary (Tharu), Farmullah Mansoor (Muslim) and Jeevan Bahadur Shahi (Backward region) are running for joint general secretary posts.
Mahesh Acharya, a former finance minister, had announced to contest for the party vice president post from the Poudel-Koirala-Singh camp. But he filed his nomination as an independent candidate after the group broke down and Koirala and Singh formed their own panels.
Dhan Raj Gurung and Chandra Bhandari are contesting for two vice president posts from the Koirala camp, while Thapa and Minendra Rijal are vying for general secretary posts.
Devraj Chalise (Khas Arya), Badri Pandey (Backward region), Jeevan Pariyar (Dalit), Bikas Lama (Janajati), Kamala Pant (Woman), Ramkrishna Yadav (Madhesi), Tejulal Chaudhary (Tharu) and Shekh Wakil (Muslim) are joint general secretary candidates from the Koirala group.
As many as 4,743 delegates are in Kathmandu to elect one party president, two vice presidents, as many general secretaries and eight joint general secretaries as well as 134 Central Working Committee (CWC) members. As many as 33 members will be nominated by the party president at the recommendation of the CWC. The party president will nominate one treasurer from among the elected CWC members.
Insiders and observers say since there are too many candidates for the party president post, Deuba may win in the first round, as votes are likely to be divided among Nidhi, Koirala and Singh.
During the 13th general convention, there were three candidates for the top post—Deuba, Poudel and Sitaula. After none could secure 51 percent votes, there was a run-off, and Deuba beat Poudel to register a win after Sitaula decided to support him.
In the Nepali Congress, to win the party president, a candidate must secure more than 50 percent of the total votes cast. For other positions, whoever secures the most votes wins.
Uddhab Pyakurel, an assistant professor of political sociology at Kathmandu University, said Deuba may emerge victorious as the anti-establishment group is divided.
According to him, the Congress, however, still remains a traditional party where leaders want to be elected on their face value rather than their policies, programmes and principles.
"The aspirants for top posts should have oriented the younger generation with their plans and policies, but they appeared to be bent on winning the election, no matter how," Pyakurel told the Post. "Nonetheless, it's good to see there are some young faces fighting for some key posts."
Representation of major clusters of the society at office bearers and in the Central Working Committee is also a positive step, he said.
For 35 CWC members to be elected under the open category, 109 have filed nominations, according to the Central Election Committee of the party.
Likewise, for 21 posts from seven provinces (three each from a province), 64 individuals have filed nominations. For 54 different seats allotted for different clusters, 283 candidates have entered the fray. Clusterwise, there are 14 candidates from among Tharus, 32 Madhesis, 87 from Aadibasi/Janajati groups, 93 from Khas Arya cluster, 39 Dalits, 16 Muslims, 16 people with disabilities, 6 minorities and 2 from backward regions. For nine seats under the open woman category, there are 31 contestants.
Thapa, the only leader who has come up with a document outlining his vision for the party and the country, had contested the last election also for the general secretary post, but from the Sitaula camp. Thapa was pitted against Shashank Koirala and Arjun Narsingh KC, his father in-law. He lost to Shashank.
Shashank himself was eyeing the top party post this time from the Poudel camp, but he later withdrew from the race and settled for a party CWC member.
If Deuba, 75, manages to win, he will be the first non-Koirala in the Congress to lead the party for two stints. In the past, Matrika Prasad Koirala, BP Koirala and Girija Prasad Koirala have led the party for more than one term.
Of the four major candidates for the party president, Nidhi, 65, Singh, 65, and Shekhar Koirala, 71, have family legacies.
Koirala is the nephew of the late BP Koirala, the founding leader of the party and first democratically elected prime minister of Nepal, while Nidhi and Singh are sons of Congress stalwarts Mahendra Naryayan Nidhi and Ganesh Man Singh respectively.
Both Singh and Nidhi have served as party vice presidents in the past.
Singh has fielded Sujata Koirala for the post of party vice president. From Nidhi's group, Dibyashwori Shah is contesting for the party vice president and Rajaram Karki for the general secretary posts.
According to the Central Election Committee of the party, six leaders have filed candidacies for one party president post, seven for two vice president posts, six for two general secretary posts and 20 are contesting for eight joint general secretary posts.
Party insiders say that due to rapid changes in internal dynamics, chances of cross-voting are high, which could lead to mixed results.
A four-way fight is likely for the two vice president posts as well between Chandra Bhandari, Dhanraj Gurung, Purna Bahadur Khadka and Bijay Kumar Gachhadar.
As far as the general secretary posts are concerned, Thapa is seen as the front-runner. There could be a tough competition between Rijal, Poudel and Mahat, according to leaders from both camps.
"We are seeing politics of negation in the Nepali Congress," said Hari Sharma, a political commentator. "There should be open competition and transparent politics. But the Nepali Congress this time has started politics of negation where leaders who do not have a family legacy failed to find space."
According to Sharma, some so-called king-makers attempted to capture the party.
"Some leaders with a family legacy in the party managed to get space by hook or by crook, and this is not a good practice," Sharma.
Sharma said he expected the election for party president to go to the second round.
"And a mixed result is likely," said Sharma. "Deuba may face a stiff challenge because he only nurtured his own camp. And the anti-incumbency factor also does work."
---
---