Conflict set to escalate in ruling party, as Dahal once again ups the ante against Oli
After a brief lull, the party has returned to where it was a few weeks ago and the battle lines are drawn, say insiders.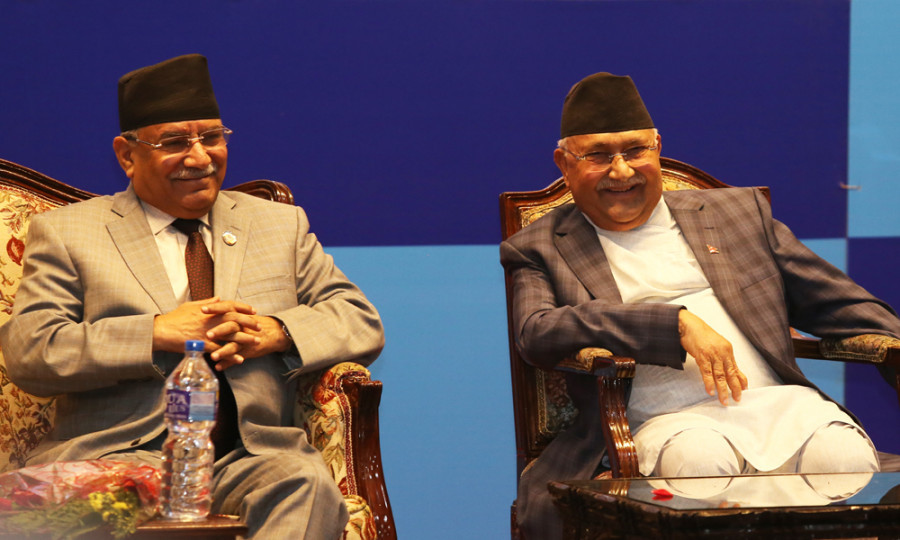 Post file photo
bookmark
Published at : July 27, 2020
Updated at : July 28, 2020 07:38
Kathmandu
After coming quite close to an implosion, there was some semblance of peace in the ruling Nepal Communist Party, as two chairs KP Sharma Oli and Pushpa Kamal Dahal were in negotiations to find a middle path to save the party unity.
But Dahal once again started firing a salvo in the battle for dominance in the party, as Oli stepped up his game.
As the party has scheduled the Standing Committee meeting on Tuesday, leaders say the conflict is set to escalate once again and that it might turn ugly this time.
According to a leader, the Friday's meeting between Oli and Dahal did not go very well, as the former hardened his position, telling the latter: "do whatever you can do."
Immediately after the meeting, Dahal was speaking at a function organised to commemorate the 42nd death anniversary of Pushpa Lal Shrestha, the founder of the Nepal Communist Party.
"The party is in a crisis," said Dahal at the function. "And this is all because of Oli." Dahal even alleged that Oli had registered a party–with the name CPN-UML–at the Election Commission. "That shows what his intent is," said Dahal.
Leaders say battle lines have been (re)drawn between Oli and Dahal.
A Standing Committee member said the party is back to where it was a few weeks ago–and this time Oli will be "forced" to resign either as party chair or prime minister.
"This is a good time to take things forward–and in the right direction," Matrika Yadav, a Standing Committee member, told the Post. "Dahal is now clear about his move–Oli should resign from one post."
The Standing Committee meeting that began on June 24 has been postponed for at least eight times since July 2 after Oli suddenly decided to prorogue the House session, signalling that he could even go to the extent of splitting the party. As many as 30 out of 44 Standing Committee members had demanded Oli's resignation both as party chair and prime minister. Until then, it looked like Dahal, backed by senior leaders Madhav Kumar Nepal and Jhala Nath Khanal, was not going to step back until Oli resigned.
But Oli lured Dahal into talking and made some offers, including sole party chairmanship for him through an early general convention, according to leaders.
Dahal rose to the bait but only to offend his allies–Nepal and Khanal.
A leader close to Dahal said that it took awhile for the former Maoist leader to realise that Oli's offer came with some strings attached–that he had to accept People's Multiparty Democracy as the party's ideology.
Faced with criticism from his own party members and Nepal and Khanal, Dahal then scrambled to clarify that he had not agreed to any deal with Oli.
While Oli hardened his position, Dahal sensed that he would not only lose his newfound allies like Nepal and Khanal but also his long-time comrades from the war days.
According to insiders, some of the former Maoist leaders who have stood by Dahal for years too have defected to the Oli camp.
Minister for Industry, Commerce and Supplies Lekhraj Bhatta, a long-time Dahal loyalist, has not only refrained from joining the meetings called by Dahal but has also made public statements clearly in favour of Oli.
Some Standing Committee members like Mani Thapa and Top Bahadur Rayamajhi have of late been saying that Oli does not need to resign–neither prime minister nor as party chair.
The Dahal faction, according to insiders, is now preparing to launch a fresh attack on Oli, starting from his bad governance during the time of the pandemic.
"The long-stalled Standing Committee meeting will be held on Tuesday and it will hold agenda-wise discussion," said Yadav. "There are at least seven issues high on agenda including government performance, assessing party activities, Covid-19, the Millennium Challenge Corporation Nepal Compact and border issues [with India]."
According to Yadav, as discussions move forward on the agenda, the Dahal-Nepal faction is preparing to demand Oli's resignation and this time as party chair, as he has to leave at least one post.
Leaders from the Dahal faction on Monday met twice to discuss Tuesday's meeting and all of them were for holding the meeting at any cost, even if Oli refuses to attend, said a Standing Committee member.
"Party leaders and cadres have started to question us, as the Standing Committee has been postponed not once or twice but at least half a dozen times," said Raghuji Pant, a Standing Committee member. "So we have told Dahal not to postpone the meeting anymore. The party–or a party committee for that matter–cannot be held hostage because of an individual."
A leader close to Dahal, who was involved in forging a compromise between the two chairs, said the Dahal-Nepal faction has had enough and that this time Oli will be asked to resign as party chair.
Leaders from the Oli faction say Oli is not reluctant per se on relinquishing the post of party chairman, as he wants to do it through the general convention.
Subash Nembang, a Standing Committee member and Oli's confidante, said that the Standing Committee meeting has been scheduled for 11am Tuesday.
"The meeting will take place if the two chairs do not decide otherwise on Tuesday morning," Nembang told the Post. "I think the leaders have not dropped the general convention proposal yet."
---
---