New Indian ambassador faces rising geopolitical rivalry among India, China and the US, along with border dispute, EPG
At a time when geopolitical interests are rising over Nepal, Vinay Mohan Kwatra will need to engage India's soft power to showcase Modi's neighbourhood first policy.

The new Indian ambassador presents his credentials to President Bidya Devi Bhandari on Thursday. Photo Courtesy: Embassy of India
bookmark
Published at : March 6, 2020
Updated at : March 6, 2020 20:37
Kathmandu
As soon Vinay Mohan Kwatra, the new Indian ambassador to Nepal, presented his credentials to President Bidya Devi Bhandari on Thursday, he embarked on a marathon meeting session, hobnobbing with half a dozen political leaders in 24 hours.

Kwatra's actions quickly drew reactions on social media, with some commending his high energy and others comparing him to Rakesh Sood, a former Indian ambassador who was known for his active diplomatic activities in Kathmandu.
Kwatra's calls involved Vice President Nanda Bahadur Pun, Chairman of the National Assembly Ganesh Timilsina, Deputy Prime Minister and Minister for Defence Ishwar Pokhrel, former prime minister and Nepali Congress President Sher Bahadur Deuba, Foreign Minister Pradeep Gyawali, senior Nepal Communist Party leader Madhav Kumar Nepal, and Energy Minister Barsha Man Pun.
Kwatra's spree of meetings portends that he will be an active interlocutor during his time in Kathmandu, especially at a time when China and the United States have both increased their engagement and visibility, say former diplomats and party leaders.
It is a sign of New Delhi's concern that India has sent a seasoned diplomat, who has worked with Indian Prime Minister Narendra Modi and is just coming off his term in Paris, France, they say.
But Kwatra will face an uphill challenge in Kathmandu, especially since there are a number of unresolved issues with India, including Kalapani.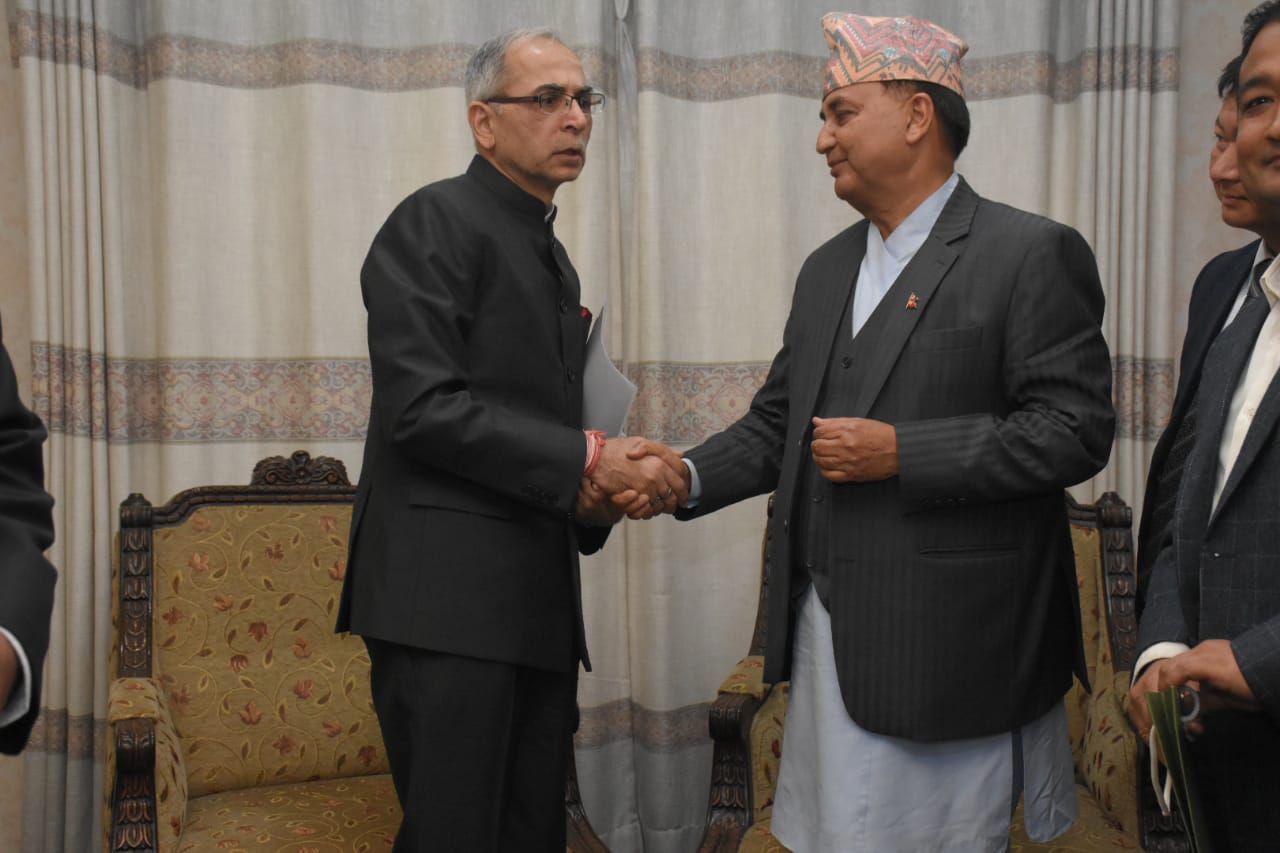 Ambassador Vinay Mohan Kwatra (left) and Deputy Prime Minister and Minister for Defence Ishwar Pokhrel. Photo Courtesy: Embassy of India
Narayan Khadka, a senior Nepali Congress leader and shadow foreign minister, said that India has of late maintained a low profile but is likely to come forward aggressively if it feels its interests are at stake.
"They [Indians] are quietly observing China and remaining silent due to the boundary row as it does not seem like they are not adopting any aggressive stance," said Khadka. "Another reason could be that the Indian political leadership is occupied with its own internal issues so they are not too focused on Nepal."
Kwatra has a number of issues to deal with in Kathmandu, from implementing India's 'neighbourhood first' policy to executing Indian projects and expanding New Delhi's soft power. He will also have several opportunities to deliver because of long-standing bilateral ties with Nepal, said foreign policy analysts.
Manjeev Singh Puri, the former Indian ambassador, had pushed a number of projects, like the petroleum pipeline, postal road, integrated border check posts, and energy transmission lines. The new ambassador should push for completing the India-funded projects that remain as it is these projects that will ultimately cement ties, said Durgesh Man Singh, former Nepali ambassador to India.
"At the end of the day, people count on what's happening on the ground, so completing India-funded projects will add more energy to bilateral ties," said Singh. "Second, if the boundary dispute with India can be sorted out, it will be a big achievement." To this end, we should continue with high-level exchanges, dialogue and understanding at the political and diplomatic levels."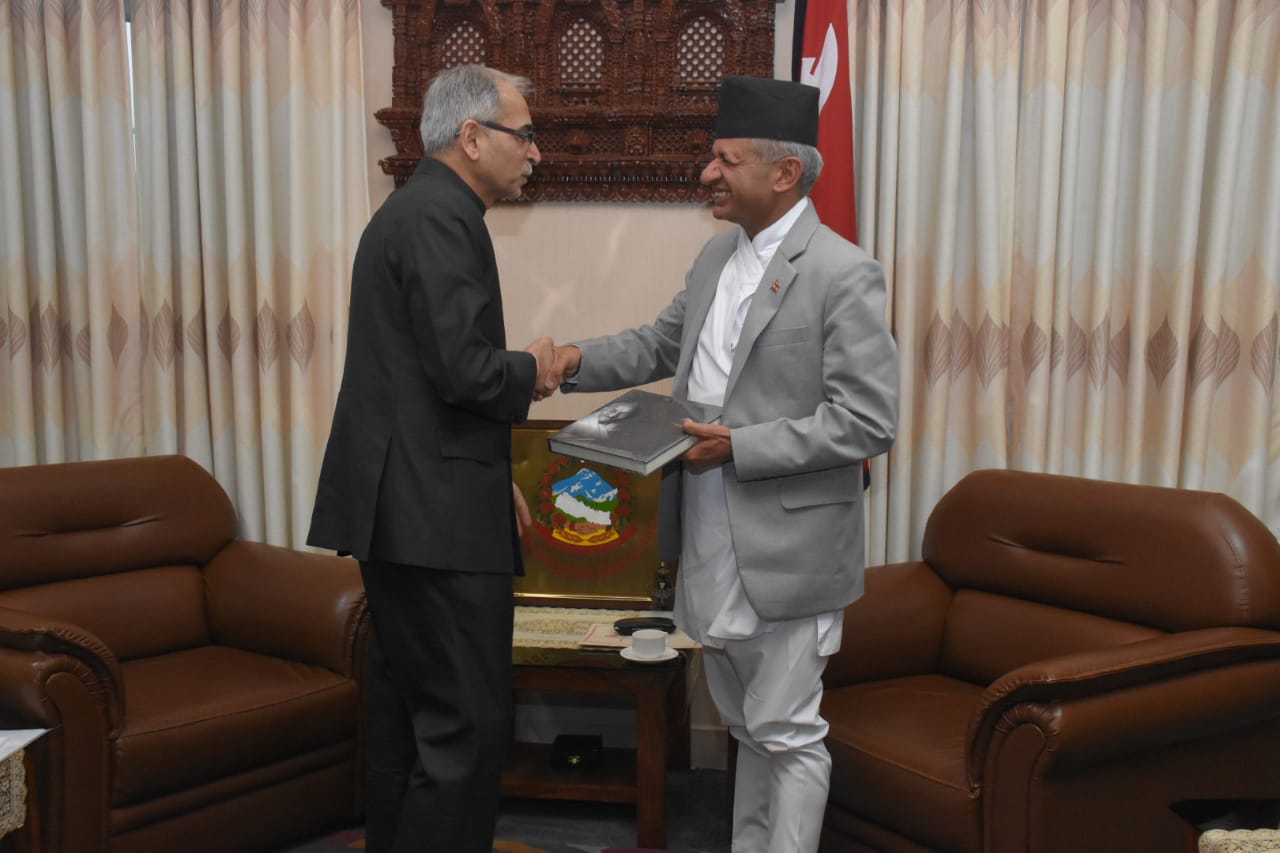 Ambassador Vinay Mohan Kwatra and Foreign Minister Pradeep Gyawali. Photo Courtesy: Embassy of India
In his meeting with Energy Minister Pun, Kwatra had commented on positive developments in Nepal's energy sector, especially since the formation of the KP Sharma Oli government.
"In the fields of energy, water resources and irrigation, we have made several good progress since the formation of the Oli government," Kwatra said while expressing satisfaction over progress in the Arun III hydroelectric project and cross-border transmission lines.
However, the major issue that Kwatra will need to address remains the boundary dispute over Kalapani. In November, a new Indian political map, released to mark the split of Jammu and Kashmir after the Narendra Modi government's decision to repeal the state's autonomous status, had placed Kalapani, which Nepal claims, within Indian borders. This had led to a massive uproar in Nepal, with many calling on the government to take this issue up stridently with the Indian establishment.
On November 20, the Oli government dispatched a diplomatic note protesting Kalapani's placement. The Indian government replied a month later, merely expressing its readiness to sit for a meeting.
According to Nihar Nayak, a research fellow at the Institute of Defense Analysis and Studies in New Delhi, Kwatra's primary challenges include the boundary issue and the Eminent Persons' Group report, while his opportunities are that he can pursue India's neighbourhood first policy and showcase that Nepal is India's priority.
"Showcasing India's soft power towards its smaller neighbours and its willingness to work together are opportunities for the new Indian envoy in Kathmandu," he said. "Another issue that is awaiting execution is expediting the Bangladesh, Bhutan, India, Nepal framework, where he could play a crucial role."
The Bangladesh-Bhutan-India-Nepal framework, or BBIN, is a sub-regional concept within the framework of SAARC focusing on connectivity-related projects among the four nations.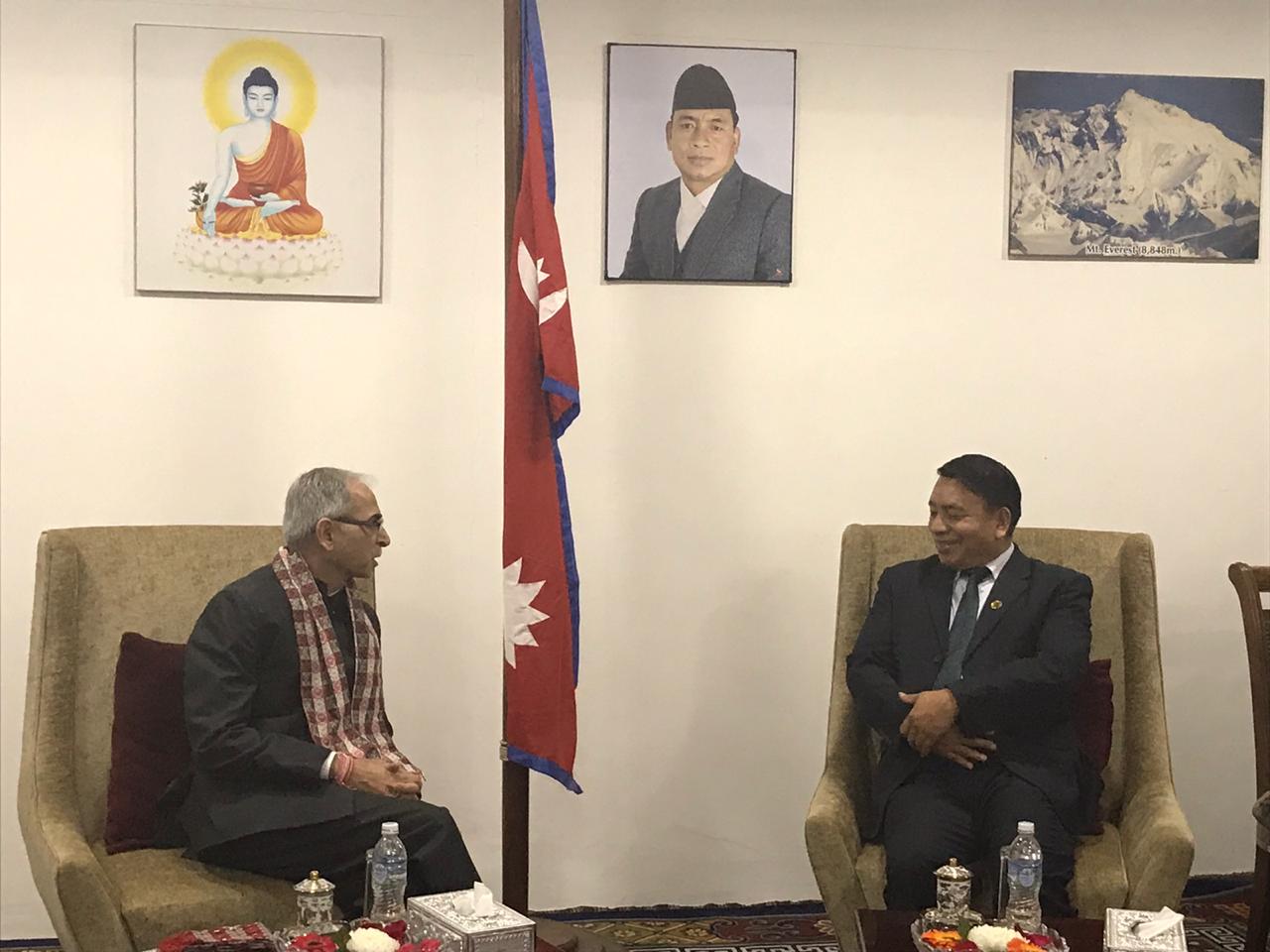 Ambassador Vinay Mohan Kwatra and Vice President Nanda Bahadur Pun. Photo Courtesy: Embassy of India
However, much remains to be seen regarding the new ambassador, as he has only met a few political leaders. A senior Nepali politician who met with Kwatra told the Post that since he has only been paying courtesy calls, no serious issues have been discussed yet. It will take a few rounds of meetings to know how exactly Kwatra wants to advance bilateral ties and his way of functioning.
According to Bishnu Rijal, deputy chief of the International Department of the ruling Nepal Communist Party (NCP), Kwatra was soft-spoken and used very polished language in his meeting with Madhav Nepal.
"He looked very calm but since it was the first meeting, we mainly discussed issues related to strengthening Nepal-India ties," said Rijal.
In New Delhi's political circles, Kwatra was always seen to be the first choice of the Bharatiya Janata Party for the Nepal assignment, said a Nepali diplomat in the Indian capital.
"Kwatra was seen as someone who will be able to handle crucial issues, including the rising geopolitical competition among China, India and the United States over Nepal," he said.
Kwatra, who brings 32 years of experience in the Indian Foreign Service, first served in Geneva. Since then, he has handled numerous portfolios across the world, including South Africa, Washington and China. He worked at the Indian Prime Minister's Office from 2015 to 2017 before taking up the assignment in France. He is a 1988 graduate of the Indian Foreign Service with a master's in science and a diploma in international relations.
---
---