PM Oli to undergo second kidney transplant on Wednesday
Although Oli has assured that he will be back at work after five days, doctors say it could take up to a month for the prime minister to recover.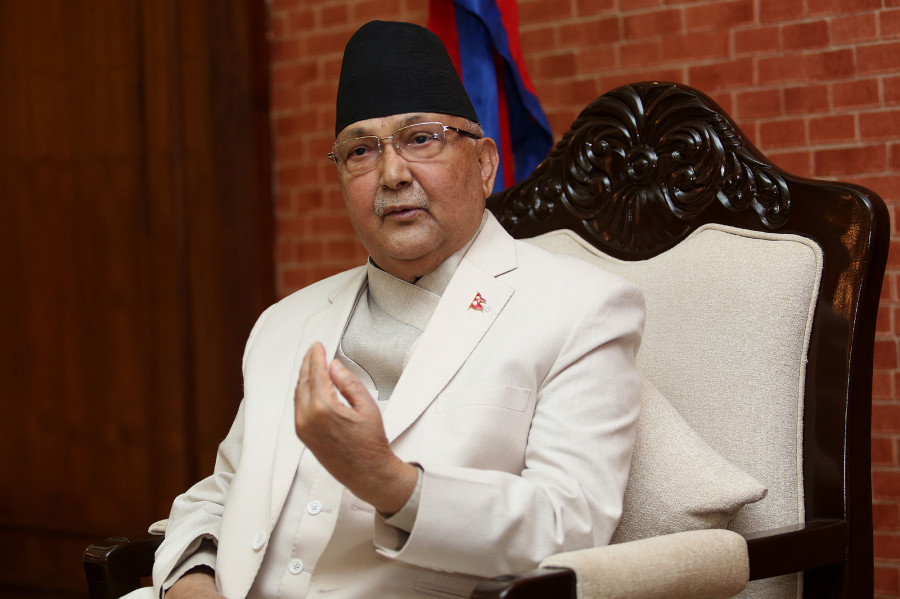 Post File Photo
bookmark
Published at : March 2, 2020
Updated at : March 2, 2020 11:02
Kathmandu
Prime Minister KP Sharma Oli, after undergoing
regular dialysis
eight times a month since September, will now be undergoing a second kidney transplant on Wednesday.
"The prime minister told today's [Sunday's] Secretariat meeting about his plan to undergo a kidney transplant at Tribhuvan University Teaching Hospital," Narayan Kaji Shrestha, spokesperson for the Nepal Communist Party, told the Post. "He will be admitted to the hospital on Monday."
Oli underwent his first kidney transplant in 2007 at the Apollo Hospital in New Delhi after both his kidneys failed. He has been operating on a single kidney since then.
Doctors attending to Oli had been mulling a second kidney transplant for quite some time after symptoms of dysfunction started to show in September last year. Oli had then flown to Singapore twice in as many weeks for check-ups and treatment last year.
Upon his return, he had been undergoing dialysis.
Dr Prem Raj Gyawali, a consultant urologist and kidney transplant surgeon at Tribhuvan University Teaching Hospital, said that he, with a team of surgeons, will perform the transplant.
"I have been informed by the prime minister's personal physician, Dr Dibya Singh Shah, that the date for a kidney transplant has been fixed," Gyawali told the Post over the phone. "Plans are also in consideration to invite medical and surgery experts from India as a back-up. But a final decision has yet to be made."
Though Oli, on Thursday at a training programme for the party's Bagmati Province cadres in Kathmandu, assured that he would be back at work after five days, Dr Rishi Kumar Kafle, a senior nephrologist, said that the prime minister would be discharged in a week and that he would only be able to take up minor tasks after two weeks. It will take at least a month for Oli to recover, said Kafle.
"It takes six months for a person who has undergone a transplant to recover fully," he said.
If the transplant is a success, Oli will no longer have to undergo regular dialysis.
For 12 years since his first kidney transplant, Oli had been doing fine. In 2017, he travelled extensively for the election campaign and after becoming prime minister in February 2018, Oli was in complete control of the government and the party, with insiders saying he was putting in long hours.
But his health started to deteriorate in September last year. In November, the 69-year-old prime minister suffered from appendicitis and underwent an appendectomy at Manmohan Cardiothoracic Vascular and Transplant Centre. Doctors then also treated him for peritonitis, an inflammation of the peritoneum, a silk-like membrane on the inner abdominal wall. This pushed the kidney transplant plan further.
Medical experts say they expected the prime minister's kidney transplant to go smoothly.
Dr Rishi Kumar Kafle, a senior nephrologist, said that planned surgery is safer than the appendectomy he underwent in November.
"The date for the transplant surgery was fixed after doctors attending to the prime minister found everything in order," said Kafle. "When doctors can successfully carry out an emergency appendectomy, they can easily perform transplant surgery."
An official at the Tribhuvan University Teaching Hospital said at least three of Oli's relatives are ready to donate their kidneys. "But a 31-year-old female donor has been selected for a cross-match," the official said.
As per Nepal's law regarding human organ transplantation, only family members and close relatives can donate organs.
Family members include the husband, wife, son, daughter, father, mother, adopted son, adopted daughter, siblings, grandfather, grandmother, grandson, granddaughter, father-in-law and mother-in-law.
Close relatives include the adoptive father, adoptive mother, stepfather, stepmother, uncle, aunt, nephew, niece, brother-in-law, sister-in-law, maternal uncle and maternal aunt, son-in-law, and daughter-in-law.
The woman who is donating her kidney to Oli is believed to be a close relative.
Renal transplantation services started in Nepal in 2008 from Tribhuvan University Teaching Hospital, which has now set up a separate nephrology department. The department performs kidney transplants every Wednesday.
Dr Prem Krishna Khadka, director at the hospital, said that he had heard about the prime minister's kidney transplant plan via the media.
"Our doctors are efficient and ready to perform the surgery whenever the prime minister wants," Khadka told the Post.
---
---