Shiva Maya Tumbahangphe wants to be the next Speaker and she's not backing down
The deputy speaker's fight for the post shows that despite being eminently qualified, women are still relegated to deputy positions.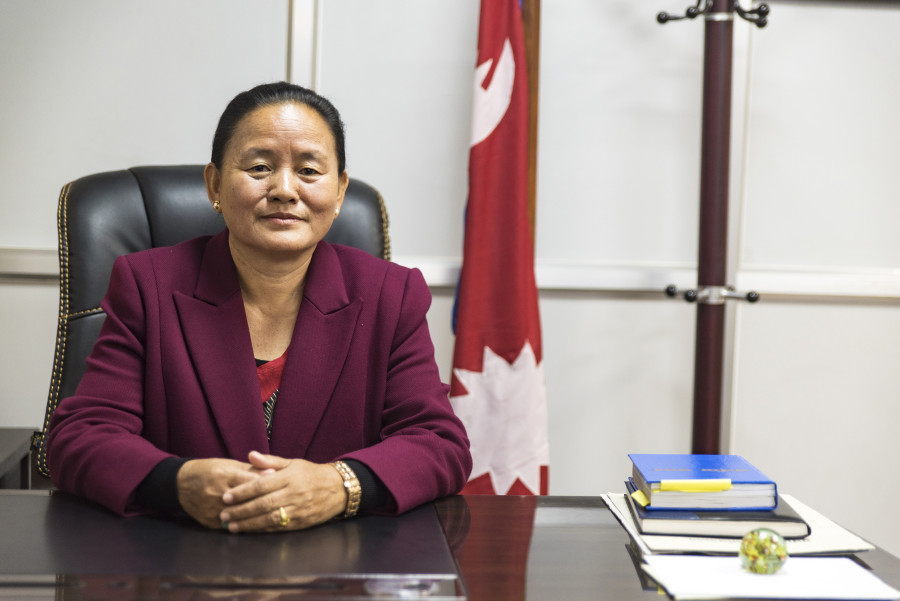 Shiva Maya Tumbahangphe Dipendra Rokka/TKP
bookmark
Published at : January 12, 2020
Updated at : January 17, 2020 10:31
Kathmandu
Shiva Maya Tumbahangphe is tired. After Krishna Bahadur Mahara resigned as the House Speaker last October, following rape allegations by a female employee at the Parliament Secretariat, Tumbahangphe has been drawn into a vortex of political machinations. Her own party, the Nepal Communist Party, has asked her to resign, in an attempt to use the posts of Speaker and Deputy Speaker in horsetrading.

But Tumbahangphe has remained firm. She believes that as Deputy Speaker she has a rightful claim to Speaker and that she should not have to resign just because of Mahara.
"I don't let these things affect me," she told the Post stoically, sipping green tea at her office in Singha Durbar in late December. "I will not abandon my claim."
Read: NCP's indecision on Speaker also exposes deeply entrenched patriarchy in the party
For nearly four months, Tumbahangphe, a veteran politician who holds a PhD in political science, has been saying that she, as deputy speaker, has first claim to the post of the speaker. But that is easier said than done, given the shifting power dynamics in the ruling Nepal Communist Party, as both CPN-UML and Maoists factions jostle for influence.
Regardless of the larger politics at play within the ruling party, Tumbahangphe is so far the only person to publicly lay claim to the Speaker's position, a first for women in Nepali politics. Many have been saying this is a watershed moment for women's representation in the highest echelons of state mechanism—women going from just demanding a seat at the table to claiming a chair at the head.
Binda Pandey, one of the most vocal lawmakers from the ruling party, believes that the "women need to be competent enough" rhetoric denies them positions that they well deserve.
"Women like Shiva Maya aren't saying I deserve this because I am a woman," said Pandey. "They are now in a position where they can assert that they are capable and competent enough for the job."
And Tumbahangphe, who has been active in politics since her student days during the Panchayat era, ticks off all the boxes to be fielded as speaker, perhaps more so than anyone else.
"She is capable and she has the experience, as well as the academics to back it up," said Pandey.
On Friday, at a meeting with the party leadership, Tumbahangphe presented co-chairs KP Sharma Oli and Pushpa Kamal Dahal with a signed copy of her PhD thesis on the role of women in Nepal's political revolutions, according to the news portal OnlineKhabar. It was a highly symbolic move, but Tumbahangphe did not stop there. She presented a list of 12 points that qualify her for the position of Speaker, including her years as a student leader, as a women's leader, and as an advocate.
But given how deeply patriarchal Nepali politics is, female politicians are not optimistic about the party agreeing to Tumbahangphe as Speaker. On Saturday, the party co-chairs officially asked Tumbahangphe to resign and she refused. As Deputy Speaker, she said that she is not beholden to the party whip and that if they want to remove her, they need to begin impeachment proceedings.
The shabby treatment being meted out to Tumbahangphe has galvanised female politicians, and many on social media, who have taken up her cause. But in the history of Nepali politics, this is not unique.
Two years ago, when the chief ministers of all the seven provinces were nominated, not a single party fielded women candidates. The ruling party faced the most ire about its decision to bypass senior leader Asta Laxmi Shakya as chief minister in Province 3 for Dormani Poudel, a man who many say has far fewer credentials in politics compared to Shakya.
None of the national political parties has complied with the Election Commission's directive to ensure 33 percent representation of women in the central committee. Furthermore, the nationwide trend of limiting women to deputy roles, just because of constitutional provisions that envision a mix of both sexes in the executive roles, has created yet another obstacle for women from taking up leadership positions. The constitution requires that the Speaker and the Deputy Speaker, of both the federal parliament and provincial parliaments, be of two different sexes.
But like in Tumbahangphe's case, parties fielded women as Deputy Speakers across all provinces, with not a single nomination for Speaker.
Now, with Tumbahangphe claiming the post of speaker, all the Deputy Speakers from the seven provinces have rallied in her support.
"It's the prevailing mindset that we are trying to challenge and change by saying that a deserving woman like Shiva Maya needs to get the top job and not be relegated to a deputy position just because of her sex," Radhika Tamang, the Deputy Speaker of Province 3, told the Post.
How the party responds to Tumbahangphe will have far-reaching consequences for women in politics, said Tamang.
"Women's morale will get a boost, not just in the upcoming general convention of the party, but across the political spectrum," she said. "There will be a sense of confidence to assert ourselves and claim positions we deserve."
But Tamang is also well aware of history. Far too often, male politicians have sidelined women in the past, and how the parties care more about balancing the political equation rather than appoint a deserving woman to a post she has a rightful claim to.
Oli has so far pushed for Subash Nembang for Speaker. Nembang has twice led the Constituent Assembly which doubled as the House. Dahal, on the other hand, has been pushing for Agni Sapkota. With both names divided clearly along factional lines in the ruling party, Tumbahangphe is caught in the middle.
The ruling party's chief whip, Dev Gurung, blames legal hurdles for the delay in choosing a Speaker, suggesting that Tumbahangphe's resignation would "clear the current deadlock." In addition to saying that the two speakers should be of different sexes, the constitution also states that they should be from two different parties.
"If Shiva Maya wants to be speaker, she needs to resign and file her candidacy," said Gurung. "Unless the path for the speaker's election opens up, no one can make a claim for the position."
The ruling party will field candidates irrespective of their sex, said Gurung.
"It would be nice if a woman is elected speaker, but right now we need to sort out the process before we talk about candidates," he said.
While the Nepal Communist Party's all-male leadership locks horns at Dhumbarahi, and the indecision drags the House's winter session into uncertainty, it is Tumbahangphe who is at the receiving end of all the questions—and all the blame.
In late December, when a group of all male journalists swarmed into her office in Singha Durbar, trying to get anything provocative from her, she repeated her claim to Speaker, and hinted that their questions should be directed at the party leadership, not her.
"I have nothing to say," she said with a dry laugh, going back to her tea. "I have said all that I had to say. Now there's nothing left."
---
---