All the prime minister's men
KP Sharma Oli's new Cabinet has fewer women than it did before, and people aren't happy.

There's a glaring absence of women among the new faces in the reshuffle. Post Photo
bookmark
Published at : November 21, 2019
Updated at : November 21, 2019 16:35
Kathmandu
After weeks of speculation, Prime Minister KP Sharma Oli finally reshuffled his Cabinet on Wednesday night. Criticism soon followed, especially directed at the all-male composition of the new ministers inducted into the Oli Cabinet. Besides the glaring absence of women among the new faces in the reshuffle, the fact that the Ministry of Women, Children and Senior Citizens, which has had more female leadership compared to other ministries in the past, was given to Parbat Gurung, a man, in place of Tham Maya Thapa, has irked many.
Women who have headed different ministries in the past say they are disappointed by Oli's decision to not induct more women in the Cabinet. After the reshuffle, there are now only two women in the Cabinet—Minister for Water Supply Bina Magar and Minister for Land Management and Cooperatives Padma Kumari Aryal.
Rekha Sharma, former minister of general administration and a lawmaker from the ruling party, said that it is disheartening to see women's numbers decrease in government.
"The Cabinet's new make-up shows that our political culture of sidelining women will not change unless the law makes it mandatory to have a certain number of women in decision-making roles," said Sharma. "These decisions go against the spirit of the constitution."
People have also taken to social media to criticise Oli's move, saying his decision to hand over the reins of the Women and Children Ministry from a woman to a man speaks volumes about how low representation falls in the ruling party's priorities.
One user tweeted: "The appointments, the reshuffle has not been on a merit basis! As much as I agree to merit in every aspect, the 'co-chairs' cannot fool its citizens saying 'we cannot find qualified women parliamentarians to be ministers', sorry!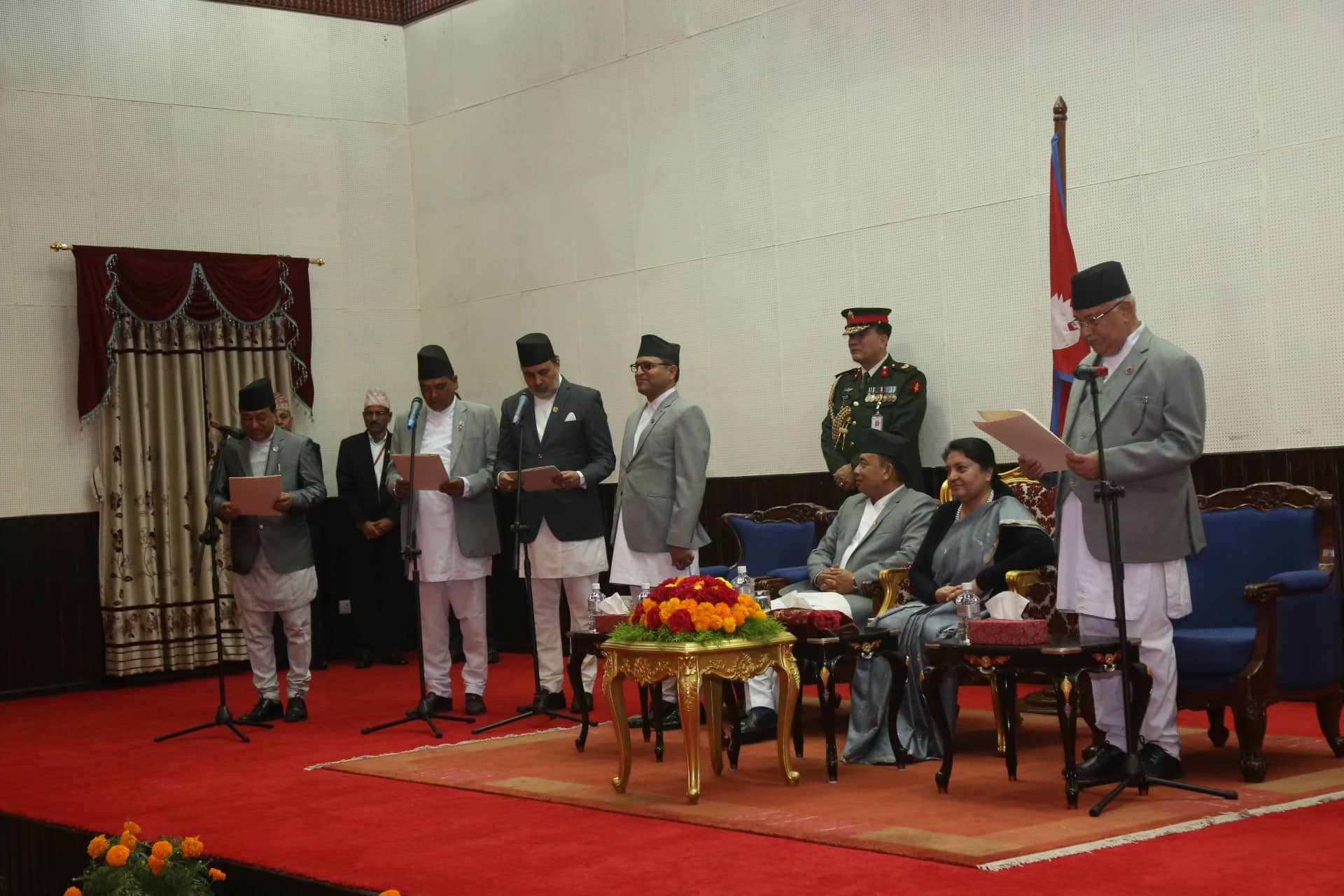 The newly appointed ministers took their oath on Thursday. Post Photo
The current government, like its predecessors, has been criticised for not recognising women's political contributions unless the law stipulates that they do so. After much advocacy, the constitution has guaranteed a minimum of 33 percent representation of women in all state mechanisms. But despite the increased participation of women in politics, most have been relegated to deputy positions, as seen across local bodies.
Political analysts say that Nepal's political leaders need to stop looking at women's rights from a welfare perspective, and should encourage meaningful participation in political processes.
"Women's political representation is not a matter of charity," said Meena Vaidya Malla, former head of the political science department at Tribhuvan University. "Despite so much social and political changes in Nepal, and the constitution spelling out equality and representation so prominently, the Cabinet reshuffle shows how parties refuse to take women's political participation seriously."
Women who've helmed ministries in the past say that they will continue using their voices and positions to advocate for greater representation in all state mechanism.
Asha Koirala, former minister for women, children and social welfare and also a lawmaker from the ruling party in the provincial assembly of Gandaki state, said that without policies and laws in place, ensuring meaningful political participation will take time.
"We only have 33 percent women in Parliament because there are laws that require parties to meet these numbers. I wish that wasn't the only reason for better representation," said Koirala, "I hope that when the Cabinet gets reshuffled in the future, we will see more women."
---
---