After meeting with the President, Oli reshuffles Cabinet
Ruling party leaders say that President Bhandari, who has played the role of a catalyst in developments, had her say in the reshuffle.

Prime Minister KP Sharma Oli reached a power-sharing agreement with Pushpa Kamal Dahal on Wednesday. Post File Photo
bookmark
Published at : November 20, 2019
Updated at : November 20, 2019 23:22
Prime Minister KP Sharma Oli reshuffled his Cabinet late Wednesday, removing six ministers and three state ministers, and inducting new faces to replace them.
The Cabinet reshuffle, which was expected earlier in the afternoon, was delayed after Oli and Pushpa Kamal Dahal, both co-chairs of the ruling Nepal Communist Party, held an hours-long meeting with President Bidya Devi Bhandari.
Ghanshyam Bhusal, Hridayesh Tripathi, Basanta Kumar Nembang, Lekh Raj Bhatta, Rameshwor Raya Yadav and Parbat Gurung have been inducted into the Cabinet. Oli removed all state ministers to bring in Motilal Dugad, Nawaraj Rawat and Rambir Manandhar.
Bhusal, a standing committee member who represents the former CPN-UML, has been given the Ministry of Agriculture and Livestock Development, which was held by Chakrapani Khanal, a former Maoist leader.
Bhusal, who has close relations with senior leader Madhav Kumar Nepal, has been a vocal critic of Oli. His entry into the Cabinet follows a series of meetings last week between Oli and Nepal, who has long been unhappy with the prime minister's working style.
Nembang has been brought in to replace Raghubir Mahaseth as Minister for Physical Infrastructure and Transport, while Bhatta replaces Matrika Yadav at the Ministry of Industry, Commerce and Supplies.
Tripathi has been inducted in place of Lal Babu Pandit to lead the Ministry of Federal Affairs and General Administration while Parbat Gurung now leads the Ministry of Women, Children and Senior Citizens in place of Tham Maya Thapa. The Ministry of Labour, Employment and Social Security has been given to Rameshwor Raya Yadav, replacing Gokarna Bista.
The Office of the President in a press statement said that Bhandari on Wednesday effected changes in the Council of Ministers as per Article 76 (9) of the Constitution of Nepal, based on the recommendation of the prime minister.
The Cabinet reshuffle was delayed—for several weeks—as Oli and Dahal wanted to reach a deal on power-sharing. President Bhandari too wanted her say on whom to keep and whom to let go in the Cabinet.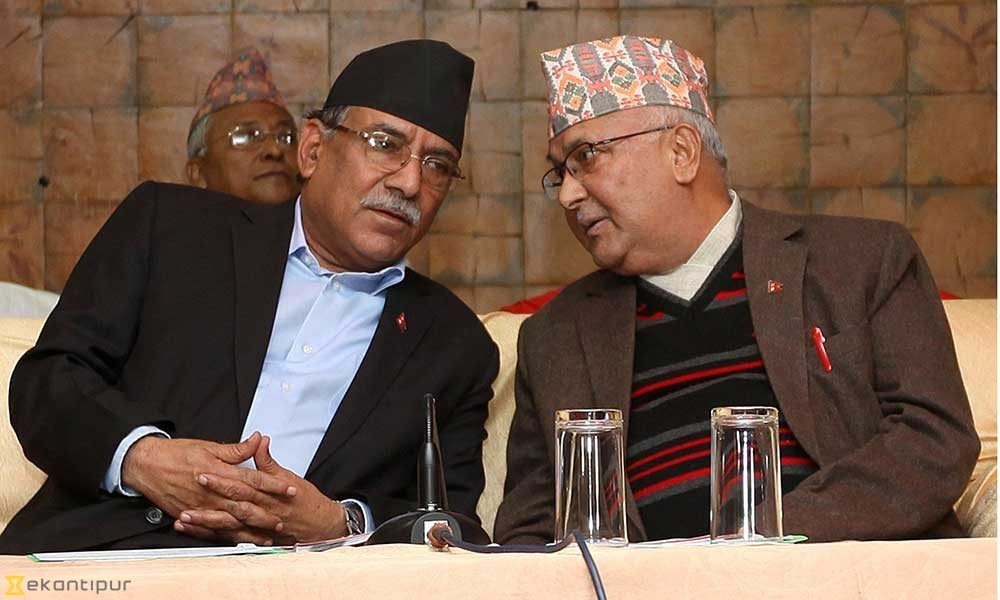 Post File Photo
On Wednesday morning, both Oli and Dahal had discussed who would be replaced in the Cabinet but Dahal refused to budge until he was made executive party chairman, party leaders told the Post. Both leaders went to Sheetal Niwas to meet President Bhandari and upon returning, called a secretariat meeting where they named Dahal executive chairman, a secretariat member told the Post.
Bhandari had an interest in the Cabinet reshuffle as some of her close confidants were in line for replacement. According to leaders familiar with developments, Bhandari asked Oli that some ministers who are close to the President's Office be allowed to continue in the Cabinet.
A central committee member told the Post on condition of anonymity that Bhandari, for quite some time, has been working as a "catalyst" to remove irritants inside the party.
Apart from the power-sharing deal, Bhandari, Oli and Dahal, earlier in the afternoon, had discussed the composition of the new Cabinet, something the President's Office denied.
"President Bhandari met separately with Oli and Dahal, which has no connection with the new power-sharing deal," Bhesh Raj Adhikari, an aide to the President, told the Post. "She has always told leaders that they should work together on major issues. Besides that, she does not have any political interest since she has a constitutional role."
But questions are being raised within the party regarding Bhandari's role.
"Oli, as head of government, can naturally visit the President's Office to brief her on latest developments but the fact that Dahal accompanied him has raised serious doubts," said one ruling party leader. "We are receiving information that the President was active in building a power-sharing deal between Oli and Dahal."
According to Surya Thapa, Oli's press advisor, both leaders met with Bhandari to discuss effective governance.
"The sitting and former prime ministers went to meet the President in connection with the running of the government and no one should doubt whether the President engineered any political deal," said Thapa.
Plans for the Cabinet reshuffle had been in the works for several weeks and was expected to take place last week.
At least two senior party leaders told the Post that the delay had to do with a failure to reach consensus on the composition of the Cabinet. There is also the decision over the new Speaker of the House, as incumbent Deputy Speaker Shiva Maya Tumbahamphe has refused to resign.
---
---