Parties continue to look the other way while their leaders get arrested for crimes
Three lawmakers were arrested in the past two weeks and none has been censured or suspended by their parties.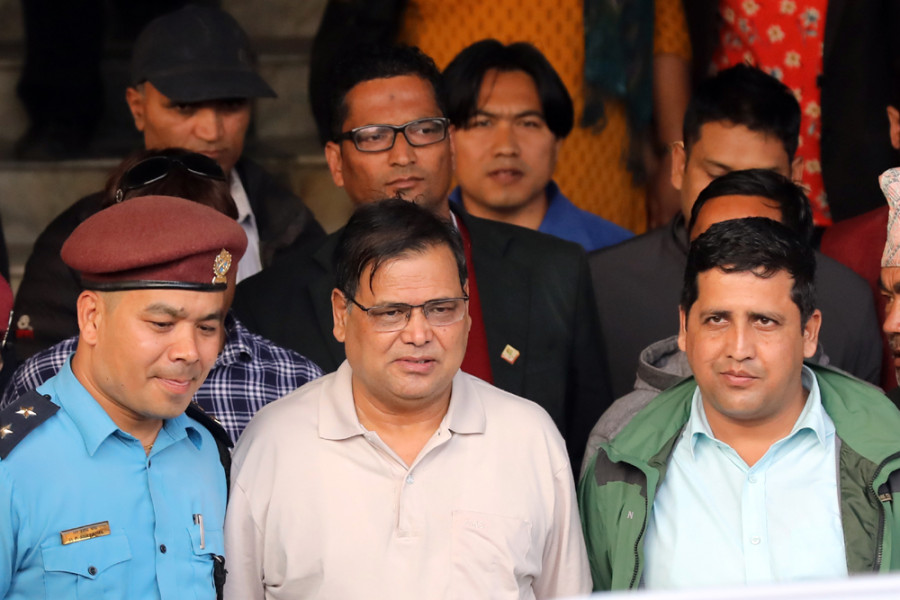 Krishna Bahadur Mahara walks out of Kathmandu District Court on Tuesday. Elite Joshi /TKP
bookmark
Published at : October 17, 2019
Updated at : October 17, 2019 07:26
Kathmandu
In the past two weeks alone, three sitting lawmakers from the House of Representatives have been arrested by police.

Krishna Bahadur Mahara, who was Speaker of the House and a Member of Parliament from the ruling Nepal Communist Party, is currently in police custody for attempted rape. On Sunday, Nepali Congress lawmaker Mohammad Aftab Alam was arrested for his alleged involvement in a bombing and the subsequent murder of at least 23 persons in Rautahat. And on Monday, Pramod Sah, a lawmaker from the Rastriya Janata Party, was arrested from the Janakpur airport for vandalising a Buddha Air counter.
And more recently, an arrest warrant has been issued for Parbat Gurung, a lawmaker from the Nepal Communist Party. He is accused of assault.
In all of these cases, none of the parties has censured or suspended any of their respective lawmakers, despite the gravity of some of their crimes. In the case of Alam and Sah, party cadres have instead taken to the streets in protest.
"This is an example of the waning of morality within the parties," Shyam Shrestha, a political analyst, told the Post.
It is the moral duty of a political leader to resign from party membership once they face any criminal charges, and if they refuse to do so, the party must take it as a moral imperative to suspend their membership, said Shrestha.
The Nepal Communist Party asked Mahara to resign as Speaker of the House and Member of Parliament after rape allegations surfaced, but has since taken no action against the influential party leader. He has not resigned as a Member of Parliament and he remains a member of the party.
It took 35 hours for the Nepali Congress to issue a statement regarding Alam, who is accused of burning at least 23 people alive in a brick kiln. Party spokesperson Bishwa Prakash Sharma wrote on social media that everyone should support the investigation.
"The existing laws have been drafted by the party itself so I don't think we need to take action separately while the law is taking its course," Sharma told the Post.
Surya Thapa, deputy head of the Nepal Communist Party's publicity department, shares Sharma's beliefs.
"Mahara has just been accused; he is not a convict so it is not necessary to suspend him from the party," Thapa told the Post. "The party will take necessary action if he gets convicted."
The Rastriya Janta Party, meanwhile, has lent full support to Sah. Party Chairman Mahanta Thakur himself has opposed the arrest, demanding Sah's unconditional release. Party leaders and cadres on Wednesday even staged protests in Rajbiraj and burned the home ministry in effigy. They have warned of "consequences" if their leader is not released "within 24 hours".
According to political analyst Shrestha, those accused of heinous crimes like rape and murder must immediately be suspended if the rule of law is to prevail.
"Investigating agencies can only investigate freely if those arrested are not linked with the parties," he said.
Despite facing criminal charges, lawmakers continue to retain the post due to the changed provisions in the House of Representatives Regulations.
The Nepal Police, which is the primary investigating agency in all of these cases, does not have a stellar record when it comes to investigating individuals with powerful political interests. When Mahara's case first came to light, there were widespread fears that it would be squashed by political interests.
This is not an unfounded fear, as the political parties seem to believe increasingly more in money and muscle than in ideology, say political analysts.
"The politicisation of crime and the criminalisation of politics is increasing in the country," Rajendra Maharjan, a political commentator, told the Post.
If the parties were at all responsible, they would carry out an internal investigation and bring facts before the public, he said.
In Maharjan's opinion, this kind of protection from the parties leads to impunity and political leaders believing they can get away with anything.
"I am sure the involvement of political leaders in criminal activities wouldn't be so common if they feared action from the state," he said.
---
---