A new film bill draws sharp criticism from Nepali entertainment industry
The proposed bill gives sweeping authority to film censor board and adds unnecessary hassles, filmmakers say.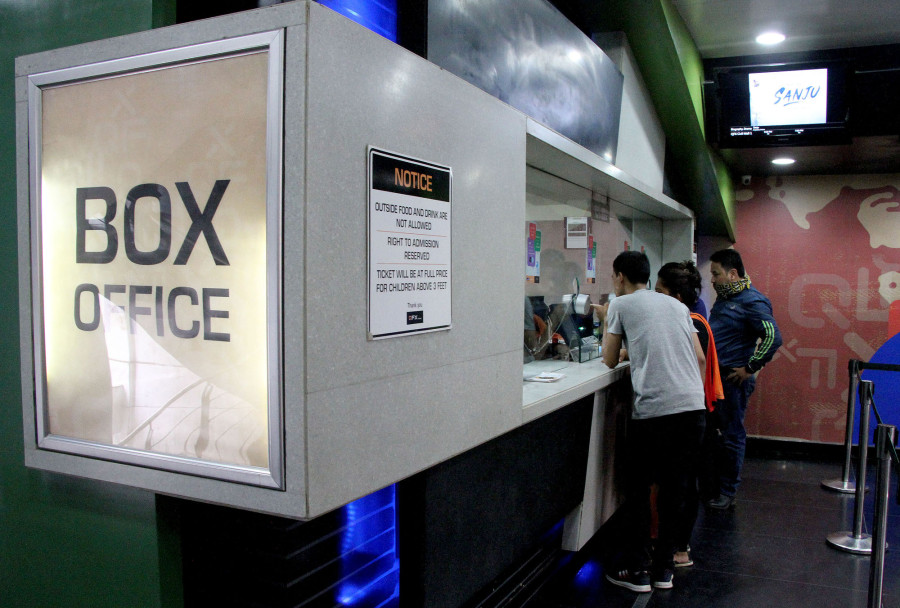 The bill has also proposed that film theatres play the national anthem before screenings. BeejuMaharjan/TKP
bookmark
Published at : August 3, 2019
Updated at : August 3, 2019 06:46
Kathmandu
A new film bill proposed by the KP Sharma Oli administration has alarmed filmmakers, who say the bill, if enacted in its current form, will certainly stifle creativity and impose unnecessary conditions upon artists and film theatres.

The bill, currently in its drafting stage, gives sweeping powers to the film censor board to look into not just feature-length films, but also short movies, documentaries, music videos and anything that falls under the broad definition of "moving images". The bill has also proposed that film theatres play the national anthem before screenings.
The broad definition of "film" in the bill includes every form of visual content, from feature films to short movies, television series, video commercials as well as music videos, which will now require permission from the Film Development Board before being produced and distributed. They will also need to pass the censor board before release.
Filmmakers say these conditions are "unnecessary hassles" in an already unfriendly climate for film production and distribution in Nepal. One of the most vocal critics of the bill, film producer Madhav Wagley, who was behind popular movies like Loot and Chhadke, took to social media, in addition to meeting officials from the Film Development Board, to voice his concerns this past week. Wagley says the provisions in the new bill are intended to control rather than help Nepali movies.
"I've always said that a censor board that includes no film experts should go, or it should just be a body that rates movies, rather than one that tells us to haphazardly change the content," said Wagley. "Now that same body has been given more authority, which will adversely impact filmmakers across all genres."
Wagley said that instead of a proper mechanism to facilitate domestic filmmaking, the bill includes constraints that will hurt producers like him. Wagley was arrested earlier this year for producing "fake currency" for a movie shoot. The entire situation could have been avoided altogether if the Board had a mechanism in place to make arrangements required for film production, he said.
Young, independent filmmakers who haven't yet gone through the arduous administrative work required to produce and distribute a film say the new provisions are already a source of anxiety for them.
Rajan Kathet, a 31-year-old filmmaker who has made nearly half a dozen documentaries and short movies, says that the bill's provisions are worrisome.
While registering their movies will give filmmakers ownership, Kathet feels that the registration fee and the requirement to go through the censor board for even short movies and documentaries is an "unnecessary hassle".
Kathet's first film as a solo writer will be debuting next year, but given the growing restrictions and censorship, he is afraid of how it will be treated at the censor board, since the story deals with Nepal's decade-long armed conflict.
"I am already worried about how the censor board will react to the movie," said Kathet. "After all, it is about the fight for power during the country's civil conflict."
But the Film Development Board has defended the bill, saying there is a need to update laws that guide Nepali movies—laws that were drafted 50 years ago when the film industry was just burgeoning. The board's chairperson, Keshav Bhattarai, told the Post that the draft is still open for consultation, and suggestions from the entertainment fraternity will be taken into consideration before it is presented at Parliament.
"We have been listening to all stakeholders and will take their advice and suggestions to revise the bill," said Bhattarai. "Based on our consultations this past week, we have already decided to not require music videos to go through the censor board."
However, registration for all forms of films, whether they are shorter in format or documentaries, is required because that will help the board better facilitate when and how these movies are promoted abroad. But independent filmmakers like Kathet, who've produced movies that have made it to international film festivals, say they aren't hopeful—given the government's prevailing apathy towards independent filmmakers.
"There is not a single rupee in state support for independent filmmakers who have been chosen to showcase their work on international platforms," said Kathet. "Now there is an additional layer of hassle we are made to go through just to make a movie."
***
What do you think?
Dear reader, we'd like to hear from you. We regularly publish letters to the editor on contemporary issues or direct responses to something the Post has recently published. Please send your letters to [email protected] with "Letter to the Editor" in the subject line. Please include your name, location, and a contact address so one of our editors can reach out to you.
---
---