Learning self-defence helps girls feel secure, empowered and confident
Harassment comes in many forms.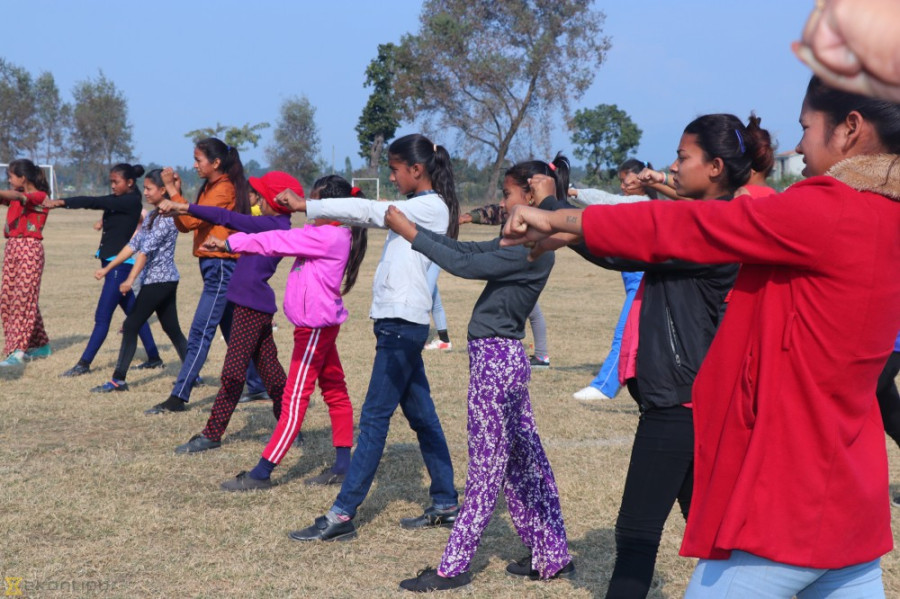 bookmark
Published at : June 8, 2019
Updated at : June 9, 2019 11:38
Sexual harassment and rape are rampant in Nepali society. According to data received from the women and children directory of the Nepal police, 1,131 rapes, 536 attempts to rape and 11,629 cases of domestic violence were reported in 2018 alone. When it comes to child marriage in Asia, Nepal is among the top three countries where child marriage is rampant. Thirty-seven percent get married under the age of 18 and 10 percent get married under the age of 15 years. Coming to physical abuse, 22 percent of the age group 15- 49, have to face physical abuse while 12 percent are sexually abused at least once in their lifetime. Most of the abused cases involve the victims being attacked by their fathers, uncles, brothers and friends.
The situation of girls, therefore, is vulnerable. The government has taken various steps to reduce violence against women. For example, to end gender-based violence, various indicators have been set on the national level in line with the global standards, and these have also been aligned with provisions in the Sustainable Development Goals (SDG). But they are not enough. Non-government organisations are also doing their best to reduce gender-based violence, but they are again focusing more on publicity on social media. As a consequence, the victims have to face social harassment if they choose legal steps. Therefore, after experiencing violence, if the victims choose to report it, they end up getting harassed further in the process.
Following the incident of Nirmala Panta, the word self-defence has been frequently used in several programmes related to women empowerment. Schools, colleges, clubs and non-government organisations are oriented in conducting training to empower adolescent girls. But there is a misunderstanding that the self-defence is only required for girls and that it's all about learning how to escape in case rape is attempted. However, there are many instances of boys and men being subjected to harassment of many forms, albeit the cases related to women are more usually are more in number and more publicised, too.
Learning self-defence enables one to defend themselves against harassment and violence.
Sapana Adhikari, for example, who had participated in a self-defence training programme organised by Girls Kick—an organisation that aims to empower young women and girls through self-defence training, in Kathmandu said she felt strong—both physically and mentally—after being a part of the programme. Furthermore, she feels more confident in everyday life, too. Women are taught to avoid walking home alone at night, advised to take well-lit roads if they have to, and ignore catcalling to avoid getting harassed. But learning self-defence helps them become physically, mentally, emotionally, and socially strong.
Usually, it is assumed that rape happens when a stranger, or sometimes even a known person, leaps out at a woman in a public or private space and her only option is to defend herself with physical force. But rape does not happen at once. However, if anyone does attack you, there are certain steps they can take. At the initial phase, harassment begins with eye contact. If you can defend yourself in this situation, you may be protected from the next level of harassment and violence. Harassment can also be both verbal and non-verbal. It is important to separate between the two. Verbal harassment is when the perpetrator uses vulgar words, while if they use a symbol such as facial expression, body movement, teasing etc., these types of harassment come under non-verbal communication. There are various kinds of touch too, mainly internal and external. Therefore, it is very important to figure out as to what is the perpetrator resorting in their attempt to harass you.
While resisting and learning self-defence is one way of defending oneself from harassment and violence, there is no guarantee that learning so will always prevent such unwanted advances. Yet, having said that, it does act as a tool that helps women and other repressed groups feel empowered and confident. If learning it makes them feel safe and secure, that itself is good enough to some extent.
KC works at the Rural Community Development Centre, Lamjung.
---
---