A bittersweet sojourn
Brief Candle is a play about human relationships, behaviour and frailties.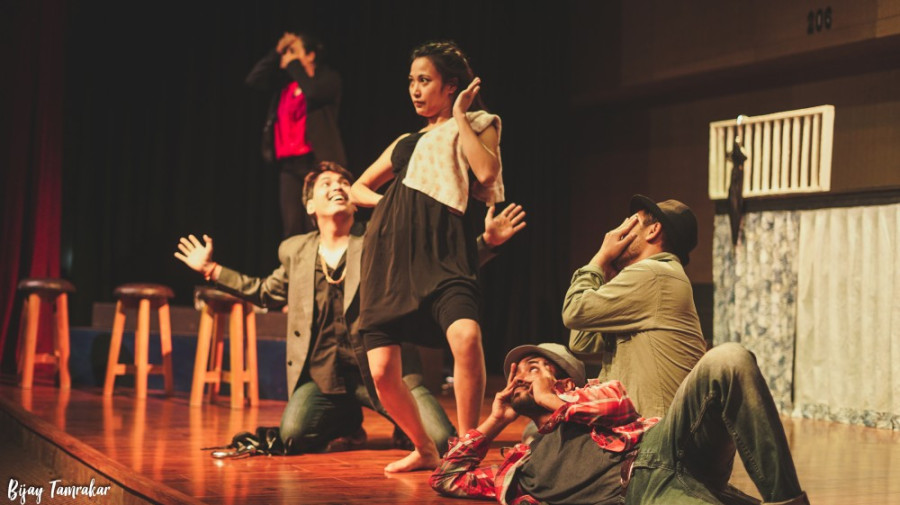 bookmark
Published at : June 2, 2019
Updated at : June 2, 2019 11:24
Rose Schwietz's rendition of the Brief Candle, which recently completed its run in Kathmandu, explores the absurdity of life in its sudden unpredictability. In a quest to decipher such unfathomability, the play often straddles the thin line between life and death in an attempt to deduce a rationale. But like life, the play only sways between various extremes of experiences—leaving the ambiguity of life intact. Penned by the prolific Mahesh Dattani and produced by One World Theatre, Brief Candle, with its interplay between farce and blight, juxtaposes celebrations and commiserations in an adept manner. Amidst the boisterousness of outright comedy, the play honours the sensibilities of a vulnerable life. It mirrors the pathos and philosophy of life between what is already spent and what remains.
This inevitability, presented in a contradicting yet calming fashion, makes the play more rooted, humane and endearing. Adding to his much-acclaimed works, Mahesh Dattani, through this play, creates an intriguing atmosphere of human relationships, behaviour and frailties.
The play establishes in a hospice, where eight characters share a makeshift space to rehearse for an upcoming charitable play. All of these characters, bearing their own peculiarities and battles, are connected by a common denominator—a terminal disease called cancer. But for Dattani's characters, this incurable scourge doesn't come as a full stop; instead, it arrives as a pause, where they're compelled to audit life's balances and keep their chins up for the imminent future. It is in such dreadful passage the characters start to see silver linings in a multitude of things. Even with everything against the wall and a capped lifespan, the characters try to build on compassion and acknowledgement—all of it to prepare for a graceful exit. Dattani's choice to use a fatal illness as a common plot device while using humour as a delivery vehicle is in itself astounding. The impact of this frightening content is enduring, both on and offstage. While watching terminally ill patients celebrate the remaining of their lives, audiences are bound to spare a thought for people, in their own lives, who're going through the same agony. However, the playwright deftly intervenes with optimism, which helps the play progress from a melancholy to a therapeutic zone. Therefore, when characters start to make their departing journey, the audiences feel gratefully liberated rather than depressed.
Although at times, a richly developed play script might tend to overshadow other elements of a play, Director Rose Schwietz's directorial craft does justice to the complexity of the text. Apart from the name itself, the play delves into many allegories and subtexts. The director, however, while using these metaphors, hasn't limited her scope within the script. For instance, Rose introduces two almost non-speaking characters—as chorus and narrators—into the frame, which is a detour from the actual writing. But, through these two characters, the director takes a silent observational view of life's happenings as it moves along various peaks and troughs. These bystanders are symbolised as reflections, echoes and watchdogs of all incidents that occur in the characters' journey.
In addition to the installation of symbols, the director's adaptation to the pace of the play is also quite commendable. An eccentric choreography keeps the momentum of the play intact, which in return demands staunch attention from the audience. Over the top hams, ramped up miming and hysterical explosions add to the sardonic flair of the play. In contrast to the raucousness, moments of wistful solitude exhibited through soliloquy and silence, come as a great leveller. In these moments of loneliness, the irritations, helplessness and self-loathing of the characters become so palpable that the emotional graph of the play hits a crescendo, taking the audiences on a ride too. Besides the text and the subtext, the director's use of yesteryear Bollywood songs, minimalistic stagecraft and symbolic props contribute to the artistry of the performance.
Even though the play's reach, due to its language, might seem limited, Brief Candle is an important play in many respects. It experiments not only with a rather rare genre of vaudeville, but also discovers an ironical story structure. It therapeutically addresses a disease like cancer and its adversity, which gives a tremendously positive outlook on life's larger problems. Since the play has an inexorable premise at its crux, it doesn't latch on to any readymade panacea. Instead, it tries to gently nudge the audience, as a reality check, but in a comforting way. Finally, Dattani, towards the end, quite brilliantly sums up all of these elements with a one-liner. Collapsing after a stroke, Amol, a character lying on his deathbed, says, "In life, you've to learn to improvise!" This dialogue, almost in the form of enlightenment, brings a befitting end to the play.
Paudel is a founding Director of Tatsama Arts and a theatre practitioner.
---
---