Opportunity knocks
Nepal should use the BIMSTEC meet to enhance its global image and boost tourism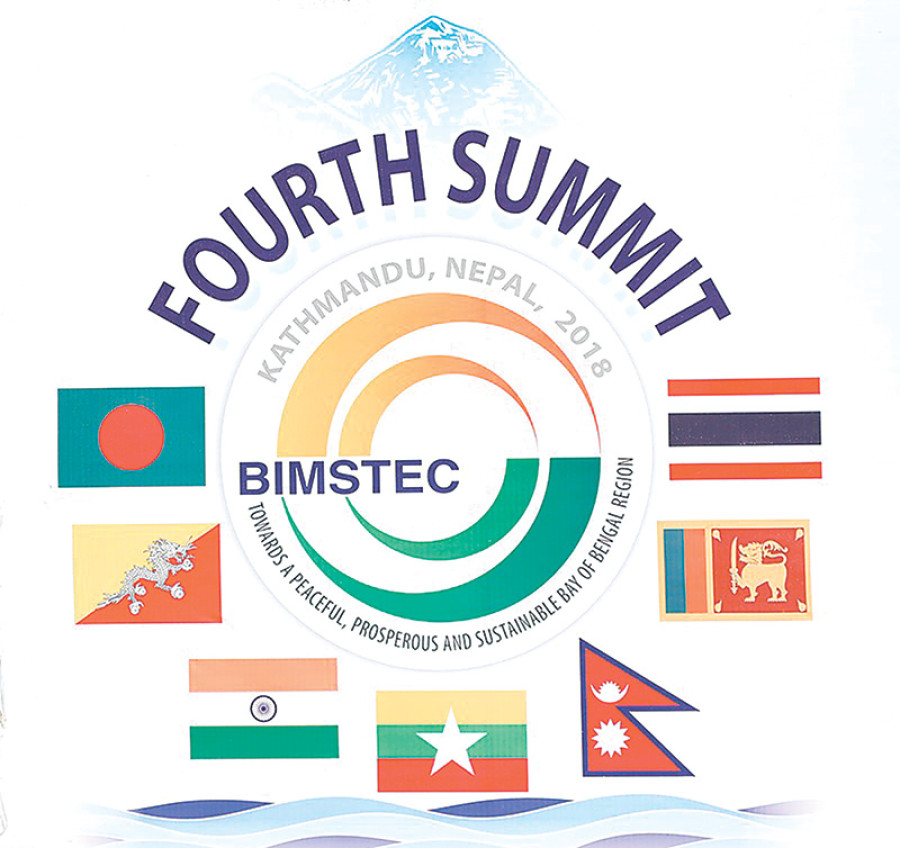 bookmark
Published at : August 29, 2018
Updated at : August 29, 2018 08:48
Nepal is poised to gain a fair amount of global attention and coverage as it hosts the fourth summit of the Bay of Bengal Initiative for Multi-Sectoral Technical and Economic Cooperation (BIMSTEC). What tangible outcome Nepal will derive out of the conference is a matter of speculation, but it could be a perfect platform to promote the country as a must-visit destination and unleash the tourism sector to boost the economy.
BIMSTEC was formed in 1997 to
engage South and Southeast Asia through cooperation in connectivity, trade, technology, poverty alleviation, counter-terrorism, fishery, agriculture, health, culture and climate change and tourism, among others. Five of the seven member states—India, Bangladesh, Thailand, Sri Lanka and Myanmar—share the Bay of Bengal while landlocked Bhutan and Nepal look to enhance their connectivity with the region. BIMSTEC has suffered from lack of political willingness and steady leadership. As a result, the gamut of commitments over the past two decades is yet to produce substantial outcomes. The member states are yet to tap the huge potential in terms of enhancing regional cooperation.
Multilateral platforms such as BIMSTEC have their advantages and disadvantages. Powerful countries see it as a broad
setting to push their strategic interests and consolidate their regional hold while weaker countries seek a larger say in matters through a collective voice. But such regional groupings have often been adversely affected by political instability in South Asia. The South Asian Association for Regional Cooperation (SAARC) is a stark example.
Bitter rivalry between India and Pakistan has left SAARC almost defunct. Far from making progress, SAARC hasn't even been able to hold its 19th summit which was slated to be held in Islamabad in 2016. India boycotted the summit accusing Pakistan of being involved in the Uri terrorist attack. That was when India, within its foreign policy goals of Neighbourhood First and Act East, called on a BIMSTEC-BRICS (Brazil, Russia, India, China and
South Africa) outreach meeting that year, signalling its intention to promote BIMSTEC rather than SAARC. India's motives were derived from three factors—isolate Pakistan in the region, promote its relatively underdeveloped north-eastern states and push further up to the Association of Southeast Asian Nations (ASEAN) countries. It is understandable that India also looks to spread its influence to keep up with China's growing hold in the region.
With SAARC or BIMSTEC making
little progress, it is important for Nepal to identify and prioritise its national interests to maximise this opportunity as a host country. The government has looked to streamline priorities by cutting down BIMSTEC's 14 core areas to five—connectivity, poverty alleviation, trade and investment, climate change and energy. Scholars and analysts have also reiterated the importance of regional economic integration. India has wanted to bring the BIMSTEC nations under a common security umbrella in its desire to fight global terrorism. A vulnerable country such as Nepal, owing to its long political instability, poor governance and open border concerns, will benefit from this unified attempt to counter terrorism, a global concern especially in the developing nations.
Apart from the energy sector, tourism has huge potential in Nepal. Its beautiful natural surroundings, climatic diversity, warm hospitality and rich culture and heritage, among others, make it a very attractive tourist destination. But in recent years, Nepal has gained attention for the wrong reasons—long political bickering for a constitution, a devastating earthquake, economic blockade on the southern border, and the fact that Nepal remains a mere bystander between two giant powerhouses, India and China.
Despite the government's announcement of the Visit Nepal 2020 tourism campaign, the ad hoc preparations and lack of
willingness to make the best use of the gathering of regional leaders to promote Nepal as a must-visit place have been disappointing. The last minute rush to repave the city streets, for which government officials blame the torrential rains, lack of a world class convention hall to host such a high-profile event forcing the government to make use of a private hotel, and cancellation of a plan to take the leaders to the resort destination of Gokarna for a retreat due to poor road conditions, among others, give a very bleak picture of the government's commitment to enhance our global image.
The only satisfying groundwork from Nepal's side has been the planned visit of the leaders of the member states to religious shrines, and the important agreements to be signed with India on a proposed Kathmandu-Raxaul railway and the movement of bulk cargo from Indian ports to three border points. The visits of Sri Lankan President Maithripala Sirisena and Myanmar President Win Myint to Lumbini, the birthplace of Gautam Buddha, and of Indian Prime Minister Narendra Modi to Pashupatinath on the sidelines of the BIMSTEC summit will give a much-needed nudge to our religious tourism prospects. Indian nationals remain Nepal's largest group of tourists. Sri Lanka sent the third highest number of visitors in 2015. The much-touted Buddhist Circuit project connecting a string of pilgrimage sites in Rupandehi, Kapilvastu and Nawalparasi districts should be pursued vigorously following the summit.
India, as the strongest leader of the region, may have its own interests in BIMSTEC. Nepal, on the other hand, will have to seek tangible outcomes in line with its strategic interests to be able to deem the BIMSTEC summit a success. Apart from the rhetorical commitments and friendly gestures, this is a perfect opportunity for Nepal to put itself back on the map. Showcasing a positive global image is the first step.
Ghimire is a political economist.
---
---