Liquid nationalism
Oli launched the nationalist agenda during the election and it spread on social media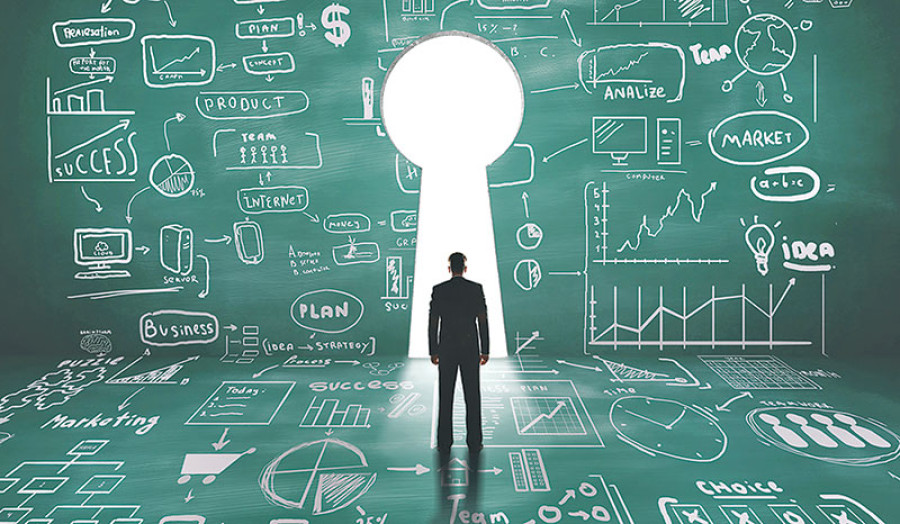 bookmark
Published at : July 15, 2018
Updated at : July 15, 2018 08:08
Liquid nationalism is of a nomadic nature and changes frequently. This type of attitude is often found in politicians who are used to bending facts and blaming their opponents rather than the position they hold. This phenomenon indicates a rational versus emotional divide in people's chaotic approach to understanding and respecting existing social fabrics based on nativism and who came later.
In Nepal's case, nativism versus who came later, anti-India sentiments, pro-China sentiments, divisions based on political, religious and ethnic ideologies and Christianisation versus non-Christianisation are the populist agendas brought forward by a poorly performing economy, unemployment and low Human Development Index (HDI). Our political leaders have cashed in on these problems during their election campaigns for the past 26 years.
Emotional versus rational
Due to low job prospects, people think in a fluid way in Nepal. They have become more reactionary and are portraying certain political and social figures and even journalists as legends or criminals on social media. Nepali social media represents true liquid nationalism—polarisation based on socio-economic, political, cultural and ethnic issues. Facebook posts and tweets have become extremely xenophobic, racial and abusive. Nepali
politicians are bending or inventing facts. The Nepali people are supporting populist
agendas instantly. Rail, road and energy diplomacy pledges by India and China are being taken as guaranteed mantras for Nepal's success, but the general public is ignoring their geostrategic reasons.
Nepalis are becoming highly emotional or rational over Nepal's prosperity issues. This emotional versus rational approach is making Nepali society very fluid. Thus, we are entering liquid nationalism. The nature of the mega development projects pledged by India and China are more political and strategic than economic due to uncertainties in global politics.
It is a mystery why China and India want to build long railways from Lhasa to Kathmandu and from Raxaul to Kathmandu respectively despite Nepal's low performing economy. It is also a mystery why both China and India are only supporting projects targeting Kathmandu and nearby areas even though there are other places in Nepal that are major supply routes and have large populations, for example, the Biratnagar-Itahari-Dharan corridor. If clues about such mysteries are posted on Facebook or Twitter, the writer receives disrespect and verbal or written abuse. The nationalist agenda was put forward by Prime Minister KP Oli during his election campaign, and it spread rapidly on social media. His nationalism agenda also became a hot topic due to India's 2015 blockade. The mix of social media stunts and blockade resulted in a nationalism dish so delicious that Oli won a landslide victory.
Liquid nationalism is chaotic and is destroying the social fabric. It lifts division to a new level. Today, all populism and liquid nationalism traits should be seen from a cultural lens, especially from the diffusion and acculturation process. Due to migration and globalisation, people are in a continuous dilemma about the extent to which individuals should diffuse or acculturate to foreign cultures and values.
In this process, every social group (with different values, ideology, culture and religion) comes into the flux of war on different platforms including social media.
Need for a critical mass
This is giving rise to frustration in economic performance, populism and liquid nationalism. This is probably the concept described in Samuel P Huntington's famous book entitled The Clash of Civilisations where individuals collide based on their inherited identify with another identity they have to take at different stages of life as part of globalisation and migration.
So, in order to mitigate the amplifying nature of liquid nationalism and populism, the creation of a critical mass in the country is very important. According to Steven N Durlauf and H Peyton Young, critical mass is a sufficient number of adopters of an innovation in a social system so that the rate of the adoption becomes self-sustaining and creates further growth. To this end, it is advisable to bring political leaders and people to one platform. But political leaders won't come to a platform without informed people. There are five steps in creating a critical mass. One, the formation of a critical mass should not be spread across the country but it should have a geographical focus. A specific geographical focus creates efficiency and is cost-effective.
Two, the proposed group should be connected to like-minded resourceful people who are also thinking about mitigating liquid nationalism. Three, public appearance on the media for vocal and written action against liquid nationalism will build strong trust among the general public and attract new members. The group should have enough research documents and action plans to make the plan successful. Lastly, the group should have critical intellectual leaders including ex-MPs, ex-ministers, former VIPs and VVIPs) to build a strong alliance with them to provide backing.
---
---