Nepal and transit
Despite the distance, Visakhapatnam offers lower end-to-end cost for Nepali traders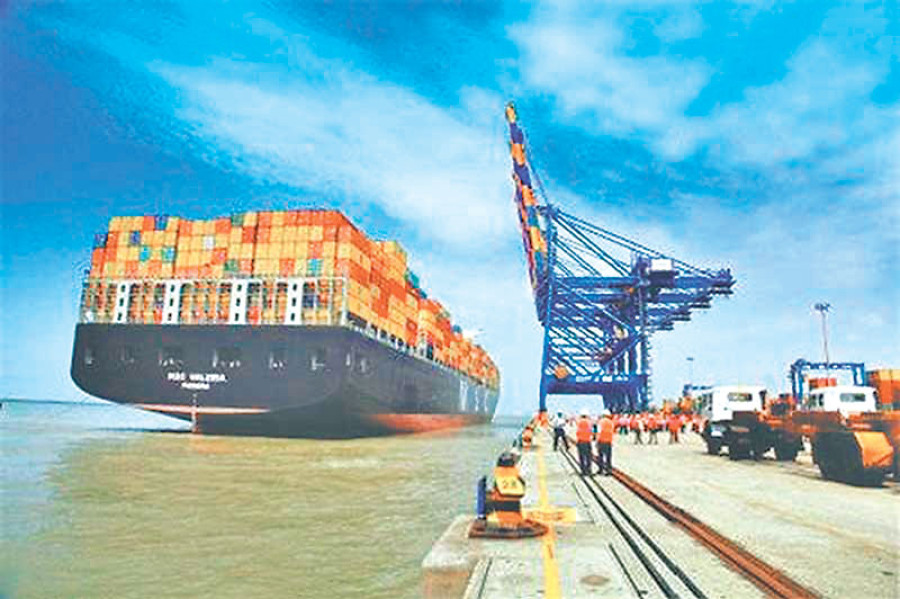 bookmark
Published at : June 13, 2018
Updated at : June 13, 2018 08:11
For landlocked country Nepal, access to the sea through Indian land routes has been a critical issue both as a right provided by international norms and practices and also as a key instrument in its development process. Transit issues were forthrightly dealt with for the first time in the 1950 India-Nepal Treaty of Trade and Commerce where according to Article 1 of the treaty, India recognised Nepal's "full and unrestricted right of commercial transit of all goods and manufactures through the territory and ports of India". While according to Article 2 of the same treaty, India also "agrees to move Nepalese imported goods through her agreed convenient places without paying any duty in any Indian ports".
Since then, the treaty has been amended and revised many times amid Nepal's increasing assertion for more liberal and diverse transit facilities. The 1960 Treaty of Trade and Transit committed to attain the goal of 'Common Market'. It was during the conduct of this treaty that Nepal started raising issues of delays in the movement of goods from Nepal to and from third countries. Nepal was able to acquire a transit route through Radhikapur to trade with the then East Pakistan in 1965. This remained unimplemented both because of the India-Pakistan war in 1965 and Pakistan's shutting down transit for Indian goods going to Afghanistan. On the other hand, India raised issues related to deflection of trade, meaning illegal diversion of imports meant for Nepal to India, and the adverse impact of Nepal's policies like the Gift Parcel Scheme (1967) and Bonus Voucher Scheme (1964).
Heavy Costs
King Mahendra, quoting provisions like 'right of free and unrestricted transit', raised Nepal's demand at various international fora including UNCTAD in 1964 and 1968, the Non-Aligned Summit in Lusaka in 1970 and the ECAFE Ministerial Conference in Kabul in 1970. India, already a rallying point for the developing countries at the global level, found it grossly embarrassing. Taking exception to Nepal's intransigence and irreconcilable attitude, India not only raised contexts of preservation of 'legitimate interest' and 'sovereignty of the transit state' but also resorted to a partial blockade of goods on the Indo-Nepal border. This was perhaps the first instance of 'economic blockade'. However, commodities like milk, salt, medicines and kerosene oil were exempted as reported in The Times of India (January 3, 1971).
The Indira Gandhi-led Congress Party's landslide victory in the general election in 1971 literally coaxed king Mahendra to sign a new trade and transit treaty in August 1971. This treaty lucidly defined 'traffic in transit' as transhipment, warehousing and breaking bulk and assembly processes. Besides Kolkata port, it also added the services of Haldia port and permitted Nepal to transport from one point of its territory to another even goods imported from third countries. For the first time, three separate treaties on trade, transit and control of unauthorised trade were signed in 1978. Fifteen routes were identified for Nepal's trade, and provisions of bulk cargo by road and railway were made.
Nepal continued to complain about heavy demurrage charges at Kolkata port due to limited warehousing facilities and inadequate railway wagons. This drastically raised the cost of Nepali imports. In view of this, Nepal agreed to extend the Raxaul railway line 5 km up to Birgunj in 1983. Another 'economic blockade' in 1988 and the closing down of trade exchanging border points once again led to the signing of a new transit treaty in 1991. In 1997, Nepal's protracted demand for access from Kakarbhitta (Nepal) to Banglabandha (Bangladesh) via Phulbari (India) was accepted.
In 2015, India allowed the movement of vehicles imported from a third country into Nepal through four border points. Earlier, such vehicles were allowed only by railway wagons and trucks or trailers after proper sealing by Indian Customs. It was in 1999 that India agreed that Nepal can use the facilities at Jawaharlal Nehru port, Vishakhapatnam and Kandla port for third country trade. However, the modalities for their operationalisation happened a full 17 years later in 2016. This kind of delay in implementation of agreed projects with heavy cost overruns has tended to become rampant with no one held responsible. This actually undermines goodwill and credibility and generates country biases.
Delayed evacuation
Unlike the riverine Kolkata port with a draft limitation of 7.2 metres, Visakhapatnam with a natural depth of 16.5 metres is a technologically sophisticated and scientifically organised port with multi commodity terminals. Its four mobile harbour cranes with two full length railway sidings can handle liquid, gas, bulk, chemicals and hazardous substances. This port was opened to Nepali exports and imports in 2017. Though the distance between Visakhapatnam and Birgunj is roughly double that of the Kolkata-Birgunj route (700 km), this port drastically reduces the end-to-end cost for Nepali traders (roughly per container savings of $200) and the predictability of dispatches are higher. In the last three months, the port handled 15 rakes of train per month of Nepali cargoes as against 35 rakes in Kolkata port. Vizag port has the potentiality to handle 60 rakes of dispatch reaching Birgunj in five days. This port strives to depend on shipment creation and not diversion.
Despite the promptness in clearing services, the absence of customs house agencies (CHA) and steady flow of containers in trains, the port authority states several issues that have remained unresolved primarily because of the intransigent attitude of various handling and clearing agencies on the Nepali side. For instance, there are over 1,500 containers lying at the port today waiting to be dispatched. Some of these containers have been lying there for more than 90 days, thereby clogging warehousing space at the port. The port, however, is charging nothing for this prolonged hosting of these cargoes even to the shipping agents. They attribute three main reasons for this delayed evacuation.
Firstly, the required clearance in terms of Letter of Credit from Nepal Rastra Bank, commercial banks and the Nepal Embassy in India just does not reach in time. It undergoes a long formality. A majority of these undispatched cargoes suffer from this procedural delay. The port authority usually dispatches the train as soon as they get such clearances. Since there is no Consul General's office like in Kolkata, the Vizag port authority has even offered free space at the port for Nepal to deploy personnel to expedite the matter. The advantage of not having to pay heavy fees to CHAs like in Kolkata is thus being frittered away by Nepali traders.
Secondly, there are very minor issues that act as major stumbling blocks behind these languishing cargoes at the port; for instance, not using official e-mail addresses in customs clearance by Nepali officials or even not sending the hard copies of such documents through the Indian postal system. Nepali importers, as their names are not put in the public domain, hardly bother to enquire and urge the port authority to expedite the dispatches. So if the situation of this indifference continues, the port authority may be forced to charge for hosting these cargoes.
And thirdly, the overcrowded schedules of trains carrying containers between the port and Birgunj terminal topped by rugged road conditions between Raxaul and Birgunj brings avoidable delays. On top of this, the long time taken by Nepali importers to return empty containers back to Visakhapatnam port confounds these delays in waiting dispatches. Therefore, conversion to electronic exchanges, issuing a unique identity number to each container and its GPS monitoring and setting up a monitoring team of field operation based officials on both sides of the border are some of the very basic interventions required to smoothen transit operations.
Lama is a senior professor at Jawaharlal Nehru University, New Delhi
---
---