American pivot
US may be shifting from democracy building to strategic military implementation in South Asia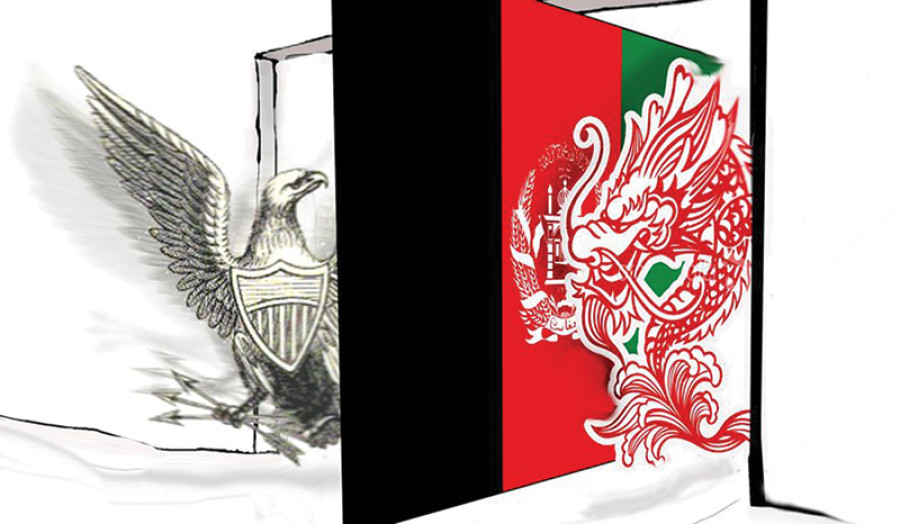 bookmark
Published at : September 1, 2017
Updated at : September 1, 2017 08:15
The 'Afghanistan and South Asia' speech last week by the President of the United States, Donald Trump, underlines a fresh shift in US policy for the South Asian region. Though largely rhapsodic, the speech carries an emphatically bold message to more than one player in the region. The decision to increase the presence of US troops in Afghanistan, ostensibly by any number required, raises an alarm of militarisation, and thereby gives rise to potential tension in the region. This is baffling, as it happened at a time when the US was expected to completely pull out of Afghanistan, in line with Trumps' earlier doctrine condemning the 'wastage of US resources in a protracted Afghanistan war.'
Shifted pivot
The Trump speech had two clear surprises. First, it is against the widely held belief that US policy to South Asia in this century would be defined by the level of US-India engagement, due to India's sheer size, location, influence and, most important of all, institutionalised democratic dispensation. But Trump, with a single stroke, pivoted such US engagement from New Delhi to Kabul. Second, democracy is no longer his foreign policy instrument in South Asia. The professed policy doesn't plan to 'build democracy' but just to 'kill terrorists'. This is indeed a historic policy departure. His hint to consolidate not only frontline but clandestine military intelligence perhaps has graver strategic consequences than mere war on terror.
The policy-making elites in New Delhi appear to be content largely because President Trump rebuked Pakistan and branded it a terrorist safe haven, portraying this as a 'problem' (of terrorism) and India as the 'solution'. But simultaneous and more serious waves of displeasure instantly engrossed Delhi, for more than one reason. First, the prism to US policy in South Asia no longer appears to be India. Instead, the US in most likelihood would judge its relations with India on the basis of the role the latter would play in the former's Afghan operation. Second, the speech asking to do 'more', has grossly undermined India's pre-existing extensive engagement in Afghanistan. India has an embassy along with four consulate offices in major cities of that country. Indian financial assistance has crossed the $3 billion mark and covers investments in crucial physical infrastructure, communication and power projects. Third, substantially consolidated US presence, as Indians worry, would ruffle the Indian recipe of 'peace, prosperity and stability' in Afghanistan. The idea of containing Pakistan by using force may well be an Indian agenda but to do the same under US military command will certainly not be the preference.
The camouflage
The world intelligentsia now appears preoccupied with the quality and consistency of Trump's speech. Debate is focused more on the rationale of military consolidation in Afghanistan vis-à-vis Pakistan's perfidy in dealing with terrorism. This facade of policy in a sense has provided Trump and the US security establishment with much needed camouflage. Apparently, the real US objective of increased presence in Afghanistan seems less to contain terrorism and more to augment active operations in the nearest possible vicinity to an ever aggressive China. This critical aspect of Trump strategy is barely discussed and deciphered.
It is important to note here that Afghanistan is the only country with substantial US military presence, and with a boundless flexibility of expanding it, that borders China. Afghanistan shares a 76 kilometre long border right across a very restive Uyghur Chinese region. The importance of Trump's idea to have a close kaleidoscopic view of China, thus, can hardly be underestimated in the emergent new world order. Such direct land access to the Chinese mainland, utter lawlessness in Afghanistan, and Afghan willingness to host more US troops, everything provides for an attractive vantage point to gaze into China. The promise of increased Chinese financial assistance to Afghanistan that now crosses $4 billion, mainly in copper mining, is a concern both for India and the US. Both India and the US can work together on the common agenda of containing China. But broader priorities do clearly vary.
Regardless of whether the reasons are implicit or explicit, with the new Trump policy, US military presence in South Asia is going to increase markedly. Unlike the South China Sea or West Asia, South Asia is adjacent to China's autonomous region of Tibet, which has remained a trump card for the West in a long-standing diplomatic bargain with China. Instead of viewing both South Asia and China through an Indian lens, the US decision to have enhanced 'first hand observation' has its own long-run strategic implications and fallouts, both regionally and globally.
Given Nepal's proximity to China (Tibet), and the recent geopolitical developments—with India and the US aspiring to contain a bullish China, and a theoretically unlimited scope of US military expansion in Afghanistan—US-Nepal relations also warrant a change. In recent years, mainly since the India-brokered 12-point peace deal with the Maoists, the US has visibly scaled down its engagement with Nepal. The new Trump policy of imperviousness in democracy building has already been in effect for some time now in Nepal. The US diplomatic presence in Kathmandu is now limited to some humanitarian assistance, limited financial aid in entrepreneurship development and issuance of travel documents to chosen Tibetan refugees. But, recent overtures suggest that the US is considering different approaches to use Nepal's location to weigh in on new strategic balances emerging in the region, of which the US seems keen to be a participant rather than a mere observer.
In many such developments, Nepal might have only played delayed, reactive diplomacy. But historically it has maintained a largely non-aligned position between Chinese and Western (now coupled with Indian) interests. The activities surrounding the incessant on-going efforts to woo Kathmandu by both sides are sure to leave a trail of interesting strategic information. The openness and ease of access make political shopping far easier here. This is likely to make Kathmandu again an attractive destination for spies and strategists alike. It, however, barely matters whether Nepali policymakers are prepared for these circumstances. In the not so distant future, the US military hub may be Kabul, while the machinations hub will be Kathmandu.
Wagle, a founding editor of the economic daily Arthik Abhiyan, is an eco-political analyst
---
---