Unchanged power structure
In a tactical bid to save his prime ministerial berth, Pushpa Kamal Dahal last week inducted Rastriya Prajatantra Party (RPP) Chairman Kamal Thapa as the third deputy prime minster in his government.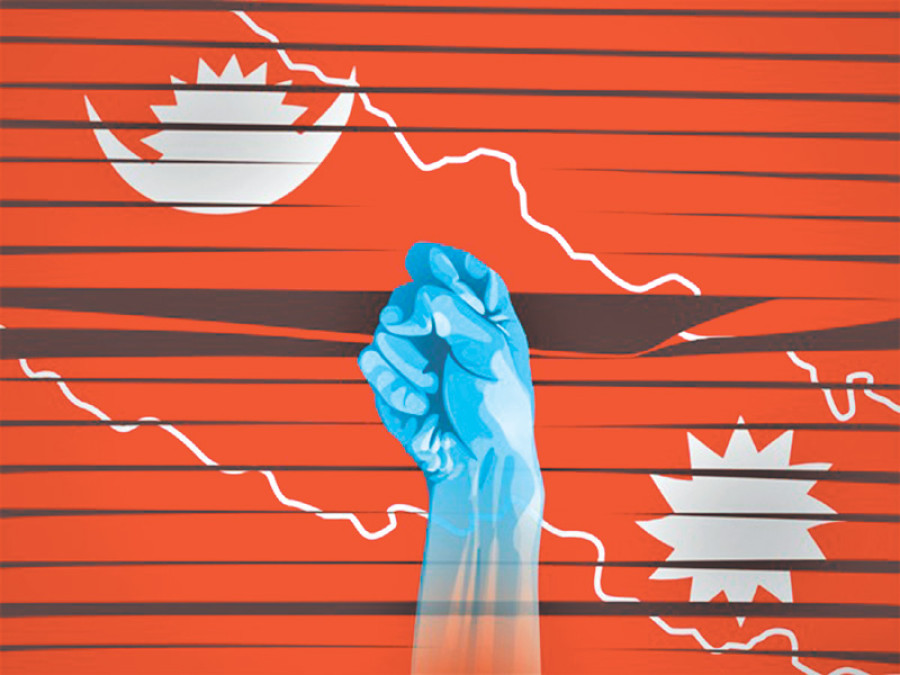 bookmark
Published at : March 13, 2017
Updated at : March 13, 2017 08:47
In a tactical bid to save his prime ministerial berth, Pushpa Kamal Dahal last week inducted Rastriya Prajatantra Party (RPP) Chairman Kamal Thapa as the third deputy prime minster in his government. The Nepali Congress (NC) and the CPN (Maoist Centre) coalition fear that they could lose the House majority if the Madhesi Morcha makes good on its repeated threats to effectively withdraw support to the seven-month old government.
Thapa was a former Pancha, and is a staunch monarchist. He has now taken up the campaign for a pro-Hindu state, leaving political pundits awestruck by his continued political survival in a putatively 'republic' Nepal.
Despite a change of regimes in 1990 and 2007, Thapa has proved his continued relevance as a game changer in Nepali power politics that is often marred by rampant, repeated horse-trading.
Feudalism personified
Thapa's entry into the Cabinet may save the coalition for now, but will this gimmick actually help Nepal emerge from an excruciatingly long political transition? The recent induction of Thapa as a deputy prime minister might shed some light on another issue regarding Nepal's inability to become a stable and viable nation-state. Perhaps the reason behind this can be attributed to the inevitability of characteristics, traits and values of feudal era politics in Nepal. These qualities are all personified in Thapa.
Nepal has invariably been ruled by the same "aristocrats" for the last 500 years, since Dravya Shah founded the Gorkha kingdom in the mid-1550s.
The reins of state have never gone out of the hands of a few hundred families that have constantly remained at the centre-stage of state affairs. While some would attribute this tendency to the clannish nature of Rana-Shah and Chhetri-Bahun circles, the sharp divisions of insiders and outcasts within these clans indicate otherwise.
There was barely any significant shift in this trend, where a few families, generation after generation, have ruled the country. This nature of rule asserted itself even after the so-called historic turning points such as Nepal's unification in the 18th century (1770), the dawn of the democratic era (1950), the introduction of Panchayat polity (1960), the reinstatement of democracy (1990) and the current, decade-long, age of republicanism. Thapa represents that continuity.
In a social context, this tendency is echoed by the actions of billionaire Binod Chaudhary, who still finds former king Gyanendra Shah as being the most appropriate person to consecrate his newly built temple.
These are not mere coincidences. The exceptional and sporadic political emergence of a few personalities or families who do not belong to these aristocratic circles has only met minimal success. This success is achieved only by conforming to the character traits, demeanours and egoistic class-consciousness of these elites, or by the mercy of allotted space.
The rise and dominance of the Koirala family in Nepali politics for more than half century, the transformation of Sher Bahadur Deuba from a commoner to a merciless ruling elite and Dahal's "revolution" are testimonies of how the state power still revolves around the same aristocratic pole.
The state authorities refuse to percolate beyond this periphery and, in all essence, the real ruling class maintains the same half-millennium old feudal posture. This is why the common man's prognosis that the rules of Shah, Dahal, Deuba or KP Oli could hardly be differentiated holds much water.
Placating efforts
During the last eight decades, there have been constant efforts to select Madhesi and Janajati personalities and install them in the state mechanism, political parties and socio-economic forums. Former Rana Prime Minister Chandra Shumsher endorsed laywer Aniruddha Prasad Singh, who later became chief justice of Nepal.
BP Koirala gave due political space to Mahendra Narayan Nidhi and Bhubikram Nembang, among many others. Later NC promoted Bijay Gachchadar and JP Gupta. Upendra Yadav and Matrika Yadav rose in the ranks of communist parties.
Even during the Panchayat period, Tarai-Madhes leaders like Gajendra Narayan Singh, Bhadrakali Mishra, Parashu Narayan Chaudhari and Fateh Singh Tharu made a mark.
However, regardless of ideologies or regimes, all of them had a common fate: either they remained unquestionably subservient to these "feudal" aristocrats, or they were compelled to retreat from mainstream politics to the local level.
A few survivors like Ram Baran Yadav and Bimalendra Nidhi are having a tough time remaining afloat in national politics. Additionally, the fact that this relegation is limited to particular communities such as the Madhesis and Janajatis presents a slanted view, as wider Nepal should ideally be included in government.
The power to rule or represent the state has been equally constrained across all geographic regions, communities and economic classes. It is important to note, however, that this capturing of state by a few aristocrats is not unique to Nepal. This practice is pervasive in all South Asian countries, if not the world at large.
Death of ideologies
The universal meta-narratives on political ideologies of the 20th century had shown promise in effectively dismantling these clan fortresses and distributing political power beyond such classically recalcitrant aristocracies. Under competitive politics with universal suffrage, Marxism, democratic socialism and liberalism all seemingly possessed and presented such potential.
But, on the one hand, the changing global order rendered all these ideologies largely irrelevant in their classic form and, on the other, idealism got displaced by pragmatism. "The people's issues, not ideology" pervaded regional and local politics. Federal polities like those in India, Belgium and Russia were preferred over meta-narratives.
Nepal's case presents an accurate example. The Maoist Centre preaches anti-Maoist ideas like ethnic identity. Socialist NC was a torchbearer for liberalisation and privatisation.
Liberal RPP advocates absolute monarchy. The Marxist-Leninist party claims itself to be the custodian of Westminster-style parliamentary democracy. Parties with an ethnic base, such as the Tarai-Madhes forces, do not identify themselves with any political meta-narratives.
All these paradoxes serve to prove is that the party tags are a hoax. The actions of the leaders of these parties do not carry even the slightest semblance of their respectively professed ideologies. This essentially marks the death of both
ideology and idealism—at least, in the Nepali political context.
The outcomes are obvious. In Nepal, ideologies have not formed a basis to forge alliances. No ideologue capable of challenging the existing aristocracy is likely to emerge. Thus, the country will continue to be ruled by the old patriarchs.
Therefore, pressing political problems will be sidelined by this "class" until its own position is optimised.
Kamal Thapa, as the cosy bed-fellow of any new force that enters Sighadurbar, will continue to mock all ambitious "revolutions".
- Wagle, a founding editor of the economic daily Arthik Abhiyan, is an eco-political analyst
---
---