Not all bright and sunny
The exemplary solar energy sector has been harmed by inept handling of subsidies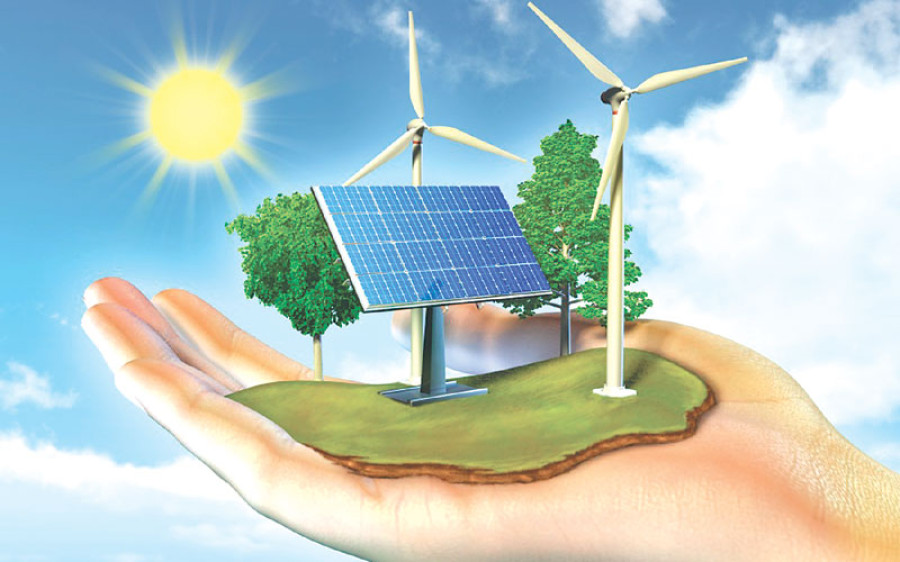 bookmark
Published at : December 12, 2016
Updated at : December 12, 2016 08:10
It's no more a secret that a falling out between state-run Alternative Energy Promotion Centre (AEPC) and key aid partners due to a trust deficit has led to new forms of alienation between them. The sour relations between these long- time partners threaten to overshadow the achievements and successes made in the sector so far. However, preparations for a new phase of the National Rural and Renewable Energy Programme (NRREP) where old and new industry partners are coming together are being seen as an opportunity to mend the trust divide and save the sector from further decline. An understanding of past events that led to the current impasse is necessary to develop new tactics and approaches aimed at reinvigorating the ailing industry.
Cartels and collusion
For more than two decades, the government of Nepal, together with various aid partners, has been using subsidy as a tool to stimulate demand for off-grid renewable energy in the country. This fiscal tool coupled with community mobilisation practices, helped the uptake of various renewable energy technologies that have transformed the lives of millions of poor households by providing them cooking, lighting and other energy-induced income-generating solutions. Two decades later, the context has changed. Regardless of how well these models worked in the past, they have become costlier today. Subsidies, which used to be an incentive to fix market failures in valuing the social benefits of renewables, are today at risk of becoming a new opium in the sector in the absence of proper application.
The lure of subsidies has drawn a bunch of incompetent companies to the alternative energy scene. Instead of making the sector competitive, some companies and traders are creating a strange form of market failure through cartels and collusion that has crowded out innovative and competent players. There are more than 100 solar installer companies in Nepal working with AEPC that set up approximately 100,000 subsidised solar installations annually. In contrast, there is the example of Infrastructure Development Company Limited, a Bangladeshi energy and infrastructure financing company, which runs one of the largest off-grid solar installation programmes in the world. It works with half the number of partner companies in Nepal and sets up seven times more installations. The AEPC's failure to dump incompetent companies and tardiness in penalising fraudulent ones was the beginning of a trust gap with its donors.
Tardy bureaucracy
The NRREP, when it was launched in 2012, was largely built on the rules and structures of previous donor-funded projects and programmes run by the AEPC. After it became a nationwide programme, its centralised functioning required rigorous bureaucratic procedures. The cost of administering subsidies and managing compliance and system verification proved very burdensome. For example, a typical micro hydro project takes more than three years to leverage all layers of subsidy procedures. Meanwhile, a solar company takes more than a year to go through technology testing and procedural compliances before getting its subsidy request approved. Bureaucratic hurdles are another reason why companies cut corners to compensate for payment delays. The lengthy paperwork that may lead to end users being forced to buy high priced systems needs to be seriously reviewed.
Decentralising some of the AEPC's approval and system monitoring functions to local partners or local district authorities can eliminate the red tape to some extent. Additionally, full public disclosure of installation data including where subsidies are going and vendor contracts can eliminate duplication of resources, false contracts and fake claims. Since the public will be able to monitor factual information on vendors, subsidies and technologies, the AEPC will be freed of some costly field verification measures.
The only choice
While the NRREP's compliance unit was effective in identifying instances of subsidy breaches and cases of collusion and cartels, the current compliance structure proved to be a bit controversial. Sometimes, good intentions do not necessarily result in desirable outcomes. The way compliance findings were handled led to a serious trust gap between the AEPC and donors as many stakeholders saw the compliance unit as a policing unit where alleged wrongdoers were brought and penalised. Instead, this function could have been used to identify lapses and fraud risks at the roots by confirming internal controls and procedural checks. There was over-policing by the compliance unit that harmed the sector. Sometimes, funding was held up on mere suspicion and doubt without conducting a complete investigation.
Acknowledging these systemic lapses and working together to fix them can be an opportunity for course correction. Many developed and developing countries still turn to Nepal to learn and replicate the work the country has done in off-grid electrification. There are still many success stories waiting to be shared with the world. As we move ahead, the will and desire to come together, stay together, work together and learn together by embracing both the successes and failures can revive the glory of Nepal's renewable energy sector. This is the only choice that lies before us.
Kandel is an energy policy expert
---
---