The world has moved on
India should stop interfering in Nepal's affairs citing out-of-date security concerns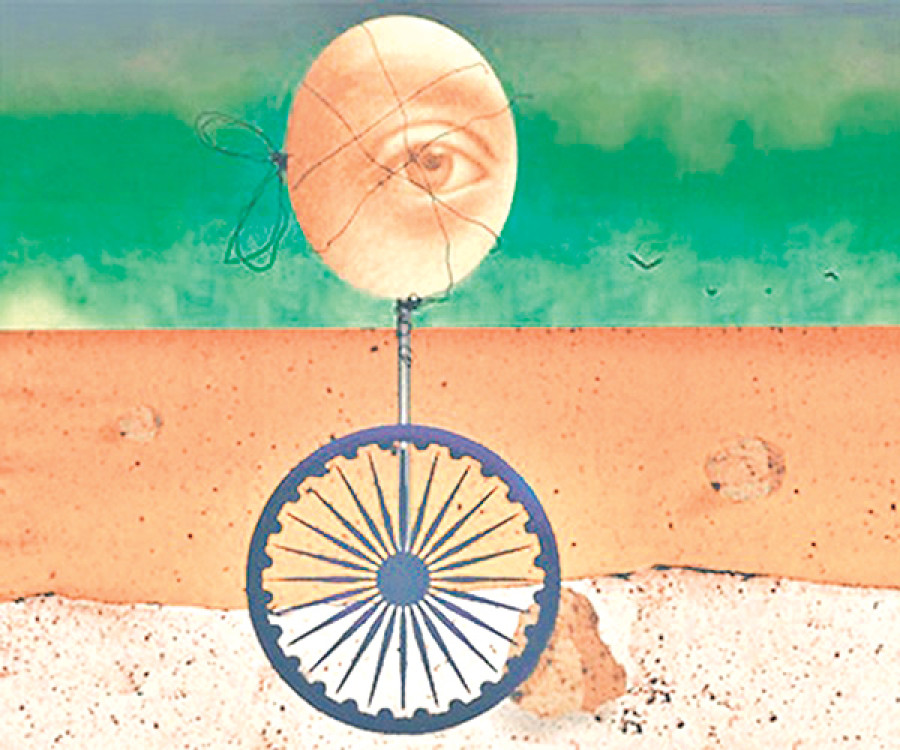 bookmark
Published at : December 9, 2016
Updated at : December 9, 2016 08:57
History shows that Nepal's political stability is linked with Indian
government policy towards the Himalayan republic. Therefore, Nepal-India relations, which are at a new low, need to be understood, analysed and smoothened to create political stability and direct development in Nepal. Since 1950, ties between the two neighbours have always seen upheavals in spite of their geographical, social and cultural proximity. Nepal cannot afford to continue with this turbulent relationship and perpetuate the deprivation, inequality, poverty and isolation from global developments. India too, with its global ambitions, needs to change its strategic position towards its neighbours,
especially Nepal with which it shares unique relations.
It is important to distinguish between people-to-people and government-to-government links in Nepal-India relations. People-to-people relations have been close despite the upheavals in government-to-government relations. Noting that the cultural, social and geographical proximity cannot be changed, it would be wise to improve relations between the two countries to fulfil the aspirations of both the peoples. Relations between the two countries need to be redefined in this age of globalisation, development of technology and interdependency. Growing anti-Indian sentiments in Nepal are the result of India's attitude. Indian authorities should understand that their actions towards Nepal have led to relations becoming sour.
The 1950 treaty
To begin with, the 1950 Treaty of Peace and Friendship, which has lost its validity, has to be reviewed. This unequal treaty was signed on July 31, 1950 by Nepal's prime minister Mohan SJB Rana and India's ambassador who is not an equal counterpart, and this clearly reflects Indian dominance over Nepal. India has played a dual role in its Nepal policy to create a favourable position to strike a deal giving it dominance since 1950. In the context of the signing of the treaty, India was supporting and funding the Nepali Congress' revolution against the Rana regime. This created a favourable position for India to clip the wings of a sovereign country with the 1950 Treaty of Friendship and Peace followed by a secret Letter of Exchange. Article 5 of the Treaty states that the government of Nepal shall be free to import, from or through the territory of India, arms, ammunition or war-like material and equipment necessary for the security of Nepal, and the procedure giving effect to this arrangement shall be worked out by the two governments acting in consultation.
At the same time, the Letter of Exchange, which was kept secret till 1959, states: "Any arms, ammunition or war-like material and equipment
necessary for the security of Nepal that the government of Nepal may import through the territory of India shall be so imported with the
assistance and agreement of the government of India". This clearly brings Nepal under India's security umbrella. Although an Eminent Persons Group (EPG) was formed in 2014 to revise
the 1950 Treaty, this is not the right time to amend or sign any treaty
when sovereignty is again at its weakest position.
Strategy to control Nepal
The then prime minister Mohan SJB Rana signed these unequal documents to remain in office with the support of the Indian government. Historical
evidence shows that the leaders of our country have traded their position with the nation's sovereignty. It seems that the leaders have cheated the people by signing pacts with the Indian government and keeping them secret from the people. It clearly reflects the morality of the leaders and their greed for power. This was not the only time in history where such documents of national importance were kept secret from the public.
The aide-mémoire handed by the Indian government to Dilli Raman Regmi in 1958 was another Indian move to dictate the foreign policy of Nepal. It clearly stated that the government of Nepal should consult the government of India with regard to any matter related to foreign policy or relations with foreign powers with a view to coordinate policy, in particular in matters related to Tibet and China. BP Koirala, prime minister of Nepal from 1959 to 1960, recognised Israel and adopted a pro-Israel policy against Indian interests and lost his job. Evidence suggests that India's dual role, fuelling and supporting
anti-government activities to weaken the existing government on one side, and signing documents on the other side, has been an open and obvious Indian strategy to control Nepal.
In 1965, there was another
agreement between Nepal and India which was kept secret until 1989. This agreement gave India a monopoly over Nepal's military needs including the training of Nepal's military personnel. Here again, the Panchayat leaders traded off national sovereignty to remain in power. In return, India withdrew support to the Nepali Congress and the Nepali communists who were living in exile there. The strategy of creating political chaos in Nepal and thereby curbing Nepal's sovereignty has been the main rule of India's game since 1950. Nourishing the Maoists to wage war against the establishment was an open secret to dilute Nepal's sovereignty by throwing out the monarchy. Nepal witnessed all those unproductive
political upheavals under the influence of Indian interests. This is the main reason why change cannot be sustained in the interest of the people. The Madhes card is not a new rule in the game. If this becomes successful, all Nepalis including Madhesis will lose at the cost of long-term national
sovereignty.
From control to cooperation
India has a special interest in the northern frontier of the Himalayan countries including Bhutan. India was successful in annexing Sikkim in 1975 and bringing Bhutan under its foreign and defence umbrella, but it has been struggling to bring Nepal under its strategic control. This attitude of the Indian government to bring Nepal under its defence and foreign policy umbrella is the cause of Nepal's
political instability.
New Delhi should change its mindset by adjusting and recognising the
context of modern aspirations of the people of the two countries. The world has moved towards greater global
integration through technology and globalisation. So, against a backdrop of these dynamics, citing mundane
security reasons which prevailed in the 1950s and 1960s cannot justify interference in Nepal's internal politics. A strategic shift should be made from dominance to dignity, patronisation to partnership and control to cooperation. The relationship cannot sustain without mutual respect, trust and
concern for each other. India should stop considering outdated geopolitical concerns and start with a new dimension and mindset. Instead of controlling Nepal's affairs, it should focus on common development aspects with a unified vision of regional prosperity.
Prasai is a chartered certified accountant pursuing a Master's in Public Policy at SOAS University of London (School of Oriental and African Studies)
---
---